Daily Archives:
February 22, 2023
Tomorrow morning Jan and I are heading to Houston to first have lunch at the Katz's Deli in the Montrose area.
Katz's is our go-to place on Houston trips and is known for their Reuben's. This one, the Klassic, is their medium one.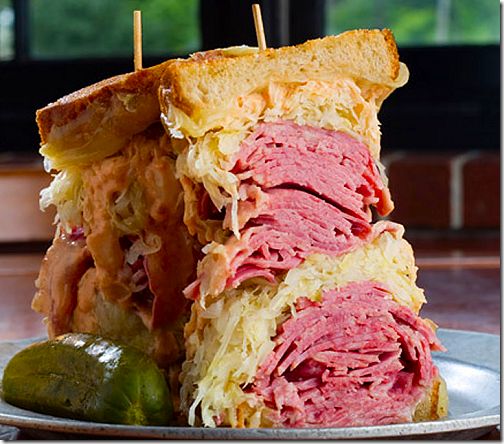 The biggest one, the NYC, is a lot bigger.
Plus they have great soups and pastries as well.
YUMM!
Then after which we'll head on over to the Houston Museum of Natural Science to take in the King Tut's Tomb Discovery Experience.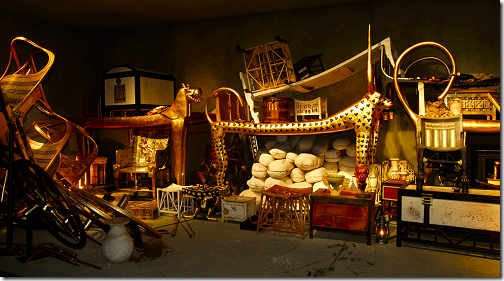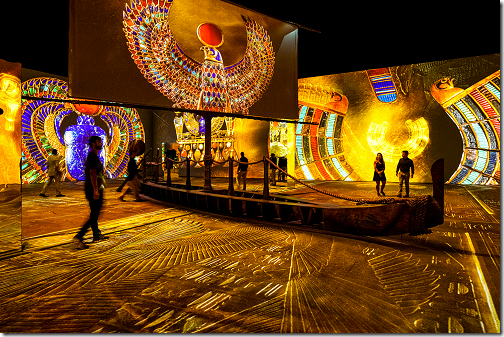 We're really looking forward to both.
And of course no blog about King Tut would be complete with Steve Martins' SNL video.
More tomorrow from the tomb.
---
Thought for the Day:
What does not kill you . . . can sometimes damage you QUITE severely.
---
February 22, 2010
Desolate charm…
This morning we left Saddleback Mtn RV Park about 10:30am heading for Las Cruces.
This is a nice little park in the middle of nowhere, but it does have its desolate charm.

Even Mister was unable to find much of interest.

Note that Mister is dragging his lease behind him. Most parks have a rule that all pets must be on a leash. I haven't found one yet that requires someone to be holding that leash!
I did have to take time this morning to add air to my left inside real dual. It has a slow leak, but I'm not yet sure if it's the tire, the extension, or the screw-on pressure sensor. I swapped the sensors around to see.
Normally driving in West Texas is fun due to the speed limits out here.

But since we usually cruise along at 55 mph, it's not much fun now.
About noon we stopped at a Wendy's in Van Horn, TX. Not as good as yesterday's BBQ, but when you're trying to find a place to park 63 feet of rig and toad, you can't always be too picky.
And a few minutes after leaving Van Horn, we entered the Mountain Time Zone. In a couple of weeks we will be in the Pacific Time Zone after we leave Yuma.
Passing thru El Paso, we stopped on the far side at a Flying J to fill up with diesel. All these hills really eat up the mpg. 129 gallons of diesel cost me $360.
We arrived at the Las Cruces KOA about 3:30 and got set up. Although it's not cheap, we always stay here due to the great view.
About 5pm we drove down to Old Mesilla to have dinner at La Posta, one of our absolute favorite Mexican restaurants. La Posta has been a restaurant since 1939, and before that, it was a Butterfield Stage Depot, with an interesting history.
While we were in La Posta, it started raining really hard, but had stopped by the time we left. But the weather won't improve while we're here. Tomorrow we supposed to have a high of 45 and a low of 27, with SNOW!
Just what we need.
---
February 22, 2011
Gevalia and Gambel's Quail . . .
We started today with some of the great Gevalia Cinnamon coffee that our friend Gina gave us a year or so ago. I thought we had used it all, but I found one last box in the back of the cabinet. And since it was still vacuum-sealed, it was still fresh.
Next I called my client Kim to tell her that I'd come up with a kludge to get all her phones working again. This doesn't fix the real problem, but it does get the pressure off, and means that I won't have to go back to Houston to get things working. The only problem will come when they have to add more computers and phones as the business grows. And since they're just getting started, hopefully that will be a little while, at least long enough for me to fix the problem. I do have an idea, but I need to check with the VOIP company first.
When I went outside I got this shot of this Gambel's Quail running around behind the rig. When I first saw them at a distance I thought they were roadrunners, but when I zoomed in I saw the difference.
A roadrunner looks like this,
or even this.
About 11am I called American Coach to check about drilling a hole in the floor next to the driver's seat. I need to bring in a 2nd cable for our new DVR and figured the best way was to come up from the compartment right underneath. They said there should be no problem. I'll get to it in the next few days. Right now I'm just coming in the driver's window and using a piece of pipe insulation to seal it.
Next I got back to pulling up the carpet under and around the computer area. It's a real pain in the rear getting up all the staples around the edges.
About 12:30 we headed out to our other favorite restaurant here in Gila Bend, the Space Age Restaurant. Originally built in the 1960's, the owner owned copper and manganese mines, and a plastics company, that all supplied materials for NASA. So he was really enamored with the space program. So when he built a motel/restaurant it had a space theme.
It's even got a flying saucer.
Our next stop was the local hardware store where I found a air deflector for the AC vents in the bedroom.
The way vents are now the air blows directly down on us in the bed. I'd been looking for deflectors, but could never find the right size. However these are adjustable in length so they fit perfectly and are held on by magnets. We'll have to see if the magnets will hold while we're on the road.
Getting back to the park, we stopped off at the gift shop/gas station to check their souvenirs. I also wanted to take a look at the two old tractors they have out front.
This one's a John Deere, of course, but something I've never seen before
are these bolt-on rubber tire covers.
The second one is a McCormick-Deering, but the placard says it was made by International Harvester in Chicago IL.
Looking at these wheels makes me wonder if the John Deere above was originally like this, but then the metal teeth were replaced with the rubber covers. It would be a real problem to drive it on the highway like this.
After talking to another client about a keyboard problem he was having with his laptop, we called our daughter Brandi to get the lowdown on Master Landon's 6 month check up yesterday. Apparently everything was fine, and he won't need another one for 3 months.
A little later I took down the curtains on the passenger side of the windshield to wash them. I noticed the other day that they were kind of dusty and this seemed to be a good time to take care of that.
A little after 4pm I drove over to the Elks Lodge to double check on my initiation on March 1st.
Then it was back to carpet pulling. Tomorrow I should be ready to pull up the driver's chair to get the carpet under it. We'll see.
For dinner Jan fixed up the last of yesterday's hot dogs that I had grilled up. Still good.
---
February 22, 2012
A Real Head Sweater . . .
After a nice, quiet morning of coffee and some of the delicious muffins that Jan and Gina baked last week, we headed out about 1 pm for an afternoon of errands and dinner.
Our first stop was the Sam's Club pharmacy to pick up a new prescription for Jan. Her doctor had changed one of hers and sent it into the Sam's near our house in Friendswood. Unfortunately they went ahead and filled it and called to say it was waiting for her . . . in Friendswood.
So I called the Friendswood Sam's and had them unfill the prescription so it would show back up in the system, and then called the Las Cruces Sam's and had it filled here.
Leaving Sam's we called our friend's Al & Adrienne in Tucson to let them know we'll be there tomorrow night and set up a time to meet at Poco & Mom's for dinner.
Then, because it had been more than 4 days, Jan was starting to suffer from Wal-Mart withdrawal, so that was our next stop. Hopefully she can hold out again until we're in Yuma this coming Sunday.
Next up was a stop at Supercuts so Jan could get her hair cut. Then it was back to the rig to drop off our groceries and take it easy for a while.
Leaving the rig about 4 pm, we first drove over to a nearby Valero to check on fueling up with diesel tomorrow morning as we're on our way to Tucson.
In the past, we've fueled up at the Bowlin's Akela Flats store where we always stop on our way west, but I called this morning to check their diesel price since it didn't show up in GasBuddy. And I'm glad I did.
Their diesel is $4.099, but I can get here in Las Cruces for about 3.839. Big difference when I'm taking on about 100 gallons.
Looks like I'll have no problem getting in and out of the Valero and then we'll hook up the toad at a vacant lot right down the block.
Next up was dinner at El Comedor, our other favorite restaurant here in Las Cruces, besides La Posta.
One of the things we both like about New Mexico Mex is their use of Green Chiles in their dishes, and El Comedor does it up right. Really hot, and really flavorful.
In fact we both agreed that we enjoyed our meal here tonight better than at La Posta last night. It just had more favor. And their salsa is really hot, hot enough that, along with their green chili sauce, really makes my bald head sweat. And my nose run. My indicators of a really good meal.
And the Tres Leches we split for dessert was really good, too.
On another note, my oil leak appears to be gone. I noticed I had a leak just after we got back to Houston in November, but since it seemed to be dripping down from the vicinity of the oil filter, I was hoping it was filter-related.
When the guy from RV Mobile Lube changed the filter out last month, he said it was wet around the filter, but he didn't see any problem with the the seal, or the filter itself.
So I decided to cross my fingers and wait and see. So far I've checked every time we've parked , and no leak. But still keeping my fingers crossed.
Tomorrow we've got about 250 miles to Tucson for one night, hopefully staying at the Pima County Fairgrounds where we stayed last year.
---
February 22, 2013
Deer and Diodes . . .
After our morning coffee (Texas Pecan), Jan and I headed over to Gina's for the day. A little later I drove over to the Subway to pick up breakfast sandwiches for everyone. (Black Forest Ham, Egg, and Cheese on 7 Grain Honey Oat)
Then it was back to the rig for me and back to work on my To-Do List. First up was to finish my taillight upgrade. I was rewiring them to use separate bulbs for towing, rather than using the regular bulbs through steering diodes, which made them dimmer.
So after installing the new bulb socket in the other lens, I installed the bulbs in the sockets and wired it up. This was easy because I was able to just unplug my steering diode assemblies and then plug the wires into the new sockets.
I used a 12v power supply to feed voltage into the wiring harness plug at the front of the truck and found that everything was working fine. So I buttoned it all back up and the job was done. Another checkmark on my list.
Next up I took down and cleaned the AC filters and the exhaust fan screens to get rid of all the dust and cat hair that had accumulated. About this time I noticed some deer around so I put out some food for them. And they really seem to like the Creep Feed.
I even had one that would come up to me and eat out of the bucket in my hand.
Then I replaced the 12v socket in the bedroom with a new one like I did up front yesterday, since that one was also a little flakey.
Last up I spent some time going around oiling all the squeaking cabinet hinges that have accumulated recently. It's certainly a lot quieter now.
About 5 I headed back over to Gina's for a while. She didn't really feel like going out, so about 7:30 Jan and I drove over to Milagro's, a local Tex-Mex place that has probably the best chips I've ever eaten. Can't really describe what's different about them, but they sure are good. And so's their salsa.
For dinner Jan and I both had their Taco Salads with Ground Beef. For the dressing Jan just used salsa, but I always get their Blackberry Habanero dressing. Again, really, really good.
Tomorrow, Brandi, Lowell, and Landon are coming up from Houston to spend the weekend here, so we can all get together. Hopefully we can make it over to Salt Lick BBQ while they're here.
---
February 22, 2014
Oil and Eggs . . .
More chores this morning.
First up, I got my Sears Air Compressor out and topped off the rig and the truck tires.
Before I got this, I would have to crank up the rig engine and tap into the air brake line to air them up, but now this one works fine and is a lot easier to use. If you get one, be sure to get the 150 psi model, not the 125. The 125psi will not air up big rig tires.
About 10:30 Jan and I headed into Webster to have another 'last meal', this one at King Food, our favorite local Chinese restaurant, a place we've been eating at for over 35 years. We're on our 4th owner.
After a really good lunch, we headed over to our son Chris' house to pick up his floor dolly. I want to take it with me when we leave on Monday because I need to pull our washer/dryer out of the cabinet to reconnect the vent hose to the outside vent. It's apparently come loose and is just venting the heat and lint into the rig. The floor dolly is the perfect height to pull the unit out on and roll it aside. I'll get the dolly back to Chris before we leave the area in the next 6 weeks.
Then it was off to a client's house to drop off the external HD I set up the other day and pick up a check. Heading home we made a quick stop at Kroger's on the way to pick up a few things and buy some lottery tickets.
Then it was back to 'getting ready to roll' chores. I started packing away things in the basement and also the truck. Then I topped off the rig coolant, and windshield washer fluid. The rig oil was a quart low but when I went to top it off, I found I was out of Shell Rotella 15W40 diesel oil, so I'll run down to Wal-Mart later and pick some up.
Tomorrow morning we're meeting our friends Bob and Maria for breakfast at The Egg & I about 10. Then back home, I'll crank up the rig, raise the levelers, and get us up on the airbags. This is my normal procedure when we've been parked this long.
I will add one new thing and that is to bring the slide in and then run it back out, just to be sure there's not a problem with the new flooring. I don't expect one, but better to know now than Monday morning when we're ready to leave..
---
February 22, 2015
Great Times with Old Friends . . .
Although the forecast was for clouds and rain today, it started out warm and sunny. In fact by noon we had the AC's on. So I was outside working on my chore list.
First up, I got back on my headlights. I removed the old passenger side unit, replaced the clear turn signal bulbs with amber ones, and then installed the new one. Again, easy posy.
Then I removed the new unit Chris and I installed yesterday so I could replace the clear bulbs with amber ones on that one too. But the reinstall was anything but easy posy. I'm not sure why, but it was a real pain in the butt to get it lined up and tightened down correctly. But finally, all of a sudden, it just worked. Going to be interesting to see what it looks like tonight with both lights installed.
I spent the rest of the afternoon working down my list, trying to catch up for lost time due to all the bad weather. Unfortunately it doesn't look like the weather is going to allow me to get some paint on the rig bumper, but we'll see. I may be able to do it on the way to Tucson. Weather-wise, it looks like Las Cruces might be a possibility.
About 4:15 Jan and I headed up to Webster to have dinner at Zio's with our long-time friends, Bob and Maria.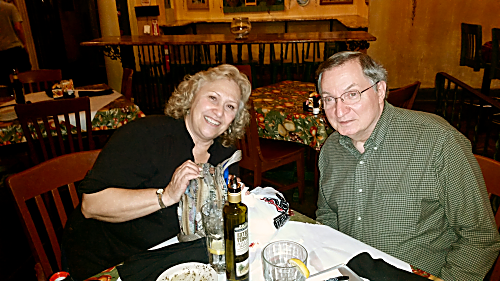 We've known them since the mid-80's, and as I said, they're pretty much our oldest living friends.
We had a lot of catching up to do, even though we just saw each other 6 or 8 months ago. So much catching up, in fact, that we were at the restaurant for a little over 3 hours, not getting back home until about 8:15. Of course we'll get together again when we come back through here in August.
Coming home, the new headlights performed great. I still need to touch up the alignment, but really it's not that bad now.
Tomorrow morning Jan and I have our annual physical checkups and then we'll be done with all the medical stuff for this year.
We hope.
---
February 22, 2016
A Little Progress . . .
I slept in this morning, until about 11:30, since we didn't plan to walk today. I still haven't been able to completely shake this stomach crud that's bedeviled me for the last few days. No cough or sniffles, no runny nose or sneezing, just a queasy stomach and no real appetite, but it comes and goes. Yesterday I felt OK, but today not so much.
But life goes on and I need to get the washer fixed, so about 2:30 I drove into Conroe to a appliance parts place to see what they had in the way of replacement drain pumps.
The counter guy brought out several for us to look at and compare with my old pump that I brought with me. Finally he came out with this one.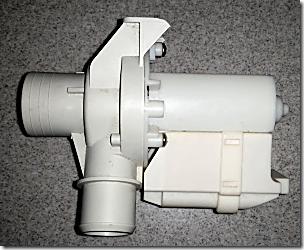 Looking it over, it had real possibilities. First off, the electrical connections were identical and would plug right in with no problems. But the hose connections were a little more problematic in that they weren't the same size as the original, both input and output being larger. And the input connection comes out the end rather than the side.
But while trying to decide if it was worth buying and trying to make it work, the guy said something that sealed the deal for.
'It's free."
It was from a special order European washer that was damaged in shipment and was not sold, so they parted it out. But while removing the pump, they broke off a piece of the mounting plate, so it couldn't be sold anyway. He said he kept meaning to throw it away so it was my lucky day.
Getting back home I did put 120vac to it to confirm it runs, and then stuck it in a bowl of water to be sure it pumped. With both these tests passed, now I've got to figure out a way to mount it and hook it up. But that's for tomorrow.
So far, Jan's Facebook account still has not been re-activated. If you don't know what I'm talking about, here's a repeat of the short blog I posted earlier today.
---
Gone From Facebook ?!
Our regular Facebook friends know that a week or so ago, an imposter account under the name Janice White was created, using my photo and info, and then started sending out friend requests to my already-friends.
And about 15 or so of you responded.
At that point, I, and several others, reported the bogus account as an imposter.
FYI, you do this by going to the bogus account profile. This is where all the biographical info is displayed. Then locate the Message box on the right side of the screen, just to the right of the Like button.
Next click on the Gear symbol dropdown and select Report Page and then just follow the prompts to select the reason for the report.
So last night, Facebook, in their infinite wisdom, disabled MY account, not the imposter one. Or maybe they disabled both. I don't know since I can no longer log into Facebook,
I've send them several emails responding to their telling me my account was disabled. Hopefully they will get this straightened out soon.
Could any of you still on Facebook search for a Janice White account using my picture and let me know if it's still available.
Thanks,
Jan (not Janice) White
---
Right after I posted yesterday's blog last night, I went to Facebook to post it there and found Jan's Facebook account disabled.
I have now written several emails to Facebook with no answer yet. Several others have confirmed that the imposter account under the name of Janice White is still online. So if you have time I would appreciate you searching for the Janice White account under the Find Friends tab and reporting it as bogus. Note that this will not be in your friend's list, but where you search for new friends.The way to tell it's the correct one is that it will have Jan's picture in her red patterned dress, which they copied off the original site.
Thanks.
---
February 22, 2017
Routing Our Way. . .
Jan and I started talking this morning about our upcoming travels, so my checklist got put aside for the day so we could plot out our route, or at least get a better handle on it.
Jan and I both had seen someone's post on FB about how they weren't able to get in the Las Vegas Thousand Trails in the upcoming months. So our first step was to book us there for two weeks starting April 8th. And luckily, we had no problem.
At least not there.
Next we tried to book the two weeks before Vegas at one of our favorite parks, one we've never had trouble getting into, Verde Valley. But of course now we had problems.
They were totally booked from the 3/25 to 4/08, so that was out., But of course I had a backup plan, and that was the Countryside Encore RV park in Apache Junction, where we've stayed a number of times before. But not this time.
This time I ran into something I had not encountered before. We would be going from the Voyager Encore park in Tucson to Countryside, and we quickly found out we can't do that.
Voyager, Countryside, as well as the Golden Sun Encore park, also in Apache Junction, are all considered 'one' park, so you can not go directly one to another without a week out. News to us.
So now we're booked into the Santa Fe RV park, also in Apache Junction, for two weeks under Passport America. We've stayed here before and found it a very nice park.
After Vegas we've got a week booked at Soledad Canyon north of Los Angeles. It's been a few years since we've done LA, and we're looking forward to it again.
After that we'll head north up I-5 working our way toward two weeks at the Bend/Sunriver Thousand Trails. I had planned for us to spend one night at the Turtle Beach Fish Camp TT along the way, but they didn't have an opening. So I'll keep checking back or we'll just find a park along the way.
We don't yet have the rest quite nailed down yet, but we'll be back at Colorado River again starting June 25th, just in time for our big family reunion.
Jan and I have been catching up on TV shows that we recorded while we were gate guarding. And one of those is Grimm.
We're about halfway through the last season of 13 shows, and we're really going to miss it. It's a great show, with both great writing and effects, and it will be interesting to see how they wrap it up.
Tomorrow we're heading down to Pearland to have lunch with Bonnie, a former co-worker of Jan's, and then stop by at our daughter Brandi's for some Amazon packages.
---
February 22, 2018
A Busy Weekend . . .
I went into work today, not my usual schedule, because I'm taking off tomorrow so we can doggy-sit for Brandi's canines up in Katy.
After I got home about 4:15, we headed back out about 4:45pm to meet Chris and Linda at our nearby favorite Pho 20 for dinner.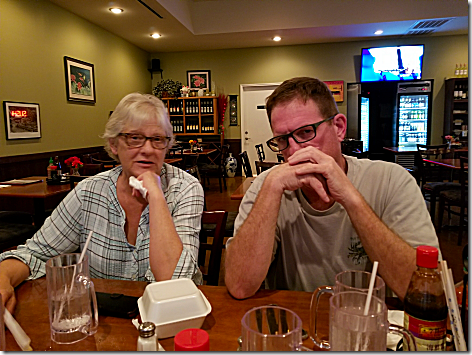 Turns out they liked it as much as we do, especially the House Crunch Salad with Miso Dressing and Tempura Crunchies.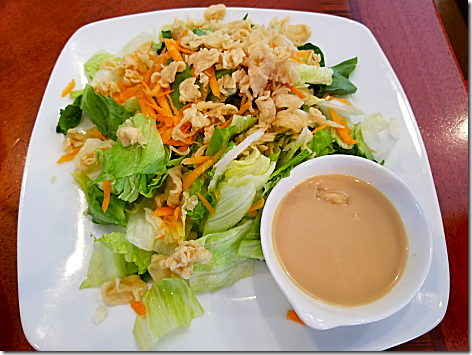 It's Chris' new favorite.
Jan and I both got salads, while she got the Orange Chicken and I got a bowl of their delicious Won Ton Soup.
Chris and Linda split a Crunch Salad, an order of Sesame Chicken and an order of the Shrimp Spring Rolls.
All delicious.
As I mentioned, the upcoming weekend will be a busy one. Tomorrow afternoon we're heading up to Brandi's in Katy, We'll be taking care of Miss Kitty and Baxter while Brandi et. all, are up in the Dallas area spending the the weekend at Great Wolf Lodge.
Then Saturday afternoon we'll come back down here so Jan can attend her yearly Coding Coworker's get-together. This is a group of Jan's former coworkers that have gotten together every year since we started RV'ing in 2008. Sometimes they meet at a local restaurant, but this year they're meeting at someone's home, with everyone bringing a dish or two.
Then while Jan's is partying, I'll swing back by the rig to take care of Miss Karma and then grab a big bowl of Hot & Sour Soup for dinner before picking up Jan. Then it's back up to Katy for the night. Wrapping up, Sunday it's back down here.
Like I said, a busy weekend.
One other thing I'll be doing this weekend is setting up a new laptop for a friend. She had it sent to Brandi's so it will be waiting for me.
It's a Dell Inspiron 15" Touchscreen, a really nice machine for only a little over $500. A really good deal if you're in the market for a laptop.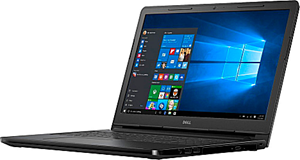 ---
February 22, 2019
No Schlepping . . .
Although I read that we would not be receiving the flight details for our cruise until about April 5th, I came across our flight info while I was poking around our entry on MyVikingJourney.com
Turns out that we're leaving IAH (Bush Intercontinental) on KLM Airlines flight #662 at 3pm on April 26th. Really like the 3pm part. We'll have a 9 hour 15 minute flight direct to Amsterdam, then a 1 hour 35 minute layover before we take a 1 hour 55 minute flight to Budapest.
But when I checked our flight home, I found a problem. We were still booked as coming home directly from Amsterdam on May 15th, and not from London on the 24th.
So I sent off an email to our friend/travel agent, Chantelle Nugent, to check it out for us. She got back to me later in the morning, saying she had talked to Viking and they had corrected the problem, but that it would be about 72 hours before our online info is updated.
And not only do we have our flight info, but we also have our seats reserved. And as we've done in the past, we booked aisle seats across from each. That way we only have a person on one side of us, and we can easily talk across the aisle.
Later I went ahead and gang-booked the 13 Included Excursions on our trip, and then while I was at work I printed out listings of the 45 optional (Extra Cost) excursion possibilities. These range in price from $49/person for a tour of Vienna's Historic Farmer's Market, led by a Viking chef, or a tour of Budapest's Grand Market Hall, up to $399/person for a Flightseeing tour over Austria and Germany, with sights like the Austrian Alps, and Hitler's Eagle's Nest Retreat, a remote mountain top chalet.
So now we're checking these out to see if any catch our eye. One thing nice that Viking does is to flag any of the optional tours that conflict time-wise with our all-ready booked Included ones. Makes it a lot easier to figure out the scheduling.
Another thing I had Chantelle check on the other day was to see if we could get a tour of Highclere Castle, the real 'Downton Abbey'.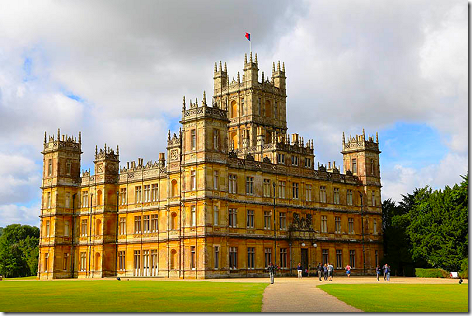 Jan's a big fan so I was hoping to get us on a tour, but unfortunately, the available ones in May are either while we're on the cruise itself, or after we're back in the States. Bummer!
Chantelle has been great with this, holding our hands the whole way. So if you need help with your travel plans, give her a call at 713.494.2555 or check her out at the link above.
I've also gotten the names of several limo services to see about getting a towncar from the RV park here in Santa Fe to IAH and then back home when we return. Chantelle gave me one she uses, and one that Brandi uses, and I've got another local to compare.
We want to leave the truck here at the rig, so it doesn't look like we've completely abandoned the place, as well as just not have the hassle of parking and schlepping our bags around at the airport.
Tomorrow evening Jan has her annual get-together with her former hospital co-workers, this time at the Delta Blues Smokehouse in Webster. They've done this every year since we hit the road, and it's always a lot of fun for everyone.
---
February 22, 2020
Old Friends and Good Times . . .
I spent most of today trying to transfer several terabytes of data from my old computer over to my new one.
I had originally planned to use my 4TB Portable External HD to just transfer it all over at once. But the old computer will no longer recognize the drive. However the new computer has no problems with it, so it's not the drive.
So I'm reduced to moving the data over 128GB at a time on a flashdrive. Slowly but surely.
Jan had her former coworker get-together this evening at King Food. Every year they have it at a different restaurant, or occasionally at someone's home.
Last year it was at Delta Blues BBQ and next year it will be at La Brisa Mexican Restaurant.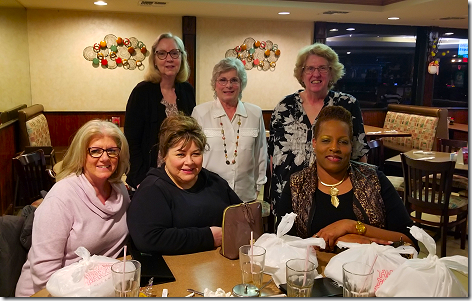 They started having this gathering in 2009 after we returned to Houston from our first year of RV'ing, and it's been going on every year since. A nice group of ladies.
As if the Iowa Caucus software debacle wasn't enough, MIT has found that a mobile voting program called Voatz, and used in a number of different states since the 2016 election, is easily hacked, allowing votes to be exposed, changed, or deleted.
MIT Finds Hackers Can Change Votes in Voting App Used in U.S. Federal Elections
Again, what part of paper and pencil don't they understand?
---
February 22, 2021
Catching Up . . .
Things are looking up in the refund department. Last night a deposit showed up in my credit card account from Holland America as a refund of the deposit on our cruise that was supposed to go in mid-May. It was for more than the minimum I thought I'd get back, but not all of it. But I can't figure how they came up with the amount they sent.
And after a serious talk with the hotel manager at the La Quinta where we stayed for 4 nights during the Big Freeze, I got a refund of the $152+ that I was overcharged on our stay. It only took a slight mention of the State Attorney General, price gouging during a State of Emergency, and a stern letter to Wyndham Corporate offices, but that got it done.
It looks like Amazon's starting to catch up with their deliveries. A number of my orders that should have been here last week, but as of last night were scheduled for this Thursday, suddenly showed up this afternoon. Hopefully the rest of my orders will also appear posthaste.
Last Monday afternoon when we filled up with gas at the Texas City Buc-ee's, I was surprised that the gas pump still worked, even though it was covered in a 1/4" layer of solid ice.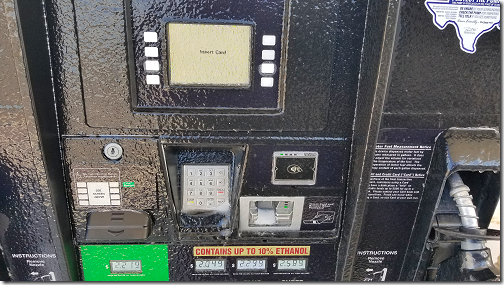 Well, at least everything worked up until I asked for a receipt and the printer went 'Gurgle, Gurgle, Clunk!" and then died. Hopefully it worked better after it thawed out.
Regular readers know how much Jan and I like Van Gogh and his paintings. Well I came across this tribute to Van Gogh done with drones flying in formation.
600 of them flying in patterns make up the show.
You can read more about it here.
Hundreds of drones took Van Gogh's 'The Starry Night' to the skies
Check it out.
---
February 22, 2022
Taking A Snooze . . .
After a nice, quiet morning Jan and I were on our way up to Webster to have brunch at Snooze once again.
Jan got her usual favorite, the Bravocado Toast,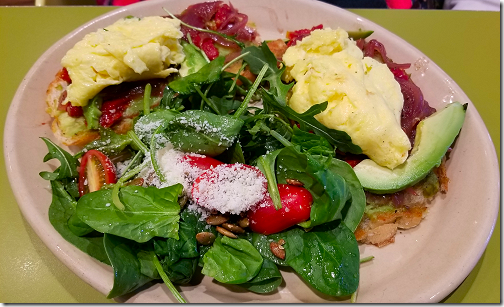 and we split an order of their 'Bacon But Different'. There originally were three pieces here, but Jan got her share before I could even get a photo.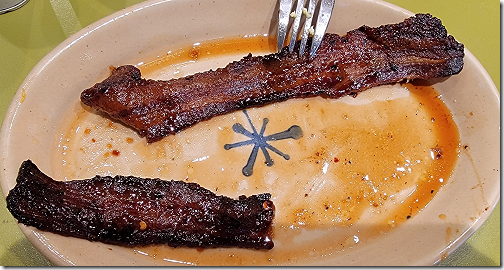 This bacon is made from slices of tender belly bacon, rubbed with brown sugar, cayenne, chili flakes, and then drizzled with black peppered maple syrup. Really, really good.
I decided to try their 3 egg Omelet with Jack cheese, Ham, and Sausage.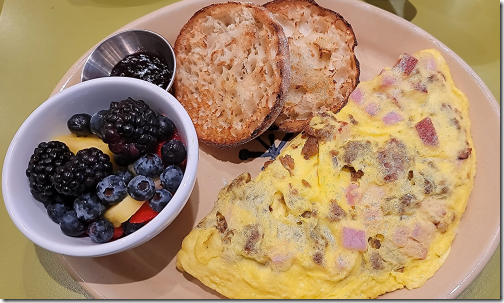 In another universe, this would have been a really good omelet. But I've been spoiled by Denny's Ultimate Omelets that look like this.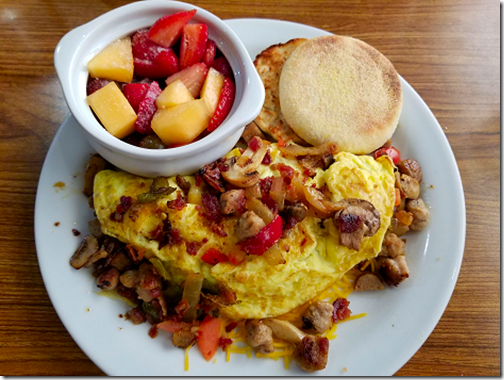 Then after lunch, we made a Lowe's stop for a shelf board for a rig project I'll talk about later, and then a Big Lots visit for some of the Hemp lotion Jan likes, that they have cheap.
Then it was home for the night, where I brought in the newest residents to Jan's Flamingo Flamboyance from the Jeep.
When we were at Costco the other day, we found this pair, and at a great price, too.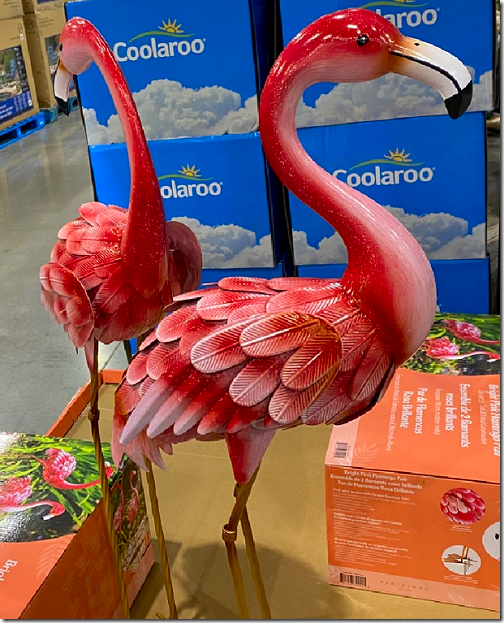 They're life-sized, all metal, with individual feathers, and very well made. I was interested to see that these are actually a Costco product and not from some 3rd party. They'll be a great addition to the flock.
And probably the last, since the Flamboyance is starting to get a little crowded now.
And even Karma thinks they're a good idea. Or at least she approves of the box they came in.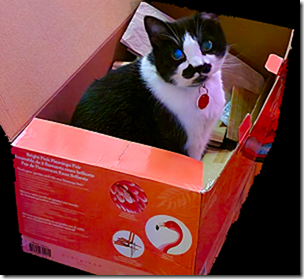 As I mentioned before, Karma was never a box cat until very recently. And now she has a small box lined with a towel that she lays in a few times a week.
But today she immediately crawled into the Flamingo box and settled down for a nap.
Strange Cat!