Daily Archives:
February 24, 2023
Back in February 2022, I sent in the renewal of my Arizona Concealed Weapons Permit, along with a money order for $43. Since my permit didn't expire until May 2, 2022, I figured there shouldn't be a problem.
My Arizona permit is actually the 3rd one I've had since 2008. My first one was as a South Dakota resident which Jan and I both got in October 2008 on our way back from Alaska. We stopped off at the Sheriff's Office in the Lake County Courthouse, filled out a one page form, paid him $10 each, and received our temporary permits. The Sheriff told us that he would run us through the NICS check and if we came back clean, we could come by and pick up our permanent ones tomorrow.
Which we did.
For some strange reason, the SD permits expire in 4 years, while their driver's licenses renew every 5. But when I went to renew my permit, I found they had changed the rules. To renew you had to show proof that you had actually resided in the county for at least 30 days.
But at the time there were no RV parks in Lake County, so a month's stay would have been difficult. I guess we could have parked on the courthouse square and run an extension cord inside, but I'm not sure they would have gone along with it.
And anyway, we were no where near South Dakota.
So at the next rally, I attended a class that let me get a Utah Non-Resident Concealed Carry Permit, this one for 5 years. So this gets us up to 2017. But when I went to renew my Utah Permit, I found they had changed the rules once again.
To renew my Utah Non-Resident Permit, I now to also have a permit in my resident state, if they offered permits. Now I was stuck once again.
So while we were in Arizona, I applied for, and received an Arizona Non-Resident Permit, also for 5 years.
Which I received in May 2017.
So I send in my renewal and promptly forgot about it. One thing that helped that was that Texas instituted permitless carry, even for non-residents like me. I did think about not receiving it back in December, but with all the holiday stuff going on, I promptly forgot about it again.
Until today.
In today's mail I received my Arizona renewal, beginning not last May when my other one expired, but starting 1 January 2023. But the letter was dated February 11, 2023 and it was mailed on February 15th. So I guess it sat around on someone's desk since the first of the year before it finally got mailed out.
And where it was before then, I have no idea.
One thing nice about the Arizona permit is that they had reciprocity agreements with 37 other states, pretty much all of them that actually have permits.
Alabama, Alaska, Arkansas, Colorado, Delaware, Florida, Georgia, Idaho, Indiana, Iowa, Kansas, Kentucky, Louisiana, Maine, Michigan, Mississippi, Missouri, Montana, Nebraska, Nevada, New Hampshire, New Mexico, North Carolina, North Dakota, Ohio, Oklahoma, Pennsylvania, South Carolina, South Dakota, Tennessee, Texas, Utah, Vermont, Virginia, West Virginia, Wisconsin, and Wyoming.
Tomorrow starts with two new front tires for our Jeep. When I was getting the Jeep's oil change last week, they noticed that my front tires were showing cords on the inside edge on both. So I've got an appointment tomorrow at noon for new tires.
I'll wait till next week to get the front end aligned, but not at NTW. They're too expensive for a simple front end alignment.
Then it's Denny's for lunch and HEB for our weekly stuff.
Then Sunday we're heading up to Conroe to meet up with Debi and Ed Hurlburt for our monthly lunch get-together, this time at China Delight, a favorite local place of ours.
---
Thought For The Day: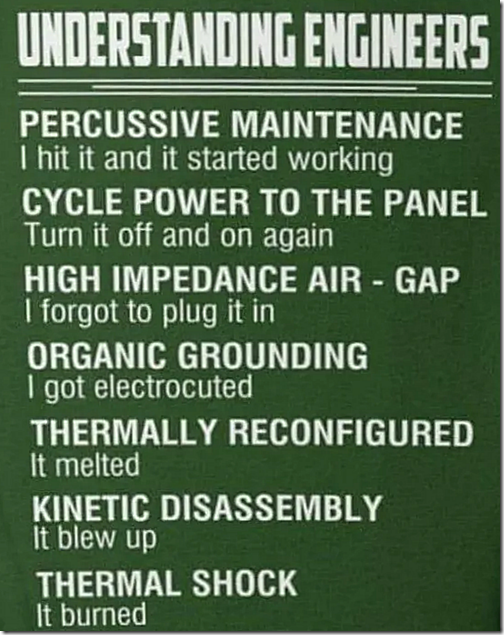 ---
February 24, 2010
On to Tucson…
We left Las Cruces a few minutes after 10am heading to Tucson for a few days to visit some friends we met in Alaska two years ago.
It got down to 24 last night so I'm glad I disconnected the water. There was ice on top of the truck this morning, but no snow at least.
About 15 miles out of Las Cruces, we passed thru a Border Patrol inspection. Every vehicle was sniffed by dogs, I assume looking for drugs.
We stopped for lunch in Lordsburg NM at Kranberry's Restaurant that advertised RV parking on their billboards coming into town. The food was good and we appreciated being able to park the rig without any problems.
One thing we noticed was all the snow-topped mountains as we got further west and crossed the Continental Divide at 4525 feet. And we really enjoyed the rocky landscape. Some of the rock formations we passed were really something.
We pulled in Voyager RV Resort here in Tucson about 4:15 and quickly got set up. According to the billboards coming into town, this park was voted the Best RV Park in the Country. And what we've seen of it looks really nice.
We met our friends, Al and Adrienne, about 5:30 at the park restaurant. and had a great time catching up. We hadn't seen them since we parted company coming back from Alaska in Oct. 2008. They workkamped in Yellowstone National Park last year and will be in Washington state this summer. We hope to be able to see them there if we get that far north this year.
After dinner we went over to their house and visited for a while longer. They have two dogs, Banjo and Sarah, that we had gotten to know in Alaska, and it was obvious they both remembered us. They were jumping around, barking, and leaping on us. Then when we sat down, they were at our feet or in our laps..
We got back to the rig about 9:30 after planning a full day of sightseeing tomorrow. We're really looking forward to it.
---
February 24, 2011
Weigh Stations and Fairgrounds . . .
We got up about 9am and got our hearts pumping with a big pot of Texas Pecan Hazelnut coffee, which gave us plenty of time to get packed up and then weigh the coach like we planned.
So about 11:30 we pulled out of our site into the adjacent parking lot and onto the scales.
When you park on the scales, make sure your front and rear axles are on two different scale segments, indicated by the black stripes on the scale.
Remember how yesterday I said you needed a long stick. These photos show why. Even when you're at the right level, it's still over a 3 foot reach to press one of the call buttons (one of the two buttons on either side of the speaker at the bottom).
You press the button and when they answer, tell them you're a private coach and want a weigh.
This weigh will give you a front axle / rear axle weight, as well as a total gross weight for the coach.
Next I pulled through and back around, reentering the scales, but off to the left side, being sure that my left side wheels were completely on the apron and not on the scales. This allows me to weigh only the right side of the coach. This time I had to get out of the coach (with my long stick) to press the button. I now told them I wanted a 'reweigh'. This saves me $5.00.
A 'weigh' is $6.00, and a 'reweigh' is $1.00. If you tell them both times you want a 'weigh', it will cost you $12.00. A 'weigh' and a 'reweigh' is $7.00.
Go figure. Just another mystery of life.
After pulling off the scales, I parked the coach and then Jan and I drove over to the office and picked up my weigh tickets, one for each time.
The first ticket shows that at 32,340 lbs., I'm about 340 lbs. over gross vehicle weight. Not exactly good, but actually only a little over 1% overweight.
As far as the front and rear axles go, I'm 120 lbs. under the max on the front axle and 460 lbs. too heavy on the rear. Again only a little over 2% overweight.
Time to jettison some books. Or a cat…a black cat.
The reweigh ticket has some good news. The reason for weighing one side by itself is to see if your weight is balanced pretty equally on each corner.
The front axle is perfectly balanced. 11880 lbs. total front axle – 5940 lbs. right front equals 5940 lbs. on the left side.
Perfect.
As far as the rear axle, 20460 lbs. minus 10340 lbs. equals 10120 lbs.
A little mismatch, but only about 2% again.
After we picked up our weigh tickets, we drove into Gila Bend one last time so Jan could get a McDonald's Fish sandwich and some fries for lunch.
And about 15 minutes after we got back, we hit the road to Yuma about 115 miles away, and continued on to the Yuma County Fairgrounds.
About 5pm, we drove over to Chretin's, a local Mexican restaurant we've enjoyed in the past. They were really busy by the time we left, but luckily we got there early enough to beat the crowd.
Afterwards, we decided, yes we DID have room for Dairy Queen, so we adjourned to the nearest DQ to continue the evening's fun and frivolity.
Ok, well it was fun, anyway.
Finally getting back to the rig, we settled in for the evening.
---
February 24, 2012
It's Alive !!!!
I was up about 6:30 this morning, for two reasons. One, it was a travel day and I wanted to start packing things away, and two, I wanted to call Winegard about the problem with my Carryout Satellite Antenna. Their hours started at 7:30 CST so they would be open now.
So after starting the coffee, I got on the phone with a young lady at Winegard who gave me a couple of more things to check on and then call her back after we get to Gila Bend this afternoon.
We pulled out of the Pima County Fairgrounds a little before 9:30 heading for Gila Bend about 135 miles away. We're going to spend two days there before heading over to Yuma.
We pulled into Holt's Shell RV Park a little before noon, found an empty site, and got parked. Then I walked over to the office and paid for two nights. We got here this early in the day because this time last year we had to wait for RV's to pull out before we could get a site, but this we had plenty of sites to choose from.
After getting hooked up, I took the dome off the satellite antenna and started checking for 12 volts on the circuit board. And came up with zip . . . no 12v. So I started working my way back up the circuit, finally getting back to the power cable itself.
So I checked it again. And this time found no voltage on the cable.
Huh? I had voltage on it last night. What happen?
Well, as it turned out, I apparently managed to hold the cable in the one position where it worked. A little experimentation showed that the problem was in the plug itself.
This was good since I would be able to replace this myself. But in the meantime I called Winegard to see about getting a replacement cable.
I was told I would have to fax them my sales receipt and they would send me a new cable, no charge. Since I didn't want to wait that long, I drove into town and bought a new plug at the NAPA Auto Parts store.
Getting back to the park, I had the plug replaced and the antenna up and working in about 20 minutes.
It's alive!!
Great! Now I'll get to watch "Fringe" tonight.
Later, about 5:30 Jan and I headed into town to have dinner at Sofia's Mexican Food.
A little hole-in-the-wall place, it has some of the best Mexican food around. We always eat here, and in fact, we'll eat here again tomorrow night.
Jan loves their Shrimp Burrito. It's jam-packed with large, tasty shrimp, and is a meal all by itself, although Jan usually gets an order of guacamole with it.
Back in Houston, it's Go Texan Day, and everyone dresses up Western, even Landon.
I think he looks like Woody, the cowboy in the Toy Story movies.
Brandi said when she put the hat on him, he didn't like it, until he saw himself in the mirror with it on. Then he didn't want to take it off.
---
February 24, 2013
Movin' On . . .
Today is our last full day here at Canyon Lake. Tomorrow we'll make the 68 mile run to the Medina Lake Thousand Trails west of San Antonio.
Brandi, Lowell, and Landon came by the RV park a little after 10am to meet up with us for lunch. Jan was hoping that the deer would come out so Landon could see them, but no such luck. I guess by this time the deer had gone back into the woods to stay cool.
About 11am we all drove over to Milagro's to have lunch. We were able to get a table out on the patio so we could watch Landon entertain himself in the play area.
Here he's working on the pipes under the sink. He certainly seems to have the pants thing down.
And of course Landon always seems to attract the young ladies where ever he goes.
After lunch we all headed over to Gina's to spend some time visiting before Lowell, Brandi, and Landon headed back to Houston a little after 1pm.
About the same time I came back to the rig for some more To-Do list chores. I got the new under-step light installed with an LED bulb that will last longer and be less susceptible to vibration, along with repairing the shower door latch, reinstalling one of the grab handles by the door, and a number of other small things
About 6 I drove back over to Gina's to pick up Jan and head back to the rig, but on our way we decided that Rudy's BBQ sounded good for supper. Since we also wanted to pick up another bottle of their BBQ sauce to take with us this year, we used this as an additional reason to drive to New Braunfels' location.
After a great meal of brisket, ribs, and jalapeno sausage, we headed back to the rig with a quick stop at Buc-ee's to pick up some of Gina's favorite Strawberry/Cream Cheese kolaches.
Tomorrow we'll get together with Gina for breakfast before we head out for Medina Lake.
Brandi sent over this picture the other day of Landon at the Butterfly Museum in Houston. She said he had a great time with the butterflies landing on him.
---
February 24, 2015
She Can See Clearly Now . . .
I was at the auto repair place at 8am this morning. Unfortunately, I didn't ask the right question yesterday when I ask what time they open. I should have ask what time they could get started on my truck.
Instead I showed up at 8am, and they finally opened at about 8:20. Then I found out the mechanic didn't show up until 9. And after he had his coffee and donuts, he finally got to work about 9:30
I could have slept another hour and a half!
Plus, to make things even better, the heater had gone out in the shop and the waiting area, so inside it wasn't much warmer than the 38 degrees it was outside.
Finally heading home, I had the heater in the truck running full blast trying to get warm, and didn't get the chill off until I got back to the rig.
A little later, Jan and I headed out for some errands, but first up was dinner at the new Quaker Steak and Lube down in the Victory Lakes area. Before this, we've only encountered Quaker Steak up north, so we were happy to find one down in this area now.
After our meal, we drove up to the Sam's Club on El Dorado to pick up Jan's new glasses, and drop off the prescriptions we got yesterday at the doctor's. A few of them we want now, but most of them we just wanted in the system so we can pick them as we travel.
Jan was really happy to get her new glasses since the coating was coming off her old ones, making it hard to see.
Wrapping up, it's hard to believe that we only have 4 more days here before we leave for Tucson this coming Sunday.
And so much to still do.
---
February 24, 2016
Good To Go . . .
For Another Year.
Jan and I were up early and out the door about 7:45am, heading for Friendswood about 70 miles south. Normally it's about an hour and fifteen minute trip, but because we're driving through downtown Houston during morning rush, and we wanted stop at the Flying J for gas, we allowed a little over two hours.
And needed most of it.
We got to our doctor's office just a little early and thought we were on a roll when Jan got called in early. With my appointment set for 10:15, 15 minutes later, I thought we were on a roll.
So I'm not sure what happened, but I didn't get called in until 11:40, more than 90 minutes later.
But after we were poked, prodded, stuck, and EKG'd, we got a clean bill of hill and are good to go for another year. We were out the door a little before 1pm, and on our way down to Dickinson to have lunch at one our favorites, Monterey's Little Mexico, although any place would have been fine at that point, since we'd both been fasting since supper last night.
Finishing up our delicious Tortilla Soup and Fajita Beef Nachos, we headed over to League City around 2pm to take care of some stuff on our friend Barbara's computer.
We've know Barb and Tom for years, and always try to get together whenever we can.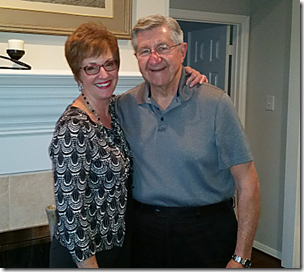 First, I set her up a Business Account on PayPal so she can take credit cards and online payments through them. It's wasn't hard to set up, but there are a lot of hoops to jump through and it can be kind of confusing sometimes.
One thing new from when I signed up for PayPal years ago is that they now deposit TWO small amounts in your bank account for you to identify, not just one as when I did it. And now they tell you they will take the amounts back in a few days, not just leave them as they did with me.
Next up was to get iTunes downloaded, installed and set up. We had moved her music over last time when I set up her new laptop, so then it was just a matter of letting the new iTunes find the old music, and we were done with that.
Then I got the DirecTV app configured on her laptop so she can stream movies and TV shows, just like on her big TV. Again, not hard, but confusing sometimes about what you can watch live, what you can stream, and what you can record.
By now it was after 4:30, and we did not want to fight the rush hour traffic back to Conroe at this hour, so Jan called our friend's Bob and Maria to see if they might be available for dinner at kind of the last minute. And lucky for us. they were. So we made a date for 6:30 at the La Brisa on I-45 in League City.
Mexican twice in one day. Yah!
Wrapping up, I spent some time with Barbara going over some things that are different with Windows 10.
Finally getting our hugs and goodbyes from Barb and Tom, we headed over to La Brisa to get our hugs and hellos from Bob and Maria, another couple we've known a long time. In their case, since the mid-80's when Bob and I were both into Commodore Amiga computers.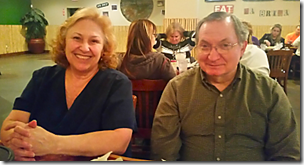 Normally I really like La Brisa, but tonight was a real disappointment, at least for me. I ordered the Combo Fajitas with Jalapeno Sausage. And what I got for $17.95 was this.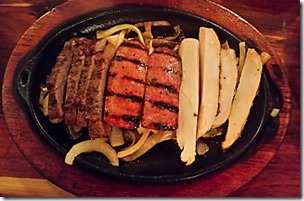 In the photo everything looks much larger, but each of those fajita strips is only a little over 3 inches long, which make the sausage even smaller. The meat was lukewarm, and so was the iron platter, no sizzling here. I don't even think the meat and onions were grilled together, since the meats had very little flavor.
In contrast here's whet I got at El Bosque in Conroe,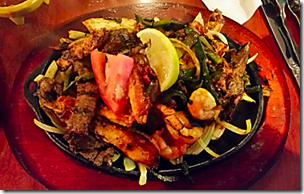 Beef, Chicken and Shrimp on a sizzling platter for $13.99
And again at El Bosque,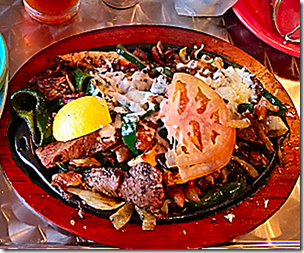 beef and chicken for $12.99. Look at those big chunks of beef.
And even at the Jalapeno Tree up in Carthage when we were gate guarding.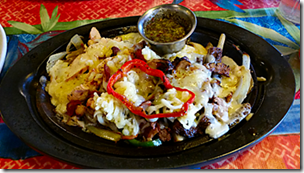 That's beef and chicken fajitas covered in cheese for $11.99.
I probably wouldn't have been upset if the price had been $12 or $13, but not for $18.
But as bad as I though the food was, the company and the conversation really made up for it. We had a great time, talking new times and old times, and the time just flew.
But we finally said goodbye and were on the way back to Conroe by 8:30, getting here a little before 10pm, racking up another long, fun day, filled with good news, good friends and good times.
Just what RV'ing is all about.
---
February 24, 2017
Scheduling and Straddling . . .
After checking off some more chores on my my list in the morning, I spent most of the afternoon working on the scheduling of our upcoming travels.
I did find a really nice park near Rapid City for our week-long stay there and called to make reservations at the Passport America rate for the entire week. Nice.
I was a little worried about getting this reservation since it straddled the Memorial Day Weekend, but luckily we had no problems.
I've still got a few more dates to lock down, and a few more places to check out to stay and things to see. But it will all come together as usual.
About 4:30 Jan and I headed up to Ellinger for the Friday Catfish Buffet at Peter's BBQ, stopping off to pick up our Ranger friend, Barbara Spade. Also meeting us there were our next door neighbors, Bill and Val Fullerton.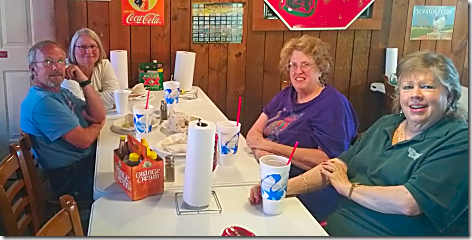 Bill and Val are kind of newbies, full-timing in their new Redwood 5th wheel just since December of last year. Before that they were longtime tent campers.
We all had a great time talking about the RV lifestyle, and hope we'll get back together soon.
Tomorrow's another 'working through the checklist' day before we head back down to Clear Lake on Sunday for a family get-together at the local Cheddar's. Looking forward to it.
Then on Monday Jan has her yearly appointment with her oncologist in the afternoon. Originally we both had our yearly doctor visits that morning, but the doctor's office called and rescheduled us until Tuesday morning. So that means two trips instead of just one.
Then Wednesday we moved back over to the Lake Conroe Thousand Trails for a week before coming back to Colorado River on our way to Tucson.
---
February 24, 2018
Blog Called On Account Of . . .
Jan partied too long.
But I did get this shot of the whole bunch of partiers.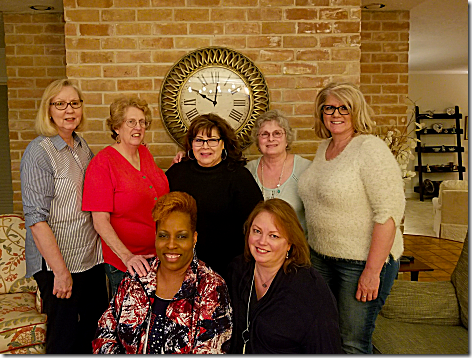 Looks like a pretty rowdy group to me, especially the one in red.
I'll catch up with everything tomorrow when we're back home at the rig.
---
February 24, 2019
Coffeeshop or Coffeehouse?
This morning Jan and I headed up to Sugarland to Sugarland Ice to watch another of Landon's Hockey practices, with, I think only one more to go for this year.
Landon has also been taking skating lessons from a figure skating coach for the last few weeks, and it really shows. He's so much smoother on the ice, making sharper turns, and skating backwards.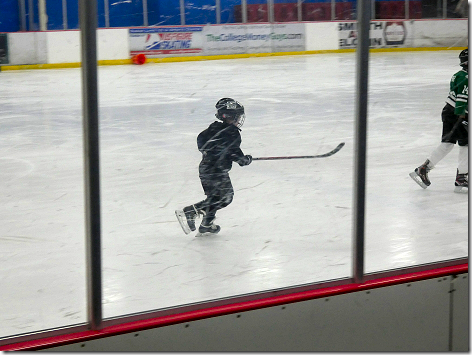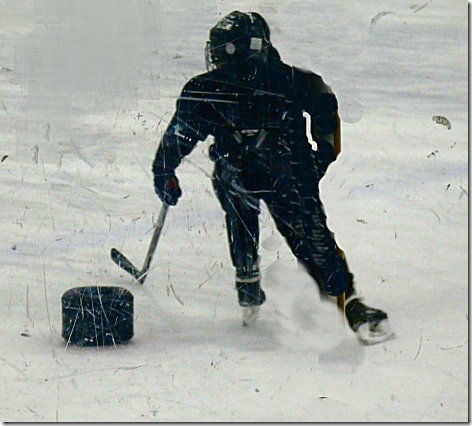 Later we had our usual lunch stop at the nearby Floyd's Cajun Seafood, and just like last week, they were very busy, and this time we had a 20 minute wait, Last week when we asked why they were so much busier than previous visits, I was told, with a slight hint of surprise at my ignorance, that it was 'Crawfish Season'.
And obviously, it still is, since pretty much every table had a big bucket (or two) of Mudbugs in the center. But our service was pretty quick, since we ordered our meal when Alyssa took our drink order. She was kind of surprised though, since we didn't even have menus yet. But we've all been there some many times we didn't need them. We know what we want.
Any even as busy as they were, the food was just as delicious as usual. Never had a bad meal at a Floyd's.
And on the subject of meals, here's a sample menu from our upcoming cruise.
And this doesn't include the onboard buffets and the eating options on the extra excursions. We may need to add a number of those 'Demanding' excursions to our itinerary. Sounds like we may need to 'walk' off some extra pounds.
While we were at lunch, our daughter Brandi was talking about what to see in Amsterdam. And she knows because she was an exchange student in Germany back in college, and visited Amsterdam with her friends.
She mentioned the Anne Frank House (already on our schedule), the world-famous Sex Museum (also scheduled, and also visited by our daughter) and the 'Coffee Shops', some of which actually do serve coffee.
But they're more known for the fact that they sell legal marijuana. And as I said, some coffee. If you want coffee and not an inhalation high, you want a coffeehouse. Good to know, I guess. Strangely, although you can smoke marijuana in a coffeeshop, but you can't smoke that dangerous tobacco there.
And concerning 'inhalation highs' Brandi was surprised to learn that neither Jan nor I have ever smoked marijuana. Though I said that I have inhaled deeply at a number of parties and concerts.
This fact has caused me some problems with the 20+ lie detector tests I've taken over the years as part of the many security clearances I've received over the years with both the DOD and with NASA.
The main problem was that, growing up as a teenager in the 60's, no one would believe that I had never once smoked any weed, or Mary Jane as they pretty much called it then. Even when I passed the lie detector test, they thought I was cheating somehow. But as I said, I always told them I just inhaled deeply.
As far as my young, innocent wife, early in our marriage we attended a Beach Boys concert in Birmingham, back in the good old days when you could smoke at concerts, and when we walked in Jan took a couple of whiffs and ask, "Why are they burning incense in here?".
And then she proceeded to sleep through half the concert.
---
February 24, 2021
R.I.P. Fry's . . .
One of my favorite places called it quits today, though in reality it had been slowly dying for a long time.
Fry's Electronics, a staple in the computer field since the mid-80's, posted that they were closing all of their 31 remaining stores as of 2/24/2021.
I remember back in the late-90's/early 2000's when I was building up 2 or 3 computers a week for clients around the Houston area. The weekend Fry's ads came out in the Thursday edition of the Houston Chronicle, and I always stopped on my way into the University to pick up a copy.
I think my biggest purchase from Fry's totaled a little over $20,000 for 10 computers, monitors, printers, etc. for the computer area in an assisted living facility.
But over the last 4 or 5 years they went steadily downhill, with shelves half empty, and no one around to check you out. If you could actually find something to buy.
But they will be missed.
I spent most of the day at work trying to set up a Gigabit WiFi network in the office. not to access the Internet any faster, but allow quicker callup of data between the computers,
The databases for the Point of Sale resides on one computer, but also needs to be accessed from two others. And the UPS Worldship database is on another computer but needs to be access from three others. So there's a lot of data moving back and forth.
So today I got the TP-Link WiFi 6 Gigabit Router installed and configured, and so far it's working fine.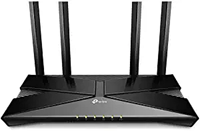 Friday I'll start installing the four matching TP-Link WiFi 6 Gigabit Cards, in each computer, one at a time, and testing them out.
Hopefully this will speed things up substantially.
Wrapping up, I saw this warning label on the back of one of the machines on the food truck that was parked outside our La Quinta hotel during our Big Freeze evacuation.
I'm still not sure what it's saying.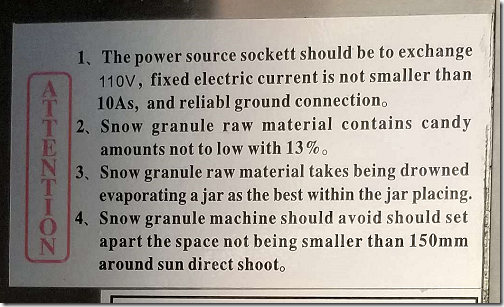 ---
February 24, 2022
Nature's Perfect Food . . .
Now in Spicy Hot!
Jan and I were on our way up to the Spring area about 10:30, with a quick stop for gas along the way. We were meeting up with long-time friend's Debi and Ed Hurlburt at the El Palenque Mexican Restaurant, a favorite of ours.
This was another in a long line of monthly get-togethers that sometimes include Janice and Dave Evans, and we always look forward to them.
Jan tried something new this time, the Mazatlán, which is a Grilled Chicken Breast with Grilled Shrimp and covered in Monterey Cheese.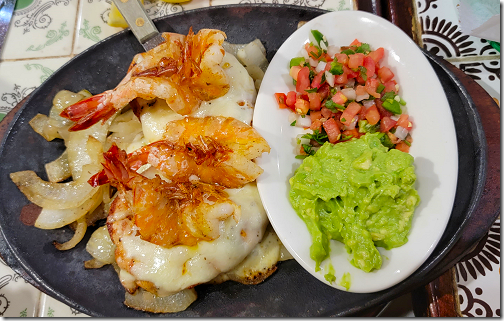 As opposed to what she usually gets, the Rancho Grande, which is a Grilled Chicken Breast with Grilled Shrimp, and covered in Monterey Cheese.
Don't ask me. I don't know either.
I got the Sampler platter, with quesadillas, taquitos, and nachos.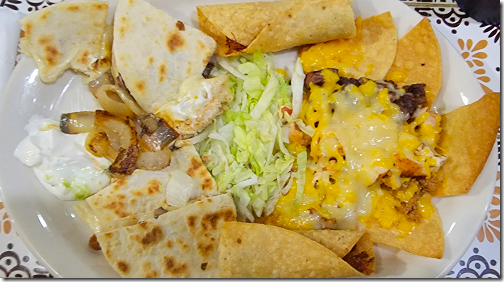 As usual we gabbed for more than 2 hours before we made the date for next month and headed home.
When my new Samsung S21 Ultra came with 5G capability, I was interested to see what kind of speed increase I would see. And so far I've not been really impressed.
This is what I get for 5G up in the Webster area.

Not really impressive.
I've heard that in some areas Verizon is running 5G on top of the 4G, resulting in slow speeds. But it lets them tout how many areas 5G is available, whether it's fast or not. So I imagine that's what's happening here.
Now normally I'd be stuck with that, but I have an app on my phone called Samsung Band Selection that let's me drop my phone back to 4G LTE. And this is what I get.

A big difference.
Now it's a lot better up in Spring. This is what I got up there today.

So maybe it will eventually speed up down here.
I've always considered Peanut Butter nature's perfect food. It has Protein, Carbs, Fat, and No Cholesterol.
However I like it too much. If I didn't watch it, I think I could eat an entire jar at one time. And since it's easier for me to resist temptation if I'm not tempted, I just don't buy it very often.
But when I saw this online, my willpower crumbled and I had to order a jar of this.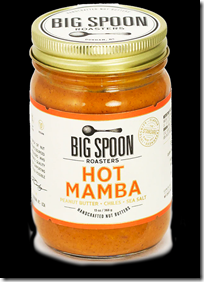 It's an all-natural chunky peanut butter with tropical habanero, guajillo & ancho chiles; raw, organic cane sugar and a hint of sea salt.
I doubt it's really hot, but I can always spice it up myself.
And even better (butter?), I ordered it today and it will be here tomorrow.
I'll let you know.