Daily Archives:
February 23, 2023
Jan and I were on our way for our big day of fun in Houston by about 10am, and after a quick stop for gas, we got to the Katz's Deli in Montrose by about 11.
We've eaten at Katz's for years, and it's always great. In fact we had hoped to check out the original one in NYC when we were there in December 2019, but somehow never made it over there. A shame.
We both started off with a cup of their Rustic Tomato Basil Soup.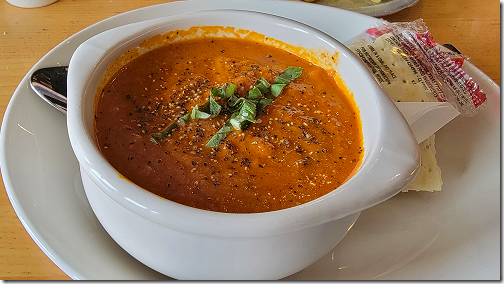 Thick and Delicious!
Then Jan got her usual Open-Faced Tuna Melt,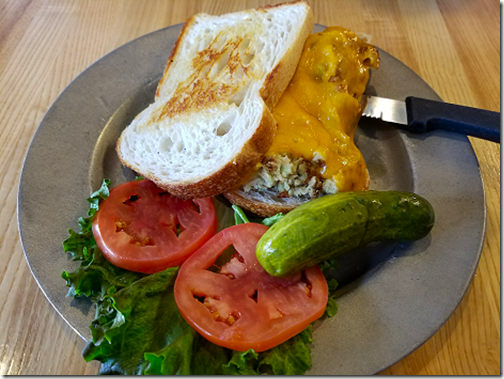 along with a side of their sliced-and-cooked-to-order chips.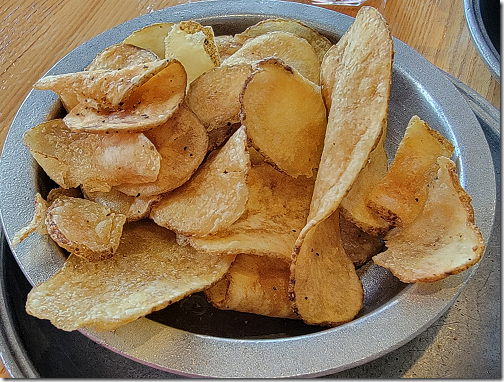 I decided to go with their Reuben Dog once again,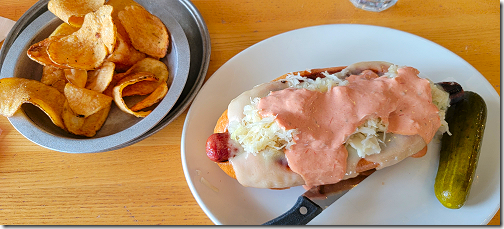 also with the chips, which come out warm from the fryer.
I had to pull back to get both in the shot, but that's a footlong hotdog in there.
We also split an order of their complimentary Cole Slaw.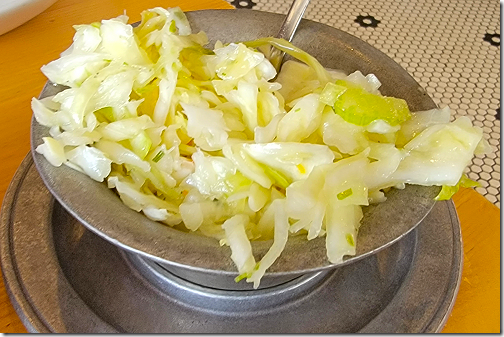 And like usual, we got dessert to-go for later, with Jan's Chocolate-Dipped Macaroon,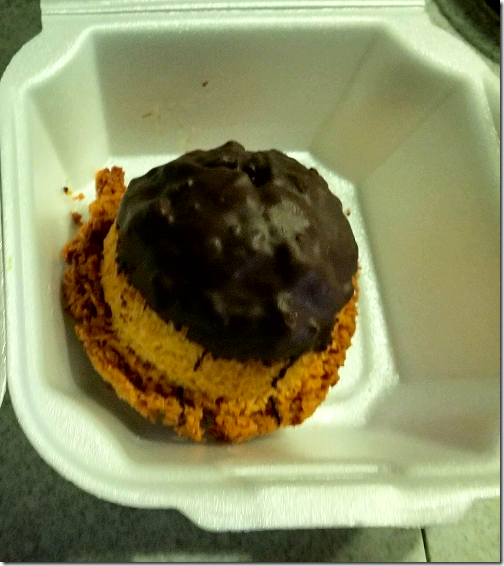 and my Black & White Cookie.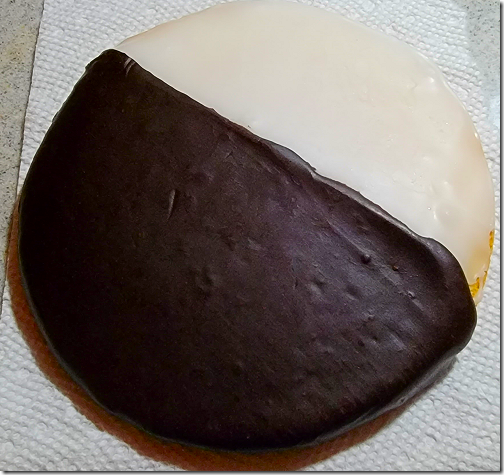 Then it was off to the Houston Museum of Natural History for our King Tut's Tomb Discovery Experience.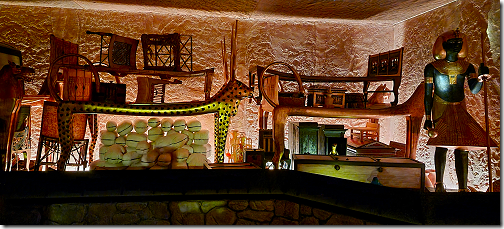 One thing that was interesting is that rooms full of artifacts were displayed as Howard Carter found them in November 1922.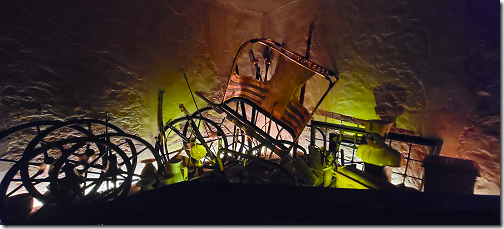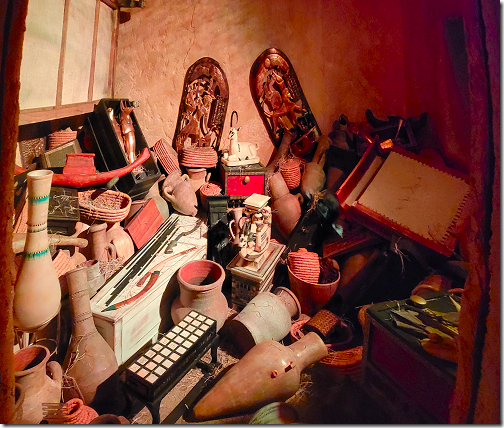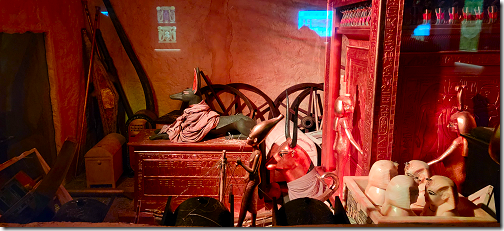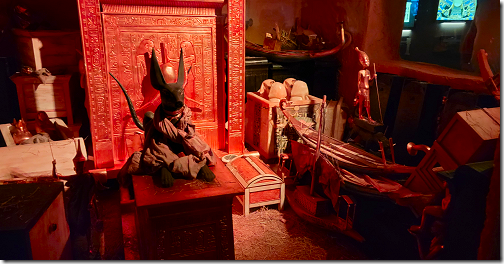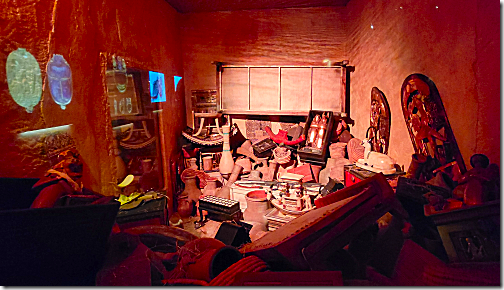 Plus there were a number of visuals displayed on the walls.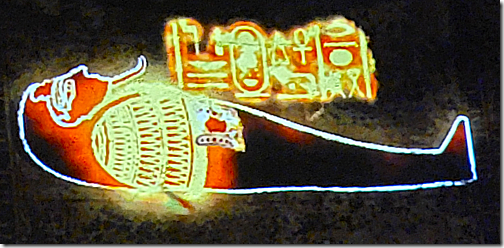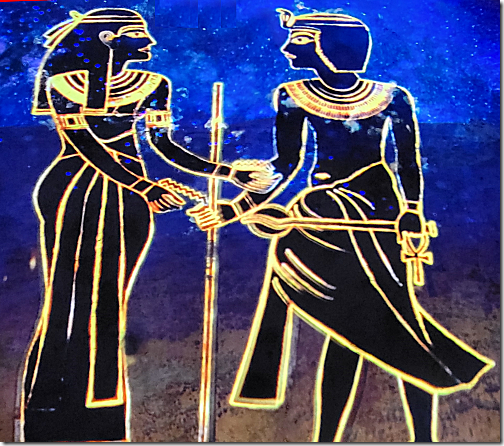 Below, going from left to right, are the 3 sarcophagus layers of King Tutankhamen, with the 3rd one made of solid gold.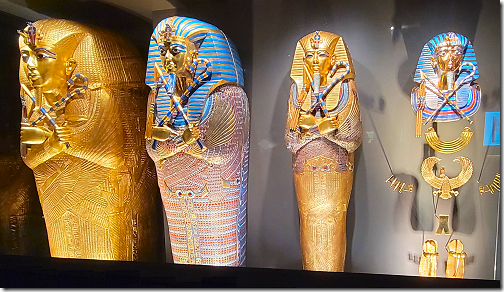 The artifacts on the far right were found on the actual mummy, including the gold sandals on his feet.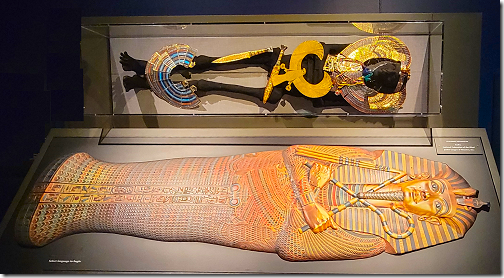 At first we were kind of disappointed in the size of the exhibit, compared to the Ramses II one we saw back in May. But then realized that we had combined Ramses with the Hall of Ancient Egyptians, a permanent exhibit on display.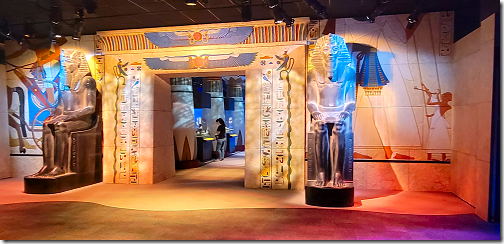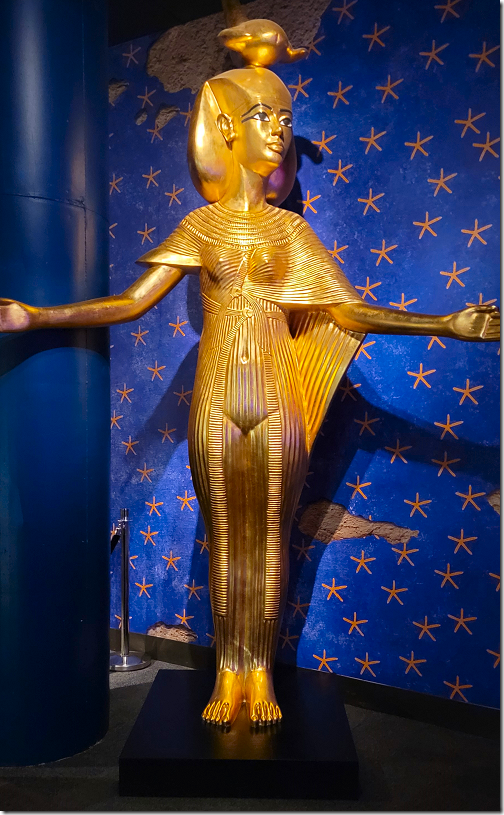 Later we checked out another exhibit of the Dreher carvings, mostly of birds done from semi-precious stones and jewels.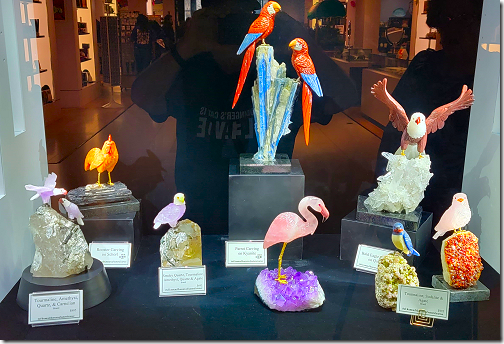 Of course, the one that really caught Jan's eye was this flamingo with the solid gold legs.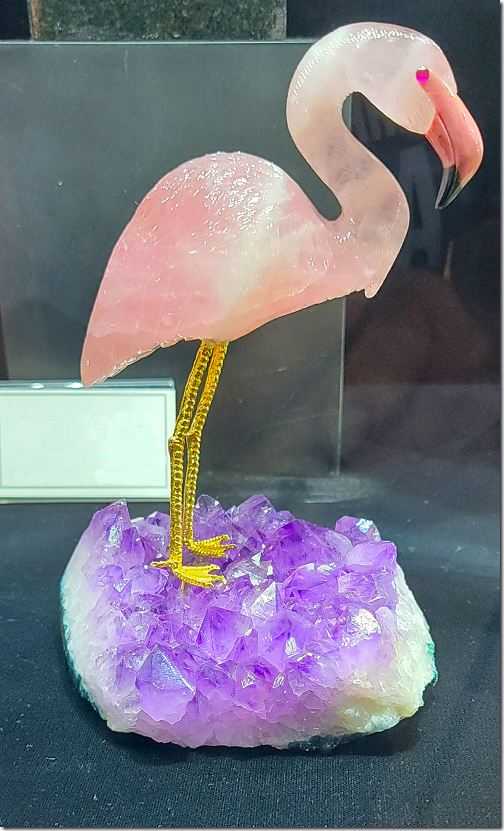 There was no price on this one, but based on the prices shown on the other ones, I figure it was around $5K.
Yikes!
Finally heading home, we made a Cowboy Coffee stop for Hazelnut Lattes before getting back to the rig about 3:30.
Another fun day!
And tasty too!
---
Thought for the Day:
All you Need to Know about Government and Bureaucracy:
Pythagorean theorem: ………………………………………….. 24 words.
Lord's prayer: ………………..……………………………..………. 66 words.
Archimedes' Principle: ………………………………………….. 67 words.
10 Commandments: ………….………………………………… 179 words.
Gettysburg address: …………………………………………… 286 words.
Declaration of Independence…………….………………. 1,300 words.
US Government regulations on the sale of cabbage:.26,911 words.
---
February 23, 2010
Where's the Giant Coyote?
Today was our last day in Las Cruces for a while.
As I said yesterday, we always stay at this KOA because of the view.

Note the snow on the mountain tops.

Just beautiful!
After a great meal at La Posta last night, we slept in and then decided to go back to La Posta for lunch. You can't have too much La Posta!
Last night it was supposed to get down to about 32 degrees, but here on the mountain side it got down to about 27 degrees.
Tonight it's supposed to get down to 26 so I figure it will get down to about 20 here. This means I will be unhooking our water hose and draining it and our water filter to prevent damage from freezing.
After a great lunch at La Posta we headed to Wal-Mart to stock up on more 'stuff'..
Arriving back at the rig, we settled in to goof-off the afternoon. I mean, isn't that what it's all about!
About 4:15 we left for supper at another favorite place of ours called El Comedor. On the way we stopped off at Radio Shack so I could get some solder wick to repair our heated mattress pad.
On the way home I stopped off to get a picture of this giant roadrunner erected at an Interstate rest area.

It's about 30 feet high and very impressive. I was going to get a little closer for a better shot until Jan pointed out this sign.

Oh, never mind!
Getting home, I went ahead and disconnected and drained the water hose and filter so they won't be affected by the cold weather.
The Weather Channel is no longer talking about snow tonight, so that's something, I guess.
I did my repair to the heated mattress pad. We'll see how it works.
We plan on heading out about 10am tomorrow to Tucson for a couple days to visit some friends, so more then.
---
February 23, 2011
Burritos and Carnitas . . .
Today's our last full day in Gila Bend, and we started off with some Cinnamon Amaretto Pecan coffee (two scoops of Gevalia Cinnamon, 1 scoop of HEB Texas Pecan, and Amaretto Creamers). Hmmm Good!
A little after 11am Jan and I headed over to Sofia's Mexican Food for one last shot at their Shrimp Burritos and Carnitas Dinners. And their salsa is great, too. Really hot.
Our last stop was the hardware store, again. I wanted to get another AC Vent Deflector and some steel mending plates. The deflectors are held to the vent covers by magnets, but my covers are plastic and the steel screws don't have enough surface to hold the deflectors securely.
So I added the mending plates under the screws holding the vents on.
This gives a good surface for the magnets to grip. This should hold them firmly. We'll see tomorrow when we travel on to Yuma.
Coming back to the rig, I dropped Jan off and then went over to the CAT scales to weigh our toad. We haven't weighed it since we did it here in Gila Bend 3 years ago on our way to Alaska. And this time I had a long stick with me.
The call button that you press to get a weight is about 8 feet off the ground since it's supposed to be pushed from a semi cab. So a long stick is needed for the pickup. In fact, it also helps in the weighing the RV too.
The toad weighs 5570 lbs. That's about 300 lbs. less than 3 years ago, mostly due to the fact that on our way to Alaska I was carrying a spare tire that weighed 225 lbs. I carried the spare "just in case" because all the books said it was needed.
Of course, because I had the spare, I never needed it. Never had a flat on either the rig or the toad, so I ditched it as soon as we got back to Houston.
Tomorrow I'll weigh the coach before we leave here.
After we returned from lunch I got back on the carpet project. I finally got all the carpet up underneath Jan's chair, and all the staples either removed, or pounded flat. The black square in the center is the mounting base for the chair.
And this is with the chair mounting plate installed. The chair itself mounts on the plate with bolts thru the 4 holes. All the motors that move and configure the chair are mounted in the base of the chair.
After we get to Yuma for a few weeks I'll pull the driver's chair and remove the last of the carpet underneath there. Then it will be time to start laying the laminate.
Wheeee!
---
February 23, 2013
BBQ and Bird Feeders . . .
After checking in with Gina, we headed up to Driftwood, TX to have lunch at one of our favorite BBQ places in the world, Salt Lick BBQ.
One look at this pit, one of three they have, gives you a clue why it's so good. In fact it's so good that it's where Brandi and Lowell had their wedding reception dinner in 2010.
As usual, we got the Family Meal which means all the Beef Brisket, Pork Ribs, Sausage, Potato Salad, BBQ Beans, Cole Slaw, and Bread we can eat.
And we had to end it all with a shared bowl of their combo Blueberry/Peach Cobble, ala mode, of course.
After lunch, we let Landon work off his big meal by letting play in the Kid's Ranch play area.
We worked off our meal by watching him run around.
After a nice drive through the Texas Hill Country we ended up back at Gina's for the afternoon. Landon had a great time playing in the treehouse next to her house.
In contrast to the beautiful weather we're having here in Texas, Jan's sister Debbie sent over this photo of the birds flocking to her feeder at their home in southern Illinois.
Tomorrow we'll all get together with Gina and hopefully be able to have lunch or dinner with her.
---
February 23, 2015
Clean Bill(s) of Health . . .
Jan and I headed up to Friendswood about 8am for our last two doctor's appointments, this time just for our annual physicals. We got called in within just a few minutes of each other and were both out by 11. Our doctor, we both have the same one, gave us both clean bills of health, so we're set to go for another year.
Since we had to fast for our lab tests, our next stop was breakfast at The Egg and I. Love their food, and especially their Hazelnut coffee. It was nice to just be able to sit and talk about our upcoming plans, and not still have any medical issues hanging over us.
Heading out, we stopped off at our son Chris' to check on something before ending up back in Webster to talk to my mechanic about some work I want to have done tomorrow morning. I want to get in first so I can get out quickly, so I'll be there at 8am tomorrow morning. Yuck!
Finally heading back toward the rig, we stopped off at the Dunkin' Donuts in League City for coffee and Munchkins to go. Then our last stop was the Wal-Mart in Kemah for stuff before finally getting home about 2pm
Although the high was 75 yesterday, it was 46 today, with 37 tonight. Not very conducive to working outside on the rig, so all that's on hold for now.
Got a call from Sam's Club that Jan's new glasses came in so we'll pick those up tomorrow, and also drop off our prescriptions while we're there. We don't have the doctor send them over because they'll automatically fill them, and we don't need anything right now. We just want to get them in the system so we can fill them on the road as we travel.
---
February 23, 2016
Happy Kitty . . .
Well, Jan's Facebook account is still dead in the water, but at least they finally responded to my emails. At their request I sent them three pieces of ID for Jan, so hopefully we'll hear back soon.
Some Facebook friends have said they can still see the bogus Janice White account, with Jan's photo, while others can't see it at all. And of course I still find it strange that Facebook disabled the real account and left the fake one active.
Jan joined me in being under the weather today, so we never left the coach, except when I walked next door to tell Brett and Frankie we weren't up to dinner tonight, but hopefully tomorrow.
Although we never got the promised heavy rains, we did have a lot of wind all day, enough to keep the awnings thrumming most of the time. With the front coming through, our night time temps are back down in the 30's and 40's rather than the recent 50's and 60's, so that'll be nice for a change, and the bedroom AC won't be running during the night.
I didn't really get anything down on the drain pump problem today, at least not physically. But I did try to work out how I'm going to mount the new pump. So far I'm going to bolt some bar stock across the bottom frame and then either use heavy tie-wraps or stainless steel clamps to mount it.
Tomorrow if we have time after our doctor appointments down in Clear Lake, I'll stop off at a Home Depot or Lowe's to also look for some way to adapt the hoses. I should be able to find some combination of adapters and hoses that will allow me to hook up the new pump. Somehow I'll make it work.
But one way or other, fixed or not, I have to get the washer back in its cubbyhole before we travel back to Columbus on Sunday. Otherwise I'm not sure if the slide will come all the way in. And I know we won't be able to get back to the bathroom. I'm pretty sure I can get it working before then, but you never know.
Karma is a growing young girl. She's really gotten bigger since she came to live us, and it's only been three weeks.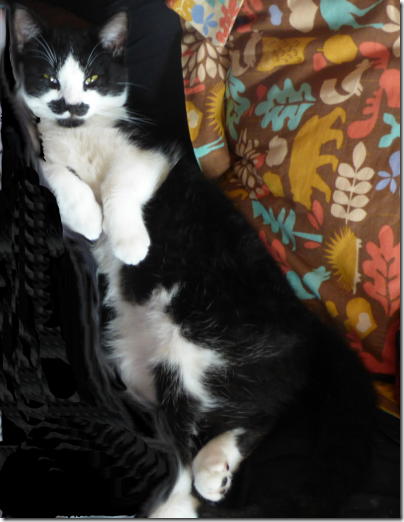 She's already bigger and heavier than Emma, our other cat that died in 2013. I don't expect her to approach Mister size, but you never know.
She does like to spend time on the dashboard looking at the world, but she's still shown no real interest in going outside. She'll sometimes peek around the chair when the door is open, but that's about it.
So far she's turning out to be a really good kitty.
Tomorrow morning we'll head out about 8 for our 10am doctor appointments down in Friendswood. Then after lunch, I got another get-together with a client.
So another busy day.
---
February 23, 2017
No Smoked Butterscotch . . .
It was another travel day so we were out the door a little after 9, heading for Pearland about an hour and 45 minutes south.
We were there to take our long-time friend Bonnie out to lunch, and then spend some time together. We ended up at a nearby Chili's for our meal, and we weren't disappointed.
Jan had her favorite Margarita Chicken,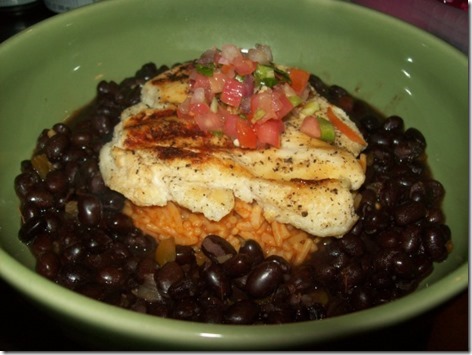 while Bonnie tried our other favorite Grilled Caribbean Salad with Chicken.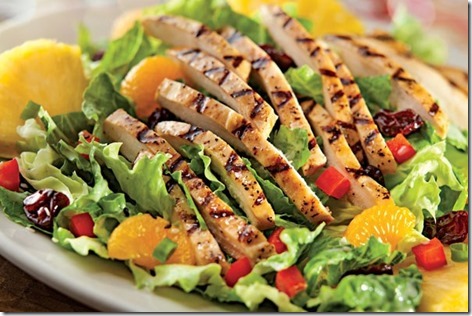 For my part, I'd recently seen the ads on TV for their new Smokehouse Combo, so I decided to give it a try.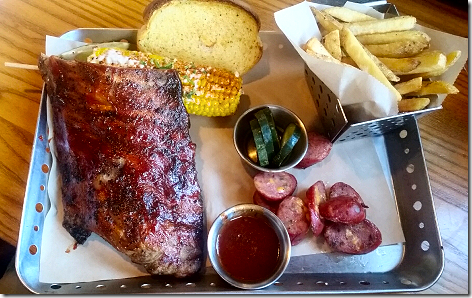 It was good, but it would have been a lot better if we just hadn't eaten at Rudy's last weekend.The ribs and sausage just didn't match up to Rudy's meat and sauce, but overall it was a good meal, and I did have leftovers.
After lunch we went back to Bonnie's to talk for a couple of hours before saying our goodbyes.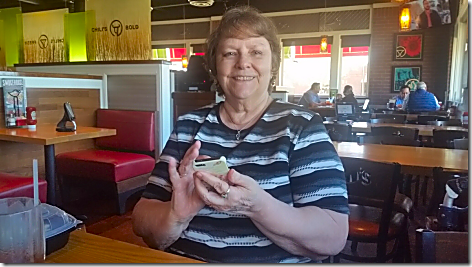 Then it was off to the nearby Wal-Mart and Sam's Club for a few things before we headed back home.
Of course by this time we were starting to encounter the beginnings of the Houston going-home traffic, so things slowed down a good bit. But finally we made it to Brandi's to pick up our recently Amazon orders. We didn't get to see anyone though since Brandi was still at work and Lowell and Landon were off getting haircuts.
Then right before we got back on I-10W we made a Starbuck's stop for a couple of their seasonal Smoked Butterscotch Lattes. But even though it was still up on their menu board, AND I just saw a TV commercial for the flavor last night, the barista (baristaess?) said they've been out of the flavor for several weeks and won't be getting anymore this year, and doesn't know why they're still running ads for it. She said they get people in every day asking for the Smoked Butterscotch, and some leave when they find out it's not available.
So this time we settle for our standard Cinnamon Dolce Lattes fort the road, finally getting back to the rig about 6:45.
I mentioned yesterday how I was unable to get a reservation for one night at the end of April at the Turtle Beach Fish Camp Thousand Trails in California, and now I know why.
It's under 4 feet of water.
Blog reader Bill Duke commented that they just had to evacuate Turtle Beach and they don't know when it will reopen. So I guess I'll have to keep checking back.
Tomorrow and Saturday I'm back to working through my checklist. YAY!
---
February 23, 2018
On The Road . . .
I spent the morning being sure I had all the tools I would need to install my new LED headlight bulbs tomorrow.
Then it was on to La Finca Mexican Restaurant only about 10 minutes from Brandi's house.
Jan had the Pollo Parrilla, a grilled chicken breast covered in really good stuff.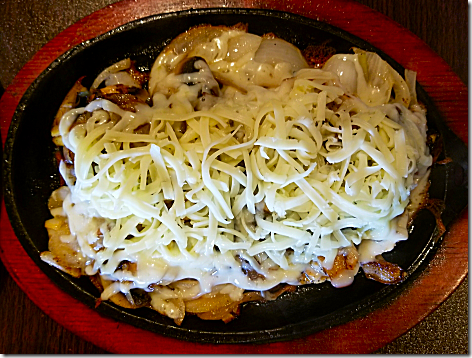 Somewhere under all that white cheese is a bunch of grilled mushrooms and onions on top of a large chicken breast.. YUM!
I had the Marcos Salad, a taco salad with really delicious beef fajita meat piled on top.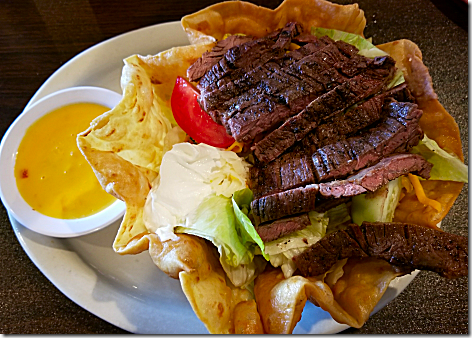 Really good.
Then it was on to the new nearby HEB that just opened about a week ago. Jan wanted to get the fresh fruit for the fruit salad she's taking to the Coworker's Get-together tomorrow night.
Notice that gas was $2.05 there, and only $2.00 over at the Buc-ee's, 10 to 15 cents cheaper than down in our area. Nice.
After we got settled in at Brandi's, I started setting up the new Dell laptop that was waiting here for me. And 'started' is about all I did with it. After the initial startup stuff, I got it on the house WiFi and it started downloading the Win 10 updates. That was about 7pm.
Now here are a little after 11pm, it's still going . . . very, very slowly.
---
February 23, 2019
The Cheap Seats . . .
Or rather the Cheap Room.
Today was another of those strange Texas weather days with highs in the mid-70's and low's tonight in the mid-40's. Whatever, it's never boring.
We again spent some time this morning looking at cruise stuff, going through the many Optional Excursions, talking over some that we're interested in. I suspect that if we totaled up the cost of all the excursions, it might come close to the cost of the cruise itself. Of course that's probably what they have in mind.
In searching around the Net, I came across a photo of our actual room on the Viking Longship Skirnir.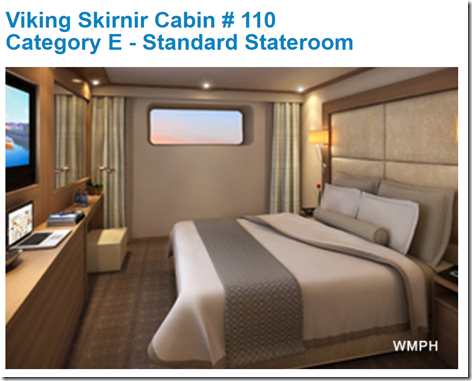 Based on our Holland America Alaska Cruise in 1998, we got a room in the cheapest section they had on the ship, Section F.

We found that we were almost never in our room, except to sleep, so why pay extra for an expensive French balcony, or Veranda suite? Why, when you can just go up on deck and have an even better view?
What's kind of funny is that the Blue rooms, right next door to our Yellow ones, are $200/person more expensive than ours. But according to Viking, they're exactly the same. Same size, same windows, same amenities, etc.
I thought that maybe it was closer to the engines, elevators, etc., but even the Viking rep could not tell me what the difference was. It may be that they just needed another price point.
I was reading a business article recently about a dress manufacturer, and how they priced them. It said a small percentage are tagged for high end boutiques, more were tagged for high end department stores, some for the mass market, and then some for discount bargain stores.
But they're all the same dress, just with different labels. So maybe it's the same with cruise rooms.
Another thing I found out was that our cruise is completely sold out, with even both of the $14,995/person Explorer Suites taken.
Jan's been tracking down videos about visiting London and Paris, and we came across an app called CityMapper. It's a mapping program that covers 22 European cities, giving you routes to any destination, via walking, biking, buses, trams, tube, etc. Looks to be very useful.
Jan had her annual former co-worker get-together at Pappas Delta Blues Smokehouse in Webster, her first visit, and said it was really good, and they all had a great time as usual. And yes, there was booze involved.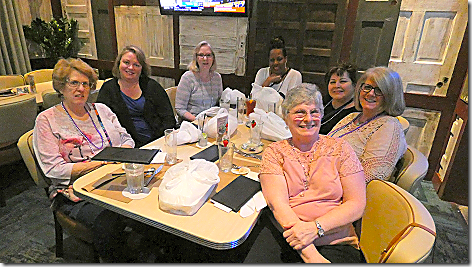 While Jan was partying down, I killed time at nearby King Food, having a big bowl of their Hot & Sour Soup.
My new Carolina Reaper powder came in yesterday, so I thought I'd give it a try. And so far, it's hot, but not outstandingly so, but then I was pretty chintzy with it, so maybe I just need to use more. I'll bump it up tomorrow when I have Gumbo at Floyd's Cajun Seafood after Landon's hockey practice.
---
February 23, 2020
TAKLing The Shed . . .
About 4pm Jan and I headed out for dinner at Los Ramirez Mexican Restaurant, one of our local go-to place for good food, Mexican or otherwise.
Then it was off to the nearby Home Depot to check out the Arrow storage building we're interested in.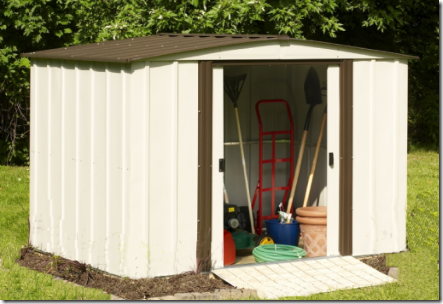 We had put it on the back burner before our somewhat ill-fated Kingsland trip in November, our NYC Christmas trip in December, and our recent Alabama trip.
But I want to get it back on track before I take the rig into Cummins or wherever, to get my oil leak repaired.
I wanted to check out the packaging and weight to see how easy/hard it's going to be to get it back to our site and unloaded.
But I was also wanted to see if they had anyone available to assemble it for us. I've done one of these before, in fact a larger one, but the assembly really needs two people, but one can do it. But Jan says I really don't have time to do it by myself. And she's right.
As usual.
But they only had people available to put together their own Tuff-Shed brand of buildings. So I guess I could try the TAKL app to see what pops up.
Then after quick HEB and Post Office stops we were back home for the night.
I'm still slogging through getting all my GB's of data moved over to my new computer, 128GB's at a time. But my main problem is with getting my Windows Live Mail emails moved over, in this case, to Mozilla Thunderbird.
I don't like the new Win10 Mail program, and I'm not going the Outlook or Office 365 route. Plus Thunderbird is what we used at work, so I'm familiar with it.
Normally moving the data is not a problem. Just Export everything from Live Mail and Import it into Thunderbird. But since Live Mail will no longer run, so I'll have to move the data over manually, but I'm not exactly sure what I'll have to do to get it into Thunderbird.
But Ill figure it out.
---
February 23, 2021
Am I A Lucky Guy, or What?
Jan and I left for the Clear Lake area to have lunch at one of Jan's favorite places, Twin Peaks.
Good Eats and Scenic Views. Am I a lucky guy, or what?
Jan got the Soup and Sandwich, with the Turkey Avocado Smash Sandwich and a cup of their Tomato Basil Soup.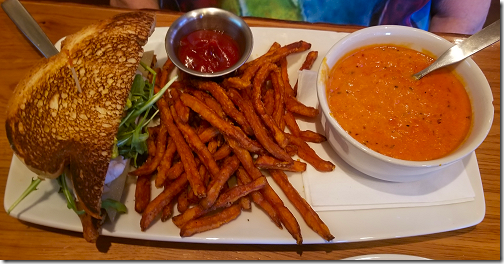 And Sweet Potato Fries.
I got a bowl of their Venison Chili,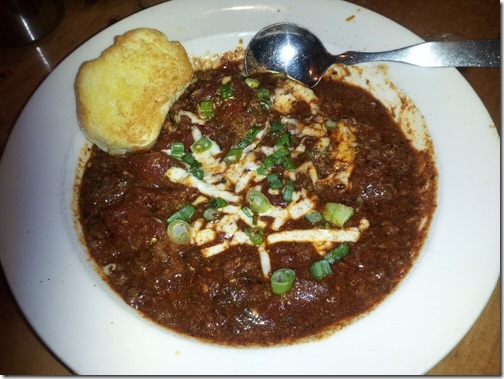 and their version of the Wedge Salad with Blackened Chicken.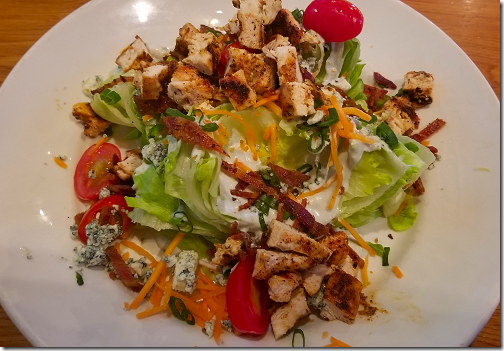 All really, really good.
When we got parked at Twin Peaks before walking in, I saw this Shelby Cobra in the parking lot.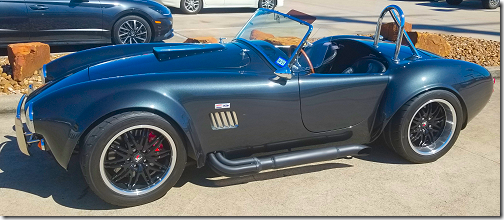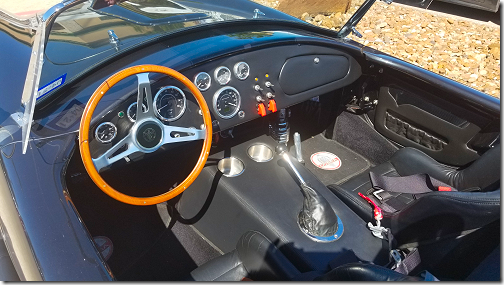 A very beautiful car, but a look at the tag told me it's a replica.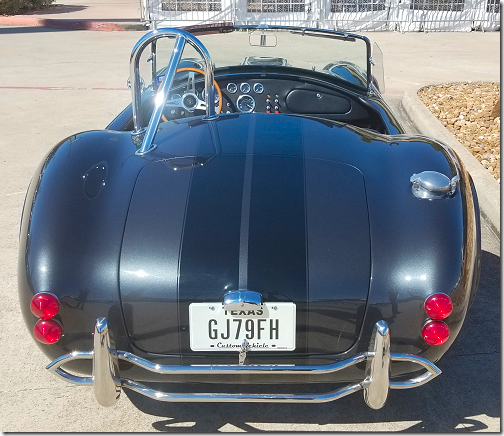 The tag says 'Custom Vehicle' which means it's a kit or or a replica of some sort.
But it's a beauty, anyway.
Then it was on to the office to pick up some Amazon orders that had come in, the hardware store for Plumber's Silicone Grease, WalMart for stuff, Sam's Club for gas and prescriptions, HEB for more stuff, and then a final stop at Cowboy Coffee for drinks to sit out on the patio and listen to Jan's windchimes.
While we were in HEB Jan got a call from her doctor changing her appointment to this Thursday afternoon, so Toilet Thursday is now Toilet Saturday. But we'll see.
Our previous RCA TV had a built-in DVD player, but our newer Samsung model doesn't. Mostly because it's really too thin to mount one.
So we've been playing DVD's on the computer and watching them on the TV. But then the computer is tied up. So I ordered a standalone player like this one from Amazon.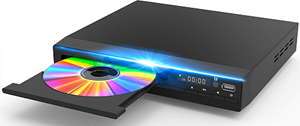 DVD CD Player with HD 1080p Upscaling, Remote, & HDMI & AV Output
It only took about 5 minutes to hook up and have it working. A very nice unit for only about $37.
---
February 23, 2022
Wiped Out . . .
You may have seen the recent TV commercials about the Michelin Extreme Performance Wipers being sold at WalMart. So since the wipers on Jeep were streaking and squealing, I thought I pick up a set when we were there last week.

When I found them, they were $22 a set, a little pricey, but the high-end RainX one's right next to them were $14 a pair, so I thought the Michelin's would be worth it. That is, until I got them home and looked more carefully at the package.
It was $22 for ONE wiper!
So now I'm going to have to save up to buy the 2nd one.
They say everything's bigger in Texas, and apparently that goes for Tesla and Elon Musk.
Musk's new Tesla Gigafactory recently went on line near Austin and the place is enormous.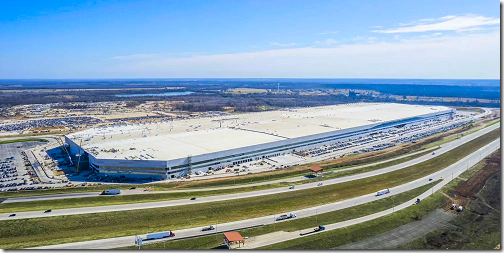 But this one covers only a small part of the 2000+ acres that Musk bought. And now there's a new, even bigger, battery factory going up right next door.
And to celebrate this, Musk has scheduled what may be the largest BBQ in Texas history for April 7th.
Tomorrow we're heading up to the Spring area to have lunch at El Palenque with Debi & Ed Hurlburt. Had to delay a week due to conflicts, so we're really looking forward to it.