Daily Archives:
February 17, 2023
---
Tomorrow it looks like a drop-off at the dry cleaners, lunch at Torchy's Tacos, and then a nice drive out NASA Rd. 1 (I refuse to call it NASA Parkway), down SH146 to check out all the new roadwork in that area, all the way down to FM-517 and then home.
Recently I was reading another article about how we're overpopulating the planet and destroying the earth. So I thought I'd repost this from awhile back:
As a thought experiment you could house the world's entire population in 1500 sqft 3 bedroom homes on 3000 sqft lots just in the state of Texas, 4 people to a home.

Texas has 261,797 square miles of land area
1 square mile = 27,878,400 square feet

So Texas has 7,298,481,484,800 square feet of land area

The world population is 7,125,000,000 / 4 = 1,781,250,000 households of 4 people each

Dividing the 7,298,481,484,800 square feet of land area in Texas by 3000 (3000 sqft. lots)

Giving us 2,432,827,161 1500 sqft homes on 3000 sqft lots,

Subtracting the 1,676,748,288 households from the 2,432,827,161 1500 sqft homes leaves us with

756,078,873 houses still empty, which leaves room for another 3,024,315,492 people, or streets and roads between the houses.

This leaves the entire rest of the planet to feed and clothe them.

Or you could put the world's population, standing shoulder to shoulder, just in the city limits of Jacksonville, FL.

885 square miles or
24,672,384,000 square feet

3.4 square feet for each of 7,125,000,000 people

FWIW Jacksonville FL is the largest city by area in the continental US. But it is only the 5th largest in all 50 states.

The rest of the list goes like this.

4. Anchorage AK – 1704 sq. miles
3. Wrangell AK – 2541 sq. miles
2. Juneau AK – 2701 sq. miles

And the largest city by area in the US is

1. Sitka AK – 2870 sq. miles
---
Thought For The Day:
There's an old meme that says:
Be polite to everyone you meet, but have a plan to kill them if necessary.
But that's not a plan.
A plan is to also:
1. Eliminate Any Witnesses.
2. Know Where To Hide The Bodies
3. Have A Rock Solid Alibi
Now you've got a PLAN!
---
February 17, 2010
Jager Schnitzel, Weiner Schnitzel, and Red Cabbage…
Today we took a road trip about 50 miles west to Fredericksburg to have some great German food at Der Lindenbaum, probably our favorite German restaurant, and do a little shopping. But before heading out we stopped off at the rig to feed the cats and be sure everything was OK.
The Texas Hill Country is still beautiful, even in winter, and the drive was fun…and interesting.
It's not that unusual to see buffalo and burros in Texas, but
camels??
For what it's worth, these one-humped camels are Dromedary camels, and are native to Africa and the Middle East. The two-humped camels, or Bactrian camels come from the Gobi Desert in Mongolia.
And what they're doing outside of Fredericksburg Texas I have no idea.
As always, the food at Der Lindenbaum was delicious. I had the Weiner Schnitzel, and Jan and Gina had the Jager Schnitzel. And we all have the great German potato salad and red cabbage. Jan and I like the red cabbage so much we always get a extra order and split it.
Wiener Schnitzel is a thin pork cutlet that has been lightly battered and fried, and Jager Schnitzel is Weiner Schnitzel covered in a fresh mushroom sauce. Hmm Hmm Good!
Coming home we stopped at the Wildseed Farm, so Jan could, strangely enough, shop for jewelry. Don't ask!
Getting home, we went out for burgers at Ninfa's Tacos and Burgers in Canyon Lake. Really, really good, large handmade patties.
---
February 17, 2011
Boobs and Bubbles . . .
This morning started with one of Gina's great cranberry muffins, toasted and slathered with butter. Just fantastic!
I had gone out last night and taken down the sat dish, so we didn't have a lot to do this morning, just unhook power, water and grey water drain.
As soon as I went outside this morning, the deer came running, apparently thinking I was Jan. But she did get a large group when she came out a little later.
We left Lake Pointe RV Park in Canyon Lake about 8:15 after stopping at the office to check out and pay our electric bill of $12.60. All sites are plus electric, but $12.60 is not bad for 5 days.
We had a great time visiting our friend Gina and look forward to seeing her again next year.
Rather than take the most direct route to I-10W, we took the scenic route up thru Fredericksburg and out US 290 to intersect I-10 about 25 miles east of Junction, TX.
The first thing we noticed was Texas' enlightened view of speed limits out here in west Texas. Of course since I normally set the speed control in the rig on 55, it doesn't help me much. But it is nice to dream.
We got to Junction, where we planned to eat lunch, a little before 11am, and parked right down the street from Isaak Restaurant
We had picked Isaak's because it was listed in Texas Monthly as one of the best small town café's in Texas, and we thought we'd give it a try. And Texas Monthly was right. It was really good.
When we plan on stopping at a place in a town I use Google Maps and Google Street View to find out what rig-sized parking area are available, and so far it's always worked out.
Leaving the restaurant and walking back to the rig we saw this Deer Horn Tree. I guess it makes sense that the building right behind it is a deer processing business.
Then right outside Bakersfield (TX, not CA) we saw this. Jan immediately said "Look, it's Boob Mountain. (God, I love this woman!)
And she was almost right. It's called Squawteat Peak. Probably not exactly PC, but certainly not only ones around.
In August 2009 we were in the Bar Harbor, ME area on our way to Nova Scotia and Newfoundland, and saw this.
Officially they're called 'The Bubbles'. But guess what the locals call them?
And don't even get me started on 'The Grand Tetons'. Just because it's French doesn't mean it's not naughty. Or maybe that's why.
About an hour or so out of Balmorhea, I started the diesel generator so we could run the roof air conditioners, since it was getting pretty warm in the coach. It was 85 there today, warmer than we've been used to for a while.
We arrived at the Saddleback Mountain RV Park a little before 5pm, checked in, and got set up.
It's a nice little park, in a desolate sort of way, but a great deal at $10 for full hookups with Passport America.
Tomorrow we have a much shorter drive of about 240 miles to Las Cruces, NM, a lot better than the 370 miles today.
---
February 17, 2012
Rainy Day in the Hill Country . . .
The drought certainly seems to be over in Texas. Well, at least in our small part of the Texas Hill Country. It started raining last night, and continued pretty much all day.
We headed over to Gina's about 11:30 to meet up with her and her nephew Matt Jones. Gina wanted to get a new big screen TV and Matt had come over to help out with the purchase and setup.
Pretty quickly we headed into San Marcos with our first stop being lunch. Gina suggested we try Taste of China, a Chinese buffet right along I-35. Turned out to be pretty good, too. Good choice, Gina.
After lunch we drove right down the road to the local Wal-Mart so Gina could pick out her new big screen and a few other things as well.
She settled on a 55" Vizio, 1080P, 100,000 to 1 Contrast Ratio, with Internet and WiFi connections. In addition we also picked up a wall-mount kit as well.
Of course, by the time we were ready to head for home, the bottom dropped out in the rain department, and since we planned to take the TV home in the back of Matt's pickup, this constituted a problem. But thinking ahead, Matt had also bought some cheap tarps and a roll of tape, so a little judicious wrapping took care of that problem.
Back at Gina's, Matt and I worked on getting the TV up on the wall. And it went pretty smoothly, too. While I prepared the TV and fastened the brackets on the back, Matt screwed the wall mount to the studs using lag bolts. It isn't coming down. Then all that was left was to lift the TV up and latch it to the wall mount.
Since Gina won't have a cable connection to the new set for a couple of days, I went ahead and set up the WiFi connection for her so she can stream Netflix and Hulu movies on it in the meantime.
About 5:30, Matt headed home, and Jan, Gina, Gina's daughter Sharelle, and I all headed over to Milagro's, our favorite local Hill Country Tex-Mex place. You have to know to ask, but, besides the regular salsa, they also have a really hot habanero salsa. But it's not just the hot part that I like, but it has such a wonderful smoky roasted taste.
Actually I think it's my favorite part of eating there.
We got Gina and Sharelle home about 7:30, and then Jan and I drove back to the rig with it raining all the way. And it looks like it will be raining all day tomorrow, too.
But at least Sunday's looking nice, so maybe Jan will have a chance to put out her deer corn finally.
---
February 17, 2014
7 Days to Go . . .
I spent this morning trying to finish up some more projects around the rig, getting us ready to leave a week from today. Unfortunately it seems the more tasks I complete, the more I have left to do.
About noon I headed up to Clear Lake to finish up at a client's house, working on both his computer, and his entertainment system. It's always something.
I had installed and configured this system several years ago, with a 60" TV, Dolby 5.1 Surround Sound system, and a computer that controls everything. The problem turned out to be that someone had been playing with some of the sound settings and that knocked out the sound coming from Netflix through the computer.
Heading home about 3:30, I made a quick stop at another clients for a few minutes to see if a problem I'd worked on a few days ago was still fixed.
About 5 PM Jan and I headed up to La Porte to meet Chris, Linda, and Piper for dinner at Monument Inn, located right on the Houston Ship Channel. And right next door to the San Jacinto Monument and the Battleship Texas.
Twelve feet taller than the Washington Monument, the San Jacinto Monument commemorates Sam Houston's Army of Texas' defeat of General Santa Ana on April 21, 1836.
This led to the establishment of the Republic of Texas, later to be admitted to the Union in 1845 as the state of Texas.
The Battleship Texas, launched in 1912, fought in both World Wars, and in WW2 participated in both the D-Day Landings in France, and the Battle of Iwo Jima in the Pacific. Further, it was the first US battleship to mount anti-aircraft guns, and the first US battleship to launch an airplane from a catapult.
A real piece of history.
We eaten here with the family a number times over the years, but our most recent visit was about two years with Rudy and Caroline Legett of Aqua-Hot fame.
One of Monument Inn's special offerings is their All You Can Eat seafood platter, with boiled shrimp, fried shrimp, fried oysters, fried catfish, and French fries. More than I can eat, but Chris gave it a valiant try.
And I even got our beautiful granddaughter Piper to let me take her photo.
Tomorrow, more chores and more client stuff.
---
February 17, 2015
Two Down . . .
Two To Go
Jan and I were out the door at 9:30 this morning for another of Jan's doctor appointments. But unlike yesterday's, today's appointment didn't have a lot of worry attached to it. Just an eye checkup and a prescription for new glasses.
This just leaves Jan's oncologist appointment on Thursday, (just routine since her mammogram came back clean) and our annual physicals next Monday.
Finished with the doctor a little before noon, Jan wanted a Taco Salad for lunch so we headed over to the nearby Chuy's. Jan had her requested Taco Salad and I had a big bowl of their Chicken Tortilla Soup. One thing we like about Chuy's is that you have about 8 different choices of salsa to go with your chips, including Hatch Green Chile, and our favorite, Creamy Jalapeno. Really tasty.
So tasty in fact, that Jan got it as the salsa on her Taco Salad.
Then it was off to Sam's Club to order her new glasses. Luckily she was able to use her old frames so that saved us a few bucks. Her new ones should be in in about a week.
Our next stop was our son Chris' to drop off some extra batteries that I ordered for our quadcopters.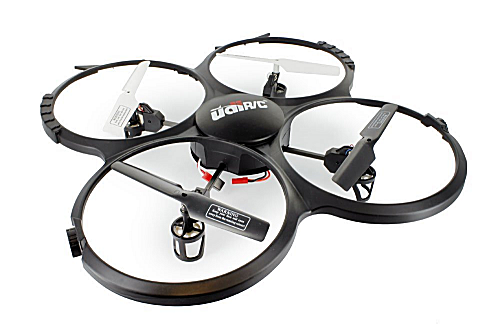 UDI U818A 2.4GHz 4 CH 6 Axis Gyro RC Quadcopter with Camera RTF Mode 2
With four batteries, you can cycle through them while the others are recharging, giving you more flight time.
After a stop at the Baybrook Starbuck's for Cinnamon Dolce Lattes, we finally headed home. Getting back to the park, I stopped off at the office to pick up the rig Denso windshield wipers that had come in. Denso Wiper Blade, 26″ (Pack of 1)
I started using these Denso wipers a couple of years ago and I really like them. They hold up well and don't streak or clatter.
I also talked to one of the park owners about the Wi-Fi problems they're having. Normally their system is great. 5 bars everywhere because they've got repeaters all over the park, and 30 Mbps throughput.
But since we gotten here, the service has been spotty. I don't lose connection, but the Internet just goes away. Turns out they are having problems with their Internet feed from Comcast, and that 'they're working on it.' Where have I heard that before?
He said they're looking for another provider if Comcast doesn't get their act together.
But on another front, Comcast is doing great. While we were having our Lattes at Starbuck's, I checked their Comcast Wi-Fi with Speedtest.net and was really surprised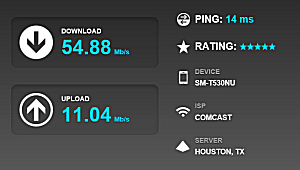 Almost 55 Mbps is great for a free signal.
On another note, Cathy Emrick, one of our blog readers, let the know that the new RV park we drove through the other day is owned by Marina Bay, the same ones that own the Marina Bay RV Resort up in Kemah, and the new Marina Bay Lake Cove RV Park that we drove through about a month ago. I talked about Lake Cove here
https://ourrvadventures.com/2015/01/the-end-of-an-era-2/
and here.
https://ourrvadventures.com/2015/01/apparently-facebook-doesnt-like-the-word/
So this afternoon I gave Marina Bay a call, and after getting routed to the right person, found out that, yes, it is their park, and it should be open in about two weeks.
It's called Willow Lake and will have 137 FHU sites, and 16 overnight W/E 'parking' sites. Looks to be a nice park, with a convenient location, so we'll definitely check it out in November.
That makes two big, new parks that have opened in the area in the last few months, and they're definitely needed. Here at Galveston Bay RV Park, the new addition they just opened a couple of weeks ago, more than doubled the size from 81 sites to 164. And when Jan and I drove around yesterday counting, we found only SEVEN sites vacant.
And there's another new RV park going up here, right next door to Galveston Bay, so hopefully that will help keep the prices down for next year.
---
February 17, 2016
The All Clear . . .
Jan and I were up and out the rig door by 8 this morning, and after a quick stop for a breakfast sandwich at the Conroe Jack in the Box, we were on our way down to the Clear Lake area for two of Jan's doctor appointments.
Since by the time we got into Houston proper, it was pushing 9, so we were at the tail end of the morning rush and only encountered a couple of mild slowdowns, and no real problems.
Jan's first appointment was just for a blood draw for the lab work before she sees her oncologist next Friday. Then it was off to the Breast Center for her yearly mammogram/ultrasound, which usually takes a couple of hours or so. My part in all this was to go visit a client, browse through Harbor Freight for a couple of things, and take a short nap. And worry.
Finally Jan called about 12:30 with the All Clear Signal. There was no sign of any return of her past breast cancer. So she's good to go for another year.
Since it was just right down the street, we had a delicious lunch at King Food, one of our all time favorites, Then was over to our son Chris' to spend the afternoon before our dinner get-together about 6 with friends.
Although Miss Piper was asleep when we got there, we did get to see her before she headed off to the UTMB hospital in Galveston where she works in the ER, and loves it. Earlier we also got to see Chris and Linda before they headed out too.
About 5:30 on our way to our friends, we made a stop at Spec's Liquors for a bottle of Cupcake Moscato d'Asti, Jan's new favorite wine. Since we were going straight there, we were hoping they had some in the cooler, but no luck.
But they did have this.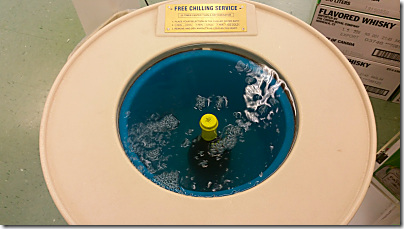 It's water-based cooling system running at 34°, so it will cool a bottle down in about 5 minutes. Neat and really does the trick.
We got to Barbara and Tom's to find Barbara in the middle of fixing a delicious meal for us, like she always does.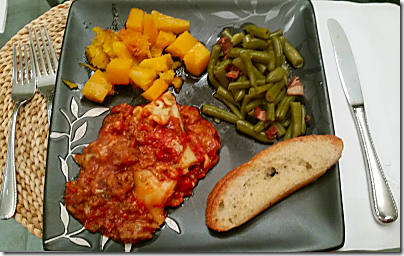 This time is was Lasagna with Italian Sausage, Roasted Butternut Squash, Green Beans, and French Bread. Along with a salad, and then Randall's wonderful Coconut Cream Pie for dessert, we were stuffed.
But it was a happy stuffed.
After a great time we were finally on our way home by a little before 10. Along the way we started seeing signs that the Interstate was closed northbound at Cypresswood. So after a pit stop at the Flying J in north Houston we cut over to the Hardy Toll Road and took it around the stoppage with no problem, finally getting home about 11:30pm
Tomorrow it's back to washer repair. Oh boy.
---
February 17, 2018
Unfortunately The Sun Came Out . . .
Well, I was hoping that I would have a nice, quiet, rainy day to goof off and do pretty much nothing. At least that was the forecast.
But unfortunately then the sun came out.
Which after all my fussing, whining, and complaining, pretty much obligated me to head outside and install the latest, largest addition to our new awnings. And like a lot of projects, the hardest part turned out to be the easiest, and vice versa.
Normally one of the easiest parts is to first slide the awning fabric into the top frame strip. But because this awning, at 135", was so long I had a lot of trouble getting it in the groove and all the way to the end.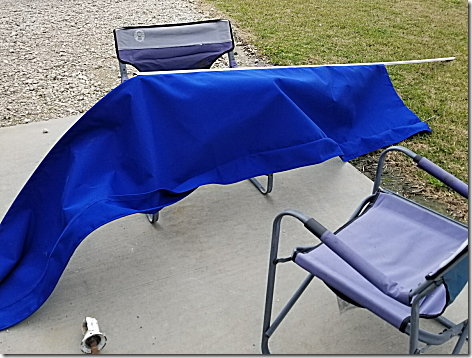 The next part, sliding the frame/fabric combo into the top rail, is normally the second easiest, but again it wasn't. In fact Jan had to hold up the far end using our awning hook to keep it all level.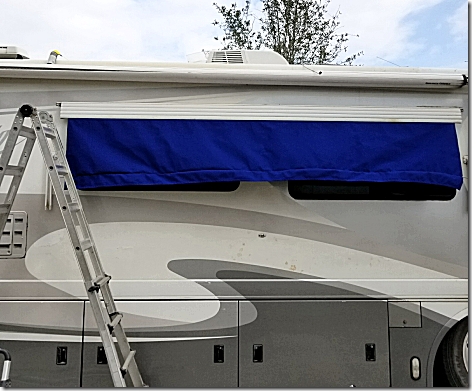 But finally it all slide into place.
The last part, getting the torque tube onto the bottom of the fabric, is usually the most difficult, but by using the ladder to keep it all even, it slide on with no problem at all.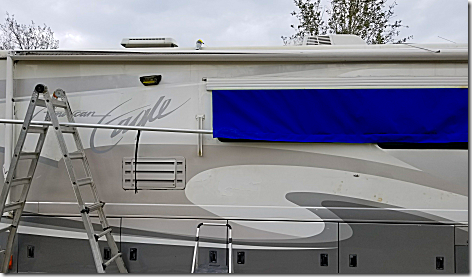 Finally I wound up the spring ends and installed them on the swing arms, and I was done, ending up with this.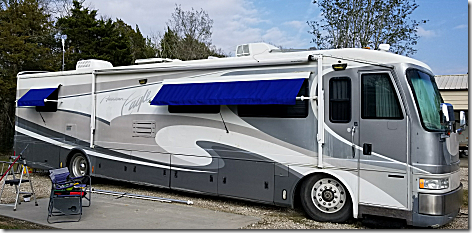 So now I have only last one, over the slide out window, and I'll be finished.
Jan said she was unsure about the color when we started this, but now that she actually has seen it in action, she really likes the look.
Done with one project, I was on a roll, so before I wrapped for the afternoon, I installed the new Rain-X wiper blades that I picked up at WalMart the other day.
Tomorrow we're heading up to Brandi and Lowell's new place in Katy, meeting up with the whole family for lunch. Really looking forward to it.
---
February 17, 2019
Puddles and PMJ . . .
That's PMJ, not PB&J.
After another nice morning, Jan and I ended up cycling through YouTube music videos, mostly oldies like Happy Together, Ghost Riders in the Sky, Wayward Wind (the Patsy Cline version), The Lion Sleeps Tonight, I'm Not Lisa, Duke of Earl, etc.
We've done this several times before, and like then, we keep coming back to the same performers.
The first one(s) is a group called Post Modern Jukebox or PMJ. We first came across them after seeing their version of Meghan Trainor's All About That Bass.
And a much better version, I think.
Morgan James, the singer on the right in All About That Bass really has a set of pipes on her, as evidenced in their version of AeroSmith's Dream On.
All I can say is WOW!
But the most unusual of our favorites is Puddles, as in Puddles Pity Party.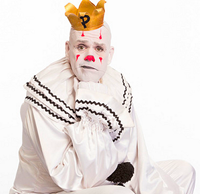 Yes, that's his name.
Long-time friend 'Froggy' Donna McNicol turned us on to Puddles several years ago and we've followed him ever since.
The first time we heard him was his version of Sounds of Silence.
And it just gets better.
One thing Puddles does a lot of is 'mashups', where he sings one song in the form of another song and artist. Check out his version of Pinball Wizard, sung like Johnny Cash doing Folsom Prison Blues. Dead on.
And here he is doing Crying as Rob Orbison.
And even better, as I was checking out his YouTube videos, I saw where Puddles is going to be in the Houston area March 18th at the Stafford Centre, and now we have tickets.
Really looking forward to it.
Regular readers know I'm always on the lookout for new gadgets, or upgrades to one's I already have, which covers these three.
First up is a new dash cam. I've had my last one for a couple of years, and as is usual in the tech world, there's always something better, faster and cheaper coming down the pike.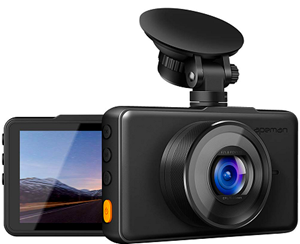 It's smaller, but has a bigger screen, and takes a 65GB SD card, so it records for almost 12 hours before it loops around. And at $44, it's $13 cheaper too.
Here's a sample of the video. And it was a really overcast day, too.
Next up is a new toilet light. Makes it a lot easier to hit the target in the middle on the night.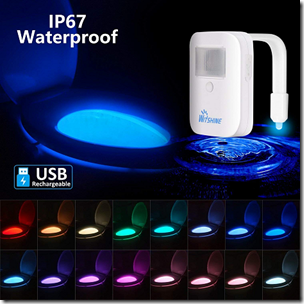 This one is rechargeable so I don't have to take it off every month or so to replace the batteries. And because it's sealed with no battery access cover, it's more waterproof, Or something 'proof' anyway.
Finally, I've a new Panasonic Lumix camera coming in on Tuesday.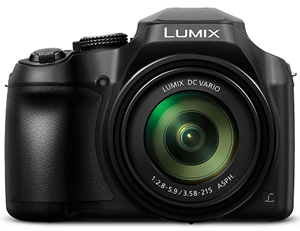 This is the 4th Lumix we've had, getting the first one 2006, the next one in 2009, then 2015, and then now. Before that, our first digital camera was one of those Sony's that stored photos on a 3-1/2" floppy inserted into it.
And every time they get better, though not cheaper.
This one, at $300, is about $50 more than the 2015 model. But it has a bigger viewscreen, now touchscreen-capable, WiFi, 60X optical lens with 4X digital zoom, and records 4K video with 18.1 megapixels. And with a 128GB SD card, it will hold over 20,000 HD photos.
Perfect for our upcoming European trip.
---
February 17, 2020
Déjà Vu All Over Again?
I'm sure you've all read about the vote-counting mess that occurred during the recent Iowa Caucus. And I'm not talking about it from a political viewpoint, but from a computer one.
Based on what I read at the time about the app, I told Jan I could certainly write one in a day or so. And it would work too.
The teachers of several high school coding classes proved my thoughts by assigning the app as a weekend programming assignment. And the kids had no problem successfully completing the test either.
And it appears that assigning the app to a bunch of kids was pretty apt.
When some computer journals got ahold of a copy of the app, they found out that it constructed using React Native, a programming framework allowing coders to create an app that will work on Android, IOS(Apple), the Web, and other platforms.
No problem.
But it seems that the version of React Native that they used was the classroom version, used for teaching beginning coders to use the program. In other words, the app was programmed in the 'kiddie' version.
And for this they paid a company called 'Shadow' a total of $63,000.
I would have done it for $62,000. And it would have worked, too.
And in that Déjà Vu moment, Nevada was supposed to be using the same app for their upcoming caucus this coming Friday.
Rut Roh!
So now they're scrambling to create an entirely new app at the last minute. But caucus volunteers are predicting a 'complete disaster.'
What could possibly go wrong?
It really makes you wonder what's really wrong with a pencil and a piece of paper.
While Jan and I were up in Alabama, our son Chris, his wife Linda, and our granddaughter Piper came down to visit Brandi and brought her a present, a set of his large yard wind chimes.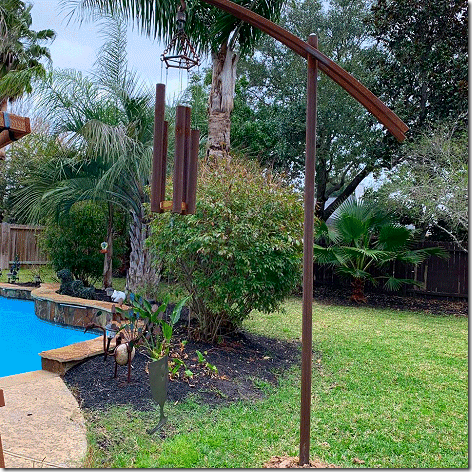 And they're tuned perfectly. They make a soft 'gong' sound for a nice background without being obtrusive.
Really neat!
---
February 17, 2021
Thawing Out . . . Kind of . . .
Our rolling blackout last night that started at 7:33pm ended almost exactly 3 hours later at 10:29pm. And so far tonight at 8pm, no reoccurrence.
And even better, by about 7pm tonight we finally have hot water again here at the hotel. It, of course, went out last night during our blackout and it took until this evening to catch up.
I suspect that the boiler is not really sized to consistently handle a full hotel load, since most of the time they're not that full.
Jan and I drove over to the rig about 1pm to see how things were going. We were encouraged by the fact that the CenterPoint Outage Tracker site showed no outages in our area, but they were wrong once again.
Though we saw that the power was back on in locations closer to our park, it wasn't back on for us. When I checked with our neighbor he said that the power had come back on for a few minutes yesterday, but it had been off ever since.
But on an up note, our water system had thawed out and seemed to be working fine now, with no leaks. We do have a 28° night coming up tomorrow, Thursday, and a 27° one on Friday, but since the system survived 16°, I doubt I'll have any problems with what's coming up.
Leaving the rig, we stopped off at Spring Creek BBQ for lunch before heading back to the hotel. When we left the food truck was back out in the hotel parking lot, so when we got back we got a funnel cake for breakfast tomorrow.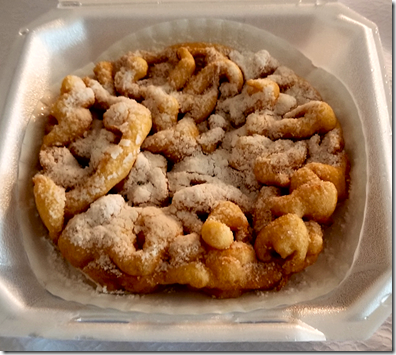 Looks delicious, and it was make to order while I waited.
I have this InkBird Smart remote thermostat hooked up to monitor our refrigerator temps while we're away from home. It lets me check the temps, but also adjust the internal temp from anywhere, even when we were in Europe.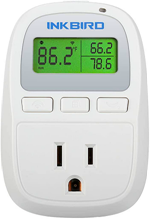 Normally it connects to house AC and our MiFi, which also usually is powered by house AC. But with the power off, none of that worked.
So I moved the MiFi over to run off of the house batteries, hoping that when the AC came back up I would then be able to see the InkBird come online and I would be able to see it.
And a few minutes after 8pm it showed up, telling me the fridge temp was 35.2°. Since it wasn't online at about 7, our power came back on somewhere between 7 and 8pm.
This also means that the heat lamp in the water bay should be back on, so I won't have to worry about Thursday and Friday's freeze.
But since we're already set to stay here until Friday, we won't go back to the rig until then.
Unless the power goes off again.
---
February 17, 2022
More Saltgrass . . .
Jan and I left the rig a little before 1pm, more than an hour before our Saltgrass get-together, so I could get a haircut first.
Quicker today than waiting in line on Saturday when they're a lot busier. No waiting today.
And the timing worked perfectly, getting us to the Webster Saltgrass about 10 minutes before 2, and finding Sadye and Harry already waiting for us. And by the time we were seated, Connie, and Bob and Maria had showed up.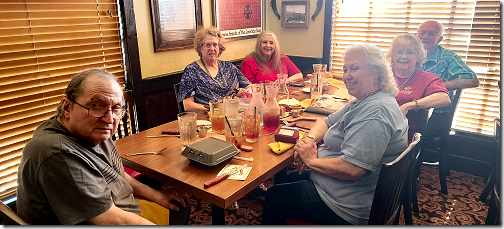 While the others all got steak, Jan and I went in another direction this time since we just had Saltgrass steak this past Monday for Valentine's Day. But of course we had to start out with Wedge Salads.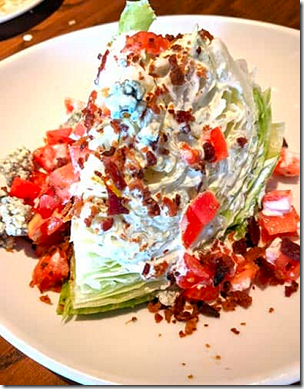 One thing that we've noticed is that the Webster Saltgrass puts a lot more stuff on their Wedge Salads than the Galveston one.
Then Jan got the Chicken Laredo, a grilled chicken breast, with Jack cheese, avocado, grilled onions, tomatoes, poblano peppers, cilantro, and feta cheese, along with her favorite Grilled Green Beans.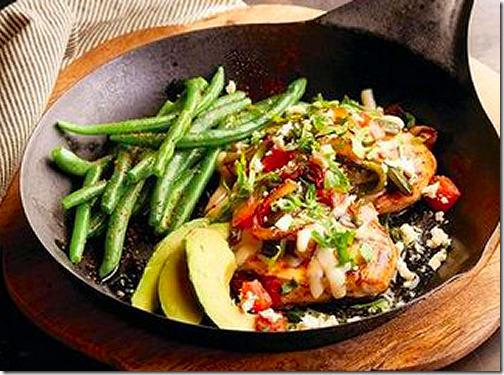 She said it was delicious. But when I asked if she would get it next time instead of steak, she said a firm, "NO".
For my meal, I just had a big bowl of their Baked Potato Soup.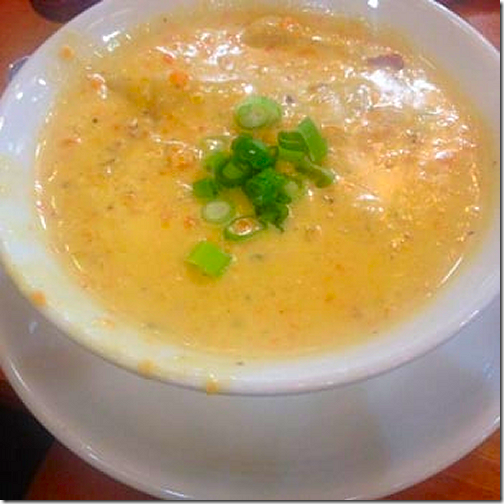 Also very good.
Recently I've had the Baked Potato Soup at a number of different restaurants, plus HEB's fresh soups, and it's always different. Apparently everyone has a different idea about what's it's supposed to taste like. But they're all good it seems.
And as always happens, we were there almost 3 hours before we all left. And of course we made a date for next month, this time at the P.F. Chang's over by Baybrook Mall.
Then next Thursday we're getting together with Debi & Ed up at the El Palenque in Spring.
Busy, busy, busy.