Daily Archives:
February 18, 2023
After dropping off a couple of items at the dry cleaners, we had lunch at our local Torchy's Tacos once again. This was our first time here on a weekend day, and we were surprised at how busy they were. There was even a line.
Both of us went with our favs, Jan getting two Chicken Fajita Tacos,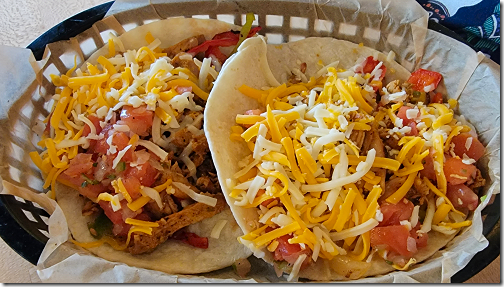 while I got my usual Cheese Jalapeno Sausage Dog and a Brushfire with Jamaican Jerk Chicken.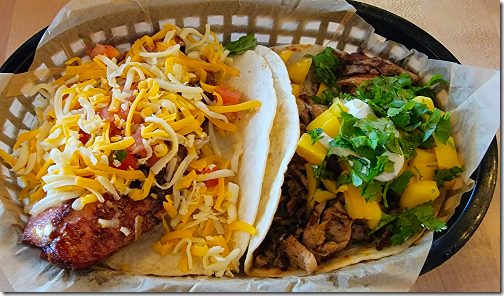 I, of course, heated up my tacos using this new bottle of Volcano Dust, with Ghost Chili's, Moruga Scorpion, and the hottest of all, Carolina Reaper.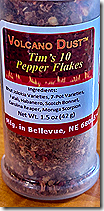 My old one is still around, but it's several years old and I was thinking maybe that it had lost some of its 'potency'. So I got a new, fresh one.
Leaving Torchy's we headed out NASA Rd. 1 all the way to SH 146 to check out how the new roadway was coming along. They've still got a lot of work to do on the elevated portion, but it's looking good.
It was nice to check out all our old haunts along the way. I say that because for 4 years or so we spent every winter down here at Galveston Bay RV Park.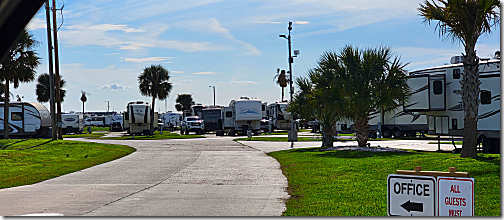 Originally they had about 80 sites, but a while back enlarged it to over 160.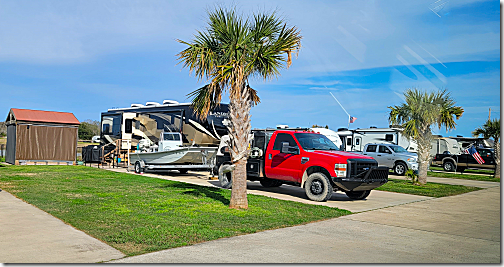 But somewhere along the way they priced themselves out of what we were comfortable with.

In fact right now their top sites are $800/month, while we pay $430 here. Of course the view is not as nice here, but the extra $370 will buy a lot of other stuff, like electricity.
Jan did enjoy seeing all the Sliders out sunning themselves.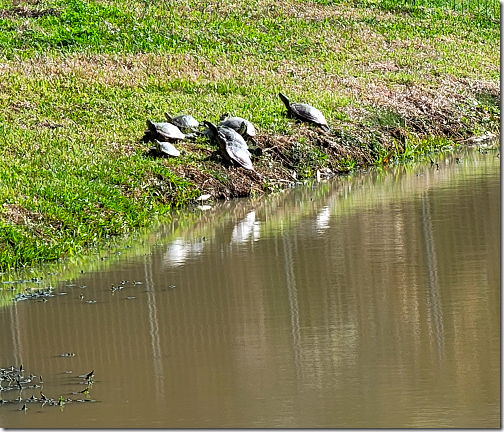 Tomorrow looks to be Los Rameriz for lunch and then HEB for our weekly HEB stuff.
---
Thought for the Day:
"Life is so much simpler when you don't really know what's going on."
---
February 18, 2011
Shorter, but still Sweet . . .
Since today was a short run of 240 miles, we didn't have to leave until about 10am, especially since we'll gain an hour crossing into the Mountain Time Zone.
Before we left I did want to add a little air to my driver's side rear outside dual. It seems to have a slow leak, but I don't know if it's the tire itself, or possibly, the tire pressure sensor. I'll have to keep checking.
Anyway, it was so much easier using my new air compressor, rather than using the rig's onboard air compressor.
A little before 10 I walked the garbage over to the dumpster, so we wouldn't have to stop on the way out.
We left the park about 10:15, heading west on I-10 to Las Cruces, NM, a 240 mile trip. Much shorter than yesterday's drive, but still great scenery.
About 80 miles later, we crossed into the Mountain Time Zone, gaining an hour. As we approached the outskirts of El Paso, we had planned to take a new route. It's called the TransMountain Dr., or SR-375 Loop, and it's a bypass around all the traffic going thru El Paso.
But when we came to the exit, traffic was backed up onto the feeder from that direction. Don't know what the problem was, maybe a wreck up ahead, but it didn't look like a direction we wanted to go. Luckily I was able to get right back on I-10 with no problems.
We got into Las Cruces about 2:15 and got a site at the Coachlight RV Park, another Passport America park. The sites are kind of tight, but we had no problems getting parked.
As soon as we got set up, we headed over to Old Mesilla (pronounced 'Ma-see-ya') to eat at La Posta, one of our two favorite restaurants here in Las Cruces. We wanted to get there early because on Friday nights they get very busy very fast.
I first ate at La Posta in 1981 when I was working with NASA at White Sands on the first Space Shuttle flights. I told Jan how great it was, but she didn't get to eat here until we visited Las Cruces in 2007.
La Posta is the last remaining station on the old Butterfield Stage Line, and has been visited by the likes of Billy the Kid, Kit Carson, and Pancho Villa.
In the 1800's Mesilla was a booming community. In fact until 1881, when it was bypassed by the railroad, it was the largest city between San Antonio, TX and San Diego, CA. But after that, it died a long, slow death.
It's been a restaurant since 1939, and it's still going strong today. It's a beautiful place,
and the food is just delicious. This is my La Posta Grande dinner. It comes with a toss salad, Queso, a sopapilla, and an empanada with ice cream for dessert. All this for $14.
Boy, were we both stuffed.
This is our other favorite restaurant in Las Cruces, El Comedor. It's only about a half mile from La Posta. We normally eat at both places while we're here, but with only one night, it was La Posta.
Leaving the restaurant, we drove over to the nearest SuperCuts so Jan could get her hair done. And then it was home for the night.
Getting back I got the sat dish set up and we settled in for the evening.
Tomorrow we'll make a 250 mile run to Tucson for the night, and then on to Gila Bend on Sunday.
---
February 18, 2013
The Best Laid Plans . . .
Well, we pulled out of site 80 at Galveston Bay RV Park at 7:30am, right on schedule. And then drove a whole 6.7 miles to Taylor Automotive in Dickinson, TX.
We were there to have the passenger side rear axle oil seal replaced before we head out for this year. After we got the RV checked in, Jan and I headed out in the truck up to Webster to have breakfast at The Egg and I. Love their Hazelnut coffee.
After breakfast we drove over to one of my clients for one last hand-holding session. I think he's already suffering from premature separation anxiety.
By this time a couple of hours had elapsed so we drove back down to Taylor's to check in to see how things were coming, and also to pick up a couple of things from the rig. When we got there I was glad to see that the rig had been pulled around back, but unfortunately they hadn't started on it yet. Since it was now almost 11, it was pretty obvious that we wouldn't be on our way by noon, which meant we would probably end up spending the night in a hotel.
We decided to while away the afternoon at Brandi's since it was nearby. Finally about 3pm we head back to Taylor's to pick up some clothes for the hotel, and also feed the cats.
But that didn't quite work out. About 10 minutes before we got there, Taylor's called and said there was a problem.
Ruh Roh!
It turns out that after getting the tires off, they were unable to get the brake drum off the axle. They tried every way they could, but no luck. Said they'd run into this before, and I would have to go to a dedicated truck repair shop that was set up for this.
I'll probably wait until Las Cruces to have it checked out by Rush Truck Centers. They did a good job for us last year. The seal is not really leaking, it's only weeping a little bit, so it should be OK.
The really nice thing in the middle of all this is that Taylor Automotive didn't charge me a single cent for the attempt, even though they spent a couple of hours on it. Bill, the service manager said if they can't fixed it, they don't charge.
So, Taylor Automotive in Dickinson, TX – Well Recommended.
We then checked with Galveston Bay RV Park to see if they still had our space open. Lucky for us it turns out that they did. In fact they had two other open sites from people who had also left today.
So rather than park back in our old space, which takes a little maneuvering due to the angle of the turn necessary to get into and out of it, we parked in one of the pull-thru sites near the office. Easier to get into, and cheaper.
So our first day of travel for this year covered a whole 13.4 miles. We're off to a running start, I tell you.
Since we were here for an extra night, we decided to check out a place we'd wanted to try, but didn't get the chance: Bone Daddy's House of Smoke.
Bone Daddy's is the latest entry in the restaurant genre known as 'Breastaurants". Except that unlike Hooters and their chicken wings, Bone Daddy's concentrates on BBQ.
And a really good BBQ it was. Their sauce was good, tangy with some heat to it. And some very tasty beans and fried okra to go along with it.
Definitely worth going back. And the scenery is nice, too.
Tomorrow we'll head out to the Canyon Lake area in the Texas Hill Country to spend some time with our friend Gina before we head further west.
---
February 18, 2014
Last Meal(s) . . .
Well, A/C weather is back, at least for a few days. It made it to 81° here yesterday, and 78 today. And that's A/C weather when it comes with 80 – 90% humidity.
Can you say 'Sticky'? I knew you could.
Once of the first things I did this morning, after coffee, of course, was to call Thousand Trails and get my Lake Conroe reservations worked out. For some reason, when I tried to book it online, it wanted a $30.00 deposit, even though I was able to book a reservation at Colorado River for the two weeks before and the two weeks after Lake Conroe with no problem. I had read on the TT Facebook site that this was a problem with the new website that they just put online a few weeks ago, and my phone call confirmed this.
So as it stands now, we'll be at the Colorado River TT February 24th to March 10th. And then on to Lake Conroe from March 10th to March 24th. Then it's back to Colorado River from March 24th until the 7th of April.
Then we'll start heading north working our way toward Goshen, IN for the Escapade from May 12 to the 17th. Along the way we'll visit some relatives and see some sights. Pretty much as normal.
Then it was outside for some more stuff. First was to lubricate all the slide mechanism with silicone spray. While I was underneath there, I also checked out the manual crank on the slide. We've never really had a problem getting the slide to go and out. The only time it's a little balky is when it's cold and maybe we have a little tilt in that direction, so that motor is pulling the slide uphill. But usually rocking the IN/OUT switch a few times gets it moving with no further problems.
My next job was to remove the worn-out carpet strip across the front of the steps and replace it with a piece of flooring. But first I had to get the carpet off. It looks like they put it on with contact cement, so it didn't come off easily. In fact, I had to chisel it off.
But finally I got it cleaned off and then I cut out a strip of flooring and stuck it on temporarily with double-stick tape to see how it would look.
I'm still not sure what I'm going to do with the black area right above. That's actually the edge of the floor side that comes out and covers up the steps when we're traveling.
I did cut out a test strip for that area too, but I'm not sure if I like it or not. I might just spray paint the area with a fresh coat of black and leave it like that. I'll think about it some.
About 3 PM Jan and I headed into Clear Lake to wrap up the last of Jan's medical appointments for this year with a mammogram. That's it until next year.
Our next stop was at Rudy's BBQ for one of our last meals for this visit. Tomorrow it's King Food, and then Thursday it's Twin Peaks. We've got several other places in mind but we have to coordinate everything with last visits with family and friends.
But we know it will all be good.
---
February 18, 2016
Washed Up ???
I woke up this morning feeling under the weather so we didn't walk. But I still wanted to tackle my washer problem. But first I had something else I wanted to fix
When we parked here this past Sunday, the pavement looked strong enough to not need the leveler pads. But the last couple of days have proved me wrong, and we started tilting a little. So before I started pulling the washer out, I cranked up the rig, raised the levelers, put down the pads, and then releveled.
My first task was to empty the water that was stuck in the drum, and the only way to do this is to open the lint trap and let it run out into a bucket.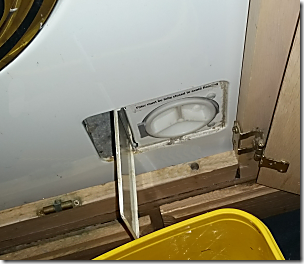 Next up I removed the wooden retaining strip that keeps the washer from sliding out while we travel. Three screws hold it in place.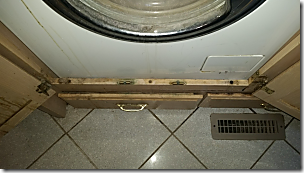 Once that's done, then I can pull out the canvas straps that I installed previously. I use these to help pull the washer out of the enclosure.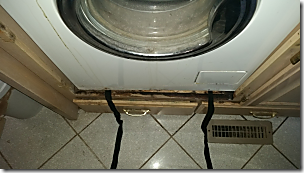 When I was down in Clear Lake yesterday, I got my furniture dolly from my son Chris' to help move the washer once I get it out.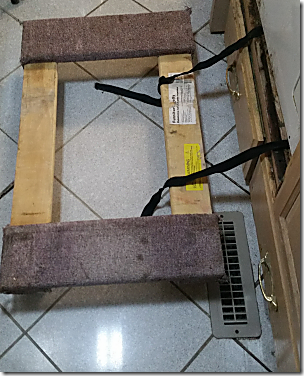 After that it's just a matter of working it out, little by little, using the straps and also pulling from inside the door.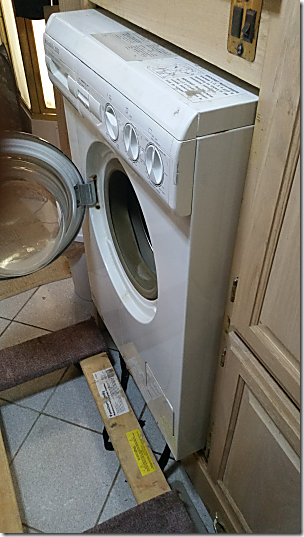 The reason the washer is so difficult get out of the enclosure is shown here. It's almost a jam fit like this on both sides. Every time I pull it out, I tell myself that I'll sand it down, but somehow I never do.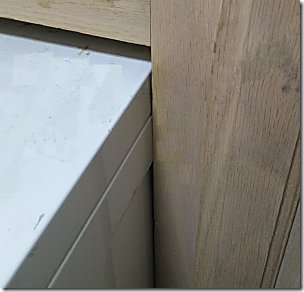 Then it's just a matter of dragging it out onto the dolly.
Once it's completely on the dolly I can roll it aside enough to unplug the power, and then remove the water hoses and the drain line.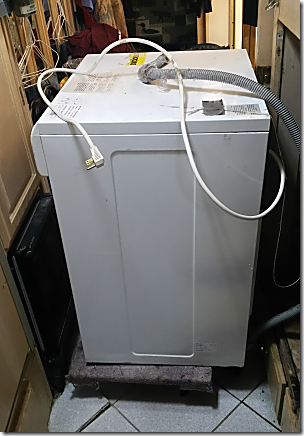 My next step was to turn the washer upside down so that I could remove the bottom panel and get to the drain pump itself.
After removing the two screws that hold the pump in place and then loosening the hose clamps from the input and output hoses. Then after unplugging the power wires, I was able to completely remove the pump and take a look at it.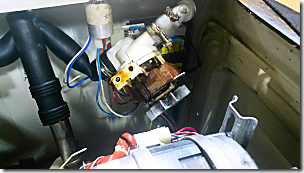 The first thing I did was do an ohmmeter check on the power leads. I got a reading of 7.0 ohms which is about right for a motor this size and also tells me that the windings are good. So the motor is probably working, but I'll test it with voltage later if necessary.
The next thing I noticed was that when I initially tried to turn the fan by hand, it was kind of hard to turn, but then freed up slightly.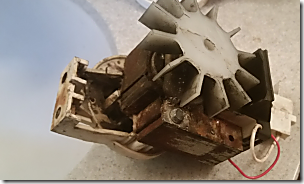 Then I removed the three screws that hold the pump housing to the motor. I kind of expected the housing to have some lint or other debris inside, but I didn't find anything.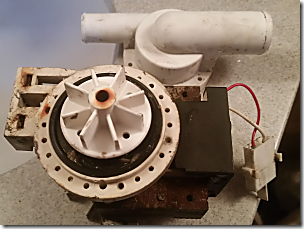 One thing I did find unusual was that although when I turned the fan by hand, the impeller did turn, when I turn the impeller it just spins without turning the fan. So I don't know if that's the way it's supposed to be, so that if that something clogs the pump, it won't burn out, or if it's broken.
I'll call Westland Sales tomorrow and find out.
Checking eBay, I did find a new pump for $185, or a 'used but working' one for $100. But I'll hold off until I find out more about my problem.
Earlier in the afternoon I found blog readers parked on both sides of us. Our friend Randy Lazarine showed up yesterday, following us over from Colorado River yesterday.
And blog reader Brett O'Neal recognized us when he and his wife Frankie parked on the other side of us. They just started full-timing recently, and are just getting on the road and heading to Florida.
Later they came by for a local restaurant recommendation, and we sent them off to El Bosque, our favorite local Mexican place. Hopefully they enjoyed it as much as we do.
And hopefully we'll get a chance to get together and get to know them better.
---
February 18, 2017
Old Friends and New Friends . . .
We left the rig yesterday morning about 8am, heading for our son Chris' house down in Friendswood, so he could replace the AC condenser fan in our 2004 Dodge Dakota truck.
It died last year, enough that it shut down the AC system. So I rewired it so it would work, but I had to manually turn on the compressor with a switch. The only problem was that that engine would run hot when we were in slow traffic.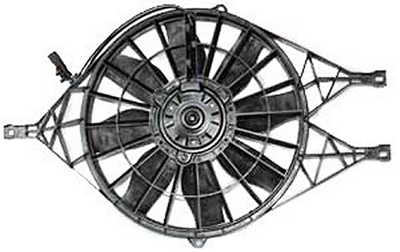 This electric fan goes between the radiator and the engine to provide extra cooling to pull heat off the AC condenser coil itself.
Dodge no longer carries this fan, so I was happy to be able find one made by a 3rd party on Amazon. And for a lot less money than the last one I bought. I had to replace this same find about 6 years ago, so I hope this one last longer.
It only took Chris about 90 minutes to replace the fan and then we were off to King Food with Chris for lunch. We've been jonsing for their Chicken in Hot Garlic Sauce, XXXX hot, with jalapenos.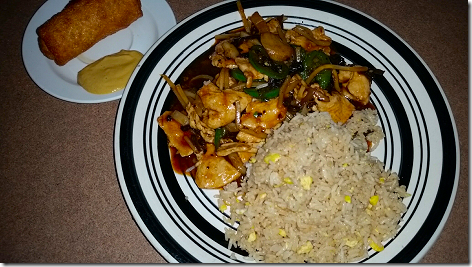 Really, really good.
Next up was a stop at the local O'Reilly's Auto Parts to pick up the shocks we ordered for the truck a few days ago, Chris' next job on Sunday.
Then it was haircuts for both of us (mine takes a lot less time than Jan's), and a stop at Kroger's to stock up on our favorite coffee.
Finally after killing some time, we headed down to Seabrook to have dinner at the new Tookie's Seafood with our friends, Barbara & Tom Linklater. We've eaten at Tookie's Hamburgers next door since 1978, but it's our first time here. And it was really good.
Jan had the Crab Cake and a cup of the Lobster Bisque,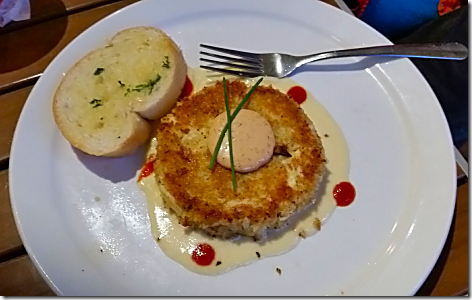 while I had the Texas Shrimp and Grits with Tasso ham in the sauce.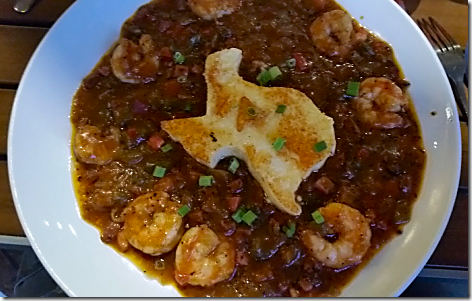 That's the grits in the shape of Texas.
We got here about 5pm when it was not very busy, but by 6 it was jammed packed. And after tasting the food, it was easy to see why. We'll definitely go back.
After dinner we when over to Barbara and Tom's house for a while so I could take care of a couple of computer problems they were having, and it also gave us more time to talk in a quieter atmosphere.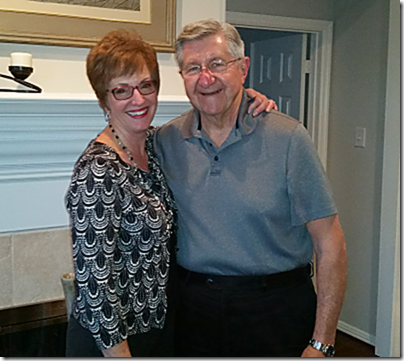 Finally about 10pm we were on our way home to Columbus, arriving around midnight.
Another fun day.
* * * * * *
This morning, and the rest of the day, for that matter, turned out to be a do-nothing, rest up day. So, very nice.
Early in the afternoon I thought to check the shocks I had picked up to see if they were the correct ones. Turns out the front ones were correct, but not the rear set.
Well, they weren't really wrong. The rear ones would have worked on the truck, but they were a different Monroe product than the front ones, and the counter guy said he would recommend using the same type front and rear. So they order the right ones and said they'd be in tomorrow about noon.
But then they called about 8pm this evening and said they had already come in. Great Service!
About 4 we headed out to meet our friends, Debi and Ed Hurlburt, for dinner at Los Cabos Mexican Restaurant over in Columbus. But on the way out I stopped off at the office to settle up. When we left here back in October we had money on account so I wanted to get that credited correctly.
And when we got there we found Ed and Debi there too. Along with Mike and April Mott, the son and daughter-in-law to our good friends, Dick and Judy Mott. Like old home week. So we all headed over to Las Cabos for dinner, with Mike, April, and sons Colby and Ben joining us.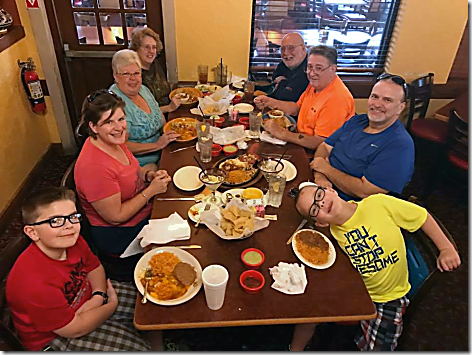 A really fun group. And very well-behaved kids too.
Tomorrow it's back on the road down to the Clear Lake area for the new shocks and a dinner get-together.
---
February 18, 2018
Lifetime Headlight Bulbs?
Jan and I left the rig about 10am for our trip up to Brandi and Lowell's in Katy. We were all getting together, along with Chris and Linda, to check out Brandi's new house.
They moved into this rent house this past January after they sold their other one.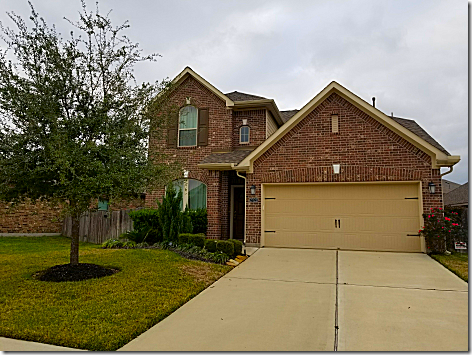 They're going to spend the next year looking for a new one, maybe a one story, but definitely with a larger back yard, or at least a pool-sized one.
Unfortunately Miss Piper didn't make it this time, but hopefully we'll catch up with her soon.
Lowell picked up roasted chicken and all the fixin's from a place over on Mason Rd. called Pollo Bravo. The fixin's consisted of Yucca Fries, Sweet Plantain Chunks, Rice, Beans, and Avocado Salad. And a really good green sauce that everyone loved. Nice and Spicy.
After a delicious meal, Jan and I got our hugs and headed home about 2:30, getting back to the rig about 3:45pm.
The perfect end to a very nice weekend.
We've had a number of nice comments and emails about our new awnings, and we're really happy about how it turned out.
I was looking at photos I took back in Conroe when we first started seriously thinking about doing this. I wanted to get some idea on it would look like.
So I took this photo of the rig with the old, drilling-fluid-stained awnings.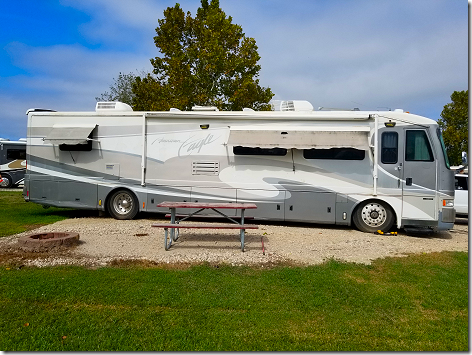 Then I used my Photoshop clone program to replace the old awnings with the new ones. I used a color that I had seen online and hoped to use.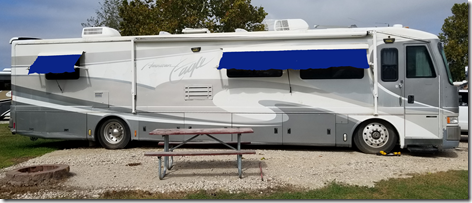 And I was surprised to look back and see how close I came.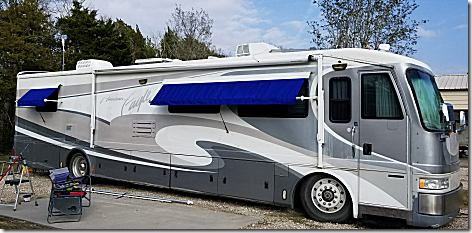 Pretty close, I think. Of course I still have one more to go over the slideout on the other side.
I ordered some new headlight bulbs from Amazon this evening that should be here on Wednesday. For the past 10 years or so I've used the Sylvania Silver Star Ultra halogen bulbs, but this time I decided to bump things up a notch and go full-on LED.
Based on online reviews, and over 2500 Amazon reviews (4.3 out of 5) I went with these Cougar Motors versions.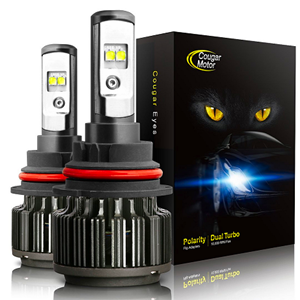 Cougar Motors 7200 Lumen Headlight bulbs
They're over 200% brighter than standard halogen bulbs, but still within the legal limits. And for cooling, they have a solid aluminum heat sink base and a built-in cooling 10,000 rpm fan. In addition to being waterproof, they're supposed to last at least 50,000 hours.
OK, so let's see. 50,000 hours divided by, maybe, a half hour a day average, gives you a100,000 hours. Or over 11 years.
So if I'm still driving when I'm 80 years old, I still won't need new bulbs.
Nice!
I just hope my warranty is as good as the bulb's.
---
February 18, 2019
Zoom, Zoom . . .
Work today consisted of printing out a bunch of labels for the many products we sell under our brand name, including some that we have formulated to our specs.
Also, I put an Amazon order in for 50 feet each of red and black Pomona test lead wire and a couple of dozen high-end banana plugs, so we can start making up our own patch cords.
I noticed the other day that we sell 6 foot test leads for epilators for about $25 each. When I ask how much we paid the wholesaler for them I was told about $17. WOW!
You're talking about a couple of bucks for the wire and a couple of bucks for the banana plugs. Call it $5. So I'll make them up and we'll price them for $10.
Saves everyone money.
I've mentioned lately about how more and more of my Amazon orders are being delivered by Amazon vans, and not USPS, UPS, or FedEx. But yesterday's delivery left something to be desired.
Normally when they do a Sunday delivery and no one there they just deliver the next day. But yesterday was different. This is how we found the package this morning.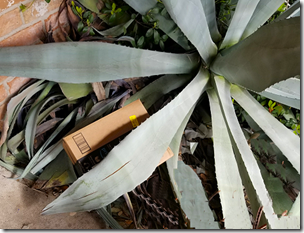 Not exactly what I expected.
But on a more positive Amazon front, I noticed that they now offer a payment plan on high ticket items, though I don't know what the price point for that is. But when I went to purchase my new Panasonic camera, it offered 5 payments at $59.60 each. And even better, there's no interest. Just the purchase price divided by 5.
And not willing to give anyone my money before I have to, I took the deal.
I found this cat sweat shirt on Facebook and ordered Jan one.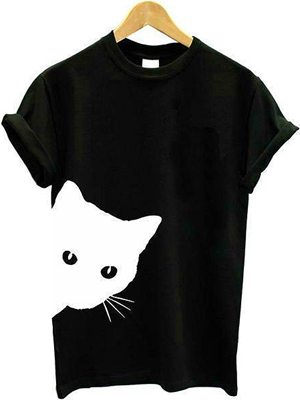 And she really likes it. She says it's very soft and comfortable.
It also comes in Gray and White, so you can get it out below.
https://whiskertonsco.com/products/spy-cat-t-shirt
For my part I recently ordered this neat mini scope which has a 800X optical zoom and 10X digital zoom, for 8000X magnification. Supposedly you can connect it up to your phone or camera.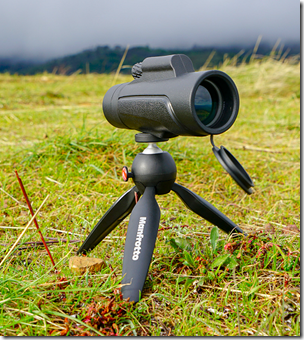 And it has night vision too.
Check out the video of the zoom. And it's less than $50.
https://nomadrecreation.com/this-video-will-freak-you-out/
Wrapping up yesterday I forgot to post this video of another of our favorite groups, Pentatonix, and their version of Queen's Bohemian Rhapsody.
---
February 18, 2020
Updates and More . . .
For our recent road trip back to Alabama, I used trivago (yes, it's supposed to be lowercase) to book the four hotels that we stayed in. My requirements were, as cheap as possible (of course), good ratings, and nice-looking photos. And I also wanted name-brand places, not independents.
On our way up to Alabama we stayed at a very nice La Quinta in Slidell for only $50 a night. Comfortable queen-size bed, nice hot shower, and really good free breakfast. Even the free Wi-Fi was decent.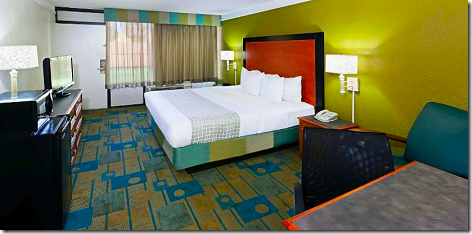 We've stayed at La Quinta a couple of times before, most recently with our rig's Air Compressor problems in Luling this past November, and we've always been very happy.
Next up was a three night stay in Montgomery, this time at a long-term residence hotel, an Extended Stay America. And except for some initial fumbles with the keycards, it was also a very nice room, with a queen-sized bed and a computer/dining table. Though we didn't' use it, we also had a 4 burner stove, a microwave which we did use, as well as an apartment-sized fridge.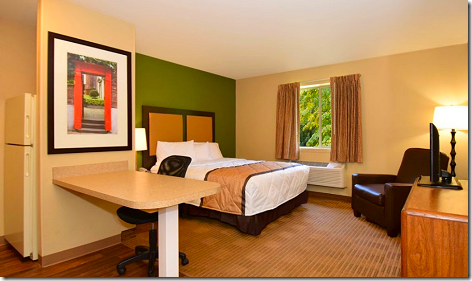 The only downsides were a spotty Wi-Fi signal and a 'Coffee Bar' free breakfast.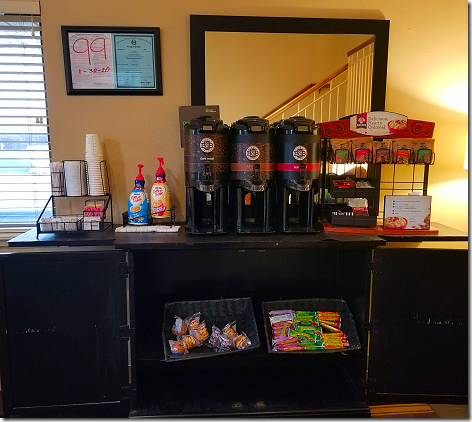 But that just gave us a good excuse to have breakfast at the Golden Corral right down the street.
While we were in Athens, our final destination, we had a six night stay at the local Day's Inn.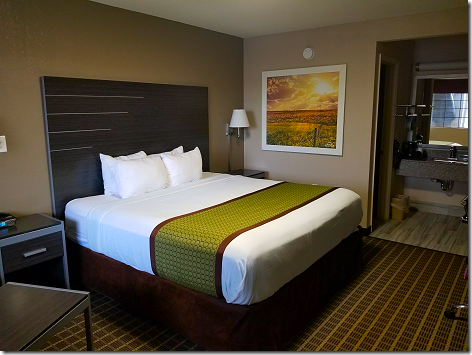 This time we got a comfortable king-sized bed, a nice computer table, a good hot shower, and big fluffy towels.
And the breakfast was very nice too.
Coming back home on Saturday, I had planned to stay once again at the same La Quinta. But when I went to book it I found that their weekend rates jumped $30 a night to $84.
So I found a very nice Super 8 right down the road for only $50 a night.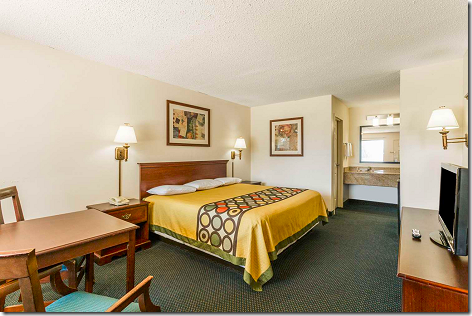 Again a king-sized bed, a large computer table, and a good breakfast.
I did notice that all the cheapest rates I found on trivago were through Expedia. Which made sense when I discovered that trivago, a German corporation, is majority-owned by Expedia.
All in all, a very nice, and cheap, trip.
---
February 18, 2021
Almost Back Home . . .
The power at the rig stayed on all night, so about 11 Jan and I drove over to get it ready for our return Friday morning. We didn't move back today, because we had already paid for tonight here at the hotel, and we wanted to turn the heaters on and get the temperature up in the rig.
This was because the temp inside when we got there was 34°. So we wanted to run the heaters overnight to warm things up.
Right now we plan to move back home tomorrow morning.
Then it was on up to Clear Lake to check in at the office. According to my monitoring, the power had come back on there about the same time that it came back on down here. I checked that all the computers had come back up with no problems, as well as the network. And since it all looked OK, I'll go back to work tomorrow after I get Jan moved back to the rig.
I got several comments yesterday about my blog post about the cold weather problems with Texas' wind turbines, one essentially accusing the state of 'cheapening out' on the turbines because they didn't have the cold weather kits installed. Which from what I've able to ascertain, must be either install during construction, or the turbine must be completely disassembled and the kit installed on the ground.
So why weren't these kits installed to start with? Well, besides the 30% cost increase per turbine, it's hard to justify the cost when they've never been needed before.
This was a once in a lifetime freeze event, so how do you prepare for that?
It would be like buying a car in Texas, and having to spring for all the extra options to prep you car for life in Fairbanks, Alaska where it can get to –70, just in case it might get that cold down here.
But wait, there's more. The power to run the cold weather kit comes from the output of the wind turbine itself, reducing the effective output to the grid.
Even worse, if it's very cold but the wind is not blowing, then power must fed back INTO the turbine to keep it warm. Otherwise, when the wind finally starts blowing, you've again got a frozen turbine.
Another reader said that wind doesn't supply much overall power to the state and that natural gas is our main energy source. Well, I guess it depends on how you define it.
About 56 percent of Texas' energy comes from natural gas, just under 24 percent comes from wind, 19 percent from coal, and almost 9 percent from nuclear energy.
So almost 25% of our power comes from the wind. And half of that went away with the freeze.
And there were also problems with our natural gas plants, due to the cold too. Once the temps get low enough, there are problems moving the gas around.
Natural gas wells and pipes ill-equipped for cold weather are a big reason why millions of Texans lost power during frigid temperatures this week. As temperatures dropped to record lows across some parts of the state, liquid inside wells, pipes, and valves froze solid.

Ice can block gas flow, clogging pipes. It's a phenomenon called a "freeze-off" that disrupts gas production across the US every winter. But freeze-offs can have outsized effects in Texas, as we've seen this week. The state is a huge natural gas producer — and it doesn't usually have to deal with such cold weather.
And the photo I posted the other day about defrosting the blades still holds.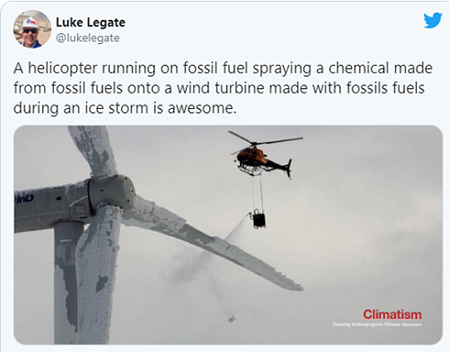 This same defrosting is still necessary even in cold climes where the cold weather kits is installed.
Only recently has a way been found to efficiently deice the blades using a carbon fiber coating that can be heated to remove/prevent the ice buildup. It's also pretty pricey, uses power from the turbine output, must be powered externally if there's no wind, and can only be retrofitted with the turbine and blades disassembled and on the ground.
Another expensive option.
But of course, solar power will save us.