Daily Archives:
February 26, 2023
Jan and I were on our way up to Conroe about 9:45 this morning, to meet up with long-time friends, Debi & Ed Hurlburt for lunch at China Delight.
And strangely enough, we just saw in yesterday's blog that it was 9 years ago yesterday that we first met in person, though they had been blog readers for a while.
After Hot & Sour Soup for both of us, Jan got their Triple Delight, with Beef, Chicken, and Shrimp, along with a lot of veggies.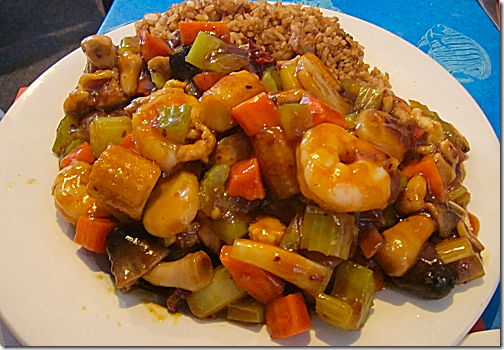 I got the 'Spicy' Black Pepper Chicken, though I had to spice it up more for my taste,.
But it was good.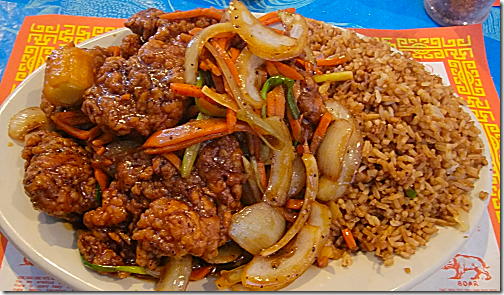 As was Jan's.
We spent our usual 3+ hours together before they headed back to Trinity and we were on our way back down to Santa Fe.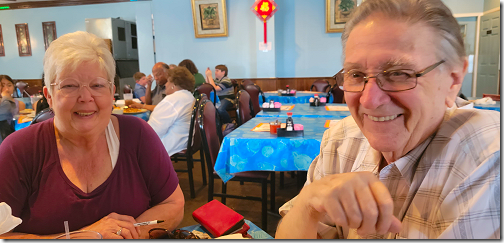 Since our favorite Cowboy Coffee is closed on Sunday's, we stopped at our local Timewise for coffee/cappuccinos before getting home about 4:30.
Looks like sometime in the fall Jan and I will become Texans again, for the first time since March of 2008.
Our South Dakota Driver's Licenses will both expire in October, and unlike our online renewal in 2018, this time we have to be in SD in person.
In October.
No!
And since we're not RV'ing any longer, it seems like it's time to 'move back' to Texas.
The only problem is what we're going to do about our Dodge Dakota, which definitely will not pass Texas emissions inspection. That's one thing nice about SD, no inspections.
I've got an idea on how to handle this, but I'm still mulling things over. It's really nice to have it as a backup vehicle, so I don't want to have to put it out to pasture yet.
---
Thought for the Day:
If someone with multiple personalities threatens to kill himself, is it considered a hostage situation?
---
February 26, 2010
Errand Day…
Today our friends already had plans for the rodeo, so we made it an errand day. We started off with lunch at Bruegger's, a deli/bakery chain that we last visited in Fairbanks, AK two years ago. And it was as good as we remembered.
After lunch Jan walked down the strip mall a few doors to get a pedicure, while I read (napped) in the truck.
Then it was on to Bookman's, Tucson's version of Half-Price Books so Jan could look for the last couple of books in several series she's reading.
After that we headed over to Costco to check them out and become members. As we had heard, it's pretty much like a Sam's Club.
Coming home we stopped at a Car Wash to wash off some of the West Texas grime we pick up on our way here. It's really nice to be able to see out the windows again.
Next we visited Camping World to pick up a new sewer hose and connector and a few other things.
Then noticing how late it was, we decided that rather than going back to the rig and then back out for supper, we just headed directly to La Fuente, a really good Mexican restaurant we last ate at two years ago. Jan loves their fresh made to order guacamole.
Then it was home for the night.
Tomorrow we'll get together with our friends for one last day, and then it's on to Gila Bend on Sunday.
---
February 26, 2011
Trying not to be Taser-worthy . . .
My morning started about 10:30 (Jan's started about 8:30), with a big pot of hot coffee, and luckily, no circuit breaker kicking out.
Jan did good.
While Jan read and watched TV, I worked on the layout map of the fairgrounds using the data I had compiled yesterday. This will give us a comprehensive map showing all the hookups at the fairgrounds, making it easier to park incoming RV's quickly and efficiently.
Around noon Jan fixed us a lunch of turkey sandwiches with cranberry horseradish and mayo with Tabasco. Nice and Spicy!
A little after 1pm I headed over to the gun show being held here at the fairgrounds. Not looking for anything in particular, but did have some ideas.
I bought 3 magazines for my M1 Carbine. You can never too much ammo, or too many magazines to hold it.
As I was leaving for the gun show, I asked Jan if I could pick her up anything. She laughingly said "A Taser".
I said I wasn't sure that was a good idea since I'm the one she's around most of the time, and I might not feel too safe.
She said "Just don't do anything 'Taser-worthy' and you'll be fine."
So, riding that ragged edge as usual, I bought her one.
This one.
Trying to avoid being 'Taser-worthy', and hedging my bets, I also bought her some handcrafted sterling silver beaded earrings.
I got back to the rigs a little before 3pm, and went back to work on the layout map. Then Barb Westerfield came by to invite us over for a tour of their new coach. And we also spent some time getting to know their cat 'Pansy'.
Getting back to the rig, I started taking our Moen shower faucet apart, so I can replace the cartridge to eliminate a slow drip. But the cartridge is apparently the original one that's been there since 1999 and it's stuck. So tomorrow I'll have to get a cartridge puller to get it out without breaking something.
About 5:30 we all went over to EAT, our favorite local Chinese buffet. And as usual, we spent more time talking than eating.
Coming home a little after 7pm, we passed The Sticker Bus parked across the street from Wal-Mart.
We're not sure what they sell, but we assume it's stickers, since it's called "The Sticker Bus". And although you can't tell from these nighttime pics, it's covered with thousands of stickers. Maybe we'll get a chance to check it out in the daytime tomorrow.
Back in the rig, we spent a while talking before calling it a night.
---
February 26, 2012
If it's Sunday, it must be Yuma . . .
Since we didn't have far to go this morning, only a 116 mile trip to Yuma. we slept in until about 8 before getting ready to travel.
We pulled out of our site at Holt's Shell RV Park about 10 am and traveled right across the parking lot to have a breakfast sandwich at the Subway. Then it was on the road to Yuma.
And after a pretty uneventful trip we pulled into the Yuma County Fairgrounds about 12:45 and got set up at our usual spot at the horse barns.
Tomorrow I'll hit the ground running and start hitting up local businesses for discount coupons and gift certificates to be used as door prizes for the upcoming rally.
After finishing setting up, Jan and I read and interneted the rest of the afternoon, until about 5 pm, when Tom and Barb Westerfield, and Jan and I headed over to Famous Dave's BBQ for dinner.
And, as usual, when we all get together, we spent more time talking than eating, and didn't leave until after 7. It's good to be back together with good friends.
---
February 26, 2013
Beautiful Lake Medina . . .
or not.
Today was our first "do absolutely nothing" day in a good while. I even resisted the temptation to dabble on my To-Do list. Jan and I just sat around the rig and caught up on a lot of our DVR'd stuff.
Nice!
Medina Lake TT is pretty nice, with almost 400 sites, some heavily treed, but many others with good satellites views.
Unfortunately the coveted lakeside sites leave something to be desired.
Like a lake.
This used to be a boat launching ramp.
Due to the recent drought, this manmade 5,426 acre (18 miles by 3 miles) lake is empty, and has been since last year.
People are even driving out on the lake bed.
One thing I noticed while I was reading through the park literature is the fact that it cost to receive a package here, $2.50 for each and every one. I've never seen this at any RV park before, much less a Thousand Trails park.
Hope this doesn't spread.
After lunch I got out the slow cooker and poached a bunch of chicken breasts for soups and other dishes for the rest of the week.
For dinner we made ground beef taco salads, using this seasoned hamburger meat we buy at Wal-Mart.
It comes refrigerated, but freezes well. And it really tastes good. But it also keeps from smelling up the rig by cooking hamburger inside, or dragging out the grill and doing it outside.
As much as I like eating at the Big Texan Steak Ranch in Amarillo, 19 inches of snow would certainly dampen my ardor.
Really glad we're about 500 miles south of there. Even so, it's supposed to be 38 degrees here in Lakehills tonight, and that's cold enough for me.
---
February 26, 2014
Cold, Wet, and Miserable . . .
First up, blog reader Bill Osbourne gave me a heads-up about a source for the discontinued Sears Air Compressor that I mentioned the other day. Another reader, David Cross, had noted that Sears no longer sells the unit, but Bill found this link (Sears Air Compressor) to reconditioned ones being sold by the Sears Outlet store.
Then blog reader Jeff Horton found this identical model now sold on Amazon under the Porter-Cable brand. Looks to be exactly the same. So now you have a choice.

PORTER-CABLE 150 PSI Air Compressor
If you need a quick, easy, and relatively cheap air compressor that will air up rig tires to 120#, this will do the job. I've had mine for about 4 years now and it's still going strong. Check it out.
It looks like the cold, wet, and nasty weather we had at Galveston Bay RV Resort the last week or so before we left has followed us up here to the Colorado River Thousand Trails park. After raining a good part of yesterday, it went down to 42 last night and then made it all the way up to 45 today …with more rain.
Tonight it's down to about 30 degrees. But tomorrow things are looking up, with a high in the mid 50's and NO rain for the next several days. So now I'll be able to do some things outside that I have planned.
So I started going through the storage boxes that are inside, consolidating stuff into categories like tools, computer stuff, rig parts, etc. One of problems in doing something like this is where do you put stuff as you sort it. We have a bunch of these really nice reusable bags we got at Tractor Supply Company recently. They're made from a heavy canvas-like material and are very strong. And even better, they're not expensive. We paid $.99 at one store and $1.49 at another, both a good deal.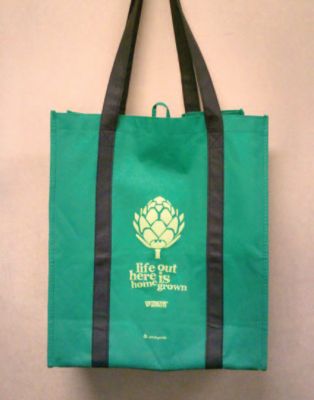 Anyway I got though most of the file boxes today, and tomorrow I'll start on the larger bins. But it'll be easier now because I've freed up 6 of the file boxes to sort things into.
Tomorrow Jan wants to drive into La Grange for dinner and an HEB visit. Hopefully Ed and Debi will be able to go with us.
---
February 26, 2015
Hair and More . . .
Jan and I headed out about 2pm for an afternoon of hair stuff. Of course, more for her than me.
I dropped her off at the SuperCuts in Friendswood and then I drove back over to Lou's Barbershop, where Lou has been cutting my hair since 1998. He did say that since I didn't have as much hair for him to cut as when we started out together, he'd throw in a free beard trim.
Hey, something free!
And to show you the difference, I was able drop Jan off, drive to my barber, get my hair cut, drive back to SuperCuts, and It was still another 30 minutes before she was finally done. But then she has a lot more hair to work with.
And looks a lot better when she's done, too.
Finishing up about 4:15, we now headed up to the Katy area to meet Brandi, Lowell, and Landon at Torchy's Tacos, our new favorite taco place.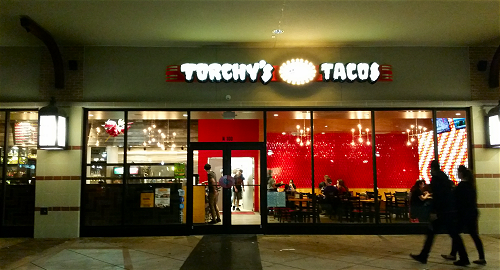 And it was just as great as last time. Really wish they'd get one down here in the Clear Lake area.
Leaving Torchy's, Jan rode back with Brandi while I made a stop at a nearby Home Depot for a few things before joining them at their house. Before we left for home they filled us in on their upcoming ski trip.
They're all three leaving early Saturday morning for a week of skiing in Steamboat Springs, CO. Brandi and Lowell have been skiing a number of times before, but this will be Landon's first time.
And although Landon has flown before, this is the first time that he'll have some idea about what's going on. And he says he's really looking forward to it.
On a final noted, back in August, right before we started gate guarding, I ordered couple of these Vent Insulators to help keep out the heat while we were on the gate.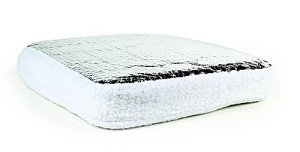 Camco Vent Insulator with Reflective Surface
And they worked great. Normally the covers stay in the vent openings unless we're actually using the vent fans, but about a week or so ago it was nice enough to open the windows and use the fans.
But when it got cold again, we just closed the vents and didn't put the insulators back up. And I could really tell the difference in the amount of cold leaking in. Very noticeable just standing under insulated vent vs. the non-insulated one.
Check them out.
---
February 26, 2016
A Little Breathing Room . . .
Once again up way too early, we left out about 9am this morning, making the 70 mile trip down to the Clear Lake area for one more of Jan's doctor's appointments, this time a yearly checkup with her oncologist.
But our first stop was right down the road in Conroe at the Jack in the Box for a couple of breakfast sandwiches. Then I walked next door and got a Venti Smoked Butterscotch Latte, my new favorite flavor. Though I'm not sure what the 'Smoked' part is all about.
Is that like salmon, or what?
Although we kept hearing about wrecks and closed lanes ahead of us as we traveled south, they were always clear by the time we got there so the trip was pretty smooth.
Getting down to the area, and having some extra time, we stopped by Chris' and started a load of laundry. Thinking we might have time, we bought our stuff with us just in case. They had an LG washer and dryer, and they're HUGE. Our load only filled it up about half way, and it would have been maybe five loads in our Splendide combo.
This is one reason we've thought about, that if we do have to replace ours at some point, we might put in a stackable unit. The cost is actually a little cheaper, and we could be washing another load while drying the first one. The only downside is that Jan would lose her storage cabinet over the washer that she has now. So we'll see when the time comes.
Then it was off to the doctor's for Jan's 11:40 appointment which only took about a hour and then we were back at Chris', just in time to move our clothes from the washer to the dryer and start the second small load of towels.
About this time, Chris, Linda, and Miss Piper showed up from their outing, and we all headed out to the nearby Cheddar's for a late lunch. We always enjoy the food here, and this time was no exception.
At this point we split up with Jan and Miss Piper heading out for Mani-Pedi's while I checked in with a client or two.
We finally all met up back at Chris' and hung out until Jan and I finally started home about 6pm. We wanted to get a somewhat head start on the traffic since they're closing down both lanes of 1-45 from Dixie Farm to NASA Rd 1 all weekend starting at 9pm tonight. And they're closing down Bay Area Blvd over I-45 starting tonight for 5 months while they tear it all down and built a completely new overpass/underpass there.
So stay far, far away.
Coming home, we stopped off for gas at the north Houston Flying J, and found the price had jumped 10 cents, from $1.39 to $1.49 in TWO days. So maybe there's hope for gate guarding this year, after all.
Tomorrow, I going to get an early start . . . well, early for me, anyway, and try to get the new washer drain pump installed and hooked up. So we'll see how that goes.
We did catch a little breathing room by doing laundry today at Chris', and also by my beautiful, brilliant wife seeing something I didn't, and suggesting that, if need be, we can just wheel the washer through the bathroom and then up against the bed and out of the way. Then just tie it down and we're ready to go.
But I'm still hoping to get it done and in tomorrow. But a little less pressure now.
---
February 26, 2017
Love Me (Chicken) Tender . . .
Once again this morning we were out the door and heading for Clear Lake and our family get-together at the Webster Cheddar's, getting there about 15 minutes before our 11:30 meeting time.
Since we had a party of 8, getting there early helped, and we were seated immediately as soon as everyone showed up. Well, everyone but Miss Piper, who couldn't make it.
As is usual for our visits to Cheddar's, everything was delicious. Jan, Linda, and I all started out with salads, which come with one of their tasty croissants.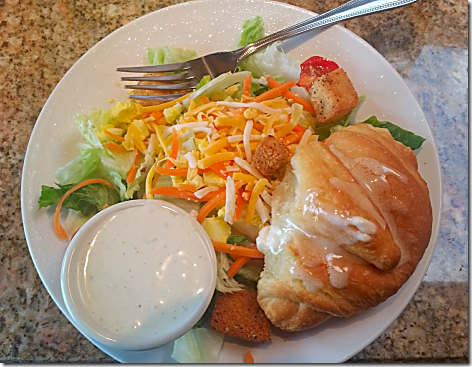 Everyone got something different, with Jan going with her favorite Chicken and Shrimp, now coming with their Bourbon Glaze Sauce. So good that Jan wanted to know if she could buy a gallon of it.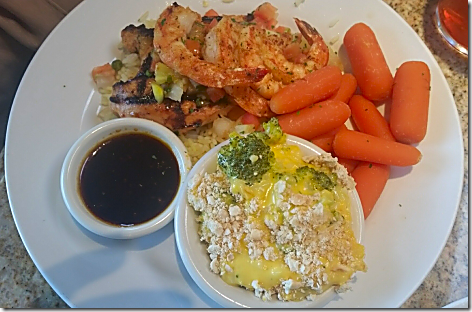 I got my usual Chicken Tenders with Fresh Broccoli and Green Beans, my favorite partly because they give you enough to have plenty of leftovers.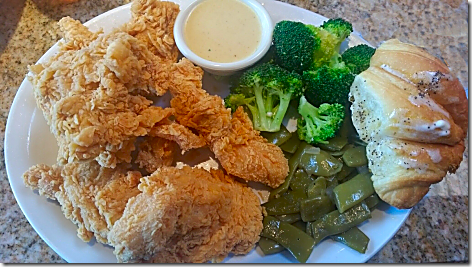 We spent most of the meal going over plans for our big upcoming family reunion the end of June. Jan's sister and her family are all coming down from Illinois so it'll be a large group.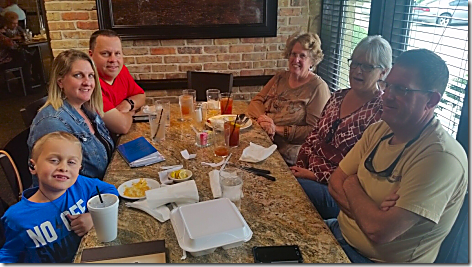 Getting our goodbye hugs Jan and I made a bank stop before segueing to the nearby Wal-Mart for a few things, and then it was back on the road up to the Katy area where we make a gas fill-up and Starbuck's stop. After our usual Cinnamon Dolce Lattes, (still no Smoked Butterscotch) we finally got home about 4:30.
Brandi and Lowell brought my latest Amazon order with them, a 2TB WD External Hard Drive. I've been wanting a drive large enough to let me do one or more system images of my desktop computer, which requires a little over 600GB. So this new drive will hold 3 system images.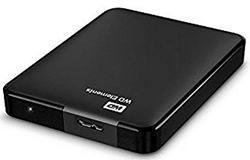 This new drive is also USB 3.0, which means it's about 10X faster than one with a USB 2.0 interface, important when you're saving 600+ GB files.
Holding this 2TB drive, the size of a deck of cards, in my hand, make me think of my first hard drive, circa 1990. It cost me $995 and significantly larger than a shoebox, it weighed about 15 pounds. And it was a whole 10MB, yes 10MB!
Which means that this drive has 200,000X the capacity of my first drive. a big change in less than 30 years.
Can you imagine what's coming up in the next 30 years?
---
February 26, 2018
Click. No Ship . . .
I spent most of the day at work tracking down a problem with our Click-N-Ship Business Pro software for our USPS shipping account.
---
---
Normally we just place the package on the scale, call up the address from the address book, or enter it from scratch if necessary., and then click the Print Label button.
This prints out the shipping label, complete with postage, and charges our account for the postage. Then just slap the label on the box and drop it in the outgoing container and you're done. Easy Peazy.
And we have the same type of software for our UPS shipments.
But after six packages were processed this morning, before I came in, the seventh one wouldn't go through. giving an error message when Print Label was clicked.
After doing some checking, turns out that the Account Login Authentication wasn't working, I.e. the software couldn't login to our online account. So after rebooting the computer and trying it again with the same results, I put in a call to the help line, and waited for about 20 minutes. Finally talking to someone, that our software looked fine from their end, and anyway, they had nothing to do with 'Account Authentication'.
Well, that was 20 minutes I'll never get back.
So I was back on the phone calling the Account people, at the same number, just selection #2 instead of selection #8. I immediately got someone who told me everyone was busy, took my number, and said someone would call me back. That was 11am.
When I hadn't heard from anyone by 3pm, I called back. And was told that they were working on the problem. I said, "What problem?" and she said, "The login problem.".
So it was their problem all the time. But I didn't find out for 4 hours. Great.
I'll try later tonight to see if it's working yet.
One thing funny today was a women calling in and saying she'd just got a new catalog and wanted to open a charge account like it said.
We all looked at each other, wondering what she was talking about, since we haven't charge accounts for years. But she insisted that's what her catalog said. So we had her read to us from the payment information paragraph, and it wasn't like that in our copy. So finally I had Jennifer ask her for the date on the front of the catalog.
After a long silence, she said in a quite voice, "2012"
"And you just got this in the mail?"
"Well, maybe not."
'Click!'
I did get in a new toy, or toys, maybe, today. It's a set of these PECHAM WiFi Switches.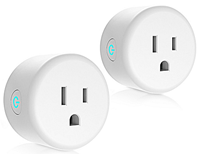 They're similar to the other ones I bought, but smaller and cheaper.
One of them I want to use to control my Power Converter. Used to keep the rig's house and engine batteries charged while we're plugged into shore power, my unit has 3 different charge levels, 14.4V, 13.6V, and 13.2V.
When it first turns on, it starts up at 14.4, stays there for about an hour, and then drops to 13.6 for a while, before steady-stating at 13.2V. And as far as keeping the house batteries charged, that works fine.
But the way the rig's charging system works is that the engine batteries only get charged when the house battery voltage is above 14.0V. That's the voltage the battery isolator pulls in and connects the house and rig batteries together. But since that only happens when the power converter first turns on, the engine batteries would gradually discharge over a period of time.
So my solution was to put the power converter on a timer that would cycle the power on and off several times a day. But I was never happy with the way it all work so I'm replacing the mechanical timer with one of these WiFi ones. Then I can modify the schedule remotely or manually control the timer itself.
Not sure what I'm going to do with the other one, but I'll think of something.
---
February 26, 2019
Like Carvana, But Smaller . . .
Jan and I headed out about 11:45 up to the Friendswood area to meet up with some old Alvin Opry friends for a Mardi Gras lunch, complete with beads and a Mardi Gras King Cake.
But along the way we first stopped so I could get my hair cut. I also had him trim my beard just like last time, but I guess he misplaced my haircut records, or maybe my beard records, because he trimmed it a good big shorter than before. Leaving me with more like a Miami Vice 5 o'clock shadow.
Then it was on over to the La Casita Mexican Restaurant to meet up with old friends, several of them who we haven't seen in a good while.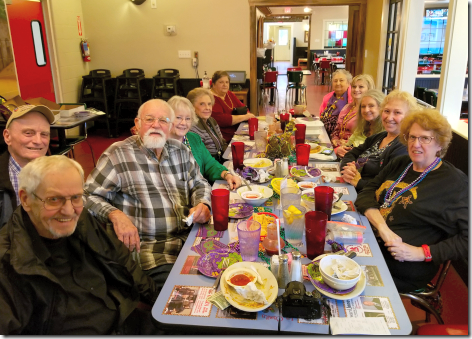 We used to eat at La Casita all the time when the kids were little, but somehow got away from it. But it seemed just as good as we remembered.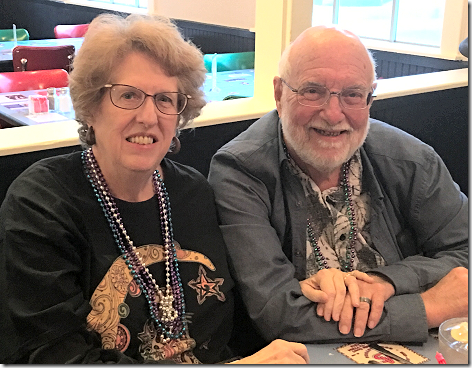 Jan and I both had the Grilled Chicken Breast with Grilled Onions and Charro Beans.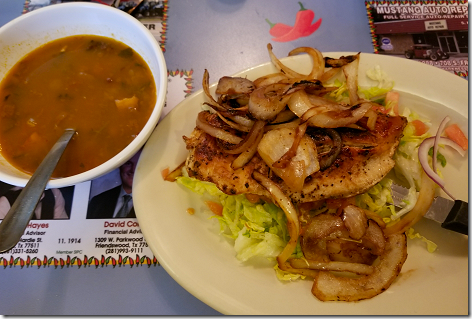 Really good.
And of course, no Mardi Gras party is complete with a slice of King Cake.
Luckily we didn't get the Baby.
One thing I noticed was this mural in our dining room.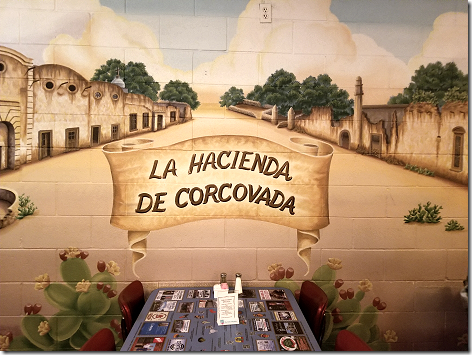 I was confused because this translates as the Hunchback's Estate. I mean, do a lot of hunchbacks own haciendas?
When I asked the owner about it, he laughed and said he'd wondered about that too. He said it was his great grandfather's village in Mexico. So when he asked his grandfather about it, he was told that the name came from a nearby mountain range.
Guess it's better than the meaning of the Grand Tetons.
Saying our goodbyes after a great get-together, Jan and I headed over to the nearby WalMart for a few things, including picking up an online order that we made the other day.
I'm sure you've see those Carvana commercials featuring their Car Vending Machine.
Well, I was surprised to find that WalMart has their own version.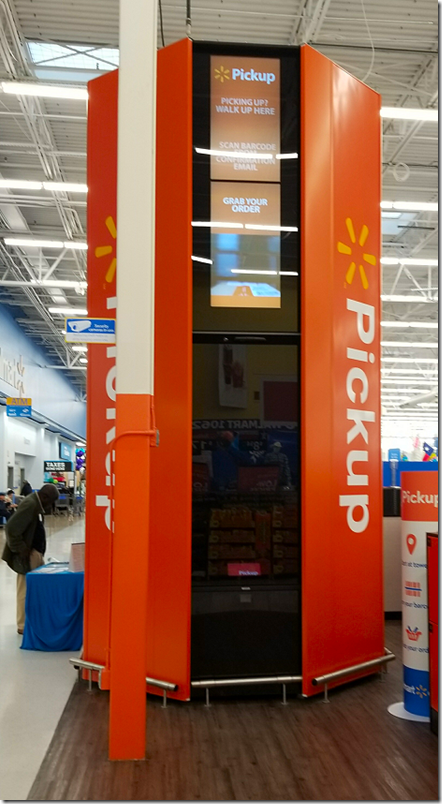 When you approach the keyboard housed in the base of tower, the window opens allowing you to enter your order number.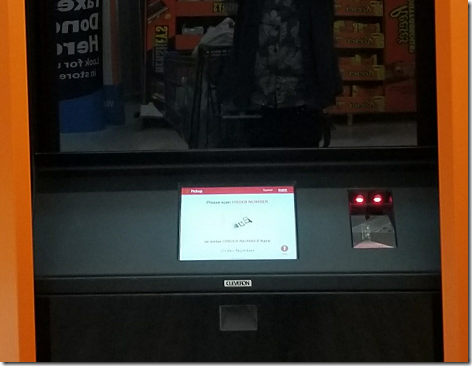 Then after a few seconds the hidden door above the keyboard opens and there's your order.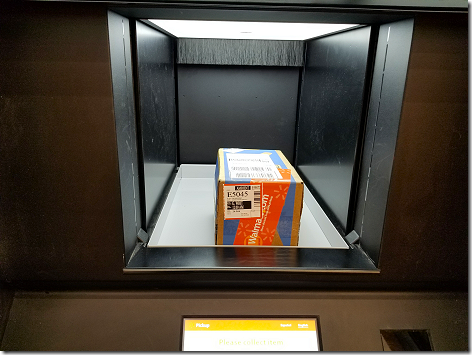 Neat!
Makes me want to order something else just to try it again.
---
February 26, 2020
On The Mend . . . Kind Of
I struggled into work today, mainly because I needed to get the final mailing list into the mailing company to get it in to them by 3pm today, otherwise I would have stayed home again.
I was making good progress and was right on schedule when I realized that the 3pm time was Atlanta time, where the mailing company is located. So 3pm was really 2pm my time.
RUH ROH!
But I managed to get it done and uploaded at 1:56pm, just under the wire.
Here's what the final ad card looks like.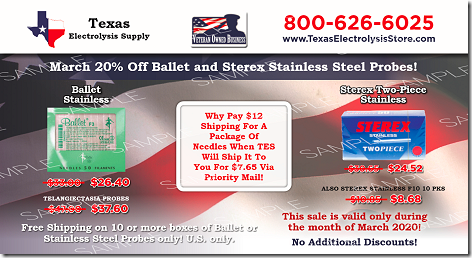 I seem to be on the downside of my cold, with only a stuffy head and a glitch in my side when I cough. But luckily the coughing has tapered off from constant to occasional, with only my sore stomach muscles to remind me.
I never really had any fever or the achiness of the flu, so just a bad cold.
So far Jan has had any signs of coming down with it, so I guess you just have to be sneezed on by someone.
---
February 26, 2021
Now It's Prep-For-Toilet Sunday . . .
I have ordered stuff for pickup from WalMart four or five times over the last year, and only once has it gone smoothly. And today did not change that tally.
I ordered some storage bins and some vitamins this morning to be picked up at the Texas City WalMart on my way home. But when I got there and drove around to the side to the pickup area, they had no idea who I was or why I was there.
And after I had waited for 45 minutes past my appointed pickup time, they finally discovered that my order had been unceremoniously canceled, and for no discernible reason, saying only this . . . because of unusually high demand. Slot availability, staffing, and inventory are still fluctuating daily.
Now the pickup crew had never seen this message before and couldn't explain it. But they suggested I reorder for tomorrow. So I ordered again, but to be picked up at a different store. So I guess we'll see tomorrow.
Toilet Saturday is now going to be Prep For Toilet Sunday. I want to double-check that I have all the right tools and wrench/socket sizes. If everything goes smoothly the changeout should only take me a couple of hours. But everything seldom goes smoothly, now does it?
---
February 26, 2022
Everybody Talks About The . . .
We thought that this weekend we'd catch up with some places we haven't eaten at for a while, the first up being Spring Creek BBQ right out on I-45. Spring Creek is one of our two favorite local BBQ places, with Rudy's being the other. I like Rudy's better, but Jan likes Spring Creek better.
So we compromise and go to Spring Creek. LOL
But the Ribs and Brisket are really good here.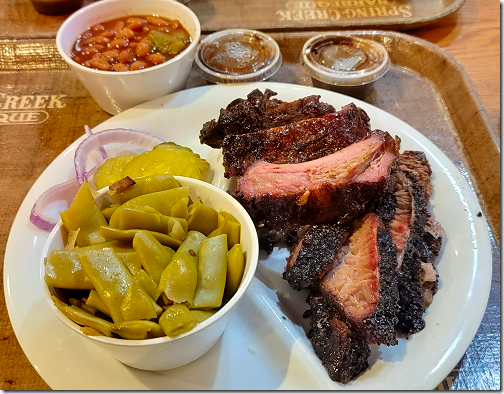 You only get one photo because we both get pretty much the same thing, except Jan gets her Brisket 'lean', or as I like to call it 'dry'. While I get mine 'marbled with extra bark', which means 'moist with a lot of the outside char'.
It's still delicious, even it's not Rudy's.
Then it was on right next door to WalMart for a few things before heading home, with a stop at Cowboy Coffee along the way.
Tomorrow's neglected restaurant is Black Bear Diner, also out on the Interstate, with a stop at the HEB right next door.
When we were at Costco a couple of weeks ago I bought myself a new toy to replace an old toy.
I saw this La Crosse Weather Station on sale for $80. Which I knew was a great deal since I had priced it a while back online and it was $190.
So I grabbed it up.
I've had an older model since 2017, but this one has a lot of new features.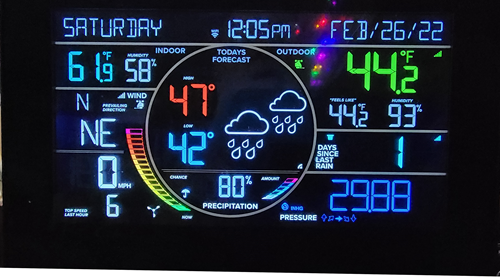 One thing new is the fact that the unit connects to AccuWeather on the Internet to give you the weather forecast in your area, which is shown in the center circular section of the display.
The other neat thing is rather than separate outside sensors, the wind speed, temperature, and humidity, as well as a new wind direction function, are all in one unit.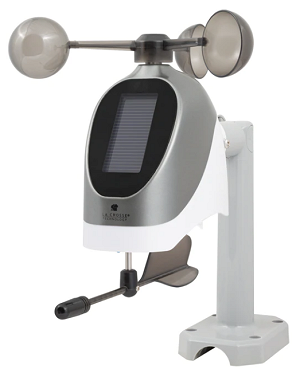 The new unit also has a solar cell to supplement the internal batteries so that they don't have to be changed as often.
But I got a little frustrated trying to get it all set up.
First, no matter what I'd tried I could not get it connected by WiFi to the app on my phone and to the Internet. Then reading online I saw that if your phone is using Android 12, which my S21 is, you have to connect it a longer, more complicated way. But rather than do this, I just used Jan's S8 phone and it connected the first time.
The second problem I had was getting the new super-duper all-in-one wind sensor to connect to the display, though the range gauge connected with no problem. Then, again reading online, I found a list of 12 things to try in order if your super-duper wind sensor won't connect.
My problem was number 11.
Of course.
But it's working great now.