Daily Archives:
February 15, 2023
Since we got together with old friends tonight, we didn't get home until almost 11pm, so you only get the Retro Blogs tonight.
---
Thought For The Day:
"If you are confused, you understand the situation perfectly."
Sen. John Kennedy
---
February 15, 2010
Started Scratching Our Itch!
Today Jan and I started scratching our bad case of Hitch Itch.  As much as we enjoyed visiting with our family and friends, we were anxious to get back on the road, since we've been parked on Dickinson Bayou since right before Thanksgiving.
We left Galveston Bay RV park about 10:30 and hit the road…and stopped about 5 miles away at Monterey's Little Mexico for one last bowl of their great Chicken Tortilla Soup and chips and salsa. Couldn't leave town without one last bowl!
But we were only going about 220 miles anyway, so it only took about 4 hours until we arrived at Lake Pointe RV Resort on Canyon Lake. We're going to be here about 4 days visiting with our friend Gina, setting up her new computer and installing a video camera on her back porch so she can watch the raccoons when they come to feed.
And they are well-fed. I think a couple of them are about the size of Great Danes. Prime eat'n size as we use to say back in Alabama.
We plan on heading out from here on Friday morning, stopping over one night in Fort Stockton before we get to Los Cruces, NM for a couple of nights. Then it's on to Tucson, AZ to spend several days with some friends we met in Alaska in 2008.
We plan to end up in Yuma, AZ about the 3rd of March. And after that, we'll see.
Since we're back on the road, I'll start posting every day again, if only to make a certain someone happy.
---
February 15, 2011
Hot Wings and Cold Rivers . . .
Another early start this morning as we left the coach about 8:45am heading to Gina's to pick her up for her doctor's appointment over in Wimberley. Then leaving there, we drove over to the pharmacy to drop off her prescriptions.
Next we headed over to the square to have lunch at one of our favorite places, the Cypress Creek Café. We try to eat here every time we're in the area and it's always great.
Jan and Gina loved their Chicken Fried Chicken and Chicken Fried Steak, and I crave their Devil's Breath Buffalo Wings. I had them back in June and I was back for more.
As I mentioned before, the Devil's Breath wings are made with the Naga Jolokia chilies, also known as Bhut Jolokia, or Ghost chilies. The restaurant says they have to import them from Amsterdam, Holland because they're not available here in the US.
Although the Ghost Chilies were considered the hottest until very recently, they've now been upstaged by the Naga Viper, and at 1.3 million Scoville Units, it's almost 30% hotter.
Owwie!
Just like the menu says, you have to sign a waiver before they will serve you, and for some reason, only the manager can witness it.
After a great (and hot!) lunch, we went back to the pharmacy to pick up Gina's prescriptions, before stopping off at a local garage to have Gina's car inspected. Then our final stop was at the local Brookshire Brother's to pick up some groceries.
Heading back to Gina's, we took the scenic River Road route, which of course, includes, what else, a river. . .
and a road over . . . er, thru it.
You find a number of these low water crossings around the Hill Country, and most of the year they've got water over them.
And because it's under water most of the time, the roadway is slick with algae. So slick, in fact, that if you gun your engine going up the slope, you can slide sideways right off into the river, just like this guy did a few years ago.
After getting Gina settled in at home, Jan and I headed back over to the rig. And as soon as we drove up, the deer started coming out the trees and bushes near the rig. They knew Jan was home.
And as can be seen from these earlier photos, they will eat right out of your hands.
Tomorrow will be our last full day here in Canyon Lake and the Texas Hill Country. We always look forward to coming back to this area to visit Gina every year.
Thursday morning we'll make a 370 mile run (long for us) to Balmorhea, TX, out in the middle of the west Texas nothingness, about halfway between Ft. Stockton and Van Horn. But they do have a nice Passport America RV park for $10 a night.
---
February 15, 2012
. . . to a Precious Few.
Well, Jan finished up the last of her doctor's appointments this morning, so we're all set to hit the road tomorrow morning, heading about 230 miles away to Canyon Lake, TX in the Hill Country.
We'll be spending a few days visiting our friend Gina, before starting our trek out to Yuma, AZ by the 26th.
But in the meantime, today started out OK but quickly fell apart. I had just planned to wrap a couple of things up and have an easy day.
But, NNNOOOOOO! Everybody and his brother either broke something or needed something done at the last minute. So I spent most of the day falling further and further behind.
Finally though, I wrapped things up in time for Jan and I to meet our friends Bob & Beth at Floyd's Cajun Seafood and Texas Steakhouse over in Pearland. We hadn't been there for several years and were surprised at how busy they were. We got there a little after 7 and still had about a 40 minute wait.
But it was certainly worth it, Jan and I both had steaks, really good steaks, and of course the obligatory cup of gumbo. You can't go to Floyd's without having gumbo. Or at least I can't.
After a great meal, we all got in our hugs, and then Jan and I headed toward home with a quick stop at Brandi's to pick up a hat I'd left, and then a stop by the storeroom to drop off some last minute stuff. Then finally we got home a little after 10, after a long, busy day.
Tomorrow, the Hill Country.
---
February 15, 2014
Great Steaks . . .
First off, I thought I'd pass on a couple of tips that I use to keep track of things as far as RV'ing goes.
I have a file called American Coach Numbers. Here's a sample below.
Initial Mileage
62,511

TAG
43F T26

VIN
4VZBN8299XC032375

FIN
719NX4475530

CUMMINS
45810300

Rear Axle Type
Rockwell RS19-145

Rear Axle Inner Wheel Seal
2140-DD4-801017

SCA Test Strips
Fleetguard CC2604-A
NAPA FIL 4105
DANA/WIX Strips

AC Belt
Dayco 17475

Serpentine Belt
Dayco 5080690

Onan Generator
Fuel Filter  149-3513

FG Fuel Filters
FS 1022
FS 1242B

FG Oil Filter
LF 3000
It contains information about our coach, tag number, VIN number, FIN number, all the different belts and filters used in the coach. And whenever I buy a new repair part, it all gets logged in.
Here's the info on my recent Kwikee step repair.
PowerGear
Kwikee Step
28 Series
Ser. #97749
Linkage Kit #909533000
This allows me to go back and find any past repair part without having to start all over looking it up.
Next, I also have a folder on the computer called American Coach Docs. This folder contains the manuals and documentation for everything I have in the coach, from the Splendide Washer/Dryer, and the Dometic Refrigerator, to the Onan 7.5 KW generator. And everything I buy for the coach, from our new Hamilton Beach Coffee Maker, and our Tire Trakker TPMS, to our DirecTV DVR gets included too. I've found almost every manufacturer, no matter what, has their manuals online. But in a few cases I've just scanned the manual to a PDF file and in the folder it goes.
This really saves time when I need some information about something. A couple of clicks and it 's right at my fingertips.
---
About 3 PM Jan and I headed into Houston to meet Brandi, Lowell, and Landon for an early dinner. After some talking, we ended decided to splurge and have dinner at Taste of Texas, one of the top steakhouses in Houston.
But it would have helped if we'd decided to get there a little earlier. We got to the restaurant a little before 4 PM, but still had an hour wait. But it was worth it.
I think this is the only steak place we've been to that sells their steaks by the ounce! Jan got a Filet, while I got a 16oz Ribeye, one of the best steaks I've ever had.
We all had a great time and a great meal. As you can see, Landon had a great time too.
Tomorrow we'll getting together with some friends for breakfast at the Sunflower Café down in Galveston. Really looking forward to it.
---
February 15, 2015
Two Weeks From Today . . .
Yesterday it suddenly dawned on me that we leave for Tucson, two weeks from today. That's March 1st, TWO WEEKS FROM TODAY!
YIKES!  That's a real scary thought.
My 'To-Do List to Do Before We Leave' seems to be getting longer, not shorter.
First up, I changed out the windshield wipers on the truck, using the same Rain-X wipers I used two years ago. Previously I replaced my wipers every year, but I've found that these Rain-X Latitude Wiper Blade – 21″ (Pack of 1) with the graphite-infused rubber, last a lot longer than other blades. And even this time I only replaced them 'just because', since they still weren't streaking, and the rubber wasn't ragged and worn like you would expect after two years.
The Denso blades I ordered from Amazon for the rig should be in on Tuesday, so that's up next.
Next up I was back on the step motor problem. Using the test leads I made up last night, I put 12v directly to the motor, with the only result a spark when I touched the terminal. So I figured I'd take it out and have a look. Pretty easy, I just removed the 4 corner nuts and it came right out.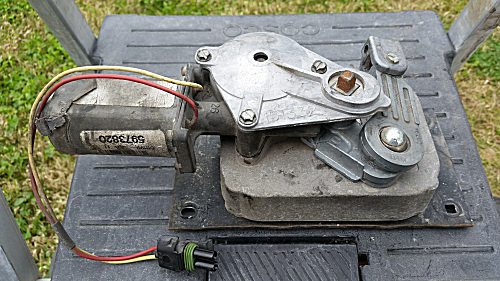 Then I removed the 3 screws holding the motor to the gear box and pulled it apart. This is where I was this time last year when I replaced the linkage arm, which had broken off.  Replacing a Broken Step Motor Linkage.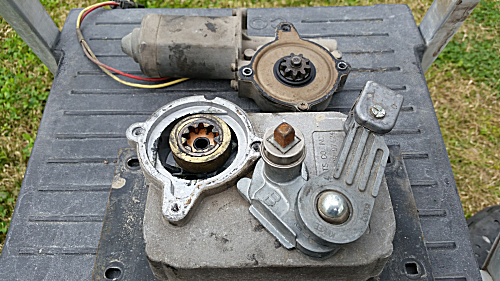 I thought maybe the gearbox was jammed, but without the motor attached, everything moved freely. I was happy to see, that unlike newer models that have plastic, easily stripped gears, everything in mine is all metal.
When I first tested the motor earlier and thought it was bad, I had checked online, and found replacements were anywhere from $161 to $238. Ouch!
So figuring I had nothing to lose, I checked the motor by itself.
And it worked fine!  WTH!
Thinking there must be a problem somewhere, I put it all back together and tried it again.
And it still worked.
Now I was confused. Why hadn't it worked before, or even better, why had it stopped working to begin with?
So I crawled back under the rig, and reinstall the motor/gearbox combo.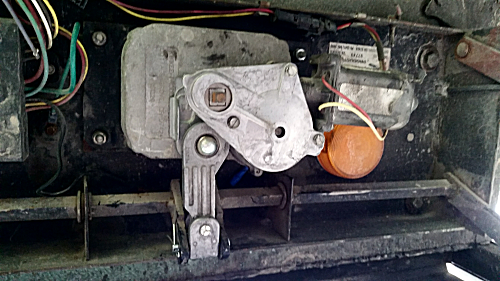 And it still worked fine.
I glad it's fixed, and I'm certainly glad I didn't have to spend a bunch of money, but it always bothers me when I don't know why something quit working, or why it started again. That usually means the original problem is still lurking in the background, just waiting to jump out and say "BOO"!
Jan said it was probably lonely under there, and just wanted to be held. I guess that's as good a reason as any.
Just in case I left the step set so that it goes in and out every time we open and close the door, so I can keep an eye on it. I'd rather it fail now than when we're back on the road.
Finally, as I was working on this, I keep thinking that the motor looked awfully familiar.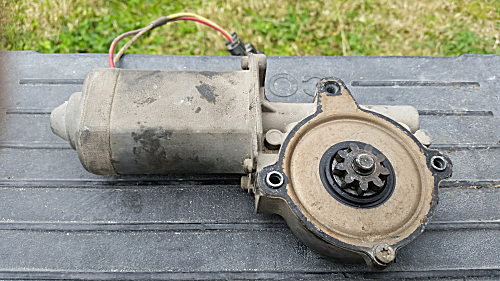 And then I remembered where I'd seen something like it. A few years ago I had to replace the power window regulator (lifting mechanism) in our 2004 Dodge Dakota, and this motor looked a lot like that motor.
So I went back on line, and found that most of the motors used in Kwikee steps are Ford Taurus power window motors, and you can buy them at AutoZone for $40. The only difference is the power connector, which you just cut off the old motor.
So now I know for next time.
Although we had planned to eat in tonight, I decided we should go out and spend some of the money I just saved us, so about 4:30 we headed up to Webster to eat at King Food.
Along the way, we checked out the new RV Park that's going up at SR 96 and Hwy 3 in League City. We driven past a week or so ago, but the entrance was blocked off. But today it was open, so we drove through it.
This is going to be a very nice park, with all-concrete roads and pads and looks be more than 100 sites.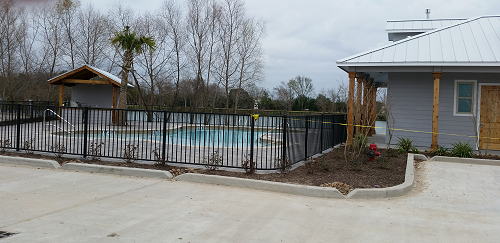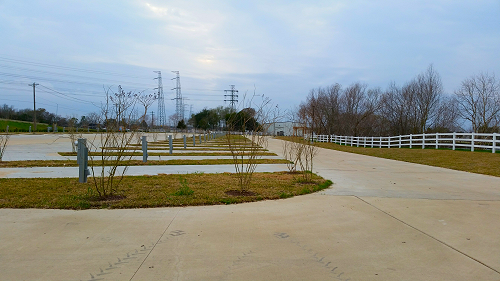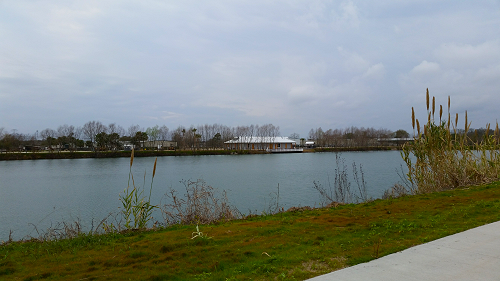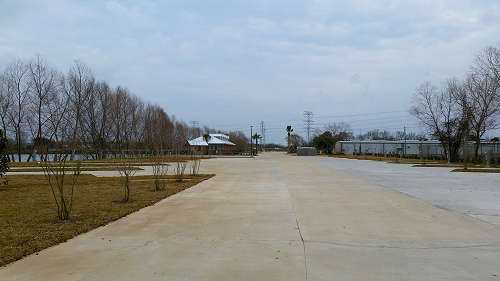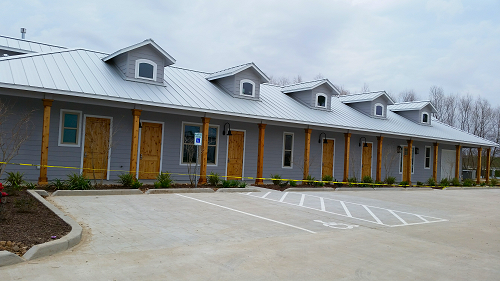 It has a mixture of both back-in and pull-thru sites, a nice pool, and it's built around a big lake. The sites are on 3 sides of the lake but the road goes all the way around.
Everything looks ready to go, except for the clubhouse, which has plywood on the doors.
The one funny thing about the operation is that there is not a sign anywhere giving the name of the park, or when it will open. But hopefully we'll know something before we leave the area.
Since Galveston Bay RV Park seems determined to start pricing their way out of our comfort zone, I ask Jan it she could live here, and she said, "YES".
So we'll see.
---
February 15, 2016
They Can't Get'em All . . .
We didn't walk this morning since we had to head down to Brandi's about 1 pm, and that's often about the time we finish up with our walk-breakfast-walk routine.
From last night when the park was almost full, this morning it was now half empty as everyone headed home after the long holiday weekend. Now we would have our choice of sites instead of the slim pickings we had yesterday.
As I said, we headed out for Brandi's about 1, getting there about 2:30, so that we could pick Landon up at his school, while Brandi and Lowell could attend a Parent-Teacher conference.
We headed out for Landon's school a little after 3 to get in line to wait for the the dismissal. We drove Lowell's truck so that we wouldn't have to switch over Landon's car seat, as well as the Student ID Tag that identifies the truck as being Landon's pickup vehicle.
The way this school handles parents picking up their kids is a model of modern technology.
We lined up in the truck outside the school grounds along the street until we were waved in. As we entered, one of two ladies logged us into the computer system with an iPad, using the unique number showing on the Student ID Tag that hung from the rearview mirror, while the other lady holds up a sign directing us to the right or left lane as we queued up.
Based on our position in the line, which was tracked from the Student ID number entered earlier, the computer now knows which one of the numbered pickup stations we will stop at. At this point Landon's teacher receives a computer message to send Landon out to, in this case, Station 6, and the teacher monitoring Station 6 also knows to expect Landon, and tracks him down if he doesn't show up on time.
And in our case, when our line stopped,  we stopped because the vehicle in front of us stopped at Station 5, so we were sitting at Station 6, and there was Landon waiting for us.
This is much safer for the kids since they're not running hither and yon, out into the streets as cars are zipping in and out all trying to pick up their kids and get on their way. The only possible problem I can see is what if the computer system goes down? And it will, believe me.
So, do they have a backup plan without computers, or are they just going with the chaos method?
Brandi and Lowell showed up at the house about 4:30 and then we all headed out for dinner. They were introducing us to La Finca Mexican Restaurant, a place they'd eaten at several times, but a first for us.
And now we want to know why they've been hiding this place from us. It was delicious.
We knew we were in for a treat with the first dip of salsa. It was thick, chunky, and just full of smoky chipotle flavor. Very good.
For our meal, Jan and I split the Combo Beef and Chicken Fajitas Poblanas for Two.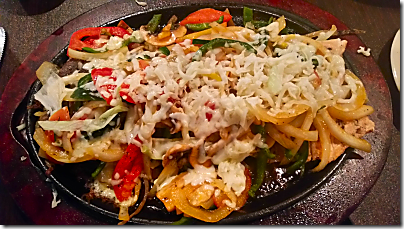 Although it was more like 'For Four', than Two. With Beef, Chicken, poblano peppers, red peppers, tomatoes, mushrooms, onions, and cheese, it was a full meal and then some. In fact we took half of it home for tomorrow.
Really, really good and we'll go back.
Wrapping up, I thought I'd post this video of a Roadrunner/Rattlesnake Deathmatch. I had seen this a while back, but fellow gate guard JW Wilk's reposting on Facebook made me want to pass it on to you.
Based on this video, I think the Coyote was probably lucky he never actually caught the Roadrunner. It wouldn't have turned out well.
When we were on our very first gate back in 2012, there were roadrunners all over the place, always zipping around with a mouthful of lizard or grasshopper.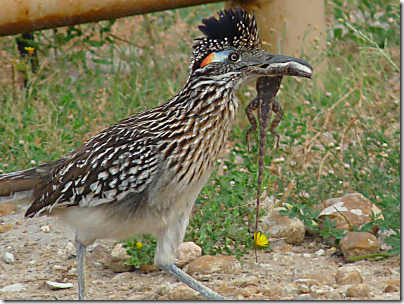 They were very curious, and seemingly not afraid of anything. One time I sitting out under the canopy on the gate, reading my Kindle, and I suddenly felt something watching me.
Looking down there was a big male roadrunner less than a foot away, just looking up at me. After we stared at each other for about 30 seconds, I guess he figure he wasn't 'that' hungry, and stalked off.
Later that summer, on another gate, the landowner told my wife there were a lot of rattlesnakes in the area and wondered if we had seen any of them. Jan said we hadn't and that there were so many roadrunners around that they were probably keeping them under control.
He looked at Jan very seriously and said, "They can't get'em all."
---
February 15, 2017
Back At Colorado River . . .
A short blog tonight.
We had an uneventful two hour trip from the Spacious Country RV Park in Cuero, TX to the Colorado River Thousand Trails in Columbus, TX, wrapping up our latest adventures in gate guarding until sometime in the late August/ September timeframe.
Luckily we were able to get a 50 amp full-hookup site down on the river without a problem, even as full as they were.
About 3pm Jan and I headed into Katy to have dinner at our favorite Little V's Vietnamese Bistro with Brandi, Lowell, and Landon, finally getting back to the rig about 8:30.
I'll flesh this all out tomorrow. I still haven't gotten back to a normal sleep schedule, so I'm dead tired and this is all you get tonight.
---
February 15, 2018
Git 'Er Done . . .
Jan's still feeling good, with no more pain. But she's still feeling kind of washed out, with not a lot of energy. So today became a stay at home day, finishing up some of our leftovers and stuff we bought ahead for times like this.
About 2pm I  ventured outside to take down our last window awning. Between cold weather, wet weather, and hospital visits, this is pretty much the first time I've had a chance to git 'er done.
With all the practice I've had it only took me about 15 minutes to have it down, out of the frame and in the backseat of the truck ready to drop off.
With the awning down, I headed out about 3:15 to drop off the awning at Sundowner Canvas and then stop off at the Friendswood WalMart to pickup one of Jan's prescriptions that wasn't ready yesterday afternoon. We did save about $25 by not picking up one of them, since the problem that it was for hasn't shown up., and probably won't now.
In on of those rare occurrences, almost like a total eclipse of the sun, everyone in the family is off this coming Sunday, so we're have a big get-together at Brandi and Lowell's new digs up in Katy. Really looking forward to it.
I'd like to get the new awning up soon, but tomorrow I work, Saturday it's supposed to be raining, and Sunday we're up in Katy. But maybe between rain and traveling I can squeeze in some time. This one, at 135 inches long, is the biggest and might be a little hard to hold up while I slide the rail and torque tube onto the fabric.
---
February 15, 2019
It's Like Y2K All Over Again . . .
After talking it over with our mailing company this morning, they were able to push us up a little in the queue so that our mail-out ad cards should be hitting the addresses the week of Feb. 25th, just in time for the beginning of the March sale.
I mentioned a few weeks back about a disappearing package. My client bought an $700 machine on eBay that was shipped and then was out for delivery here in Houston by the Post Office on December 28th. And then . . . POOF!
It just disappeared. Finally after 30 days missing, the PO said the sender should apply to collect the insurance. So I contacted the seller through eBay, (the only way you can contact an eBay seller. You never get an email address) But after resending me the PO tracking info, he took a powder and I never heard from him again.
So I entered a complaint with eBay who said they'd contact the seller and get him to contact me. But that if he didn't by the 12th of February, to contact them again and they'd get involved.
So when I still didn't hear anything by then, I contacted eBay on the 13th and the $727.49 was back in our PayPal account on the 14th. Nice work.
I suspect that the seller cheaped out and didn't buy the insurance on the unit, and then got stuck. But at least we were covered with their purchase guarantee.
It's Like Y2K All Over Again.
Come April 6th, 2019, be careful where you drive. Or at least be careful where your  GPS tells you to drive. Turns out that in a retro-Y2K twist, the date stamp in the GPS will reset, and it suddenly won't know where it, and you, are. This is because they only programmed a 10bit register to store the week, So every 1024 weeks, or about 20 years, the date rolls back to zero.
This of course, is reminiscent of the whole Y2K fiasco where to save memory space (back in the days when it was really expensive) they stored the year as two digits, i.e., 1980 was '80', 1999 was'99, and of course, 2000 was '00'.
WHOOPS!
Newer GPS implementations use a 13bit storage area, which should last until the sun goes red giant and engulfs the planet. Hopefully that'll be long enough.
You can read more about it here:
Now, units produced since 2010 or so, should be using the new ICD-200/IS-GPS-200 specifications, and should be OK. I say 'should', because apparently some manufacturers have been somewhat lax in updating their software.
Saves a few bucks, don't you know. So be careful out there.
---
February 15, 2020
Not The Way I Wanted To Remember Her . . .
After breakfast at the motel this morning we were on our way home a little after 8:30, via an overnight stay in Slidell about half way.
But our first stop was at the Golden Rule BBQ in Birmingham once again. In fact we timed our motel departure so we would get there right at 10:30am when they opened.
Once again we both got the Jumbo Sliced Pork Sandwich, mine Outside Cut, and splitting a order of Fries.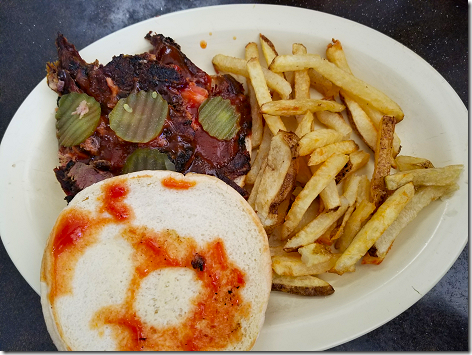 This so we wouldn't be as full as when we were here the other day, wanting to have room for their delicious home-made pie. Jan got her usual Double Chocolate,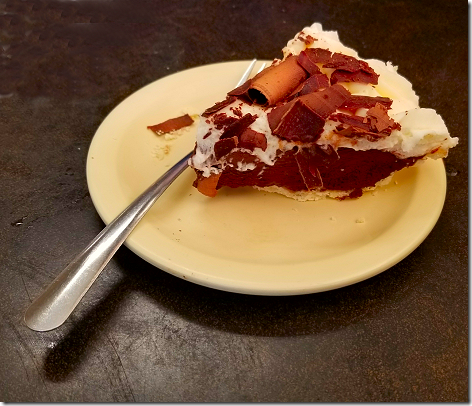 while I got the Lemon Icebox version.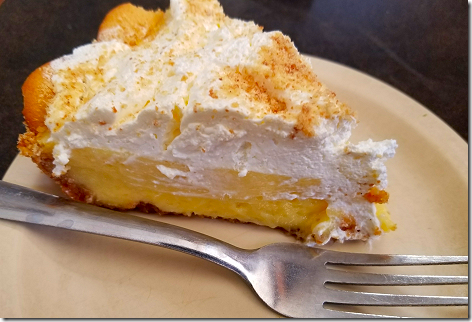 Our tummies full of great BBQ, 45 minutes later we were back on I-20/I-59 heading for Slidell about 320 miles away. Or 'Slidle' as the British lady on our GPS pronounces it.
We made a gas stop at Hattiesburg, paying $1.99/gallon, a nice improvement over the $2.21 we paid in Athens.
Since we'd had a big lunch, getting into Slidell we decided to just grab a sandwich at a Chick Fil A right near our hotel before getting to our room.
And once again we lucked out. We had a very nice King-Size room, made even nicer because it was only $62 a night.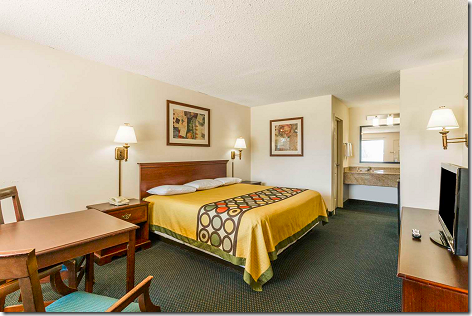 And with a nice computer table as a plus.
There was no blog this past Wednesday due to the storms, high winds and power outages in the Athens area. This on top of the four days of rain that they'd already had.
So a lot of big trees came down, including this 100 year old oak tree on the Limestone County Courthouse lawn.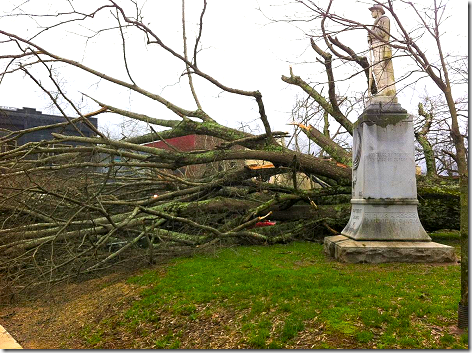 When it came down about 6:30 Wednesday night, it actually trapped five cars in its extended branches. Though no one was injured, three people had to be cut out of one of the cars when they were trapped inside.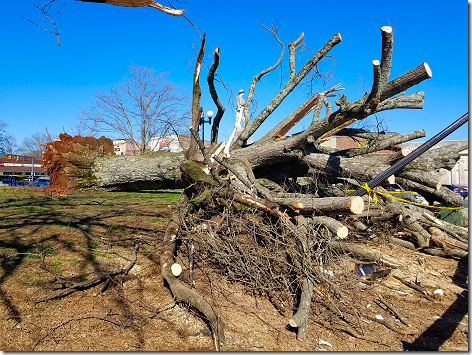 I mentioned in past blogs that I had three girlfriends over the years when I lived here. And a few years ago when we were visiting here, I mentioned to Jan that I was kind of looking around wondering if I would run into any of them.
But then I realized that I was looking for them like they looked when they were 16 or so. Not in their 60's as they would be now. And I told Jan that I had resisted looking any of them up, even Sam (Samantha) the future duchess I knew in South America, on FB or elsewhere because I didn't want to find out something bad had happened to them.
Well, as it happened, one of my relatives, who remembered who I had dated back then, told me that one of them had died last March at the age of 68, apparently of cancer.
As I said, not the way I wanted to remember her.
---
February 15, 2021
Blog Called on Account Of . . .
Rain, Sleet, Snow, Ice, and it's cold as Hell!
The temperature went down to 21° last night, but we stayed warm and toasty.
Until the power went off at 2am. And stayed off.
And as of 10pm tonight, it's still off.
But we held out as long as we could.
Finally about 1pm when it was 25 outside the rig, and 41 inside the rig, we gave it up.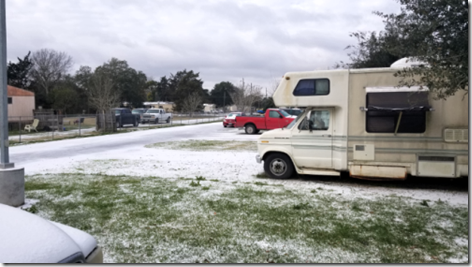 We knew that they were going to be doing short (30-60 minutes) rolling blackouts, but we had been off almost 12 hours. And then our daughter Brandi called from up in Katy saying she had heard on TV that if you didn't have power now, you probably wouldn't get it back for a couple of days.
So I was on the phone to the La Quinta over on I-45 in Texas City, booked us a room, and we were on our way over there about 45 minutes.
We were so cold that turning the heater in the Jeep was almost painful. And even more painfully was the fact that that when we got to the hotel they couldn't check us in since their power had just gone off and the computers were off.
And though a real comedy of errors, we didn't finally get into our room until about 8:30pm.
But more about that tomorrow.
We're warm and toasty again.
---
February 15, 2022
Scenic Views . . .
We had lunch today at Twin Peaks once again, but something different this time, rather than our usual.
Jan had been wanting to try their wings, but didn't want a whole order of 6. So she had 4 and I had 2.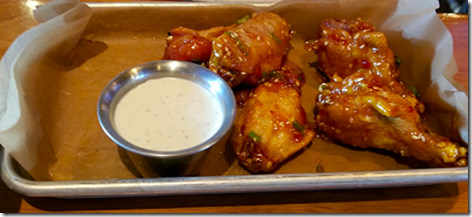 In addition, she got a side salad and a cup of the Tomato Basil soup, while I got a bowl of their Green Chile Chicken soup.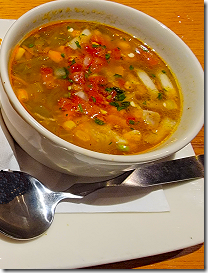 Sylvia, our regular waitress, saw us come in and was already getting our drinks together when we were seated.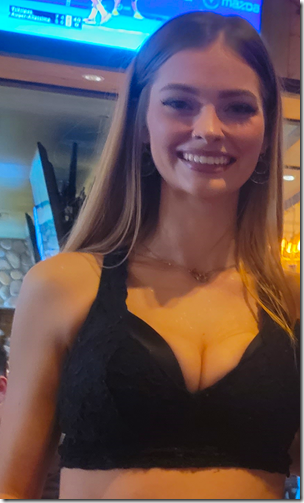 Since TP wasn't really busy, we got a chance to spend a little time talking to Sylvia. A very nice young lady.
After lunch we had planned to make a WalMart/Sam's Club stop, but when we came out it had started to rain so we called it a day.
Looks like I'm going have to find a new storage room. We've had a climate-controlled 10' x 20' with the Extra Space Storage location over on FM517 since 2018 with no problems. They did jump the cost last year $20 from $132 to $152, the first increase in our time there.
But then a few weeks ago I got a post card from them saying they were jumping the rent from $152 to $232 per month. WOW!
That's a $80 bump, or more than a 53% increase!
I'm going to double check with them tomorrow to be sure it's not a mistake, but otherwise we'll be moving on. There's a Public Storage location about 1 mile or so away that looks to be much more reasonably priced.
Tomorrow it's back to work after I was off for my doctor's appointment yesterday.