Daily Archives:
August 2, 2020
Based on what I had heard I thought it was going to be a pain, but it turned out to be pretty easy.
The first thing I did was to unplug our DirecTV DVR from the satellite dish. And then I called DirecTV to have them suspend our service. I was expecting to be turned over to Account Retention or some such office. But I was able to do it all just by talking to the computer.
When I told them I wanted to suspend my account, they said I could suspend it for at least one month but no more then six months. So to make it nice and even I chose December 31, 2020. And that was it.
Easy Peazy!
And the reason I disconnected the satellite from the DVR first is that when they turn off or suspend your service, they also shut off your DVR so you can't play back any of your previous recordings. So since we still have movies and old shows we might want to watch, this will keep it working.
Later Jan and I headed up to Clear Lake about 1pm to first have lunch at Snooze. Jan had her usual Bravacado Toast,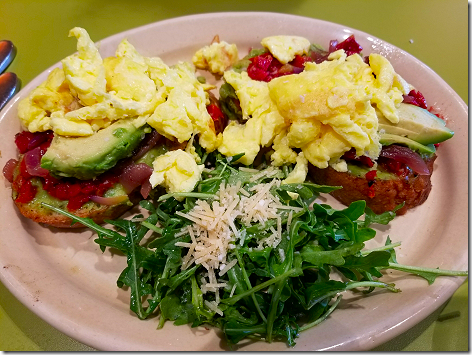 while I went with the Classic 3 egg breakfast.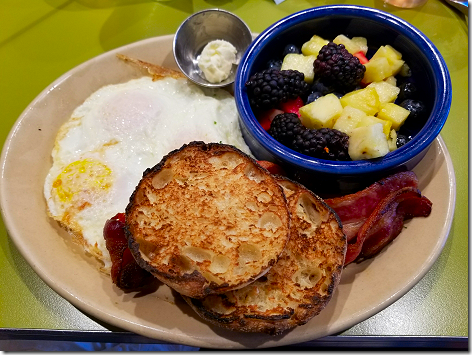 Then it was over to WalMart for a prescription and some supplies before finally heading home about 4pm.
Yesterday we had a late lunch at Los Ramirez Mexico once again. Jan always gets the Pechuga Rellana, a grilled chicken breast over a bed of grilled shrimp and broccoli, and covered in cheese.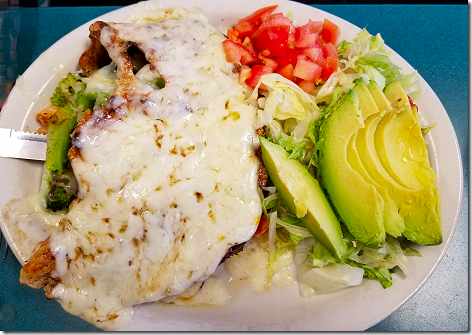 And I tried something a little different with the Spicy Beef Fajitas with Charro Beans.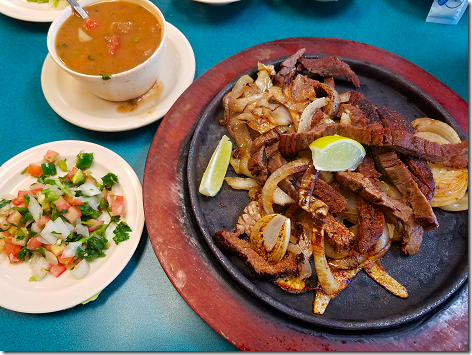 In 2010 we were staying up in Elkhart, IN for a month before heading back to Houston.
---
August 2, 2010
Like being back home…
We started out the day by hanging around the rig enjoying a quiet morning. For the first time since February we don't have to be anywhere for over a month.
Fantastic!
About 11:15 we headed out to El Maguey, our favorite Elkhart Mexican restaurant. And we were happy to find that it was just as good as when we left here last November.
After a delicious lunch we drove over to a WalMart near Goshen. According to the Walmart website they were the only WalMart in the area to stock the cranberry oatmeal that she likes. Unfortunately the website was wrong and they didn't have any. But amazingly, we found other stuff to buy. Who knew?
Parking at the WalMart we encountered this older American Tradition, from the same manufacturer as our Eagle. Based on the body style and the fact it doesn't have any slides, I think it's a '96 or '97. Still looks good, though.
Right next to the Tradition was something we had heard about last year. Many of the WalMarts here in Amish country have covered areas for the horse and buggies.
Although I don't think this one is an Amish buggy!
I found it really funny to see that an Amish mother and son, who were walking into the store after parking their buggy, were wearing Neon Orange Crocs.
Leaving the WalMart, we drove across the street to one of our favorite stores, Tractor Supply Company. Jan was looking for a magazine she likes called "Countryside", but the new issue wasn't out yet. I did find a neat Tractor Supply T-shirt, though.
Coming home, we decided to take the scenic route and avoid the Interstate/Toll Road.
Big Mistake!
It seems like every road around here is under construction, including ones that were under construction when we were here last October. It took us over an hour and 15 minutes just to drive the 20 miles back to the rig. I think we must have gone through at least 6 different construction zones/detours.
The Toll Road is looking better!
Getting back to near the park, we noted how different this stand of trees looked from last October. This is how it looks now.
And this is what it looked liked last November.
For supper we had left-over hot wings from Quaker Steak and Lube, and chips with dip made with a mix Jan bought at the Rally in Louisville.
More tomorrow…
---
Thought For The Day:
"The passion for equality is such in America that many people would rather be equal in slavery than unequal in freedom." Alexis de Tocqueville
In 2015 we were leaving the Cherokee Landing Thousand Trails heading toward Athens AL for a visit with relatives.
---
August 2, 2015
A Trifecta of Bad . . .
Jan and I pulled out of our site here at Cherokee Landing Thousand Trails about 9:45, bidding a not-fond adieu to probably the nicest bad park we've ever stayed at, especially for two whole weeks.
We've certainly stayed in worst places, much worse in fact. But only for one night, not fourteen. But as nice as the basic park is, I.e. wooded sites, but still with satellite access, fairly level, quiet, and not much traffic, overall, it sucked.
But Cherokee Landing is a Trifecta of Bad. Bad power, bad water pressure, and bad Internet. I've already mentioned the 'fake' 50 amp pedestals, consisting of a 50 amp receptacle connected to a 30 amp, actually three 30 amp breakers in series between the main breaker panel, the 'real' 30 amp box, and the 'fake' 30 amp box.
And, believe it or not, some people actually end up paying an extra $3 per night for this '50' amp service, though we didn't have to.
As far as the water pressure, according to my pressure meter, we were getting between 15 and 20 psi, the lowest I've ever seen at a park. To be sure it wasn't just our site, I tested the sites on either side of us with the same results.
The pressure was so low that if I turned our Oxygenic shower nozzle upside down, the water wouldn't even fountain up, but just run down the sides. So after a day or so of this, we started just using our internal water and our pump. Much better. But it would take over an hour to refill the 100 gallon tank from the shore water because of the low pressure. Just pitiful.
I realized I can't really blame the park for the bad Internet, but it was just one more thing that was a constant irritation.
OK, so I'm finished ranting now.
As we had planned, we pulled into the Cracker Barrel in Corinth, MS about 10:30 to have breakfast. Although they had RV spaces, they weren't big enough for us to fit. So we parked across about 6-8 spaces along the very back of the lot. Luckily they have a really big parking lot, so we weren't putting anyone out. We of course left the genset running to keep Mister comfortable while we were eating.
Finishing up, we were back on the road about 11:30 for the last 115 miles. I did get a chance to see my new AC voltmeter in action.
As I said, I can see whether or not the genset is running from the dashboard, but not that the transfer switch is putting power to the coach. So this let's me monitor that.
We pulled into the Northgate RV Travel Park about 1:45 and got set up. We'll plan on being here until Thursday visiting relatives. Then it's on to Gulf Shores for a week.
Really looking forward to both visits.
__________________________________________________________
Thought for the Day:
In 2016 we were also heading up to Athens for another visit with family, with a stop along the way at Gulf Shores, AL for a week.
---
August 2, 2016
Two Disappointments in a Row . . .
Finishing up on yesterday's adventures, we pulled into Hollywood Casino RV Park a little after 1pm. And that was pretty much the high point of our entire visit.
Following the signs I parked in front of the office and went in to register. Or tried to. There was a small well-worn piece of paper on the door saying the office was closed, and to use the phone in the laundry room around the corner to call the casino hotel front desk to check in.
The phone was a direct line, so the first dozen or so times I tried, I just got a busy signal. But finally it rang through to the front desk, where I was told, "Front Desk. Please hold."
And I did, for the next 10 minutes or so. Until I hung up and started over. And then just repeated the same scenario.
Finally giving up, we drove around to find a empty site. Which wasn't a problem because it was only 25% full, if that.
Unlike last night at Poche's, all the sites here are back-ins, so we found a nice site, got unhitched, and backed in. My plan was to hook up shore power so I could turn off the generator that was running the AC's, and then drive over to the Casino and check in. But turns out the pedestals were padlocked.
So I drove over to the Casino, stood in line, a long line, and finally got checked in. Turns out that they didn't even have my reservation correct. The had us coming in today, and not yesterday. Even though I made the reservation online and had my confirmation email on my phone.
But it didn't matter since the park was pretty empty anyway. The only reason I even made a reservation was because they were so full when we were last here in 2009. But a lot has changed since then.
By the time I got back to the rig, the security guard had unlocked the pedestal so I got plugged in. Like last night, I didn't hook up water or sewer. Just that much less to do.
In fact, I didn't even set up the satellite dish, since there was nothing we wanted to watch or record that night, so we just read and computered.
About 4:15 I called the shuttle to take us over to the Casino. But it turns out that there is no more shuttle. It's now a security guard in a Chevy Malibu.
As we on our way through the park, I noticed that the entire park had a slightly run-down look, with unmowed areas and little or no edging around the pads.
It was a really nice park, so it's a shame to see it let go like this.
Once in the casino, our first stop was the Player's Services desk to get our Rewards Cards. The last time we were here we each got $25 of slot cash on our cards, but not this time.
Zip, Zero, Nada!
Next we headed upstairs to eat at the Epic Buffet, a misnomer if there ever was one. We remembered this as being a good buffet, but no longer. It was now more on the level of a mediocre Golden Corral. And the advertised Asian and Cajun food areas weren't even open.
Monday night was supposed to Ribeye Steak night, but it was more like small, thin end pieces night. They were about 3" square, tough and chewy, and even Jan thought they were way overdone.
The one redeeming thing was the big pile of boiled shrimp. Very fresh and crisp. It was really good, and I ate more of that than anything else.
Butt the really bad part was the price – $20.99.
Our favorite casino buffet, at Boulder Station in Las Vegas, at $9.99, has much, much better food at less than half the price.
A real disappointment.
Coming back to the rig, in the Chevy Malibu again, the security guard mentioned how they gotten rid of the shuttle, as well as a lot of other cutbacks. And it really shows.
Getting back to today, we were hitched up and on the road to Gulf Shores, AL by 10am. Rather than get back on I-10, we decide to take the scenic route by staying on US90 as it follows along the Gulf beach for about 35 miles. We stayed on this until we got to Ocean Springs, MS where US90 moves inland. Back on I-10 we passed through the Mobile tunnel, and getting across Mobile Bay, we got off at SR59 which took us all the way to Gulf Shores.
We pulled into the Gulf State Park a little before 1pm, and I went in to get registered. And got a big, big shock.
We stayed here last August, although in the different, slightly cheaper area, and we paid about $250 for the week. So I was really stunned to find a week this year was $380.00! That's almost $60 a day.
Now I know they've added $35 a week 'Resort Fee', but where did the rest come from?
In contrast, Luxury RV Park, where we stayed in 2008, is just as close to the beach (a couple of blocks away) as Gulf State Park, and it's only $240 a week.
So from now on, it's Luxury RV for us.
But things got better when we headed out to have dinner at Desoto's Seafood Kitchen. As usually we got the Seafood Platter, with Flounder, Shrimp, Oysters, and Crab Claws.
For sides, Jan got their delicious Sweet Potato Casserole with Pecan pieces and the Fried Green Tomatoes, while I got the Casserole and French Fries. It's always great, and this time was no different.
It almost made up for the Gulf State Park.
---
Thought for the Day:
If people were really influenced by video games, then the majority of Facebook users would be farmers by now.
And as it happened, in 2017 we were also up in Athens for a visit with family, as well as checking out old haunts.
---
August 2, 2017
The Great American BBQ Tour . . .
I spent a good part of the morning working on the mobile site for the new website, trying to get everything to line up correctly.
The Godaddy Website Builder program automagically generates a mobile site on its own, but it needs to be tweaked, sometimes a little, and sometimes a lot. But I can't really finish it up until I get the last website corrections from the client. So it's hurry up and wait. As usual.
Later I put in a call to my cousin's Marjorie and Anna Jean to set up a get-together tomorrow afternoon.
About 3:30 Jan and I headed down to Decatur to have dinner at Big Bob Gibson's BBQ. Often listed as one of the top 5 BBQ places in the US, several walls are covered with their awards and certificates.
And even their red BBQ sauce and their white BBQ (for chicken and turkey) are award winners too.
Jan got the BBQ Chicken with Mac N Cheese and Green Beans,
(No photo. Hers came out blurry)
while I had the 2 meat Combo with Ribs, Pulled Pork, BBQ Beans, and Potato Salad.
Very, very good, making it very obvious why they've won so many awards.
And of course we had to finish up with some of their famous pie. Jan got the Coconut Cream,
while I got the Lemon Cream.
This makes the 3rd installment on our Great American BBQ Tour, with one more to go – the Sonny's BBQ in Brandon, MS, where we'll stop for lunch on Saturday on our way home.
Coming back to Athens we drove around for a while checking out places we used to live.
This is the house my parents bought when we moved back from Colombia, South America in 1963. It was brand new then, and it still looks pretty good.
I attended the 10th grade at Athens High while we lived here, and then the next year I went off to Columbia Military Academy for my Junior and Senior years.
See, I did have hair back in the day.
Jan and I, and our son Chris, lived here for a while before we moved to our own house (a duplex) nearby.
Again, it still looks pretty good.
After we'd been here a while I got on with a DOD contractor and we moved to Beaufort, SC where I worked at the MCAS (Marine Corp Air Station) at Parris Island. I was working on avionics and radar systems on F-4B, C, D, & S Phantoms.
In some cases we were stripping out all the avionics, electronics, and the engines, testing everything, and then putting it all back together again.
Getting back to the park, we went next door to visit my Aunt Janice and Uncle Ed. Their son Wes owns the RV Park here. And they have a lot to do with Jan and I getting together.
Ed was a veterinarian, and he and Janice lived in Sanford, FL in 1967 where he had his practice. I came down to visit for a while, and saw an ad for a job over in Titusville at Florida Wonderland, a local amusement park there. And that's where Jan and I met.
Tomorrow will wrap up our last full day here in Athens before we head home on Friday.
---

Thought for the Day:
'Islam isn't in America to be equal to any other faith, but to become dominant. The Qur'an should be the highest authority in America, and Islam the only accepted religion on earth'
— Omar Ahmed, Chairman of the Board of CAIR
(Council of American Islamic Relations)
San Ramon Valley Herald, July 1998