Daily Archives:
August 16, 2020
This is not a scene from the latest sci-fi blockbuster. Nor is it something that just washed up on Galveston beach. It's an actual photo taken during a thunderstorm over Mt. Locke, TX back in July.
It's a Red Jellyfish Sprite, an atmospheric phenomena that wasn't even discovered until 1989.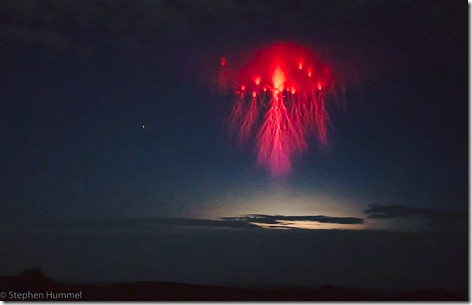 They were first observed during Space Shuttle missions looking down into thunderstorms from above.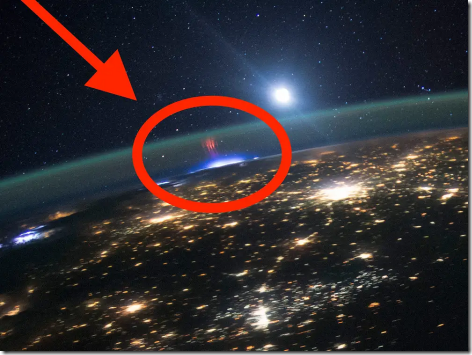 Although there had been reports of strange lights during thunderstorms in the past, they're usually found high up, as much as 50 miles above the clouds during a storm. But even when they're lower down, they flash on and off so fast that they're hard to see, until you play back the video. In fact it took 4.5 hours of filming to catch the one above.
And they're even other types, like these Carrot Sprites.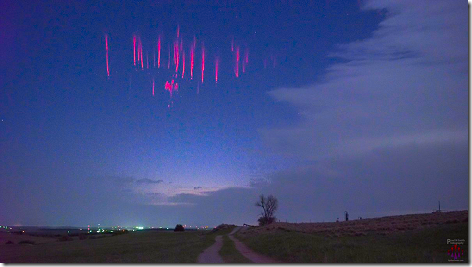 And don't get me started on Blue Jets, Pixies, and Elves. Google them.
With Jan supervising from the ground, I got up on the rig roof about 7pm this evening to open up the condensation drain holes in our front rooftop A/C. And this time I not only opened them up, but I drilled them out a lot bigger so that some little tiny piece of crud won't stop up the drain. And I also drilled a couple of extra drains in the bottom of the pan.
I dare it to stop up again now.
When I'm on the roof, Jan always insisted on being outside to watch me. One time I asked her if she was going to catch me to cushion my fall if I slipped and fell off the roof.
She said, "No, but I will call 911.", she said with a smile, holding up her phone.
Not so sure about that smile.
On this day in 2011 we were still up in Vandalia, IL visiting Jan's sister, Debbie.
---
August 16, 2011
Cell Phones and Gas Pumps . . .
Under the heading of 'Make Up Your Mind":
According to this gas pump at the local Wal-Mart, you can buy gas by texting the pump to turn it on.
But of course, according to this label, you're not supposed to use your cell phone.
You'd almost think this was a government operation.
---
We did our usual 9 am breakfast at Robbi's for the second to last time this morning before heading over to Effingham for some shopping.
Then it was back to Debbie's where Jan and Debbie worked on a quilt, and I read and goofed off.
All in all, a very nice afternoon.
Jan and I left about 5:30 to first eat supper at Los Amigos, a local Mexican restaurant, and then on to Wal-Mart for grocery stuff and gas.
Then it was back to the rig to get ready to travel tomorrow.
We're going to have one last breakfast together and then we'll hit the road, heading east on I-70 about 100 miles to just west of Terre Haute, IN and then north about 25 miles to the Horseshoe Lakes Thousand Trails Resort for a couple of weeks.
---
Thought for the Day:
The Irony Award last week went to a Mexican citizen deported from the US to Tijuana: Because he doesn't have Mexican papers any longer, he can't get work in Mexico.
And In 2013 we were back in Houston after traveling since March, and trying to set up our next Gate Guarding job.
---
August 16, 2013
Old Park, New Park?
After being on the road pretty much continuously for the last couple of weeks, it was nice to have a quiet morning of just coffee and not much else.
Jan and I had been thinking about where we will stay when we come back to Houston for the winter starting right before Thanksgiving. For the last 5 years we've always stayed at Galveston Bay RV Park down near Dickinson.
It's hard to give up views like this out our windshield, but since Brandi and her family have moved out to the Katy area west of Houston, we talked about finding someplace more central, kind of half way between our son, Chris, and his family, and Brandi and hers. And once we got here to Advanced RV Park and saw how nice it was, we were thinking that this might be our place to spend the winter.
So a little after noon I walked over to the office to check out the possibility. But that idea quickly got shot down. After the lady checked the computer, she said she could accommodate us for the 2-3 months as long as we didn't mind leaving the park for 5 or 6 weekends and then coming back in. Otherwise, no go.
They have 201 sites here, 108 pull-thrus, and 93 back-ins, so you think they've have some room. But the 93 back-ins are only 35' long, so we wouldn't fit in those.
Oh, well. It was worth a try.
Finally about 3:30 Jan and I drove over to Brandi's and Lowell's new house. So new in fact, that her subdivision isn't on any maps, much less her street or address. Street Atlas, Streets and Trips, or my Garmin GPS with the latest map updates, does not show any roads there at all.
Google Maps shows the subdivision streets listed as 'Proposed'. But having visited the area before, and knowing roughly where it was, we were able to find it with only one wrong turn.
Landon was still at daycare when we got there, so first up we got a tour of their new house. And boy is it beautiful. And big. Depending on the room, it has either 14 or 15 foot ceilings. Like I said, Big.
It's two stories, and has 4 bedrooms, a study/bedroom, a media room, and 4 baths. Like I said, Big.
When we first saw pictures as it was being built, we wondered how it was going to work with the dark oak plank flooring and matching dark kitchen cabinets. But with the high ceilings, light gray walls, and white floor and ceiling trim, it's perfect.
A little later, Jan and Brandi drove over to pick up Landon from daycare and dinner from a Peruvian chicken place called Pollo Bravo. When they got home, Landon hit the floor running, wanting to show us everything. He just goes and goes.
The Peruvian chicken was really good, especially with fried plantains, and a very spicy green sauce. Really good.
After a great time, Jan and I headed home about 8:30, stopping right down the road to get a car wash. The truck was just filthy from being behind the rig with all the rain we've been going through. In fact it was really hard to see out the side windows, so it was needed.
We knew there had been some stormy weather down this way while we were visiting Brandi's. but found out how stormy when we got back to the rig and found our sat dish and stand blown over and around on the side of the rig.
When we left it was around in the front of the rig. It must have been really, really windy because the stand and dish have stayed up during 50 and 60 mph winds down at Galveston Bay. I was kind of worried about the sat dish being damaged by hitting the concrete, but setting it back up and telling it to re-align took care of it.
Tomorrow is Landon's 3rd birthday party. Next Tuesday, the 20th, is the actual date, but tomorrow is the party. They've rented one of those big blow-up water slides for the kids, so they should have blast.
————————————————————————————————————-
Thought for the Day:
Remember how in 1994 a rodeo clown set up a dummy wearing a mask of President George H. W. Bush for the bull to tear apart? Remember how the clown was banned for life, other people were fired or resigned, and there was a loud public outcry?

Nope. Me neither.
And in 2015 we were back in Houston and our son Chris replaced the radiator in our truck. I supervised.
---
August 16, 2015
We've Been Re-Radiated . . .
After coffee and donut holes Jan and I headed out about 8am for the 105 mile trip down to our son Chris' house, where we were going to install a new radiator in our 2004 Dodge Dakota toad. Well, he was going to install it while I watched and supervised.
We knew it was going to take us awhile because with our leaky radiator, we could only go about 35 miles before we had to stop for 10 minutes or so to let the engine cool down so I could add more water. I had six gallons worth of water jugs which I figured would enough, and it was.
We did make three cool-down stops along the way, finally getting to Chris' about 10:45. And of course we got right to work . . . by going to lunch.
Well, we had to let the engine cool down, right?
So Chris, his wife Linda, and Jan and I drove over to one of our favorite Mexican places, Barcenas, and even better, it's right outside the subdivision. After eating up and catching up, we next drove over to the nearby O'Reillys to pick up the new radiator.
All nice and shiny. And not leaky, I hope.
Of course it all starts with the getting the old one. Part of the problem that my truck actually has 3 radiators, (Well, four if you count the small one for the power steering. But it's not in the way.) And two of them were blocking us from the getting the main one out.
Down at the bottom, and only about 10 inches tall, is the radiator for the automatic transmission. Then behind that one is another larger one that's the radiator for the air conditioner. The small one can be disconnected, but there wasn't a lot of room to maneuver, but Chris finally got the lines off and that radiator out of the way..
The AC radiator could not be disconnected without losing the the Freon, but Chris finally got it pulled forward enough to unbolt the main radiator and pull it out. (For some reason the lighting here makes the truck look like it's been in a wreck.)
Then of course you do it all in reverse, putting it all back together.
After Chris got everything hooked up, but before he put all the covers and cowling back on, we filled it antifreeze and water, and fired it up to check for leaks, both water and transmission fluid. Of course Chris did his usual great job and not a drip was to be seen.
Thirty minutes later it was all buttoned up and we were ready to roll.
It actually didn't take as long as I thought it might. Chris started working at 12:30, and we did the leak test at 2:45pm. And by 3:15 he was washing up.
Of course this is a guy that took a hulk of a boat that had been laying out in a field for about 15 years with a TREE growing out of it, and turned it into this.
Not only did he rebuild and re-fiberglass the hull, he also rebuilt the inboard engine and transmission.
In case you're keeping score, it's a 1977 16 ft. Century Arabian, with a Ford 351 Windsor (Mercruiser) engine, and a Velvet Drive inboard/outboard drive unit.
The new radiator cost me $192 w/tax. I had been quoted between $500 – $750 for a shop to do it.
It's nice to have a kid who's handy with tools.
__________________________________________________________
Thought for the Day:
A good traveller has no fixed plans and is not intent on arriving. – Lao Tsu (570-490 BC)
And on this day in 2016, we were homeless for the first time since 1977. Of course we've been living full-time in the RV since January 2008, so there is that.
---
August 16, 2018
A Done Deal . . .
We're now officially homeless. At least in a Sticks & Bricks way.
I got a call from the title company this morning about 11 saying they were hoping to get the release from HOA faxed over in the next few minutes, so Jan and I went ahead and got ready.
And about 11:30 we got a call saying that they were ready to go, but they were really booked up and we could close either at 12:30 or 1pm. Otherwise we'd have to wait until Monday since the buyer wouldn't be available until then. The only problem was that the closing was at an office up in the Galleria almost 50 miles away.
But we were ready and out the door in about 5 minutes. We were lucky enough not to hit any traffic slowdowns, and were at the office about 12:45. And after about 30 minutes of signing and initialing form after form we were done and on our way back down to Clear Lake.
Since the buyer wasn't scheduled until 1:30, after us, we decided to have the funds deposited in our bank account via EFT (Electronic Funds Transfer) which they said would be later in the afternoon.
We had already decided that we were going to celebrate the sale, whenever it happened, by stopping off for steaks at Saltgrass.
As usual we both started off with their Wedge Salads.
These salads are why we don't eat at Longhorn Steakhouse, our other local favorite, and come here instead. Longhorn doesn't always have a Wedge Salad, and when they do, it's actually done with a large stalk of Romaine, and not a lettuce wedge.
As for our steaks, Jan got the Center-Cut Top Sirloin with the Grilled Broccoli, while I got my usual Ribeye, also with the Grilled Broccoli.
The broccoli actually is their Steamed Broccoli, but we learned a while back to ask places to throw it on the grill for a bit. Makes it much better.
Right after we got home I got an email from the title company with my copy of the closing documents and a note saying the funds had been sent. And when I checked an hour or so later, it was there.
Yippee!
As I said yesterday, now that the whole 'house' thing is out of the way , I want to get my on my project list, with the first big one to track down the rig's oil leak. Since it seems to be coming from up on the side of the engine, I'm going to start by looking under the bed to see if I can see anything from up top. Hopefully I'll find something loose and easy to fix.
Jan saw an ad on the TV for the Nutcracker Market which runs November 8-11 this year, so I went online and got us tickets. Put on each year as a fundraiser for the Houston Ballet, it's a high-end Christmas market with home décor, food, clothes, and toys.
Starting from a humble church bazaar, it's grown to welcoming over 100,000 visitors during the four days, visitors who spend almost $20 million dollars.
Really looking forward to it.
---

Thought for the Day:
If bacon kills you and smoking kills you, how come you smoke bacon to cure it?