Daily Archives:
August 29, 2020
And A Lost Weekend.
Up until about 10:12 this morning, I was supposed to take Jan up to Brandi's this coming Thursday so she could dog/cat sit while Brandi et. al. are out of town. But then this morning the plan changed and I'll be taking her up there tomorrow morning and then getting her back next Sunday.
I had hoped to get a chance to work on the rig light problem tomorrow, but it looks like that's put off until Tuesday.
Jan and I headed out about 1pm with our first stop at our local fav Los Ramirez Mexican Restaurant. And as with most of our places, we both have our favorites.
Jan's is the Pechuga Rellena,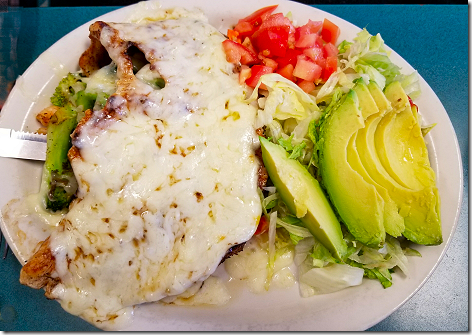 while I had the Beef Fajita Taco Salad.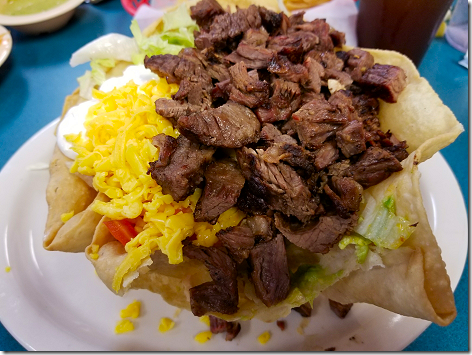 Delicious as always.
Then it was on up to the Sam's Club in Webster to pick up a prescription, and a stop at a new place for us, Five Bel°w. It turned out to be a higher price version of Dollar General, but with a lot less inventory. Apparently it's really oriented toward tweens and teens, but Jan wanted to check it out anyway. And she did find some stuff she wanted.
Then it was on down to the HEB in our area before finally making our way home about 5pm.
Amazingly, according to recent CDC updated figures, only about 6%, or ~11,000, of the 180,000 or so people who are listed as dying from WuFlu, died only from WuFlu. The remaining 94% all had one or more serious comorbidities. And the average age of the deceased is still between 75- 80 years old.
---
August 29, 2009
Cajun Country . . . In Canada
Today Jan and I took a drive along the Acadian Coastal Highway.
I had not realized that this is the area that the French were driven out of in the late 1700's when the British took over the area after the Treaty of Utrecht. This is where the Cajuns (Acadians) now in Louisiana came from.
It was really strange to see an auto repair shop called Thibodeaux's, and a restaurant called Boudreaux's.
Almost like home.
Anyway, the drive took us along the Atlantic Coast. For the last part of the drive we could see Prince Edward Island out to sea. And along the way we saw a lot of quaint buildings and villages.
The weather was pretty overcast, and then later it started raining, so I didn't fool with getting any pictures.
As we were heading home, we stopped by a place we had been told about called Hudson Oddities. As a child, the owner, Audrey Hudson, was always bringing home stuff she had found on the beach.
So much so, that her mother once told her, "For the love of god, child, could you please stop bringing garbage home from the beach". Not really taking this to heart, she decide to make a business out of junk from the beach.
One of the beach things she collected was bits of broken glass, that over the years had been smoothed and polished by the wind, waves, and sand, rounding off the sharp edges until they looked like this.
and turns them into jewelry that looks like this.
Just beautiful.
After this stop, we headed home, arriving just as the rain started coming down harder.
Tomorrow we plan to make a 2 day trip over to Prince Edward Island, driving the truck over, and staying one night in a bed and breakfast.
Hopefully the rain will let up. We'll see.
More tomorrow…
---
August 29, 2011
Coffee and Chores . . .
This morning started with our coffee, bagels, and Jan pretty much back to normal.
After working on client Internet stuff during the morning, I got back on my chore list after lunch .
Many of today's things were rig-based, things I wanted to take care of before we travel on Wednesday.
First up was topping off oil and coolant levels, and then adding water to the coach batteries. (My engine batteries are sealed and maintenance free.) As I started to do this, I decided to call Interstate Batteries to find out exactly how high I was supposed to fill my four U2400 6 volt coach batteries.
My batteries have a flange extending about 1-1/2 inches down from the top, and I had been told to fill the battery up to the bottom of the flange, but I'd heard different from other places, so I decided to go straight to the source.
And I got some information I didn't expect. I was told by Interstate to fill the batteries to about 1/4" from the top of the fill opening. So I had to add a good bit of distilled water to each cell. In fact I didn't have enough water to fill all 12 cells, so I'll have to get some more tomorrow and finish up.
Next I got my socket set out and tightened up the passenger-side outside mirror. It had started to loosen up and was moving slightly from wind pressure as we drive.
About 4 pm our daughter Brandi called to check in and say hi. She said Landon's got more teeth coming in and walking everywhere. We can't wait to see him again in November.
Then I finished up recaulking the shower base. I started cleaning out all the old caulk over the last few days, It looks like the previous owner had recaulked it with one that was not mildew-resistant. So it was turning black underneath the clear caulking. So, after digging out all the old stuff, spraying it with bleach and letting it dry, I recaulked it with a white, mildew-proof, silicone caulk. It turned out pretty good.
My last task for the day was to install a power line radio filter on my new radio to filter out any residual noise in the system.
Not sure what Mister was doing here. He knocked the trash can over and crawled into it, but It was completely empty so I don't know what he was looking for. After a few minutes he gave up and took a nap in there.
Tomorrow Jan and I are going into Terre Haute to pick up some groceries, see the new movie "The Help", and eat dinner, probably at Buffalo Wild Wings. We need a hot wing fix.
---
Thought for the Day:
The role of a journalist is to take a topic that he does not understand and write about it so that it can be misunderstood by anyone.
---
August 29, 2013
They Run In Packs . . .
I finally got a chance this morning to drive back into the site and see how things are laid out.
This is the RR crossing that I mentioned yesterday. The first gate where the guys are standing is actually a cattle crossing gate. The train crossing is back by the Stop Sign.
I got a chance to talk with John and Rhonda, the couple that have that gate, and they said that from the time you can see the train coming over the slight hill until it passes the crossing, it's only 28 seconds. Not a lot of time for a big truck to have to slow down for the hill and the crossing and then make a sharp left turn toward the wellheads before they clear the RR crossing.
Rhonda is in the orange vest and the two guys are pulling a 12" diameter flexible water hose underneath the cattle guard. This will bring water from the fracking pond down to the sites where the actual fracking will be done.
This is the manmade fracking pond, done by making a big hole, lining it with plastic, and then keeping it filled with water.
Despite all the hype, most fracking is done by injecting water, sand, and a small amount of detergent down the hole to put pressure on the oil-bearing shale rock formations to cause it to expand and crack open, releasing more oil. The oil in shale rock is not found in big pools, but is contained within the rock itself, holding it kind of like a sponge. Fracturing (or fracking) it allows the oil to be released and recovered.
And as it turns out, there's an awful lot of shale oil in Texas and elsewhere in the US. And the world, for that matter. In fact enough to dwarf what Saudi Arabia and Middle East have.
This is the tank farm for the producing wells already in this area.
All of the operational wells here feed into these tanks and then are trucked out. But not for much longer. They are almost finished with a feeder pipeline that will connect the tanks with a main pipeline to take the crude directly to a refinery.
And this is us.
That's the main highway right out in front of us, so hopefully we won't have 6 flats like we did last year driving on all the bad backroads.
We set up the canopy in front of the rig this time due to the size of the site, and the fact that our new canopy is 13' x 13' instead of 10' x 10' like last year.
One thing different here from last year is the way the trucks come through the gate. It's like they run in packs. We'll get nothing for 15 minutes and then 9 vehicles will through, one right behind the other, like they plan it this way. Still haven't figured out why it's like this this year.
————————————————————————————————————–
Thought for the Day:
Never do your enemy a small injury.
---
August 29, 2016
The Life of a Gate Guard . . .
Our friend Barbara Spade, who's a Ranger at Colorado River Thousand Trails, sent me a list of questions about Gate Guarding.
And this made me realize that we've added a lot of new readers since I last talked about the job in any detail, so I thought I'd answer her questions here for everyone.
So first, some background.
Oil and drilling companies pay people to sit at the entrance (the gate) to their work areas. This can be a drilling site, like where we are now, or a frack job, a workover rig, a coil tubing job, or a completion. It might even be a production area with a lot of big storage tanks where tankers come to pick up the crude and take it to the refinery.
We don't work directly for the oil companies, but for a contractor who deals with them. There are 15-20 gate guard companies, including the one we work for, Gate Guard Services.
We've worked for them for 5 years, 3 or 4 months a year, and always for the same supervisor, Jamie Hime. The first two years we were in the Whitsett/Pleasanton area about 60 miles south of San Antonio, and the last three years we've been in the east Texas area, either near Bryan/College Station, or up near Carthage.
We like up here much better. There's real trees and grass.
The gate guard companies like and use RV'ers because we bring our own housing with us. They supply us with 'full hookups' so for us it's just like we're at an RV park.
As far as pay, this year we're making $125 a day, the same as we made our first year in 2012. The other 3 years we made $150 a day.
Now as far as Barbara's questions, which are in bold type.
What is the canopy for? Chairs?
One of us is always outside on this gate, 24/7 so the canopy gives us shade and keeps us dry in the rain. I just realized I haven't taken a photo of this gate, so here's one from our very first gate 5 years ago.
I assumed that there was like an office trailer where you work and it would be something like our gate shack here.
All of our gates have been like this one, with us sitting outside. We have alarms that tell us when a vehicle is entering or leaving, so on some not as busy gates the guards stay in their rigs and then come out when a vehicle approaches. We've never had one this slow.
There are some gates where you work out of a trailer or guard shack. Which means you have to park your RV at a regular RV park.
You check in delivery trucks?
We check in and out every vehicle. It could be a semi bringing in diesel for the rig's big generators, a flatbed bringing in equipment, a worker coming on shift, or a salesperson.
We get the person's name, company, tag number and the time they came in. When they leave we just note the time. We have been on gates where the person had to actually sign in and out. These are a pain.
Is there an actual gate like we are supposed to have here or do you just keep a log of who comes in and goes out?
Yes. Sometimes there is an actual gate, like there is here. But it always stays open. In some cases there's no actual gate, but just a cattle guard. We have both gates and cattle guards here.
I assume it is a 24 hr. per day job so one of you has to be working.
This is a 24 hour gate so one of us is always out here, although we have been on 16-18 hour gates. The pay is the same.
Jan is the AM person and you are the PM person?
Some couples do work 12 hr. shifts, but Jan and I split it up. She works from 7am to 1pm. Then I work from 1pm to 6pm. Jan then works from 6pm to 11pm, and then I work from 11pm to 7am. Strange, but it works for us.
There are no hookups so you have a generator running all the time? Water comes from a tank on wheels and there is a permanent honey wagon?
Gate Guard Services furnishes us two support trailers as shown here.
The closest one, the big green one, is a septic tank system on a trailer. It is pumped out as needed, which is not often. We've only had to have ours pumped out once in 5 years.
The second trailer holds a 11.5kw diesel generator, a 250 gallon diesel tank, and a 500 gallon water tank, The generator runs 24/7, only being shut down every two weeks for an oil and filter change. The diesel tank and the water tank are refilled at the same time.
What about cell and internet reception? TV?
This is the same as when we're at Colorado River. We have a Winegard Dome for DirecTV and a Verizon Aircard for Internet.
If you need groceries one works the gate while the other shops?
I usually do the shopping once a week. Right now it's a 30 minute drive into Bryan/College Station.
What if one of you fell and broke your leg?
Well, hopefully they wouldn't just shoot us. In a emergency, we would tell the Company Man what had happen and head to the hospital, or wait for the ambulance. I would also let Jamie know what had happened.
Could you both leave to go to the hospital?
Yes. Logging vehicles in and out is not a life and death situation. Even in normal operation we occasionally miss someone who comes through while we're taking a bathroom break. Some drivers will wait for you to reappear. Some won't.
A funny thing about logging vehicles is that the logs are almost never used. By any body for any reason. Our first year, following a Marathon drill rig, I had to turn in the logs every night at the office. But not since then.
We still have logs from 4 years ago. I think twice someone has wanted to look at the logs to see if something was really delivered. But that's it.
Early on, I ask a Company Man (the big boss) what the logs were really for, since nothing was ever done with them.
He just smiled and said it's so if something bad happens, we know how many bodies to look for.
When I noted that we were parked only about 200 feet from the drill rig, and that if the rig went up, we, and the logs, probably would too, he smiled again and said, "Well, it's not a perfect system."
---
Thought for the Day:
I am free of all prejudices. I hate everyone equally. – W.C. Fields