Daily Archives:
August 9, 2020
I mentioned before that in trying to find the problem with our rig's taillights, brake lights, and turn signals, I'm working with two different set of schematics, one set from Spartan, the chassis manufacturer, and another set from the American/Fleetwood, the coach manufacturer. And not only don't they always agree, but sometimes they're just plain wrong. For instance, this one.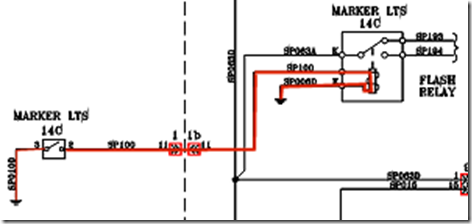 Now I've only been doing electronics and computers since I was 10, but I don't think the circuit outlined in red is ever going to work. I mean, you're going to need a power source in there somewhere between the two grounds. And this is not the only mistake I've found.
And, yes, I was fooling with computers in 1958 when I was 10. But a lot different from what you think about today. My computer looked like this.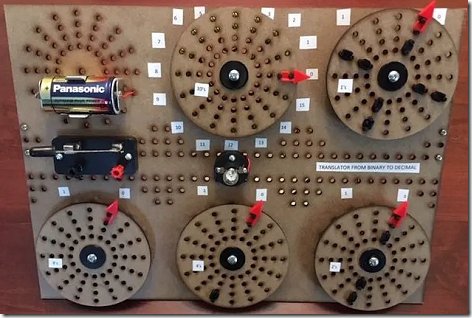 It was a Geniac analog computer that you could program and make sound, add numbers together, play games, etc.
My parents got it for me for Christmas that year from an ad like this.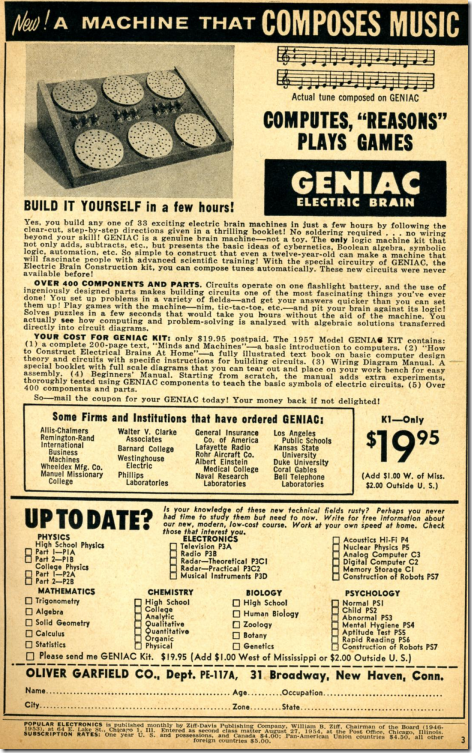 Here's some more info on the Geniac computer.
And then 9 years later, I was writing programs in Fortran on an IBM 360 computer at Vanderbilt University in Nashville, TN.
Doesn't really seem that long ago.
In 2009 we were in the Springfield, MA area where Jan lived and went to high school, and visiting a long time friend.
---
August 9, 2009
High School Friends and Memories…
Today we spent the day with Jan's high school friend, Joan, checking out old memories.
We started off with breakfast at the Blue Sky Diner, not an old memory, but still good.
After breakfast we headed over to what used to be base housing at Westover AFB when Jan lived here, which was 1962-66.
When Westover downsized a while back, the old base housing was sold off to a private investor and turned into condo's. And they looked good.
Here is the front of the unit that Jan and her family lived in.
The front door is to the left inside the alcove to the left of the garage.
Here's the back side.
After driving past where Joan's parents used to live, we headed over to Chicopee Comprehensive High School, where Jan and Joan went to high school.
But this is not the school building that Jan and Joan went to. That one was torn down in 2007 and replaced with this one.
The old building was located where the new football field is located.
I think Jan was kind of shocked to find her old school replaced, since it was brand new when she went there. In fact, her class was the first one to attend all four years there.
Next we drove over to nearby Springfield where Jan attended church.
Then, after dropping off a prescription at Walmart, we drove over to the Yankee Candle Store in Deerfield.
This store is really something, and they sell a lot more than just candles. And it's the size of a small shopping mall all by itself. Jan had a field day stocking up on decorations and knick-knacks for Halloween. And she bought a couple of candles too.
By this time we were getting hungry, so Joan suggested Spaghetti Freddy's, a restaurant that's part of the Union Station complex in Northampton, MA.
And a great suggestion it was. We had a wonderful Italian meal and dessert.
After dropping Joan off at her house,
we headed back to the coach where we're parked at Windy Acres KOA park.
More reminiscing tomorrow
---
Thought For The Day:
Always make sure the phone is 100% hung up before you call someone an asshole.
In 2014 we were down in my old hometown, Gulf Shores, AL, after driving down yesterday from my other hometown, Athens, AL.
---
August 9, 2014
A Shucker's Dozen . . .
After a quiet, easy day, resting up from yesterday's almost 400 trip, we headed out about 5pm to have dinner at a new place, at least for us. Called Ginny Lane's Bar & Grill, it's located on the Intercoastal Waterway at The Wharf, a shopping/entertainment area in Orange Beach. They had really good ratings on Yelp, and even better, $6 a dozen raw oysters, our favorite.
Since we had the Seafood Platters last night, and couldn't finish it all, we decided to go a little lighter tonight. So we started out with a dozen oysters on the half shell for each of us.
Sorry, I forgot to get a picture until I was done. We noticed that we both received what's called a "Shucker's Dozen". Like a "Baker's Dozen", it means you order and pay for 12, and they throw in a extra free. Nice.
I noticed on the menu that they listed a Sriracha Aioli for another dish, so I asked for a bottle of Sriracha to try with my oysters along with the cocktail sauce and horseradish they furnish. It was really, really flavorful and added a lot to the oysters.
For our next course, Jan had a delicious cup of Shrimp and Artichoke Bisque, and I went with their Seafood and Sausage Gumbo. Again, really good.
Wrapping up a great meal, Jan had the Strawberry Shortcake,
and I tried the White Chocolate Bread Pudding. Really good, and I had enough to take home.
A really good meal, and we weren't stuffed. Perfect.
Ginny Lane's is really good, and it's now on our list of great Gulf Shores restaurants.

Leaving the restaurant, we drove around the beach area for awhile, checking out all the changes since we were here two years ago. A lot of new condos, new stores, and new restaurants.
I think I liked it better in the old days.
One of the places we drove by was some beach front property my parents used to own at Orange Beach.
At one time, my parents owned this 300 foot / 6 lot section of beachfront, all the way down to where the condo is now. Then in the early 70's they traded four lots to a builder in return for him building them two beach houses on the remaining two lots, which they then rented out.
Later, sometime in the 80's my parents sold one of the cottages. Then in 1993 after the death of my father, my mother sold the remaining one.
The people who bought the first cottage, tore it down to build a modern-looking two story brick home. The couple who bought the second cottage also wanted to build new, but they bought a lot right behind theirs and moved the cottage about 100 feet away to the new location. This is it now.
Then they build a 3 story brick home on the beach front lot. At that point there were 6 homes along here.
Then in September 2004, Hurricane Ivan passed over the area with 130mph winds, bringing a 14 foot tidal surge up over the sand dunes. And then there were none. And it still remains that way to this day.
And the original cottage that my father designed and built to his specifications, with strapping and reinforcements, is the only thing still standing right across the road.
---
About 8pm tonight I started getting emails and phone calls saying that Jan and I had gone viral on the Internet.
Again.
And this time we made Yahoo. Here you can see the entire Yahoo montage
This was taken in 2009 at Busch Gardens in Tampa, FL. I posted it on our blog at the time, and then somehow it was picked up by the Awkward Family Photos site. It made the rounds all over the Internet, and we had friends telling us that they had seen it online.
In one case, a friend's son was in class the last day of school, and the teacher was killing time by showing some stuff from the Awkward Family Photos site. He finished up by saying "And this one is my very favorite."
And our picture popped up. After a double-take, the son spoke up and said, "Hey, I know those people." And the class roared.
Here's the full picture.
As I always say, One of us is having fun. The other one isn't.
Jan won't admit it, but the Cheeta Chase is the 'baby' coaster at Busch Gardens. It's in the kiddie area with the Merry-Go-Round and the Bumper Cars.
_________________________________________________________________
Thought for the Day:
"This 'telephone' has too many shortcomings to be seriously considered as a means of communication. The device is inherently of no value to us." – Western Union internal memo, 1876
Not much interesting happened today so you just get a repost of the last of our first year of Gate Guarding in 2012.
Only one blog repost today, as we were counting down the last two weeks of our first year of Gate Guarding.
---
August 8, 2012
Six and Counting . . .
That's not how many days we have left here, it's how many flat tires I've had here since April.
Oh, and two new tires, because two of the flats couldn't be repaired. And to make it worse, I had road hazard insurance on both tires, but with Discount Tires. And the nearest one is in San Antonio, 75 miles away. So no help there.
I think from now on, I'll just start getting all my tires from Wal-Mart since they're everywhere. I've used Discount Tires in Houston for years, but since we're on the road all the time now, Wal-Mart might be a better choice.
Hopefully we'll get through the next week and a half without another one.
Under the heading of why the US Post Office is going broke, check out the tracking data from a small computer fan I ordered off of eBay. It was shipped First Class with Tracking, and apparently is somewhere in orbit over Texas.
Processed through USPS Sort Facility
2012-08-08, 00:07:00, SAN ANTONIO, TX 78284
Processed through USPS Sort Facility
2012-08-07, 13:28:00, DALLAS, TX 75398
Depart USPS Sort Facility
2012-08-07, 00:00:00, DALLAS, TX 75398
Processed through USPS Sort Facility
2012-08-06, 16:04:00, MCALLEN, TX 78501
Depart USPS Sort Facility
2012-08-06, 00:00:00, SAN ANTONIO, TX 78284
Depart USPS Sort Facility
2012-08-06, 00:00:00, MCALLEN, TX 78501
Processed through USPS Sort Facility
2012-08-05, 21:58:00, SAN ANTONIO, TX 78284
Processed through USPS Sort Facility
2012-08-04, 21:20:00, SAN BERNARDINO, CA 92403
Dispatched to Sort Facility
2012-08-04, 14:37:00, MURRIETA, CA 92563
Acceptance
2012-08-04, 13:39:00, MURRIETA, CA 92562
Note that it got from Murrieta, CA to San Antonio, TX in one day. Good so far.
Normally at this point I would have gotten it the next day.
But for some reason it next went to McAllen, TX, then back to San Antonio, then back to McAllen. After that it apparently went through Dallas twice before ending up back in San Antonio today. I'm actually looking forward to seeing where it will end up next.
On the Food front, we've had two great meals in two days. Yesterday being Tuesday, of course it was Chile Rellenos from Galindo's. Unfortunately next Tuesday will be our last meal from there before we hit the road. Bummer!
Then today it was a surprise catered Steak Dinner here, And as usual, really, really good. The steak was tender and juicy, and the beans had big chunks of sausage in them.
And we hear there might be another meal coming in the next few days. YAY!
I was reading an article the other day about how more and more people are not wearing watches anymore because they always have the correct time on their cell phones and it got me to thinking about my first digital watch in 1975.
It was a Sinclair Black Watch, and it was available as a kit.
Yes, a kit!
It looked like this when you got it.
And if you put it together right, it looked like this.
According to the article a lot of people had trouble with them, but the only trouble I remember having was that the holes on the case where the wrist band attached kept wearing out and the band would come loose.
Of course it probably didn't hurt that I had been building electronic kits since I was about 12, and when I was working as a DOD contractor in the early 70's, they sent me to the NASA Certified Soldering School in Cherry Point, NC.
I also built our first color television, a Heathkit 25" GR-2000 console.
When i finished it looked something like this, although I built my own cabinet. But it was in the same Mediterranean style.
Hey, I'm a geek. What can I say.
Wrapping Up:
Finally! Coming Soon to a Blog near you.
Daily Blogging again. Once we leave here on the 20th of August, I'll be back to daily blogging.
Consider this your only warning.
---
Thought for the Day:
I just received my tax return for 2011 back from the IRS and it puzzles me!!! They are questioning how many dependents I claimed. I guess it was because of my response to the question: "List all dependents?"
I replied: 12 million illegal immigrants; 3 million crack heads; 42 million unemployed people on food stamps, 2 million people in over 243 prisons; Half of Mexico; and 535 persons in the U.S. House and Senate."
Evidently, this was NOT an acceptable answer.
I KEEP ASKING MYSELF, WHOM DID I MISS?