Daily Archives:
August 5, 2020
And a little HCQ/WuFlu info too.
Note the counties that use the HCQ/Z-pak/Zinc at the first sign of the virus.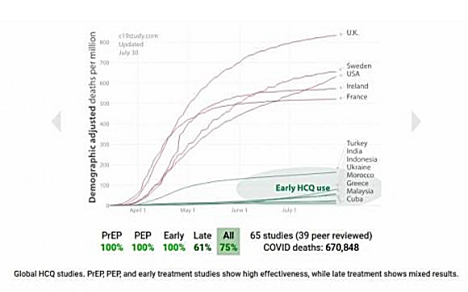 To put hard numbers to it:
Via Worldometers:
The USA has 488 covid deaths per one million in population.
Turkey has 69 covid deaths per one million in population.
I wonder why that is?
And the Henry Ford Medical system continues to defend their positive HCQ findings, despite the fact that it is only an observational study, not the double-blind, randomized clinical trial that Dr. Fauci wants.
Henry Ford Health System researchers defend Hydroxychloroquine study, slam politics surrounding drug
A 'double-blind' study means that not only doesn't the patient know if he's getting the drug, but neither do the doctors managing the study.
So half your patients are getting HCQ and half are getting a placebo, i.e. no treatment at all.
If you thought you were in danger of dying from the WuFlu, would you want to take a chance that you were getting no treatment AT ALL during a study.
CDC director acknowledges hospitals have a monetary incentive to overcount coronavirus deaths
"I think you're correct in that we've seen this in other disease processes, too. Really, in the HIV epidemic, somebody may have a heart attack but also have HIV — the hospital would prefer the [classification] for HIV because there's greater reimbursement," Redfield said during a House panel hearing Friday when asked by Rep. Blaine Luetkemeyer about potential "perverse incentives."
So apparently this is nothing new.
As we've passed on before, hospitals receive $13,000 per CoVid patient admitted, and $39,000 for each patient they put on a ventilator.
And Dr. Deborah Birx says that she really doesn't trust what the CDC say about the virus. And the Washington Post reported that Birx and others feared that the CDC's data-tracking system was inflating coronavirus statistics like mortality rates and case numbers by up to 25%.

In 2009 we were in Barnstable, MA finally getting to see whales after our dud trip in San Diego last year.
---
August 5, 2009
There be Whales here…
Today we took a whale watching tour boat out of Barnstable Harbor and unlike our whale watching tour in San Diego in February 2008, this time we actually saw whales… lots of whales… humpback whales everywhere.
We headed out to sea about 2:30 pm on the Hyannis Whale Watcher Cruises boat 'Whale Watcher'.
It's a 130 foot jet boat that can carry almost 400 people.
It was specially built for whale watching, and the fact that it's a jet boat means two things. It gets out to the whale area, the Stellwagen Banks, a lot faster, and once there, the fact that it has jet nozzles and not propellers, means that it can get in closer to the whales without worrying about them getting hit with the props.
And we did get close, like right along side.
Stellwagen Banks is a National Marine Sanctuary about 40 miles off Barnstable, MA harbor. It covers about 800 square miles and is basically an underwater mountain ridge that comes to about 120 feet of the surface.
The surrounding seabed is almost 400 feet deep. This means that ocean currents upwell along the steep sides of the ridge, bringing with them nutrients and minerals from the bottom, feeding the local ecosystem and attracting larger animals to the area.
On our way out to the banks, we past by Sandy Neck, an isolated but picturesque vacation area. And by isolated, I mean it can only be reached by boat or ATV and has absolutely no utilities. I guess if you really want to get away from it all, this is the place for you.
The lighthouse dates from 1852 and is still in use, but now it's solar powered.
It took us about an hour to get out to the whales, but when we got there, they were everywhere.
At first we just saw tails…
and fins !!
Everyone crowded to the sides of the boat trying to get the best view.
And then there they were…
And then they were all around us…
We saw several different pods, or groups of whales, and about 15 or 16 individuals.
The whales are identified by their tail markings and the naturalist on board said they have a catalog that lists over 1000 whales that have been spotted in this area since 1972 when they started counting.
It was almost 7 pm by the time we got back to the dock with more scenic views of the small fishing village.
On our way back to the rig, we stopped for supper at a really good chinese buffet place called Cape Cod Super Buffet. By the time we got home was almost 9pm and time to call it a day. A great day!
Tomorrow is our last full day here on Cape Cod. Friday we will head out for Woonsocket, RI.
---
Thought For The Day:
I wish that people came with a 30 second trailer. That way I could see what I'm getting myself into.
And in 2010 we were in Logansport, IN checking out where Jan used to live when she was 8 years old. And we found her old house.
---
August 5, 2010
You can go home again…kind of…
We left for Logansport IN about 10 am, first stopping by McDonald's for a chicken biscuit breakfast for Jan.
We made the 90 mile trip in about two hours and started driving around town. Our quest was to find the house where Jan lived in 1956 when she was 8. Her father was stationed at Bunker Hill AFB for about two years, after about a year in Logansport they moved to Peru, IN to be closer to the base.
Jan remembered her house was a block or so from the Eel River, and several blocks from Riverside Park, and its carousel. After 15 minutes or so we found her house, still at 75 18th St. The only real change beside the new siding was that when Jan lived there the front porch was screened in.
It still had the same barn-shaped garage in the backyard opening on the alley behind the house.
And across the street, what was just a vacant field when she lived there, is now a city park.
Next we headed about 3 blocks away to Riverside Park, where Jan, her sister Debbie, and their friends, would walk to ride the carousel there in the park.
And the carousel was still there too. But now it's inside.
This carousel had a long and rich history. It was built around 1885 by Gustav Dentzel. Dentzel's family had been building carousels in Germany since the early 1800's. Gustav came to America with a carousel and set it up in Pennsylvania, PA in 1861, possibly the first carousel in the Western Hemisphere. And the Dentzel family still builds carousels today, with more than 30 carousels in places like Disneyland, Knott's Berry Farm, San Francisco Zoo, and Dollywood.
This carousel is one of the most complete Dentzel carousels in the world.
This ride still allows you try and grab the brass ring from this arm. If you grab a ring, you get a free ride.
In 1919 the carousel was moved from Fort Wayne, IN and placed in Spencer Park in Logansport. Then in 1949 it was moved to Riverside Park and placed in this building, where it was when Jan was riding it in 1956.
In 1987 the carousel was declared a National Historical Landmark and was moved inside a beautiful new building in 1995, where it resides today.
Jan also used to ride a train around the park, and it still runs today on this same track. The locomotive and two cars is stored in the small green building in right rear of this photo. When the train is running the buildings doubles as a 'tunnel'.
We also found that Logansport has its own set of city mascots, and, of course, theirs is a carousel horse.
After a so-so lunch at Broadway Cafe in downtown Logansport, we headed back to Elkhart about 2 pm. We got back about 4, but stopped off at the new Martin's Supermarket near the park. Very nice store.
Tomorrow we'll do some more chores around the rig, and just enjoy the nice cool weather. Tomorrow the high is supposed to be 80 and the low tomorrow night 57. Just great!
---
Thought For The Day:
"In war, everything is very simple, but even the simplest things are very difficult," or something like that." – Clausewitz