Daily Archives:
August 30, 2020
Jan and I headed out a little before 11am to meet our daughter Brandi at the Westpark Cheddars. We went ahead and had lunch, since Brandi wasn't going to eat with us.
Jan got her usual Blackened Catfish and Veggies,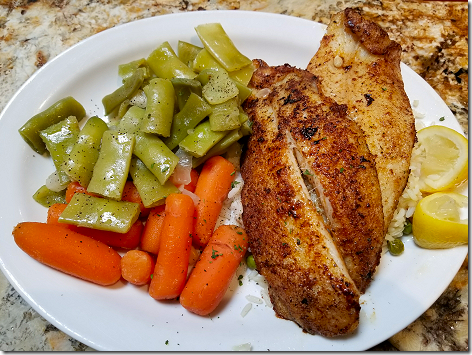 while I got the Veggie Plate.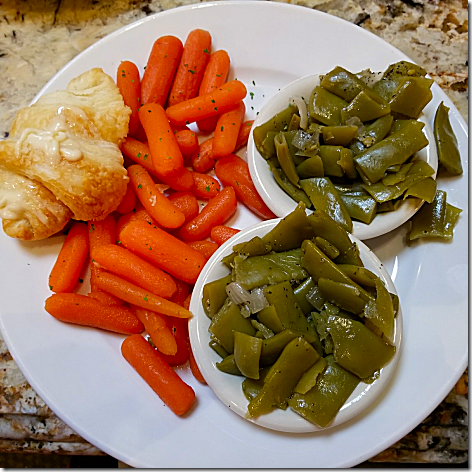 So until next Sunday, it's just Karma and me.
According to the New York Times and the CDC, Up to 90 per cent of people diagnosed with coronavirus may not be carrying enough of it to infect anyone else, study finds as experts say tests are too sensitive.
In fact in three sets of testing data that include cycle thresholds, compiled by officials in Massachusetts, New York and Nevada, up to 90 percent of people testing positive carried barely any virus, a review by The Times found.
Apparently all the vaccine makers are having trouble finding enough volunteers to do the amount of testing that the FDA requires to approve a vaccine.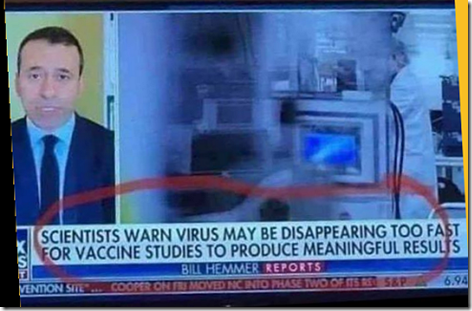 They act like this is a bad thing.
Well, I guess it is if trying to get your $3000/dose vaccine to the market.
Will Moderna Covid Vaccine Be Delayed Because Not Enough Minorities Have Volunteered For the Phase 3 Trial?
Dr. Fauci says that Moderna has not recruited enough minorities for the Phase 3 trial. He wants twice the percentage of minorities (Black or African American, Latinx, American Indian and Alaskan Native.) in the trial as in the population. Which means that over 66% of the trial volunteers should be in this group.
And what should be done if they can't get enough? Well, they should just keep testing until they have enough, apparently no matter how long it takes.
Right now only about 18% of the trial participants are minorities, so only about 1/3 of the number needed.
Does it bother anyone besides me, that Moderna, a company that has never had a drug make it all the way through testing to be approved by the FDA, is using . . . "a novel technique abandoned by several large pharmaceutical and biotechnology companies that were unable to overcome the side effects of inserting RNA into (your) cells. As of May 2020, no mRNA drug has been approved for human use."
Five things you need to know about mRNA vaccines
Vaccines work by training the body to recognize and respond to the proteins produced by disease-causing organisms, such as a virus or bacteria. Traditional vaccines are made up of small or inactivated doses of the whole disease-causing organism, or the proteins that it produces, which are introduced into the body to provoke the immune system into mounting a response.

mRNA vaccines, in contrast, trick the body into producing some of the viral proteins itself. They work by using mRNA, or messenger RNA, which is the molecule that essentially puts DNA instructions into action. Inside a cell, mRNA is used as a template to build a protein.
In other words, they're basically messing with the DNA in your cells to trick them into making the vaccine in your body, using, you know, the 'technique abandoned by other large pharmaceutical and biotechnology companies because of the side effects.'
A 3rd arm, anyone?
---
Thought For The Day:
Everyone who wants to be the first in line for a new mRNA vaccine for CoVid that has unknown long-term side effects, raise your hand!
Or all 3 of them?
On Our Two Day visit to Prince Edward Island.
---
August 30, 2009
Lighthouses and Wind Farms on PEI …
Today was the start of our 2 day Prince Edward Island road trip. We decided it would be easier to just leave our rig in Moncton and drive the truck over.
We left Moncton about 10 am for the 75 mile drive to Canada's smallest province. Lengthwise, it's about 160 miles from one end to the other.
But first we had to cross Confederation Bridge to get to the Island. The curved, 8 mile long bridge is the longest in the world crossing ice-covered water and is considered one of Canada's top engineering achievements of the 20th century.
And it's a very beautiful bridge, too.
Confederation Bridge
And they're really proud of it, too! It's a toll bridge, but they don't charge you to enter the island, they charge you when you leave.
And it costs $42.50 to get off the island! Note: As of August 2020 it's $48.50.
Once we were over that shock, we decide to head toward the west and north ends of the island.
The first town of any size we cam to was Summerside. Passing a nice looking Chinese buffet restaurant, we decided to have lunch at the Jade Garden.
This is the 2nd Canadian Chinese restaurant we eaten at, and it's apparent that Canadian Chinese food is a little different from American Chinese.
They only seem to have Won Ton soup, no Hot and Sour, which is our favorite. And they have egg rolls, but they also have something like a small fried burrito that has egg roll 'stuff' in it. What the real difference is, I don't know.
I mean, you'd think we were in a foreign country, or something.
After lunch, we continued on what was called the North Cape Coastal Drive, which winds around the coast and up to the northern tip of the island.
The first place we came to was the West Cape Wind Farm, one of several wind farms scattered around the island.
We were starting to get a little low on gas, and finding no gas stations along our route, we headed about 10 miles back toward the center of the island to fill up.
Rounding the West Cape area and now heading north, we traveled along the coast to more great scenery.
Now working our way north, we finally reached the North Cape at the tip of the island.
This lighthouse and wind farm look out over the Atlantic ocean and the red cliffs show the effects of the ocean waves.
By this time it was getting late so we headed back down the main road down the center of the island to the capitol of Charlottetown where we where going to spend the night.
We got a room at a Holiday Inn and then went out for supper to a place downtown called Sim's Steakhouse & Oyster Bar.
We had a dozen raw oysters (Up here they called them 'Fresh', not raw), and a couple of appetizers. The food was really good. But the service was abysmal. We were there almost an hour and a half, just for appetizers.
Tomorrow, we'll do some of the Anne of Green Gables area, and then the other side of the island.
Thought For The Day: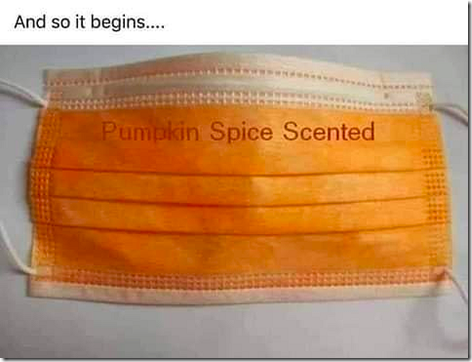 Another Day In Our Gate Guarding Adventures.
---
August 30, 2013
A Slow Day . . .
Today turned out to be a really slow one, but probably the calm before the storm. We only had 58 vehicles through the gate. But Monday is when all the fun is supposed to start. They will begin fracking on the two wells here, and we will get 100+ sand trucks coming through, in addition to the normal traffic.
First thing this morning I called Galveston Bay RV Resort to confirm our usual Sunday before Thanksgiving arrival. Lauralee already had us on the books, but it's always good to double-check.
My next call was to Coleman Outdoor Products, the maker of our 13 x 13 canopy. When we received it from Amazon last week and tried to set it up, it just would not work right.
And in continuing to fight with it, two of the cross struts snapped in half.
A little more investigation showed the problem. On all four sides, one set of the connectors where the struts crossed had not been tightened down. This allowed the struts to twist and bind as we tried to pull it open. And this torque caused the hollow struts to break at the weak point, which was where the hole was drilled through. I was able to repair the struts with Gorilla Tape and get it erected, but it's still a little wonky. So I called Coleman to get some replacement struts under warranty.
But they wouldn't give me any struts. In fact they wouldn't even sell me any. Apparently their lawyers have decided it would be too dangerous for a customer to unscrew two bolts, replace the damaged strut, and tighten the bolts down. I'm beginning to agree with Shakespeare on this.
I was told I could send the canopy back under warranty and they would send me a new one free – with a two to three week turnaround. YEAH, RIGHT!
I'll check tomorrow, but I'm pretty sure Amazon will send me a new one and let me return the damaged one in the new box. Hope so.
I finally got tired fighting with the low voltage problem on my generator. Apparently the regulator is bad and it will not keep the voltage high enough. So when I went over to get a bag of ice I stopped off at the office and told Jamie my problem.
He said that as soon as the guys get back from another run, he'd have a brand new one out to us. And two hours later he did. Great support.
The new one is holding 120 volts with no problems, and the AC's are working better too. Nice.
This afternoon the water guys were running a new water line around behind our site and down to the fracking pond to help them keep it topped off.
Each reel holds 200 meters of 10" hose, and they just drive along and spool it off.
You see these hoses running along a lot of roadways in this part of the country.
We have a flare stack about 300 yards down the road and pretty much every night we get a fireworks show.
The flame is about 50 feet high and you can feel the heat even from 300 yards away.
———————————————————————————————————-
Thought for the Day:
"The very atmosphere of firearms anywhere and everywhere, restrains evil interface. They deserve a place of honor with all that's good." -— George Washington
The Aftermath Of Hurricane Harvey in Houston
---
August 30, 2017
Orange Beef and Little Debbie . . .
Well, the rains have moved on from the Houston area, but the flooding continues in many places due to overflowing dikes and levees.
And in some places, the flooding is unfortunately deliberate. The Corp of Engineers has had to release water from the Barker and Addicks reservoirs which caused flooding in areas that hadn't flooded from the storm. But the reservoir release was necessary to prevent the levees from failing and causing even more catastrophic flooding.
Again, damned if you do, damned if you don't.
And here, according to the official Lake Conroe Kitty Litter Rain Gauge, we had at least 28" of rain here at the park.
Accuracy not guaranteed.
in case you didn't bookmark it before, here's the link again that shows road closures and flooding in real-time. Just refresh the page as necessary to see the changes.
A little after 4pm Jan and I headed into Conroe to meet up with Debi and Ed Hurlburt at China Delight, our favorite local Chinese place.
Jan and I again both had the Spicy Orange Beef.
Delicious and big enough servings that we had more to bring home than we ate there.
As seems to be normal with our Hurlburt get-togethers we once again spent over 3 hours for dinner. It's amazing how much we can find to talk about each time.
Coming back to the park, we again saw these Code 3 Animal Rescue trucks that are staging here at the park.
But rather than rescuing dogs and cats, they're handling horses and cows. Don't know where they're putting them though.
Wrapping up, regular readers know that Jan has a thing for pumpkin . . . anything pumpkin. So when we were at Kroger's yesterday she grabbed up these Little Debbie's
Later, as I was waiting to check out, I read though the ingredient list on the back of the package.
Note that the word 'Pumpkin' does not appear anywhere on the list.
I guess it you parse it correctly, the box says they're 'Pumpkin Spice Rolls, not Pumpkin Rolls. And it does have pumpkin spices in it – cinnamon, ginger, and nutmeg. But I think the reason they're pretty tasty is that the first two ingredients are Corn Syrup and Sugar.
But I still think Little Debbie is a liar.
---

Thought for the Day:
"God is a comic playing to an audience that's afraid to laugh." – Voltaire (1694-1778)