Daily Archives:
August 14, 2020
I spent a lot of time on the phone today talking with both Fleetwood and Spartan about my wiring/lighting problems, and I may have a new insight on the problem
As before, Fleetwood/American Coach was no help, but when I was talking with the guy at Spartan Chassis about how this almost had to be something common to all 4 light systems, taillights, turn signals, brake lights, and backup lights, and not 4 separate problems.
And then he said, "Have you checked the point where American's coach wiring splices into our chassis wiring?" Well that sounds interesting. And when I ask where that was, he said that it was back in the engine compartment, and to just open the doors and look down.
And this is what I saw.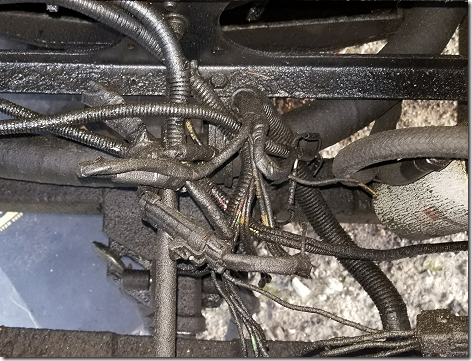 This is also where the wiring that feeds the toad lights is spliced in. And it's always looked like this.
Well, not all oily. That's from my leak, but all tie-wrapped together in a big bundle. It came that way with the rig, and since it always worked, I left it alone. Until now, I guess.
But first I'll have to degrease the area and then start tracing things out. More later on that.
Also looks like I'll give to get up on the rig roof again tomorrow. The front AC is dripping in the rig, which means that the outside drain holes are stopped up again. This time I'm going to drill the holes out much larger and even maybe add some more.
We'll see. But it's going to be a busy weekend.
Our daughter Brandi got some good news from her work a couple of days ago. They won't be going back into the office before the end of January 2021.
She said she gets more done, without the daily commute time, toll roads, gasoline, lunches, and business clothes. And think she'd be happy if it stayed that way.
And I think a lot of other people feel the same way about their jobs too.
Here in 2011 we were still doing the family reunion thing in Vandalia, IL with Jan's sister Debbie and her family.
---
August 14, 2011
Fish and Boots . . .
First off, I want to show off Landon's first pair of John Deere boots Brandi got him at Rural King.
He's all ready for the farm life now.
As usual, we met at Robbi's for breakfast this morning, but with a slightly smaller group this time. Just Brandi, Lowell, Landon, Debbie, and Jan and I. Jim was a little under the weather and everyone else was off doing other things.
Leaving Robbi's, Debbie showed Brandi, Lowell, and Landon some of the sights around town while Jan and I went back by Rural King so I could get some new boot laces
Later Landon showed off his new guayabera shirt, and then just showed off in general.
A little after noon everyone started setting up for the Fish Fry. This time we had everyone there for all the food and fun.
Jim had fried up a bunch of catfish he'd caught, and along with potato salad, corn casserole, pasta salad, and baked beans, we were in hog heaven. Emphasize the 'hog' part.
Afterwards, too stuffed to move, we all set around and watched the kids play.
Later, Jan told me to go fly a kite, so I did. But the wind wasn't very cooperative. About the time I would get the kite up about 20 or 30 feet, the wind would just quit and down it would come.
Bummer!
And unlike yesterday, the weather cooperated and we didn't have to move inside. So Landon just sat out and enjoyed the fun.
All in all, it was an almost perfect day. The only thing that would have made it better would have been if our son Chris and his family, Linda and Piper, could have been here too.
Brandi, Lowell, and Landon leave tomorrow, and since they have to drive back to St. Louis to catch their plane, we'll be having breakfast tomorrow at 8 am instead of 9.
We're staying until Wednesday, when we head over to the Horseshoe Lakes Thousand Trails Resort north of Terre Haute, IN for two weeks.
——————————————————————————————————————–
Thought for the Day:
"When you're born dumb, you stay that way a long time."
And in 2015 we were on our way back to Houston, first for Landon's birthday and then on to our next Gate Guarding job.
---
August 14, 2015
70,000 . . . So Far
We were out of our site here at Poche's RV Park and on the road by 9am this morning, on our way back to Texas for the first time in about six months.
We've never stayed more than one night here, always on our way back to Texas. But it's a nice park, and we always enjoy our stay.
The park is built around a number of stocked fishing ponds, and is popular with the locals, as well as RV'ers.
And the scenery is pretty great too. Note the heron on the sandbar.
Besides being back in Texas today, we also hit another milestone. Since we picked up our coach January 6, 2008, we've put 70,000 miles on it, for a total so far of 134, 511 miles.
She's just getting broken in.
Overall our trip was pretty smooth, except for the fact that I-10 becomes a pothole-pocked mess going through every town. Lafayette, Lake Charles, Beaumont, and of course Houston, are all a teeth-jarring mess.
We went through Houston around 2pm, so there wasn't a lot of traffic, at least to me. I know some people don't like to drive through Houston, but I guess I'm kind of use to it, having lived here since 1978.
I just find my lane and go. I was able to hold 50-60 mph most of the way with few slowdowns, but doing it at 5pm would have been a whole 'nother story.
We got checked in at the Colorado River Thousand Trails about 3:30 and were able to get our favorite A2 site at the top of the hill.
We plan to goof off and rest up tomorrow, then on Sunday we'll drive down to our son Chris' and he and I will replace the leaky radiator on our truck, and get together for dinner.
For dinner tonight, and being Friday, of course it was the BBQ Buffet up the road at Peter's BBQ. All the Brisket, Ribs, Sausage, Catfish, Shrimp, Fried Chicken, as well as sides and dessert, you can eat, and all for only $11.50. You can't beat a deal like that.
It's good to be back in Texas.
_________________________________________________________
Thought for the Day:
"A society that puts equality before freedom will get neither. A society that puts freedom before equality will get a high degree of both." – Milton Friedman
And in 2016 we were also on our way back to Houston after being on the road since March.
---
August 14, 2016
Worth the Rush . . .
We had planned to be up at 6 and on the road by 7:30. Instead we were up at 6:30 and on the road by 8.
We only had a 240 mile trip to Meridian, so normally we wouldn't be on the road until around 10, but today we had kind of a time crunch.
Since we were overnighting in Meridian, we definitely wanted to eat at Weidmann's Restaurant. But there was a problem. On Sunday, Weidmann's is only open from 11am to 2pm for their Sunday Jazz Brunch.
So we wanted to get to Meridian by 1pm or so, to have time to get to the restaurant before they closed.
But besides our late start, there was another problem. We needed to get diesel before we got on I-65 S. And of course this was the 'perfect' morning for a really slow diesel pump.
So $300 and almost an hour later, we were hitched up and on the road by 9am. Later than we had planned, but with luck we might still make it.
We took I-65 south to Birmingham where we then took I-20/I-59 south by Tuscaloosa and on toward Meridian. We did run through another of those strange brief heavy rains under bright sunshine.
Then on the west side of Tuscaloosa we ran into another slowdown. There were signs for a construction zone ahead, and then traffic slowed to 5-10 mph crawl. Finally after about 20 minutes of this, passing construction equipment with no one around. we finally came to the traffic obstacle, the thing blocking the left lane, and forcing all the vehicles down to one lane. It was a SUV with flashing blue lights just setting in the left lane with no one around. In fact we didn't see a single worker. And then once we were all past that, it was back to full speed again.
We got to the Benchmark RV Park about 1:15 and got parked and just plugged in shore power. We didn't even put out the slide yet. And as soon as I had the truck unhitched we were on our way by 1:35.
We were only about 10 minutes away, so I was hoping that we could still get in for the brunch. And as it turns out, Weidmann's is one of those places that if you make in the door before 2pm, you're good to go.
Weidmann's is the oldest restaurant in Mississippi, in operation since 1870, and a quick look at just their Brunch menu will show you why they've lasted this long.
Jan of course, went for the Crab Cakes, homemade with lump crabmeat, special seasonings and served on fried green tomatoes with a white wine sauce and served with fresh fruit.
Jan has a new favorite dish, I think.
I decided on the Prime Rib PoBoy, a 8 ounce prime rib served on a PoBoy bun with their spicy horseradish sauce and topped with flash fried onion rings and served with homemade potato chips.
And mine too was delicious, and so big that I could only eat half of it. And what's even better here are the prices.
My 8 oz. Prime Rib PoBoy was only $13.95, and Jan's Crab Cake were only $15.95. Really great prices. And our waitress Londa was great too. (she insisted I tell you that)
Getting back to the rig, we put out the slide and I set up the Satellite dome. We don't normally hook up water and sewer on these one night stops, so after I let out the awnings, I was done.
Well, almost.
I had noticed this morning that as I was pulling out of the park that I was hearing a little groaning from my power steering. But it was fine once things warmed up. So I figured that I was a little low on hydraulic fluid and would add some when we got to Meridian.
I did keep an eye on my engine temp just in case since strangely enough, the same hydraulic system that runs the power steering also runs the radiator cooling fan. But the temp stay in its normal 175-180 degree range the whole trip.
So after I finished setting things up, I looked for my gallon jug of AW32 hydraulic fluid, and I couldn't find it. It should have been in the back of the battery bay, but it wasn't. And I checked a couple of other likely bays with no luck.
So it was off to a nearby O'Reilly's for another gallon to take care of the problem.
Tomorrow we've got a 300 mile run to Miss Ellie's RV Park a little west of Shreveport. As I mentioned yesterday, due to all the flooding and the road closures along 1-10 / I-12, we're taking the northern route home.
In fact the flooding is so bad down there, that they are helicoptering in supplies to the motorists who have been stranded on the Interstate for more than 24 hours.
Our thoughts and prayers go out to everyone affected.
---
Thought for the Day:
Apparently Cinderella is proof that a new pair of shoes can change your life.
And in 2018 we were wrapping up the sale of our house that we'd owned here in Clear Lake area since July 1979.
---
August 14, 2018
And One To Go . . .
Today was our penultimate visit to the house trying to wrap up clearing out the last of our stuff.
Actually though it was 3 separate visits today, with the first one to pick up a lot of left-over packing materials and a bunch of stuff for the Salvation Army.
We left the rig about 11 and after picking up the stuff at the house, dropped off the packing stuff at my clients since he ships so much stuff. Then after a delicious lunch at our favorite East Star Chinese Buffet, we dropped off the stuff for the Salvation Army.
Then it was back over to the house to get a load to take back down to the store room. And after that it was back up to the house for a load of things that we're keeping at the rig until Brandi, Lowell,and Landon have moved into their new house. No use taking it up now so they just have to move it. So we finally got back to the rig about 4pm.
Then tomorrow I'll go by the house one last time to load all of our normal stuff, air compressor, battery charger, antenna poles, spare parts, solar screen panels, etc., back into the truck. Then we should be done.
As far as we know we're still closing on Thursday, but no time or place yet. And it turns out that Brandi's closing has also been moved up a week, to Friday, August 24th. The sooner the better for all of us.
As we've been moving a lot of boxes of old family photos and letters, we keep coming across some interesting things, including this old photo of one of my parent's beach houses at Orange Beach, AL near Gulf Shores.
In 1957 my parents bought 300 feet (six 50 foot lots) of beachfront land at Orange Beach. Then in the mid-60's they traded 4 of the lots to a builder to build two houses, the Sea Fever and the Sandpiper, of my father's design on the remaining lots. You can see the other one just to the left in the photo.
They rented them out over the next 30 years, and Jan and I stayed in one a number of times. Then in the mid-90's, after my father died, my mother sold off one and then the other.
One of the buyers tore down the Sea Fever and built a nice three story brick house. The second buyer actually moved the Sandpiper to the other side of the street.
There were also nice brick homes built on the other four lots to the west. Then in 2004 came Hurricane Ivan.
Now my father had been building on the beach since the early 50's, and he knew how to build things that would survive hurricanes. And that was the case with Ivan.
All the homes along the 300 feet just disappeared, with no trace left. And all the homes on either side of my parent's remaining house also were gone. Only the Sandpiper survived. And it's still there today.
And note that nothing has been built on the other lots in the last 14 years.
---
Thought for the Day:
The good news is that I've made it to my golden years. The bad news is that there ain't no gold.