Daily Archives:
August 10, 2020
First up, a couple of interesting videos.
This one is a video of SpaceX's recent 500 foot test hop of their Starship SN5.
And, yes, it does look like a grain silo. But that's because it's the top of a future 400 foot rocket, minus the nose cone. It will sit atop a Super Heavy Booster and will take 100 people or 120 tons of supplies to the moon or Mars.
This is what it will look like when it's all put together.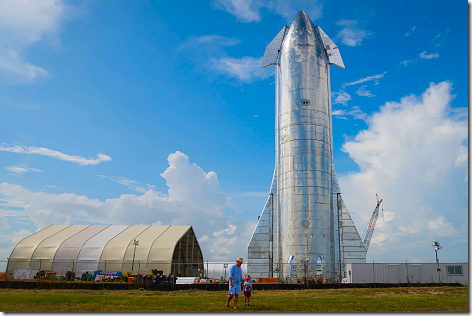 Now that's the way a Starship is supposed to look.
The next flight is supposed to be about 20km or 12 miles up. Soon.
Next up is a really interesting 4K video of the recent explosion in Beirut,Lebanon. The first part is in real-time, the second part is in slow-motion, and the third part is in super slow-motion.
https://www.newsflare.com/video/371810/unseen-footage-shows-moment-of-beirut-explosion-in-4k-slow-motion
Unfortunately the video wouldn't allow me to imbed it into the blog so you'll have to click on the link itself.
The resulting shockwave in slo-mo is devastating. Be sure and read the accompanying text from the guy who shot the video from his apartment balcony.
I mentioned in yesterday's blog how I had started computer programming at the age of 10, albeit one made out of Masonite. And as it turns out Landon's doing pretty much the same.
His 10th birthday is in 10 days and for his big present he asked for this one-on-one Roblox online computer programming class. In case you're wondering, Roblox is an online gaming platform that let's you create and market your own games.
The course will not only teach him how to create and program his own games, but also how to market them.
A Chip Off The Old Block???
In 2010 we were in Massachusetts where Jan was catching up with one of her old high school friends.
---
August 10, 2009
Best Friends and Bears…
Today is our last full day here so we wanted to make the most of it.
After picking up a bolt at the hardware store, we headed back over to Joan's about 3pm.
Jan and Joan have had a great time recalling stories about each other. Here's the two trouble makers themselves.
Joan had said Charlie, a friend of hers, was coming by to take us on the base at Westover.
Jan had a great time finding her way around the base. Some buildings she remembered were still there, but many had been torned down.
After stopping by Walmart again to pick up my prescription, the four of us drove over to Tavern on the Hill for dinner. This restaurant is built on the peak of Mt. Tom in Easthampton, MA and the view is fantastic.
And so was the food!
After saying our goodbye's to Joan and Charlie, we headed back home.
On our way I took some pics of the bear mascot statues in Easthampton.
During our travels, we've seen pelicans in Seabrook, TX, mermaids in Beaufort, SC, moose in Cour d'Alene, ID, and horses in Kentucky.
Here it's bears.
And even a Wanted Poster for a bear that's been 'Bear-napped".
We had a great time catching up with Joan and hope to see her again in a month or so when we come back thru here on our way back from Newfoundland.
Tomorrow morning we head east to Boston.
---
Thought For The Day:
Being a man is not easy. No makeup, no wig. If you're ugly, you're just ugly.
Here in 2013 we're in Athens, AL catching up with some of my many relatives in the area.
---
August 10, 2013
Family Fun . . .
Today started out slow and easy, but quickly got busy.
While Jan was in the shower and I was still asleep, Sonja Morrison called and left a message for Jan. Sonja is Lowell's mother and Landon's other grandmother. Jan called her back so that they could talk about Landon's birthday party on Saturday, August 17th, a couple of days after we get back to Houston. Sonja, and Lendell, her husband, will be in Houston for the party, and she wanted to coordinated with Jan about some things.
We're really looking forward to getting back and seeing everyone next Thursday.
Around noon, my aunt Janis called and invited us next door for homemade fresh peach pie and ice cream. But even better my Uncle Tom and Aunt Lanette were over there too. Due to their busy schedule, we hadn't been able to get together our last two visits here, so we were really glad to see them this year.
My Uncle is probably the only person I know, and certainly the only family member I know, that has his own Wikipedia page here at Tom Calvin, and is also listed on several other pages like here – Oldest Living Pro Football Players, and here – Alabama Football Coaches
Tom was a star fullback for the University of Alabama from 1948 – 1950. and was drafted by the Pittsburgh Steelers in the '51 NFL draft. He turned them down because he didn't like the contract he was offered, and so he took over the Head Coach position at a south Alabama high school, taking them to their first winning season in years.
Here he is at Alabama in 1949.
He even had his own football card.
Months later, he received a personal call from Art Rooney, famous owner of the Steelers, offering him a better contract. This led to him playing 4 years for the Steelers, from '52 to '55, as a star fullback and kick returner.
Finally, after 4 years of hating the bitter cold Pittsburgh winters he returned to Alabama and began a 33 year high school coaching career ending with a 201-130-11 record, making him the winningest high school coach in Alabama history. During that time, he took 3 losing school football programs to Championship status.
And his wife Lanette is no slouch in the sports world either. She's a well-known gymnastics coach who's worked with world-famous coach Béla Károlyi at his Houston facility, and taken teams to several Olympics herself.
Hopefully it won't be another two years before we see them again.
As a sad update, my uncle Tom died at the age of 93 this past January 2020.
While we were over there I finally got the kids to sit still for some photos. My Uncle Ed and Aunt Janis are their grandparents, which makes them my 2nd cousins.
This beautiful young lady is Stahlie. She's a wonderful artist and a budding film-maker who's had several films win prizes in local contests.
And this also-beautiful young lady is Darby. Darby is the family dancer, from Ballet to Swing and Ballroom.
And this handsome young man, who just turned 13, is Luke.
They are all homeschooled, and are smart as whips. Their father, Wes Calvin, owns the RV park here where we're staying.
After getting in all our hugs and hellos, Janis served us her delicious warm homemade peach pie along with ice cream, which cut down on the conversation for a while until everyone got their fill. Hmm, good.
Finally, after several hours of catching up, we all headed home, giving Ed and Janis some peace and quiet.
Later, after some nap time, Jan and I headed out to 306 BBQ, a couple of miles east of town on US 72. We always eat here every visit just for their wonderful pulled pork BBQ.
Tomorrow afternoon we're getting together with a couple of my cousins (my grandmother's sister's daughters. Not sure what that makes them) for a while to catch up with them.
————————————————————————————————————-
Thought for the Day:
"Democracy never lasts long. It soon wastes, exhausts, and murders itself. There never was a democracy that did not commit suicide." – John Adams
And in 2017 we're having our RV's hydraulic cooling fan pump replaced over in Louisiana.

---
August 10, 2017
No News Is . . .
well, no news, I guess. Which is what we heard about our RV repairs today. But I wasn't really expecting anything until later this week anyway.
I like to drive fast.
Jan can attest to that. But not in the RV of course. That's 55 – 60 mph all the way. But on the track, and on west Texas roads, it's another matter.
Back in the day, I raced SCCA in my very souped-up '65 Triumph Spitfire and hit a little over 140 mph on the track. Above that, the front end got a little squirrely. But I did have the pleasure of beating a couple of Vette's when I was running in the Unlimited Class.
And when Jan and I were dating in 1967, I did 'test drive' Jan once, hitting over 130 on a long deserted stretch of Florida four-lane highway. When she didn't scream or faint, I decided she was the one for me. A 'Keeper'
And actually I've been faster than that. In 1966 and 1967 I took both the Basic Road Racing and the Advanced Road Racing Classes at Bob Bondurant's Racing School when it used to be at the Atlanta Raceway in Georgia, to get my SCCA Racing License.
But part of the fun was the final exam, where we got to take a Porsche (or Porsche 'Ah' as Alan says) out on the road track and had to match or beat a specific time during one of three tries. I passed the second time, and was clocked at over 160 on the straights. But with all this background in speed, and still feeling the 'need' now and then, I'm often amazed, and sometimes 'scared' by Houston drivers.
Coming home from Louisiana this past Monday night about 11pm, I'm on I-10 passing through downtown Houston, and doing about 70. Of course the speed limit is 60 mph, and it's been raining, but no one else seems to care. And even driving 70 I'm the slowpoke of the bunch, with people passing me on both sides, sometimes flashing their lights, apparently because I'm in the way and slowing them down. Most were doing 80-85, but I swear that some were bumping up against 100 mph.
Makes me think the Texas State Motto shouldn't be 'Friendship', but maybe it should be 'Punch it, Margaret'.
And on that note, how in the heck is one word a 'motto'? That should be the the Texas State Word, if anything.
I contend that it takes at least two words to make a motto.
'Be Prepared!' Now that's a motto.
---
Thought for the Day:
"Medical stuff is so expensive. Doctors should use cheaper equipment. Like an X-ray machine that takes four poses for a buck."