Daily Archives:
August 31, 2020
Starting November 5th, you can now buy your own, updated C-64.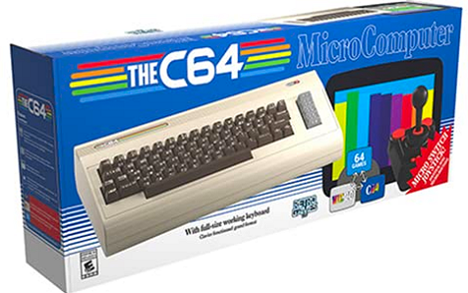 • The games carousel has 64 pre-installed games including classics such as California games, Paradroid and Boulder Dash, with new additions (including Vic20 games and more) available as a release day online firmware update.
• Connect to a 720p TV or monitor via HDMI for a stunning HD experience.
• Save your progress at any time.
• Via USB, add your own games/programs, update the firmware, and connect your own devices.
• Functions like an original C64 or Vic 20 computer, or play any of the included 64 games in the games carousel.
And it's only $129.99.
A really great deal since when the original debuted in 1982, it cost $595.00, about $1600 in today's dollar. But the price quickly dropped to the $200-300 range, or even less, and by the time it was discontinued in 1994, it had sold over 15 million units.
---
As I posted a couple of days ago –
Amazingly, according to recent CDC updated figures, only about 6%, or ~11,000, of the 180,000 or so people who are listed as dying from WuFlu, died only from WuFlu. The remaining 94% all had one or more serious comorbidities. And the average age of the deceased is still between 75 – 80 years old.
The CDC also says that the fatalities in that 94% had an average of 2.6 of the following underlying medical conditions.
Influenza and pneumonia
Respiratory failure
Hypertensive disease
Diabetes
Vascular and unspecified dementia
Cardiac arrest
Heart failure
Renal failure
Intentional and unintentional injury, poisoning and other adverse events
Other medical conditions
---
Thought For The Day:
"It's only when the tide goes out that you learn who's been swimming naked." – Warren Buffet
---
August 31, 2020
It Walks!
Turns out our Drill Rig has feet.
And it just walks from hole to hole.
The last drill rig gate with multiple holes we worked was back in July-August of 2012, our very first year gate guarding, We were following a Marathon-H&P rig for most of the 4 months while we were down in south Texas, and our very last site was a two-holer,
But when they got ready to move to the next hole, about 25 feet away, it was a 2-3 day process. And we got those days off.
With pay.
Just as with rigging up and rigging down, we don't do any logging with the moving either.
As far as the procedure, like here the rig was built up on large flat metal plates, and when they got ready to move the rig, they first oiled up the plates to make them slippery. Then they brought in two big 100 ton cranes and positioned them side by side in the direction they wanted to move the rig.
Then, with the cranes pulling, they slowly moved the rig over the new hole, steering the 100+ ton rig by the cranes tugging more on one side than the other.
But on this Nabors rig, there are hydraulic pistons in the 4 pillars that support the rig and they just walk it into place, steering it with a joystick, I've seen photos of walking rigs online, but they all had their 'feet out to the sides of the rig and you could see them walking. But with this rig, it's all internal.
What I'm not clear on is how the rig actually moves. And nobody I've asked seems to know. I mean, the pistons lift the rig, but what propels it in any certain direction. I can think of several ways, but I'll find out for sure and let you know.
Anyway, with this setup they can move the rig between the 3 holes in just a few hours.
And we don't get any time off.
I mentioned before about the sucky Verizon Internet here, but it turns out it's only 3G part that's sucky. 4G is fine, with 8-10 Mbps down, and around 1Mbps up.
I noticed that when I did something datawise on my Galaxy S5 phone, it moved right along. But anything through our Verizon AirCard (circa 2007) pretty much ground to a halt.
The reason I'm still using a 9 year old 3G AirCard is that it's grandfathered in with unlimited data. With all the Internet stuff I do, I use 25 to 30 GB a month. And that's not streaming any movies, or the like.
And if I upgrade to a 4G MiFi, I lose my unlimited data. I keep hearing about people getting special upgrade deals at RV shows or other places, but they never seem to apply to me. But I'll keep looking.
I mentioned last night about the loss of Guide data that I was getting on my DirecTV system, and how I was going to swap out my new 'dumpster diving acquired' Winegard dome with my old original one that I've had since 2010.
I figured that the problem was either with my DirecTV HD receiver, or something on their end not sending the guide data, but I was going to swap out my dome and then my cables to eliminate them before I called DirecTV.
But I may have been wrong.
When I changed out domes early this morning the problem went away, and has stayed away for almost 24 hours. I'll wait another day or so and then swap them back. And if the problem reappears I'll know for sure.
And if the dome IS the problem, I'm even more confused about what's happening. The data stream coming down from the satellite is just 1's and 0's, with the guide info riding on a subcarrier along with the video information, If the receiver gets the video, it should get the guide data also. And the satellite dome shouldn't be able to strip it out. It just doesn't work that way.
And the other thing is that the guide data loss is intermittent, with the problem coming and going, because it does get data sometimes, otherwise it wouldn't work at all.
Of course, in the back of my mind, there's always the thought that this problem was why the dome ended up being dumpster-dumped in the first place. But then why did it work fine for several months before the problem reappeared.
Just another question to keep me wondering.
Today was Blue Moon BBQ day, our first visit, and it won't be our last. And even better, it's only about a quarter mile back up the road.
Jan got their Stuffed Potato, filled with chopped brisket, sauce, and covered in cheese.
She said it was really good and she'll have it again next time.
I went with a combo of their Cowboy Cornbread and the Bean Pot beans.
The Cowboy Cornbread has chopped brisket, tomatoes, chilies, and onions mixed into the batter, and then it's all baked in a cast iron skillet, and then covered in cheese. And what you end up with is almost more fixin's than you do cornbread.
And it's delicious.
The Bean Pot is about half and half beans and brisket, mixed with their BBQ sauce and then covered in cheese. I'm sensing a theme here.
I really like their BBQ sauce, very tasty and it's very hot. Even hotter than Famous Dave's Devil Spit, or Rudy's Hot Sauce.
We'll be going back very soon, in fact probably this Saturday. Because Saturday is the only day that they have Hotshots. Hotshots are large fresh jalapenos, stuffed with 3 cheeses and chopped brisket, then wrapped in bacon and cooked on the pit.
Really looking forward to Saturday now.
---
Thought for the Day:
There's always one more idiot than you counted on.