Daily Archives:
August 19, 2020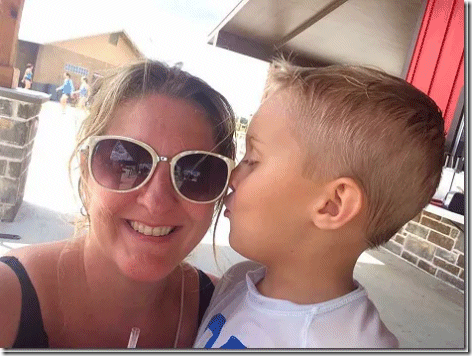 First masks were not needed. Then they were.
Then they said WuFlu survivors should donate blood plasma to give immunity to others.
Well, now some clinic trials say that it doesn't work.
And of course other trials say that it does work.
Now what other treatment do some trials say it works and some trials say it doesn't?
Can you say HCQ. I knew you could.
Why has Uganda, with a population of 43 million people, has only had 1603 CoVid cases and only 5 deaths.
That's right. 5 deaths out of a population of 43 million.
And why you might ask?
This is why:
Uganda is afflicted with malaria, a disease caused by parasites that enter the body through the bite of a mosquito.
Malaria is common in Africa. In 2012, Uganda had the 6th highest annual deaths from Malaria in Africa.
And what do they use to treat malaria?
Can you say HCQ. I knew you could.
Pretty much the entire country of Uganda is on daily HCQ.
Landon . . .
---
August 19, 2013
A Day with Landon . . .
Today was our chance to spend the day with Landon, and his other grandparents, Sonja and Lendell, so about 10am we headed back over to Brandi's to meet up with them.
But our first stop was at the Kroger's near her house to fill up the truck with gas. At $3.33 it was the cheapest around, and with my $.30 a gallon Rewards Card discount, $3.03 was a great price.
Getting to Brandi's and meeting up with Sonja, Lendell, and Landon, we decided to take their Ford Escape since Landon's car seat was already installed in it. Our first destination was Sandy McGee's in Richmond, about 10 miles south.
Jan and I have been eating at Sandy McGee's for over 20 years. Back in the 1990's Jan worked here in Richmond/Rosenberg for about 8 years at what was then Polly Ryon Hospital. She and her coworkers ate here regularly, and when I was in the area we would always eat here too.
Their menu consists of delicious sandwiches, salads, and soups. Nothing is plain jane. There's some extra special touch to every item. They are known for their great fresh fruit salads, all year long.
But what they are most widely known for is their Broccoli-Cheese Soup. To me the texture is more of a bisque, but whatever you call it, it's delicious.
When I get the sandwich, fruit salad, cup of soup combo, I always upgrade the cup to a bowl. It's that good.
We were happy to see that Sonja and Lendell liked the place as much as we do, and Landon went through his 1/2 grilled cheese sandwich and fresh fruit like a buzz saw.
Our next stop was supposed to be Katy Mills Mall, back up north on I-10, but it got delayed. Since Landon had eaten so well, and it was now really his nap time, he felt asleep just a few minutes after we got back in the car. So we decided to just drive around until he woke up.
So an hour and a half later we were at the Mall (the kid's a really good napper). They have a great kid's play area that Landon really loves. So while Jan and Sonja supervised Landon, Lendell and I walked down to the Food Court to people-watch and have a smoothie.
After about an hour Landon was ready for his second treat, a train ride. The Mall had this really cute train that runs all around the Mall. No tracks, just battery power.
After Landon and Jan had done the Casey Jones thing (without the big crash at the end) we all headed over to Books-A-Million for some light browsing. Jan was looking for some more books to read during our upcoming gate guarding sabbatical. Last year she read 84 books in 4 months, so she wants to be sure she doesn't run out.
Wrapping things up at the Mall, we all headed back over to Brandi's to drop off Sonja, Lendell, and Landon, and say our goodbyes. They're leaving for home in Oklahoma this evening, but we'll see Landon again Wednesday night when we get together with Brandi, Lowell, and Landon for one last time until November.
On our way home we stopped off at Kroger's again, but this time for some of their Private Selection brand coffee. It's one of our favorite, but there's no Kroger's where we'll be gate guarding so we wanted to stock up.
We got back to the rig a little after 6pm. Tomorrow we're going down to the Clear Lake area to take care of some errands, and eat lunch at Monterey's Little Mexico for some of their delicious Chicken Tortilla Soup.
————————————————————————————————————
Thought for the Day:
"Freedom is never more than one generation away from extinction.
We didn't pass it to our children in the bloodstream.
It must be fought for, protected, and handed on for them to do the same,
or one day we will spend our sunset years telling our children
and our children's children what it was once like in the United States where men were free." – President Ronald Reagan
Gators . . .
---
August 19, 2014
We're Gonna Need A Bigger Boat . . .
With no trip down to Webster today, it was another day to take it easy and goof off. Pretty much too hot to do anything outside, although it was actually a little cooler today. Only 98, rather than yesterday's 101. Every little bit helps, I guess.
A little before 5pm we lost shore power. When it didn't come back on in a few minutes, I went out and checked the power pedestal. I took my 3 light tester with me and plugged it into the 20amp socket.
No power. And cycling the breaker didn't help. Nor did resetting the GFI button
While I'm standing there thinking, I hear something familiar. The outside AC unit is running at the bath house on the other side of the rig. So the power's not out at the park
Going back to the pedestal, I took another look at the breakers. I had kind of concentrated on the 20amp power and hadn't cycled the 50amp breaker. It looked OK but when I touched it to flip it, it dropped into the middle position showing it had really blown. So I cycled it and the power came back on.
So I had been misled by a faulty 20 breaker or socket. But the other thing I noticed was that the 50 amp breaker was almost too hot to touch, an indication that either the breaker has a problem, or the connections inside are bad. I'll have to keep an eye on it.
Since I'm from Alabama, and we were recently there for a couple of weeks, I was interested to see this story about this record-sized alligator caught near Camden, AL
One thing that surprised me is that Camden, although near the Alabama River, is about 100 miles from the coast, and even further in 'river' miles. That's a long way for a gator to swim, especially one this big
This big boy measured out at 15 feet long, and when they tried to weigh it, it broke the winch. Finally using a backhoe, they weighed it out at 1,011.5 pounds.
And it looks very possible that this might be a new world record. A couple of months ago, the Safari Club International declared a 14 foot 8 inch gator caught in 2007 and weighing 880 pounds as a new world record. Sounds like this one has it beat.
The other thing surprising about this is that the boat that they used to capture this gator was only 17 feet long. According to the article, they several times found themselves being dragged around, towed up and down the river by the gator.
To paraphrase 'Jaws', "I'd want a bigger boat."
Tomorrow Jan and I have our trip down to Webster for Jan's breast cancer check up.
__________________________________________________________________
Thought for the Day:
If you can't fix it with a hammer, you've got an electrical problem.
And A/C's . . .
---
August 19, 2015
A Good Excuse . . .
I started on my new AC installation project first calling the office to see if by any chance they had a tractor with a front loader on it that I could use to lift the unit up, but no luck with that.
Then I dragged the box from the back seat of the truck and over to the patio. I had already popped the straps and removed the top last night so I could get the instruction booklets out.
There is a small wood pallet underneath the box that I figured was bolted to the bottom of the AC and that I could use to lift the whole thing up on the roof. But as it turned out, everything was just stacked together and held in place by the two straps that I had already cut off to get to the manuals.
Foraging ahead I unboxed everything and turned the unit on its side to check out the control box and how it was wired up.
That's when I found there was no control box. So then I went round and round with a guy from PPL who said the control box was in the outside unit. I said "No, it's not. All I have in the outside unit is a foot long cable with a nine pin connector on it."
Then he said that then it must in the inside unit. I told him it wasn't, and that my inside unit had no controls of any kind on it, since it was for a ducted system with an external thermostat. Like this.
Finally giving up, I called Coleman, and after I finally got through to somebody, (apparently they're not really geared to working with the retail consumer) we figured out what the problem was.
Normally the control box is part of the inside unit and ties in with the controls on the cover. But since I was using an external thermostat, there were no controls there, and I would need to purchase a separate control box. Which looked like this.
ROAD TRIP!
By now it was 2:30 and we'd have to hustle to get into Houston and PPL before the rush hour hit. So by 2:45 we were on our way in.
PPL's 75 miles away, but good part of the distance has a 75 MPH speed limit, so we were there a few minutes after 4pm and back on our way about 4:20. But that 20 minutes was just enough for the going-home travel to sock in. and it was now bumper-to-bumper on the Beltway.
It ended up taking us almost as long to make the 30 mile trip back to Brandi's as it did to make the 75 mile trip in to PPL. We had an Amazon package delivered there today, and we wanted to see if they wanted to have dinner with us, but they already had other plans. Jan had already said that our surprise trip into Houston was a good excuse to have dinner at Torchy's Tacos, so that's where we headed.
Torchy's has about a dozen restaurants around the state, and it's not your average taco place. They've got tacos with Blackened Salmon, Seared Ahi Tuna, Fried Chicken, Grilled Portobello Mushrooms, and Fried Avocado. And more. You can check out their menu here: Torchy's Menu
Jan got the Brushfire Taco, which has Jamaican jerk chicken, grilled jalapeños,
mango, sour cream & cilantro, and is served with Diablo sauce on a flour tortilla, along with a Baja Shrimp Taco, which has hand-battered fried shrimp with cooked
cabbage slaw topped with pickled jalapeños & onions, queso fresco, cilantro & a wedge of lime.
I got the Green Chile Pork Taco, which has slow-roasted pork carnitas with green chiles and topped with queso fresco, cilantro, onions, & a wedge of lime, as well as a Grilled Jalapeño Sausage Taco, with shredded cheese & pico de gallo, served with Poblano Sauce and on a flour tortilla.
All really good, and a great place to eat.
We were back on the road about 6:30, getting home about 7:30, after another busy day.
So how do I get it up on the roof?
__________________________________________________________
Thought for the Day:
"It is useless to attempt to reason a man out of a thing he was never reasoned into" –Jonathan Swift