Well, It Started Off Nice . . .
Though not quite as nice as yesterday morning's 72°, this morning's 80, with a cool breeze, was still really comfortable to sit outside with our coffee.
Later, back inside, Jan and I started looking at other shows we want to see in Branson this December. I set up a spreadsheet laid out by day and time, putting in things that we've already have scheduled, which showed us where openings were.
Then we went through a list of shows on our December dates, noting ones we wanted to see. Next, checking those shows/times against openings in our schedule, we came up with 9 additional shows/attractions that we wanted to see and that fit into our schedule.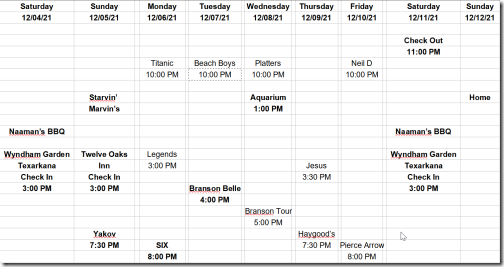 Everything in BOLD is already scheduled/booked, and the non-bold are the ones we added this morning. Now I'll started booking them, BOLDing each one as I go.
Note we've still got a lot of open times for the important things like goofing off and shopping.
About 1pm we headed up toward Webster to have lunch once again at Jan's favorite, Twin Peaks. Then it was over to the other side of I-45 to Costco.
Our first stop was to get gas there before doing some shopping, but it didn't quite work out that way. When I tried to start the Jeep, all I got was a 'click.'
My first thought of course, was the battery, so I got out my Tacklife Jump Starter to give it a jump.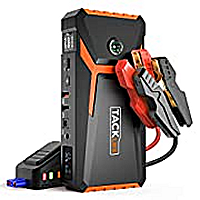 I was happy to see that it was still holding 100% charge since I last used it about 8 months ago. But it didn't do anything. In fact it didn't show that the starter was pulling any current from the battery at all. And checking that with my voltmeter, it showed 12.6VDC on the battery, and no drop at all when I tried to start it.
So now I'm thinking solenoid/starter. Which means I'm on the phone to Good Sam Roadside Assistance for a tow. And Rick, the tow truck driver, showed up about 30 minutes later. Not bad.
Agreeing with my starter/solenoid diagnosis, he crawled under the Jeep and banged on the starter while I tried to start it. Again no luck.
So while he was winching the Jeep up on his flatbed,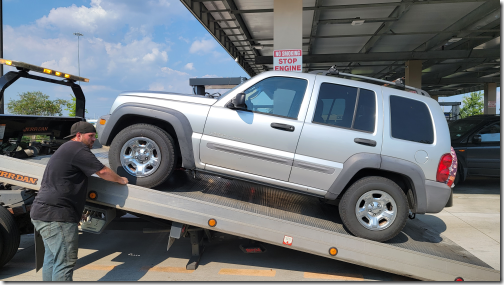 I got on the phone to my mechanic to let him know that my Jeep was on the way, since they would be closed by the time the Jeep showed up.
And since the tow truck could only hold one of us, we decide to let Rick drop off the Jeep by himself and take an Uber home.
So as we waved goodbye to our Jeep,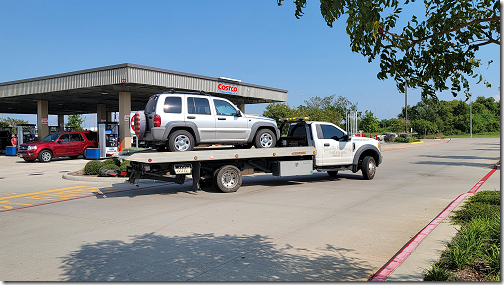 Jan and I walked across the parking to do our Costco shopping. I mean, we were already there, right? Then once we were done I used the Uber app on my phone, and 8 minutes later, our driver, Samir, showed up and we were on our way home.
I think this is the first time we've used Uber since our Christmas visit to NYC in 2019. And before that, we Ubered all over Europe, Austria, Germany, Amsterdam, Paris, and London. Everywhere except Budapest, Hungry.
Uber/Lyft are not allowed there. We were told that the Mob controls the taxi business there, and in fact, we're were warned about getting taxis from certain areas due to the possibility of being held hostage until you paid them exorbitant sums for your ride.
As soon as we were back at the rig, Jan and I got in our Dodge Dakota truck to go down to the mechanics to pick up some stuff from the Jeep and leave Joe a note about the problem.
Hopefully, Joe will be able to get it fixed tomorrow, but if not we've still got Smokey the Truck as a backup ride.
Well, it started out nice.

---
Thought For The Day:
When people suck the life out of you, it would be nice if they would take some fat, too.