Daily Archives:
January 11, 2022
For lunch we got Pho Barr'd once again, but with something a little different this time.
Instead of our usual Grilled Pork Spring Rolls for an appetizer,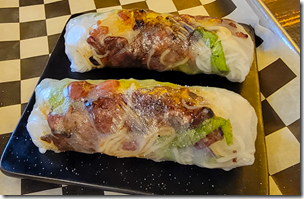 we got a Grilled Pork Banh Mi, which is a Vietnamese sandwich on a French baguette with Grilled Pork, House Special Mayo, Cucumbers, Pickled Carrots, Jalapenos, and Cilantro.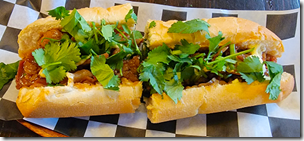 Very good, so it's going to be hard to decide between them next time.
While we were there we asked about the progress on the new Pho Barr down in our area. And as I had suspected, the holdup seems to be getting the necessary inspections. We heard the same thing from Theresa, the owner of our favorite Cowboy Coffee. She said it took forever to get the city and county inspectors to come out, sometimes just sitting waiting for weeks. They seem to work on their schedule, not the citizen's.
Your tax dollars at work.
Next up was a haircut, which turned out to be a little shorter than I had planned. But it will grow back. Maybe.
Finishing up was a stop at Krogers for some things that our son Chris wanted. There is no Krogers in their area and there are some things that they carry that Chris and Linda really like.
Unlike pretty much every cat we've ever had, Karma has never been a 'box' cat. She did look in one once, but that was about it.
However the other day she did get box-adjacent. She came over and, after checking things out, laid down on the open lid.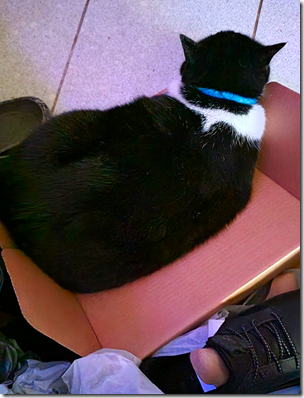 And she must have liked it, since she came back a couple of more times.
Maybe she'll end up being a box cat after all.
---
Thought For The Day:
"Think of how stupid the average person is, and realize half of them are stupider than that."
— George Carlin
   .