Daily Archives:
January 13, 2022
Jan and I were on our way up to the TGI Friday's in Almeda area to meet up with some of our old Alvin Opry friends for lunch.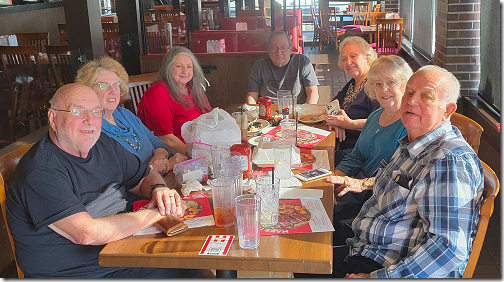 Bob and Maria, the couple at the far end of the table and on the right, had been our friends since the mid-80's, and the others since the late 90's. So long-time friends.
We try to get together every month, and we're already scheduled for February.
Jan and I both got versions of the Classic Combo Platter, with wings, potato skins, and Mozzarella sticks. Plus I added a side of Pork Pot-Stickers.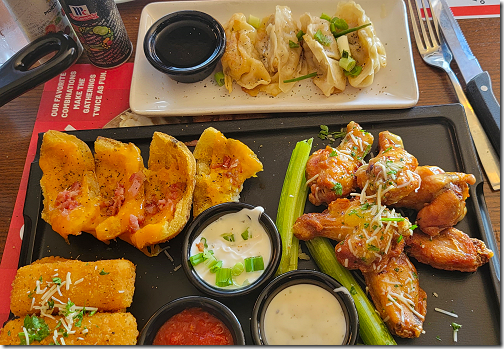 And we both had about half to bring home.
While we were eating I got a call from our daughter Brandi asking if I had heard the news. When I asked, "What news?" She said that they had heard from our motel in Kingsland that they had lost their water heater, so they would be closed this weekend.
I guess they heard first since they had booked directly while we booked through Booking.com. So I called the motel myself to confirm and was told that if the part came in tomorrow, they would be open this weekend. But he said don't count on it, and he would recommend I cancel.
So I thanked him for his honesty and used the Booking.com app on my phone to cancel our reservation. Normally I would have had to pay the entire fee, but since it wasn't my fault, that was waived.
Then we started scramblin' to find new bookings, and ended up at the Motel 6 in Marble Falls, a place we've stayed before.
So we'll be on our way by about 8:30 tomorrow morning, heading for Marble Falls now, instead of Kingsland.
I mentioned in yesterday's blog that Karma has never been a box cat, pretty much just ignoring them. But for the first time she at least got box-adjacent, laying on the open lid.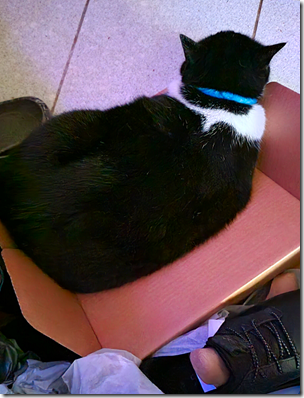 But maybe the problem was that she just never found the right box, until now.
When we looked around this evening, she had parked herself in the box itself and seemed very comfortable.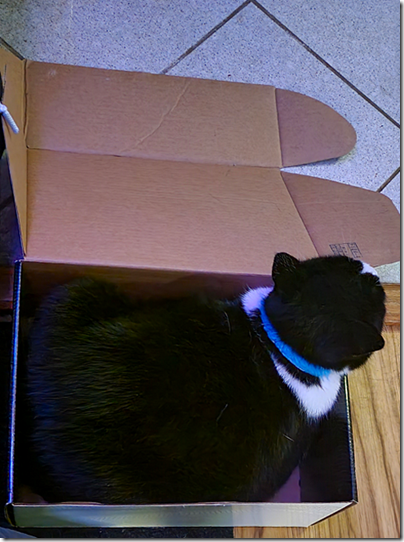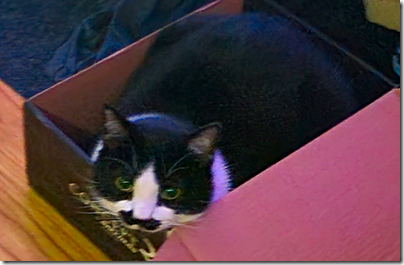 So it might be that she's a box cat after all.
---
Thought For The Day:
They say it is better to be poor and happy than rich and miserable, but how about a compromise like moderately rich and just moody? – Princess Diana
.