Daily Archives:
January 25, 2022
As I mentioned in yesterday's blog, today was my chance to check out Arby's new Diablo Dare sandwich, the
Beef Brisket version to be exact. But it was not to be.
First off, our Clear Lake Arby's isn't doing dine-in, just drive-thru. And in fact, a little checking shows that none of the dozen or so Arby's in the Houston area have open dining rooms either. So curious, I checked other Arby's around the country and found that only about 10% of their country-wide locations have open dining rooms.
And it seems that Inspire Brands, who owns Arby's, Sonic, and Jimmy John's, closed the dining rooms in all of their corporate locations back in March 2020, and haven't reopened them yet. I would imagine the open locations are franchisee's and set their own rules.
But we could have handled using the drive-thru. What put the kibosh on the whole meal was that this location is not carrying the Diablo Dare sandwiches. Not at all.
Bummer!
However I did call another location nearby in Friendswood-Pearland area, and found that through their dining room isn't open either, they do sell the Diablo sandwiches. So that's on the schedule for this weekend.
Can't wait too much longer since it's only on sale until Feb. 6th.
But since I was still jonsin' for something hot, so we drove back over to The Cookshack for their chicken tenders, mine Texas Hot, with Waffles.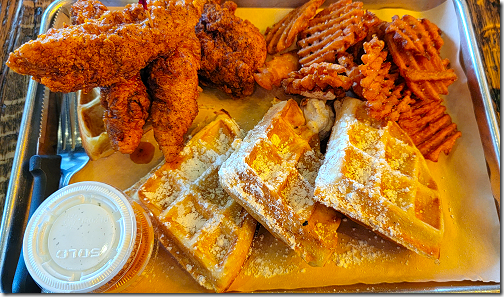 Delicious! And a lot left over to bring home.
Once again Amazon showed up the Post Office today.
I ordered some more Zinc tablets from Amazon at 11:51am this morning. I got an email saying it was shipped at 12:19pm, and it showed up at the rig at 3:10pm.
Very nice.
But the PO had a problem getting another order delivered here to the RV Park. Or rather they delivered it to the park mailbox, at least according to the tracking, which said they left it in one of the package lockers.
The only problem was that they apparently forgot to leave the locker key in our mailbox, so I can't get to it. So I'll have to call the local PO tomorrow.
We were supposed to get together last Tuesday with long-time friends Debi & Ed Hurlburt, and Janice & Dave Evans at the Olive Garden up in Spring, but with Jan under the weather, we postponed it. But it's back on for this coming Thursday.
Looking forward to seeing everyone.
Finishing up, Jan and I decided what we wanted to do for Valentine's Day, so I made reservations at the Saltgrass Steakhouse down in Galveston, one of our favorites. And doing it this early we had no problem getting the time we wanted, as well as a window table.
---
Thought For The Day:

If a woman says, "do what you want", do not do what you want. Stand still, don't blink, don't answer, don't even breathe. Just play dead.
.