Daily Archives:
January 20, 2022
Yesterday afternoon I noticed that the CR2 battery in our Switchbot coffeemaker controller was just about dead. So after I found I didn't have another one, I went on Amazon a few minutes before 5pm to order some more.
I found a 4 pack and found it would be delivered between 5 and 10 that evening. And the order showed up at 8:15.
Very nice.
On the other hand, the United States Post Office can't quite keep up.
Last Monday, the 10th, I put a birthday card in the mail to a old friend in south Alabama, thinking there would be no problem with her getting it by her birthday on Friday, the 14th.
Nope. Didn't happened.
It finally showed up yesterday on Wednesday the 19th.
Great Job, PO!
Maybe you should let Amazon deliver the mail.
---
Now back to last weekend's family get-together up in Kingsland.
Saturday morning we all (except for Piper and Derek who hadn't arrived yet) together for breakfast at the Dam Grille. The Dam Grille is right down the road from the Dam Pub, the Dam Barber Shop, and the Dam Hardware Store.
If you're sensing a pattern here, it's because all of these places are located near Buchanan Dam.
We've eaten here before and it's always good. And this morning was no exception.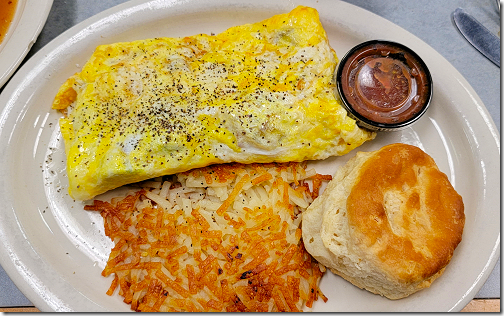 I had a 3 egg omelet while Jan got a scrambled egg plate. And we ordered a stack of their Caramel Pecan Pancakes to share around the table.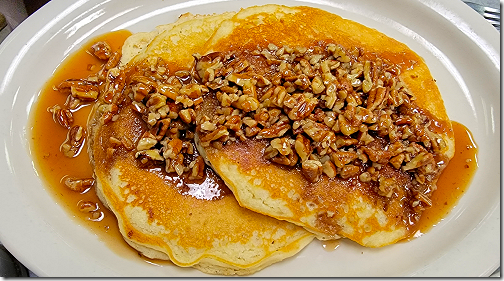 Heading back to Chris' we stopped off to watch the waves on Inks Lake. With the front coming through we were getting wind gusts in the 60'sl, and not just whitecaps, but waves crashing onto the beach.
Back at Chris' we watched Chris and Landon play with Landon's Occulus VR glasses.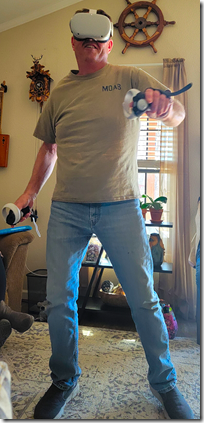 They were having a lot of fun, but it was really entertaining to watch them dancing around, waving their arms in the air.
Later, after Piper and Derek showed up, we headed out for dinner at the Boat Town Burger Bar.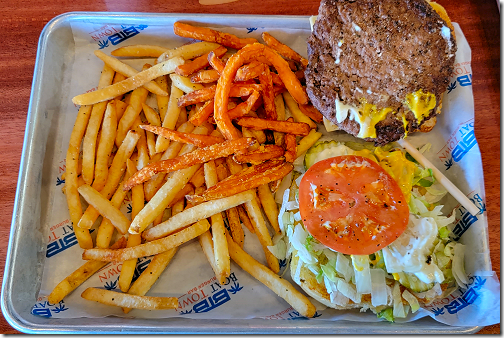 Really, really good burgers.
---
Thought For The Day:

Never sing in the shower. Singing leads to dancing, dancing leads to slipping and slipping leads to paramedics seeing you naked. So remember don't sing.
.