Daily Archives:
January 22, 2022
For the first time in over a year we had lunch at Whataburger and it was as delicious as we remembered. Our first burgers in a good while.
We need to not wait so long again.
After that Jan got her hair cut, and then we made an HEB stop right next door for a few things before heading home.
We've had a real cold snap for the last week or so, with some highs in the 40's and lows in the 30's, though today it did make up up to the low 50's. And the cold weather looks to continue for at least the next week.
A number of our readers have wondered about what happening with our rig's oil leak repairs.
Well, not much. In fact we've pretty much decided that our rig is now a 'Parked' Model. Note not a 'Park' Model, but a 'Parked' one.
Our rig will be 23 years old this coming March, with almost 200,000 miles on it. It's been a real workhorse, and has taken us on a lot of fantastic adventures. But it's time to put this workhorse out to pasture.
The last time we traveled in it was March 2019 right before our month in Europe when we made the trip up to Kingsland for another family get-together.
But in running the numbers, it just doesn't make sense to put anymore time or money in to a 23 year old rig.
As far as the oil leak, the oil cooler itself is next likely culprit. It's pretty much the only thing left. And replacement estimates from repair shops run in the $3000-$3500 range.
In addition the rig's tires are now 7 years old, so at the end of their lifespan. So another $3000-$3500 for new tires.
That means we're looking at $6000-$7000 to get it back on the road.
Now it may be that when my back improves some more, I'll replace the oil filter and adapter again so that it will at least run, but it's very up in the air.
We've been here for over 4 years now, and see no reason to move anywhere else.
We pay $430 a month, which includes water and really good WiFi, and electricity runs us between $75 and $120 depending on the time of the year. So at the highest we certainly can't get an apartment for $550 a month.
So we're here to stay, at least for the foreseeable future.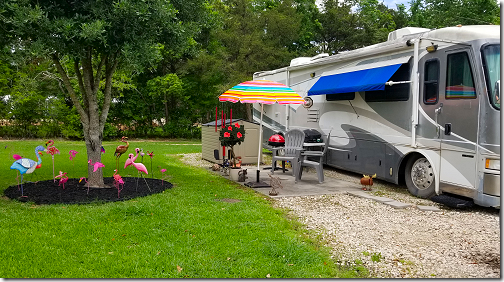 A really nice place to call home.
---
Thought For The Day:

It is so easy to be wise. Just think about something stupid to say and then don't say it.
.