Monthly Archives:
January 2022
Today was finally my chance to check out Arby's new Diablo Dare Brisket Sandwich, and we had to travel all the way over to the Arby's in Pearland to try it. Turns out that our Clear Lake location wasn't serving either of the Dare sandwiches, the chicken version or the brisket one.
The sandwich comes with a small snack-sized shake, Jamocha for me, supposedly to cool off your mouth from the heat. But in my case it wasn't really needed.
They say the limited-time sandwiches, on sale until Feb. 6th come with five sources of heat: ghost pepper jack cheese, fiery hot seasoning, fire-roasted jalapenos and Diablo BBQ sauce, served on a red chipotle bun.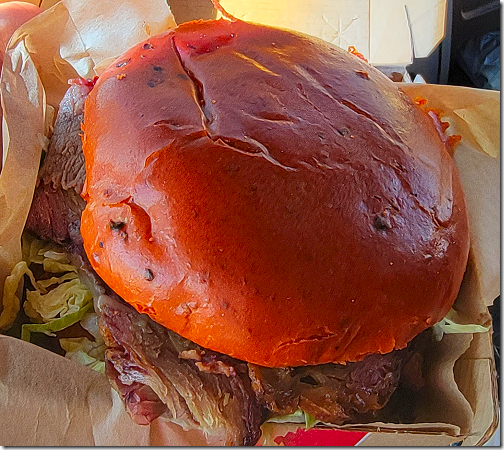 Since their dining room wasn't open, we had to eat in the Jeep, which meant I had to hold the sandwich in one hand and photograph it with the other.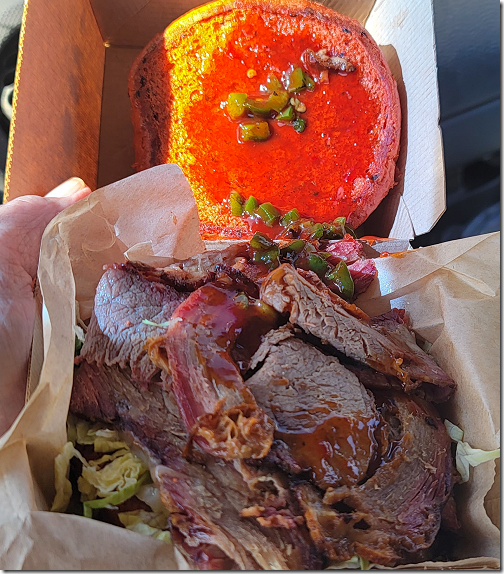 My first thought was that the brisket really looked good. And it was.
In fact it was very, very good. And like the ads, it was the hottest sandwich I've ever from a restaurant.
Hotter in fact than the 'spicy' sandwiches from McDonald's, Wendy's, or Popeye's.
But relatively speaking, it didn't rank very high on my heat meter. More like somewhere around the middle, maybe.
For example it wasn't as hot as the Texas Hot Chicken Tenders I had last Tuesday at The Cookshack in Webster. And of course no where their AMF Level I and Level II I had there back in September. Those you have to sign a waiver for.
But in Arby's case, I wish that the Dare sandwiches were on their standard menu. If they were, we might go back more often.
In fact, we still might, just to have their brisket again, which IS on their standard menu, and was really good all by itself.
Give it a try, but don't dawdle. They go away a week from tomorrow.
Coming back over to Clear Lake, we stopped off at Kroger's to pick up a couple of prescriptions. I mentioned that last June we had moved all of our prescriptions over to Kroger's Prescription Plan from WalMart and Sam's. And it's saved us a lot of money.
According to their website, my Kroger's plan, which works through GoodRX has save us over $3400 based on the regular drug price. And according to my records, they've saved us over $600 from our WalMart/Sam's costs.
Nice.
---
Thought For The Day:
If your wife tells you that you're right, that's called sarcasm.
   .
Tomorrow I'm going to try to take the Arby's Diablo Dare once again, this time at the location over in Pearland. I've already called ahead to confirm that they do have it available, through they're also drive-thru only just like the Webster location.
We'll see how it goes.
---
Thought I'd repost our ferry trip over to Newfoundland back in 2009.
September 4, 2009
Today was our last day in Louisbourg for a while.
Tonight at 11:00 pm we catch the car ferry for the 15 hour, 325 mile trip to Argentia, Newfoundland.
However, unlike some RV'ers, we're not taking our coach over. Jan said "No way I'm putting my home on a ferry. Those things can sink. I've seen it on the news."
So we're leaving the rig in Louisbourg and taking the truck on the ferry, and we'll stay at B&B/motels for the 3-4 days we're in Newfoundland.
We went out for breakfast about 10 am and ended up sitting next to another RVing couple from VA. Gene and Chris had just spent two months in Newfoundland and gave us a lot of good tips. Hopefully we'll meet up again sometime. Nice people!
About 3 pm we left for North Sydney, Nova Scotia, where the ferry dock is.
We wanted to drive around the area, do some last minute shopping, get gas, and then eat supper before we boarded.
Although we didn't sail until 11 pm, we had to be checked in and in line by 9:30, or we would lose our reservations. And, after taking care of all our chores, we ended up getting in line about 7:30, along with a lot of other people who were already there.
They board all the commercial stuff first and then the cars. We finally started moving onboard about 10 pm
After entering the ship on Deck 1, we drove up a ramp and parked on Deck 3.
By about 10:30 pm we were up on the passenger decks with our stuff. You have to bring everything with you that you'll need for the trip from your vehicle because you're not allowed to go back to it during the voyage.
We had reserved two seats in the sleeping area that reclined and had footrests. It turns out to have been a mistake because they were very uncomfortable. We would have been better off to have just stayed in the regular seating area. Those seats also reclined, but didn't have footrests. But they were much more comfortable.
After grabbing a late night muffin snack in the cafeteria, we settled in for the night.
More road trip tomorrow…
---
Thought For The Day:
If I ever ask "Do you want me to be honest?" SAY NO.
Honestly, SAY NO!
.