Turkey Hats and Surprised Chickens . . .
One thing nice about Petticoat Junction RV Park where we've been for almost 3 years is that the owner, Rob, is always making improvements.
As sites go empty, he's been expanding them to a full concrete pad. Not just a gravel pad and a concrete patio.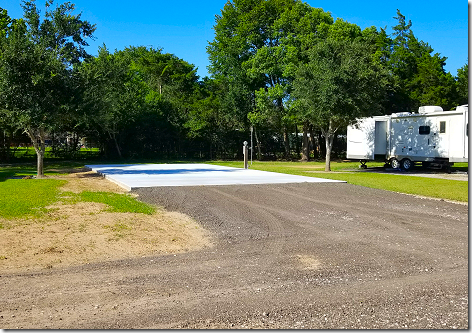 And now we're getting locking mailboxes in the few weeks.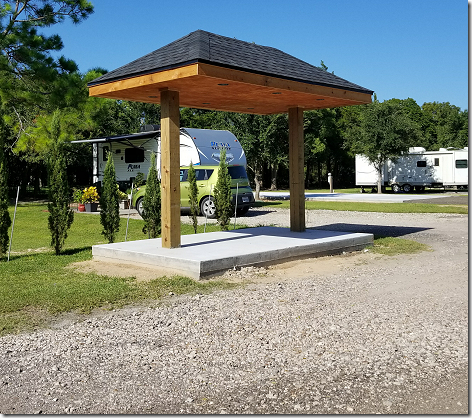 It will be nice to have a real address here.
Here in 2009 we were in Plymouth, MA working our way out to Newfoundland.
---
August 13, 2009
America's Hometown…
Today was our day to tour Plymouth, which calls itself "America's Hometown", which I guess is true since it was America's first town.
After making the 40 mile trip, we first decided to have breakfast at the All American Diner in downtown Plymouth, and it was excellent!
Leaving the diner we drove down and parked along the waterfront.
The first thing we came upon was the Plymouth Rock monument.
It's amazing to stand over the Rock and imagine almost 400 years ago the Pilgrims landing here.
Next we walked a few blocks away to the where the Mayflower II is docked. Built in England in 1956 from the original plans, it made the voyage to America in 1957 and was given to the Plimouth Plantation group for display here.
And then of course we had to hit the gift shops. Here's Jan modeling the latest in holiday attire.
Heading home we stopped off at Target for more 'stuff' and then made the drive home.
The park we're staying in is really nice, probably the nicest one we've ever stayed in.
And the landscaping and flowers are really something.
Today is our last full day in Massachusetts. Tomorrow we head north to Saint Johnsburg, VT for a few days at Moose River Lodge.
As it stands now we should be in Nova Scotia within the next two weeks. We'll see.
---
Thought For The Day: Courtesy of our friend Butch Williams
Only The Strong Survive . . . Recess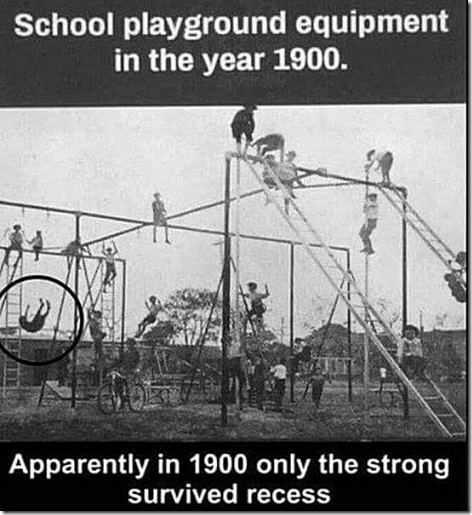 I had seen this photo posted online before, but until it was circled, I never noticed the kid on the left plummeting to the ground.
OUCH!
And in 2011 we were still up in Vandalia IL for a family reunion.
---
August 13, 2011
Pistols and Potato Salad . . .
Breakfast again started out at Robbi's Restaurant about 9 and once again ended up with trips to Rural King and Wal-Mart before headed down to Debbie's for the day.
We mostly just took it easy enjoying the great company and talking, talking, talking.
Gwen, Tana's daughter spent the day again, and was really good helping out and keeping tabs on Landon.
She's cute as a button and smart as a whip, a deadly combination when the boys start hanging around in a few years.
Later in the afternoon Lowell, Brandi, Tina, Tana, Jim, and I went down to his target practice area and fired a couple of his pistols for a while. We punched a lot of holes in the targets and everyone had a good time.
Around 6 pm we headed out to the fire pit to roast hot dogs over the flames, to have along with a big batch of Debbie's potato salad.
Landon made himself right at home,
even kicking back and taking it easy.
In fact everyone did.
We had planned to roast marshmallows, but by the time we were finished with the hot dogs, the thunder, lightning, and then rain moved in, so we all moved inside.
After a long, fun day, Jan and I headed back to the rig about 8, ready to do it all again tomorrow.
——————————————————————————————————————-
Thought for the Day:
"Biologically speaking, if something bites you, it is more likely to be female." – Desmond Morris
Finally in 2014 we were still down in Gulf Shores, AL on our way back to Houston.
---
August 13, 2014
Like, WOW!
After coffee and cinnamon toast this morning, I finished mounting a voltmeter to keep better track of my house battery voltage, since I've already got one up front that monitors my engine batteries. I was able to just tap into the power bus of the lights overhead so it was pretty easy.
After doing pretty much nothing the rest of the afternoon, we headed out a little after 4pm for dinner at Lulu's at Homeport. But we first made a detour to stop at Tallulah's Treasures, one of Jan's favorite gift shops in this area.
We've been coming here for a lot of years and Jan always finds something there, and today was no exception with a new addition to her octopus collection.
Then it was on up to Lulu's on the Intracoastal Waterway. The 'Lulu' in question, is actually Lucy, as in Lucy Buffett, Jimmy's Buffett's older sister. She's had a restaurant in this area for quite a few years, first on Weeks Bay, and then in its present location since 2004. It's one of our never-miss places when we visit Gulf Shores.
We got there a little before 5pm so we were able to get a table right on the water without a wait. Which wouldn't have been possible 15 minutes later. The place filled up fast.
Jan tried something different this time, the Blackened Shrimp Tacos.
One bite and Jan said, "Like, WOW!". She said it was the best seafood taco she'd ever had, shrimp, fish, or otherwise.
I started out with a cup of Seafood Gumbo, and then went with my tried and true Half and Half Loaf, which is Lulu's version of the a half shrimp, half oyster Po Boy.
But we were careful to save room so we could split an order of their Bread Pudding made from Krispy Kreme Doughnuts.
Can't miss that.
As we were leaving, I saw something I wish we could have for Gate Guarding.
It's a high capacity misting fan, one that would really keep us cool on the gate. Bet it works a lot better than the one we have.
Leaving Lulu's we spent some time just driving around the area, checking out all the places that have changed, and the occasional place that's still the same since I lived here 50 years ago. Finally, after a Wal-Mart stop, we were back at the rig by 7:30.
Tomorrow is our last full day here in Gulf Shores, and the week has sure gone fast. We'll leave here Friday morning, taking two days to make the 600 mile trip back to Houston for Jan's checkup visits and Landon's 4th birthday.
Speaking of Landon, Brandi send this over.
Cute, or what?__________________________________________________________________
Thought for the Day:
I bought a free-range chicken, you know the kind that runs free and gets pampered like a family pet, right up until the day they kill it.
It tasted . . . Surprised.