Big John Can Be Yours. . .
According to the tracking, our new Atwood water heater is here in Houston as of this morning, so I'm hoping it will be delivered by UPS tomorrow morning. That way I'll have the long Labor Day Weekend to get it installed.
Jan and I headed out a little after 1pm to have lunch at The Catch up in the Almeda area. And as we passed the Monterey's in Dickinson, they had a new banner up saying they were now training people and to check back next week. Getting close.
It's about time. It's only been 4 years since Hurricane Harvey flooded it out.
At the restaurant both of us had our usual, the Grilled/Blackened Catfish with 4 Shrimp and Grilled Green Beans.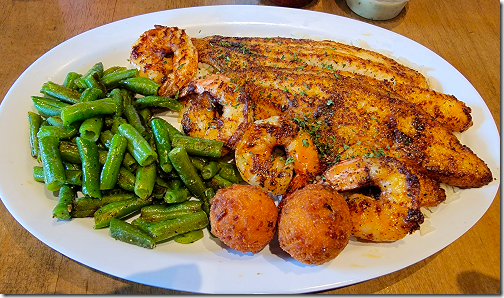 And of course, the free margaritas. Well, margarita, singular. I just get one, this time Strawberry-Lime, and Jan has some too.
I was talking to the manager about getting one of these down in the Clear Lake area, and he said they were actively looking. And when I mentioned a couple of possible locations, the old Eggcellence and the old Slim Chickens, turns out that they were actually looking at both of those locations. Fingers crossed.
SpaceX has a new droneship out in the Atlantic. Called A Shortfall Of Gravitas, it will be the first fully-automated landing vessel. Both of the other ones, Just Read the Instructions, also in the Atlantic, and Of Course I Still Love You in the Pacific, have to be towed into place and serviced by a crew stationed on a nearby ship, and then towed back to port.
Love those names.
But A Shortfall of Gravitas is self-powered, and leaves port on its own, sails itself in position, and then comes back to port all by itself. However for the first couple of trips it will be closely monitored by a close-by service ship.
And in addition, SpaceX has configure two new multipurpose recovery ships, to be used to recover the Crew Dragon capsules returning from the Space Station with our astronauts. So what else would you name these ships but . . . Bob and Doug.
What else?
And for A Shortfall of Gravitas' first mission, how about a night landing of a Falcon 9 booster?
Big John is up for sale. And he can be yours for a high bid of a little less than $2 million.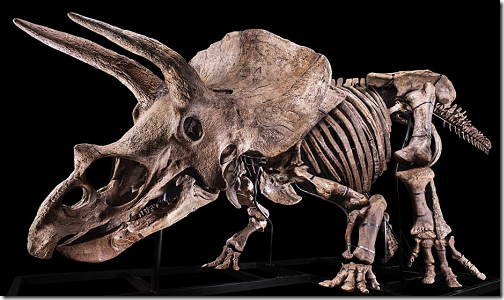 And Big John is big. At 8 meters, he's the biggest Triceratops ever discovered. He lived in what is now South Dakota about 66 million years ago when he was swept away in a flood.
Wonder how he would look next to Jan's Flamingo Flamboyance?
---
Thought For The Day:
Swearing: Because sometimes 'gosh darn' and 'meanie head' just don't cut it.