Daily Archives:
December 4, 2021
I had hoped we'd be on the road this morning by 8-8:30ish. Well I guess 8:31 qualifies as 'ish'.
It was foggy as we left the rig, which morphed into rain spritzes by the time we turned onto US59N just south of downtown Houston. But it cleared up fairly quickly and we had a smooth trip up to Nacogdoches, pretty much the halfway point on our trip.
There we used the facilities, got coffee and gas, and swapped drivers, Jan taking over for most of the rest of the way. Then I took over again about 50 miles out.
We got into Texarkana about 2:15, and headed over have lunch so that once checked into the hotel, we wouldn't have to leave again. We had heard good things about Naaman's BBQ, which as luck would have it, was right across the street from our Wyndham Gardens hotel.
And the 'good things' were correct.
We both got the small two meat plate, with ribs and brisket.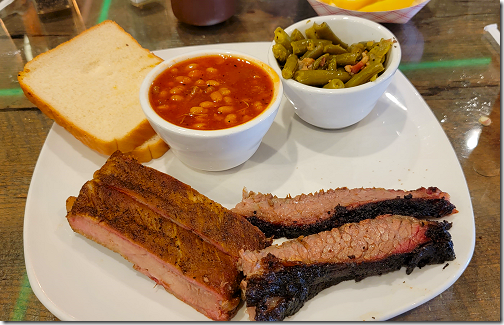 The ribs were great, and the brisket was cut-with-a-fork tender.
And we just had to finish up by splitting a piece of their Cinnamon Roll Cheesecake,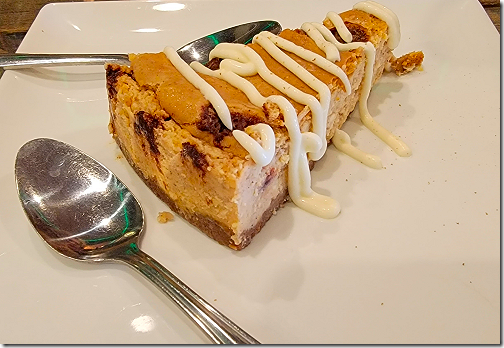 The place is decorated in a little bit of everything, from '50's diners,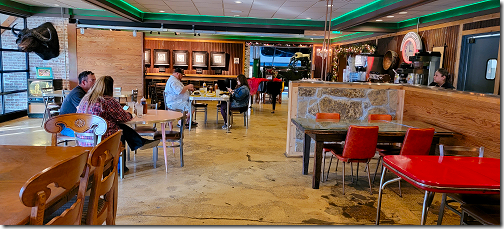 to a fancy dining room,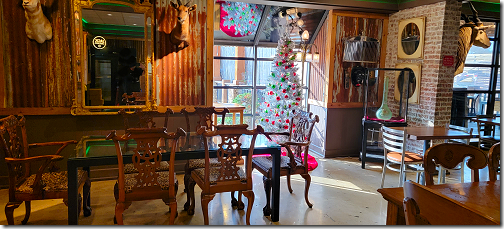 And the ceiling covered in Christmas Balls was really something.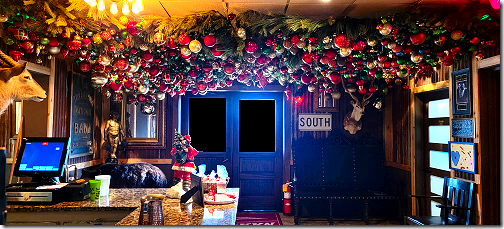 And now we know where we eating next Saturday when we come back through here on the way home.
Tomorrow: Branson

---
Thought For The Day:
Law of Close Encounters – The probability of meeting someone you know INCREASES dramatically when you are with someone you don't want to be seen with.
,
For some reason my laptop can't post to the blog tonight. Check back tomorrow.