Daily Archives:
December 21, 2021
Out and about today, our first stop was the Santa Fe Post Office to get the last of the Christmas gift cards in the mail, via Priority Mail, so that' done.
Then it was on up to Webster for lunch at Twin Peaks once again. And like our last visit right before Thanksgiving, the week before Christmas is another 'dress-up' time.

Sylvia, our regular server, who always remembers everything we always order, made her own little skirt to be a little less 'cheeky', but many of the young ladies don't seem to worry about that. Jan says she never knows which way to look.
Somehow I don't seem to have that problem.
Jan says that this time of the year they should call the place 'Twin Cheeks'.
Of course you can see a lot more skin any summer weekend on the beach at Galveston.
It does seem that the Twin Peaks dress code has changed a bit in the last 8 years. Here's Lauren, our then-favorite server from 2013.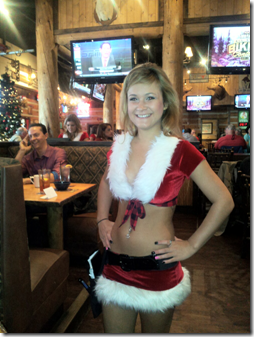 Jan got her favorite Spicy Chipotle Chicken along with a cup of the Tomato Basil soup.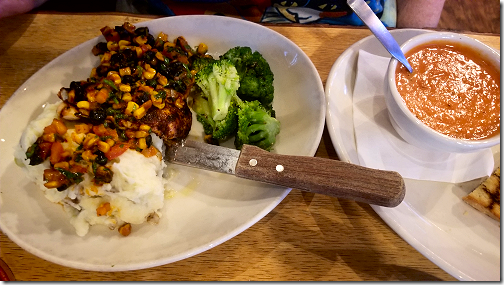 And as usual for me, I got the Half BLT and a Bowl of the Green Chile Chicken Soup, along with fries.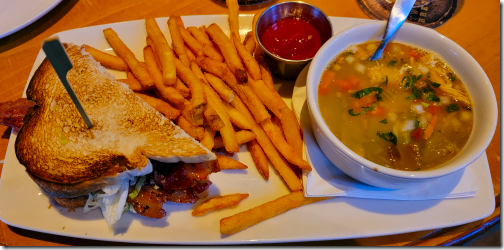 Leaving TP, we headed right across the Interstate to Costco. Yes, Costco 4 days before Christmas.
But as our visit to WalMart this past Sunday, it was crowded but not overwhelmingly so. Even the check-out went fast and smooth. Finishing up, we were back home by about 4pm.
Later in afternoon, we got a couple of things from Amazon, shirts for both of us.
I got this one.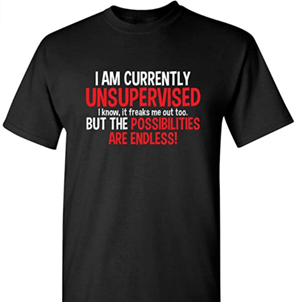 Jan says that it is so true.
Then she got this one.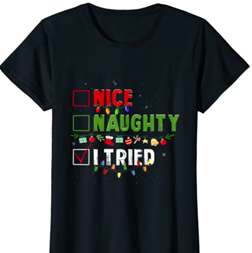 I said that it was so true.

---
Thought For The Day:
"Men, it has been well said, think in herds; it will be seen that they go mad in herds, while they only recover their senses slowly, one by one." ― Charles MacKay, Extraordinary Popular Delusions and the Madness of Crowds, 1852
.