Daily Archives:
December 14, 2021
Jan and I were out the door this morning about 9:15, earlier than I like, but for a good cause. We were meeting friend's Debi and Ed Hurlburt, up art Vernon's Kountry Katfish in Conroe.
We used to eat here quite often when were regularly staying at the Lake Conroe Thousand Trails, but according to the blog we haven't eaten there since January 2016. So it was good to get a chance to try it again.
Jan got the Combo Platter, with Fried Catfish, Fried Shrimp, and Fried Oysters, along Sweet Potato Fries and Fried Okra.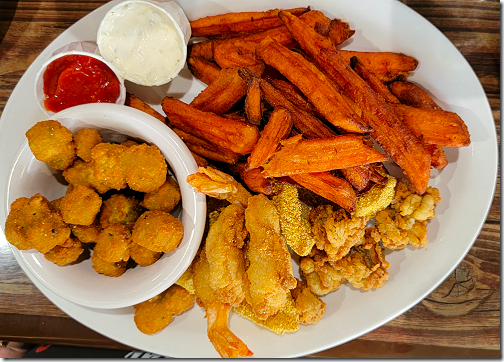 Plenty left to take home.
I went old-school and had the Small Catfish Plate, along with a cup of their Seafood Gumbo.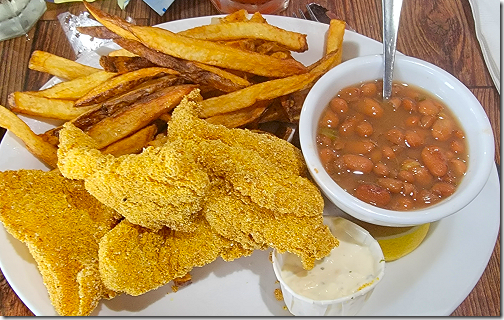 And as is usual in our previous get-togethers, we spent over 3 hours before we all headed home.
Always great to see Debi and Ed, and we've already scheduled for next month.
And now there's this.
Dr. Fauci Admits That Covid Vaccines May Actually Make People 'Worse': "It Would Not Be The First Time"
Dr. Anthony Fauci sat down with "Meta" CEO Mark Zuckerberg and finally said out loud what many people have been warning for over a year about the rushed mRNA vaccines: They may actually make the Covid pandemic worse.

"This would not be the first time, if it happened, that a vaccine that looked good in initial safety actually made people worse," Fauci said. "There was the history of the Respiratory Syncitial Virus vaccine in children, which paradoxically made the children worse."
And it's Jabs as far as the eye can see.
SIX JABS: BioNTech CEO Says Omicron Variant May Need Three More Vaccine Doses, Plus Initial Vaccine and Boosters
Ugur Sahin, the CEO of BioNTech, declared that a new vaccine designed to tackle the Omicron variant would need to be given in three doses, after taking the initial vaccine and booster shots.
And, is there anything it can't do.
Taking Viagra cuts the risk of Alzheimer's by up to 69 percent
Taking Viagra slashes Alzheimer's risk by two-thirds, research suggests.

Scientists claim the love drug may help boost brain health and cut levels of toxic proteins that trigger dementia.

Experts analyzed data on 7.2 million US adults and found regular users had a 69 percent lower chance of being diagnosed with Alzheimer's over the next six years.

Medics say the findings, published in the journal Nature Aging, suggest the little blue pill could soon be prescribed to tackle dementia.

They are planning a fresh study to test the benefits of sildenafil — the generic version of Viagra — in early Alzheimer's patients

---
Thought For The Day:
Think the recent tornados are because of 'climate change'?

.