Daily Archives:
December 20, 2021
Today was another day in the 50's, going down to the low 40's again tonight. But by Christmas day it's going to be back in the 80's again. Not exactly Christmas-like.
And certainly not like December 2017, just a couple of months after we moved down to Santa Fe from Conroe.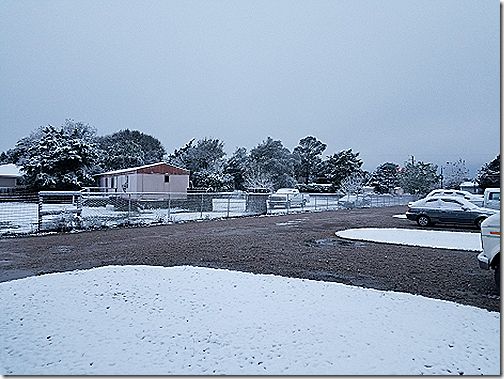 But not much chance of that this year.
Here's another catch-up blog for December 6th, our first full day in Branson, two weeks ago.
---
Today was our busiest day with 3 shows and exhibits booked, with our first stop being the Titanic exhibit right on the main drag.
The building is said to be the same basic size as the Titanic, but only half the length.
This was also one of only two places where we had to wear a mask. Of course the bow of the ship should have been a giveaway.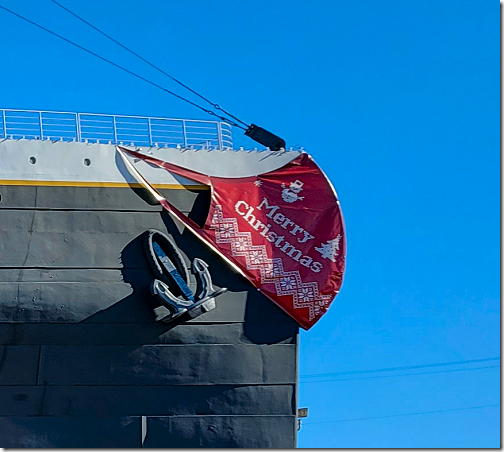 Merry Christmas, indeed.
The other place that required a mask was our Showboat Branson Belle non-cruise Dinner Cruise, due to Coast Guard regulations.
When you enter, the first thing you see is the famous Grand Staircase.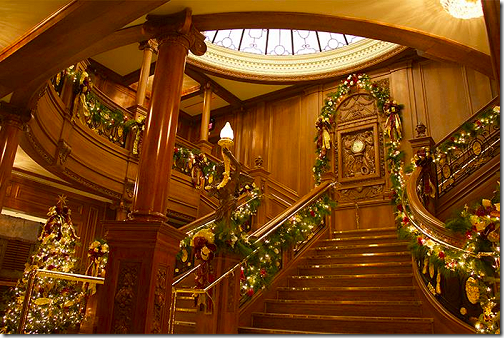 This staircase was built from the original plans using all the specified woods and materials of the original.
We were told we couldn't take any photographs inside the exhibit, but somebody did it, resulting in all the online photographs like the one above. Don't know what the problem is. Are they afraid someone will take a lot of photographs and then build their own museum?
It's here that they give you a random card with a passenger or crew member's name on it, and then at the end of the exhibit you can check the passenger list to see if you lived or died.
We did a traveling version of this in Houston years ago, and that time I was a Third Class Steward, and I died.
This time I was a young, healthy male 1st Class passenger who certainly wasn't going to up HIS seat in the lifeboat for any Third Class riff-raff, so I survived.
They had a lot of really neat exhibits with artifacts recovered from the ship. In addition there were a lot of interesting facts along the way.
The Titanic was not fully booked. Capable of holding 2,566 passengers and crew, there were only 2,240 onboard for the maiden voyage.
If every lifeboat had been filled, they would have only held 1,178 people. But the ship was ' unsinkable', right? So why would you need more than the 20 lifeboats onboard?
The iceberg became visible to the the lookout in the Crow's Nest only 37 seconds before the impact.
And
If the Titanic had hit the iceberg head-on, it almost certainly would not have sunk. The ship had 16 water-tight compartments, and could stay afloat with as many as 4 flooded. So a head-on collision would have breached 1, or maybe 2 compartments, leaving the ship afloat.
But because the Titanic grazed along side the iceberg, ripping open 6 compartments, the ship was doomed.
After our 90 minute Titanic visit it was time for lunch. We had been asking locals about good places to eat, and Billy Bob's Dairyland kept coming up.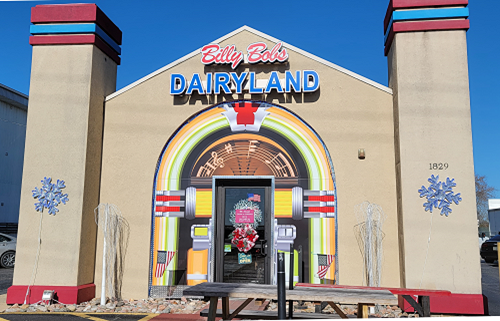 And since it was right down the Strip, we were off.
And although there were other obvious tourists like us there, it was easy to tell the locals, who were greeting each other, and joking with the waitresses. And the burgers make it obvious why the locals like it so much.
Jan had the Cheeseburger with Sweet Potato Fries.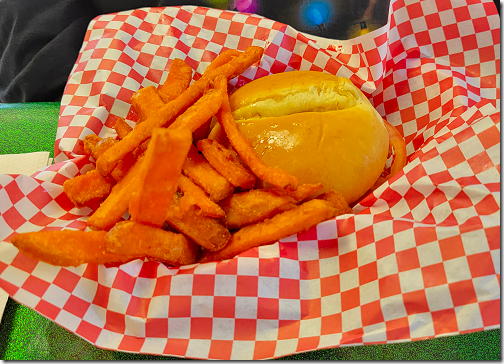 I had the Cheeseburger with a side of Chili. And it was easy to see why the locals like the place so much. Nothing fancy, just a delicious burger.
Then after a nice nap back at the room, we were off to our next show, Legends, at the iconic Dick Clark American Bandstand Theater.
First up was Dean Martin, complete with the Golddigger Dancers.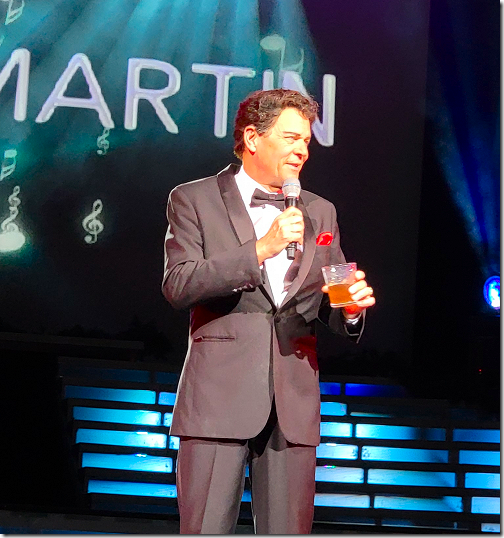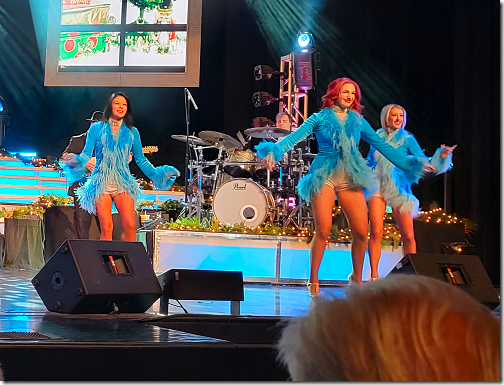 This guy was really good and passed my test. When I closed my eyes, I was listening to Dean Martin.
Next up was the Blues Brothers, again dead on, including the dance moves.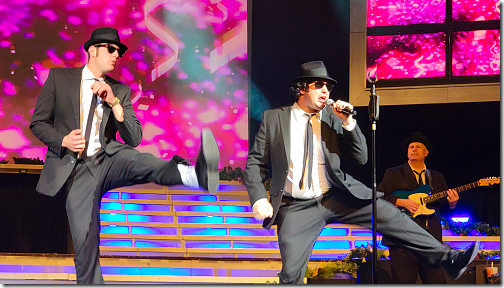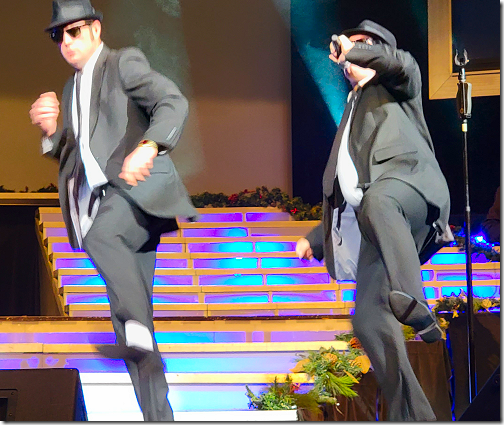 Also really good.
Next up was Whitney Houston, who was just amazing.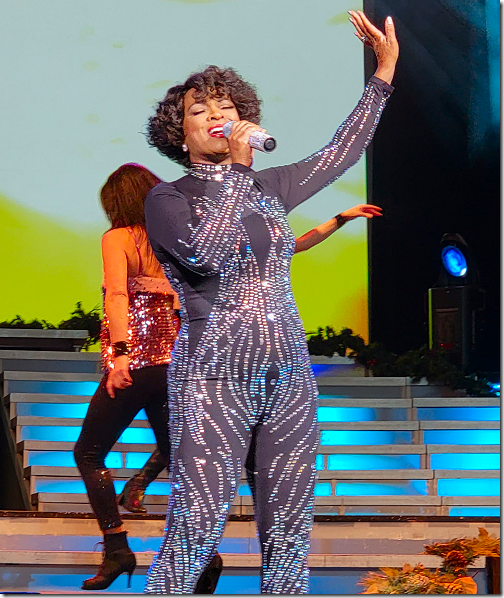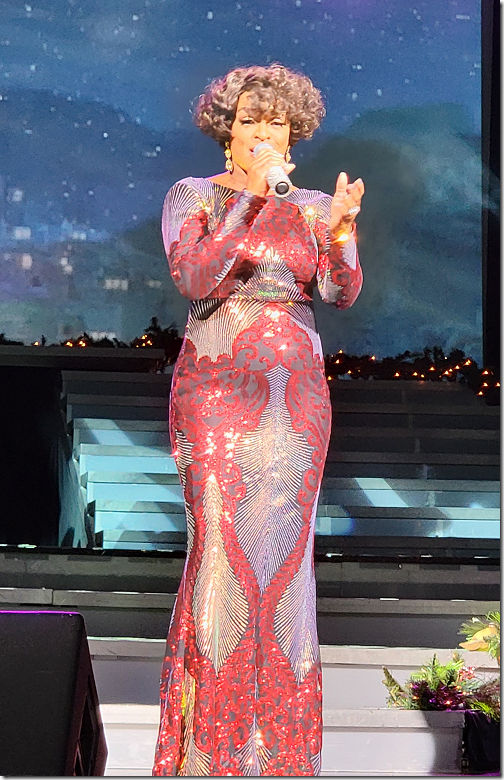 Her voice was just fantastic.
Last up was Kenny Chesney, of You Had Me At Hello, and She Thinks My Tractor's Sexy fame.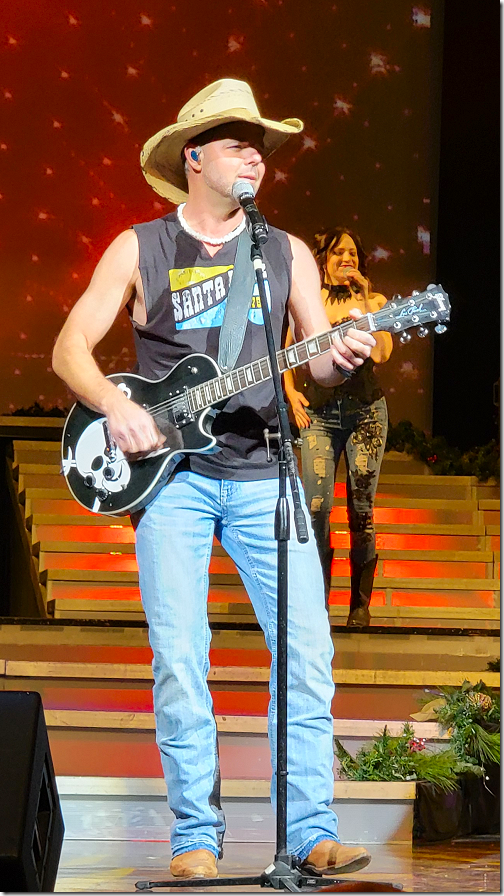 Also very good.
Then they wrapped up with everyone on stage.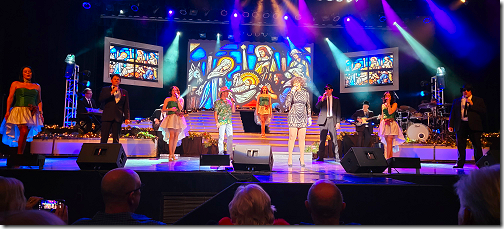 A really great show!
After another rest-up we were off to our 3rd and final show of the day, SIX. We were looking forward to seeing them again, having seen them 11 years ago during our last visit to Branson.
Made up of six brothers, they sing acapella, including making the instrument sounds. They're really amazing.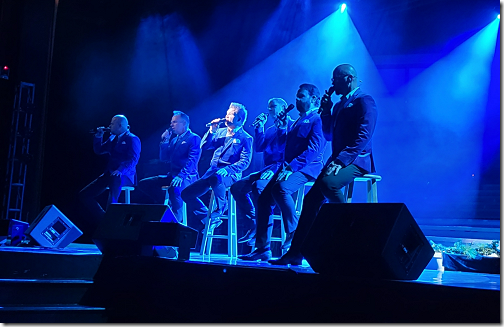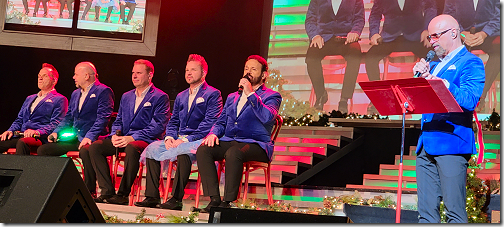 All 3 of these exhibits/acts are much recommended.
And now tomorrow we do it all over again.

---
Thought For The Day:
I've reached that age where my brain goes from "You probably shouldn't say that" to "What the hell, let's see what happens".
.