I Guess I Bought'em All . . .
Since we got shut out at Gator's for lunch yesterday, we were back there this afternoon for a redo. And it was good to see how busy they were, actually busier than I think I've ever seen them.
Jan got the Grilled Chicken Sandwich on a Keto Bun, with Sweet Potato Waffle Fries.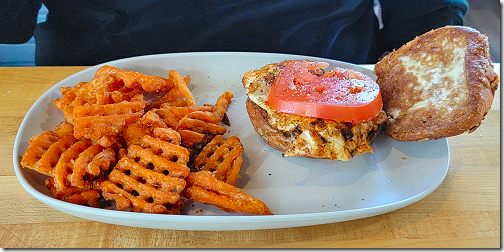 I think it's her new favorite.
Since it was only 41° outside I thought a big bowl of their made-in-house Baked Potato Soup would be in order.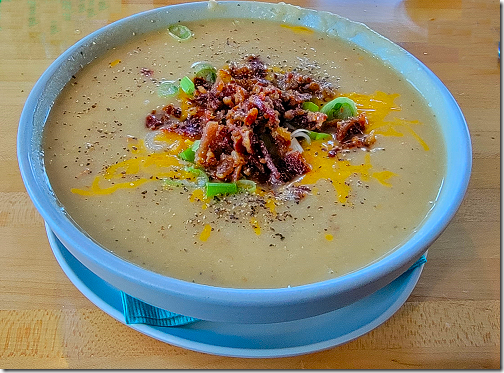 Originally they were getting this pre-made from a supplier, but decided that they could do it better themselves. And they do.
And I could tell that the first time I tasted the new version.
Really good, and perfect for a cold day.
We had planned to have a couple of their Keto Blueberry Muffins for dessert, but then our server came and told us that they were completely out.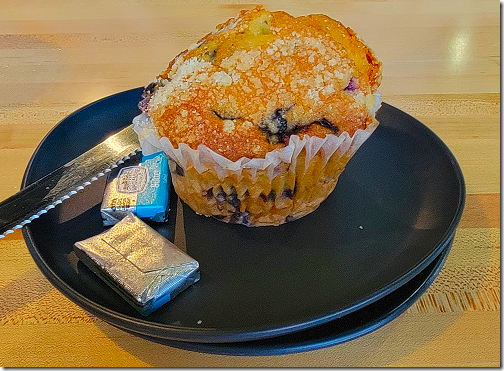 Someone had come by right before Christmas and bought all they had. And since the bakery had been closed between Christmas and New Year's, they hadn't been able to restock.
That's when I sheepishly told him that I was that 'someone'. I had come by Christmas Eve and bought the last 5 for us to have Christmas morning up at Brandi's.
Later, after a quick HEB stop we were home for the day.
---
First there was this:
Following Complaints from Customers, a UK Covid Test Provider Admits Tests Cannot Be Used to Diagnose Covid
And this:
After Two Years, CDC Head Admits PCR Tests Produce False Positives
CDC head Rochelle Walensky admitted Wednesday that the agency has rejigged its guidance, including cutting COVID isolation times in half, based on the fact that PCR tests are producing massive amounts of false positives.

Noting that PCR tests for COVID can stay positive for up to 12 weeks after infection, Walensky stated "we would have people in isolation for a very long time if we were relying on PCRs."
Which Led To This?

Chicago woman quarantined in airplane bathroom for 3 hours after testing positive for Covid-19 mid-flight
After a woman tested positive for Covid-19 midflight, the bathroom became her seat for the next few hours.

Before the flight, Fotieo told CNN she took two PCR tests and about five rapid tests, all of which came back negative. But about an hour and a half into the flight, Fotieo started to feel a sore throat.

"The wheels started turning in my brain and I thought, 'OK, I'm going to just go take a test.' It was going to make me feel better," Fotieo told CNN. "Immediately, it came back positive."
---
And Is There Anything It Can't Do?
Nurse wakes from 28-day Covid coma after medics give her VIAGRA: Asthmatic double-jabbed mother-of-two was just three days from having ventilator turned off
A nurse who spent 28 days in a Covid coma fighting for her life has been saved after medics gave her Viagra as part of an experimental treatment regime .

Double-jabbed asthmatic mother-of-two Monica Almeida, 37, from Gainsborough, Lincolnshire, was admitted to hospital on November 9 after testing positive for coronavirus on October 31.

She was moved to intensive care a week later before doctors put her into an induced coma on November 16.

Mrs Almeida says they were just three days away from having her ventilator turned off when her condition started to improve and she woke up on December 14.
---
Thought For The Day:
Hating people takes too much energy. I just pretend they're dead.
.