So Now It's Jan's Turn . . .
We had planned to meet friend's Debi and Ed Hurlburt and Janice and Dave Evans at the Olive Garden up in Spring. But last night it was Jan's turn to start feeling under the weather, with a bad headache and a upset tummy. All that continued into this morning, so unfortunately we had to cancel. But she was starting to feel a little better by this evening.
Now back to our weekend Kingsland trip.
We left the rig about 8:30 with our first stop about an hour away at the Buc-ee's in Katy for Kolaches and coffee. And since their gas was pretty cheap, I topped off the Jeep before we left. And when we did, Jan took over the driving for a while.
Heading out I-10 we got onto US71 at Columbus. Then after a quick bathroom stop at Hruska's, we got on US77 at La Grange and took it all the way up to Giddings. The only hitch was a 15 minute holdup because construction had made a bridge a one lane crossing.
Getting into Giddings, we made another Buc-ee's stop where I noticed this sign.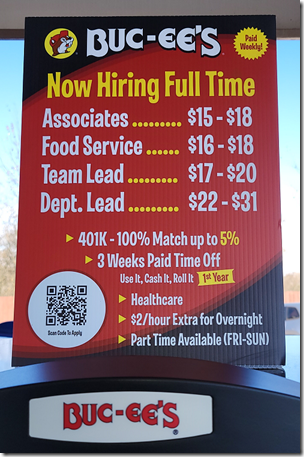 Wow! Three weeks vacation the first year, healthcare, and a 401K. They really looking to hire.
Then with me driving again, we got on US290 taking us into and through Austin and out on SR29 over to Burnet, and then down US281 to our Motel 6 in Marble Falls, getting in about 2:30.
A nice, easy trip.
Since Brandi had to wait for Lowell to get off work, they wouldn't get into Marble Falls until about 8:30, so they told us to go ahead and have dinner with Chris and Linda without them.
So we ended up at Alfredo's about 5pm.
Jan had a really good Chile Relleno Platter,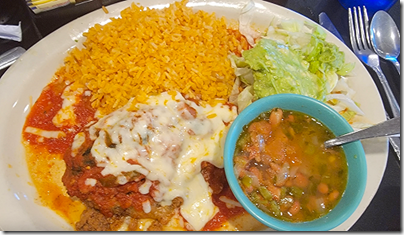 while I got, well, I forget what it was called, but it was really good too.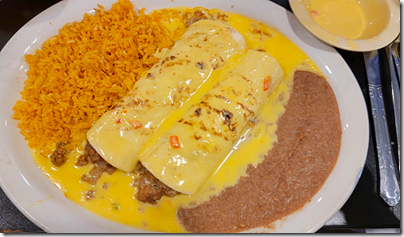 Finally it was back to the motel for the night, looking forward to seeing everyone tomorrow.
---
Thought For The Day:

Arguing with your wife can be like getting arrested. Everything you say can and will be used against you.
.