Daily Archives:
August 10, 2019
Landon's starting off school this year with a bang. Or at least a boot.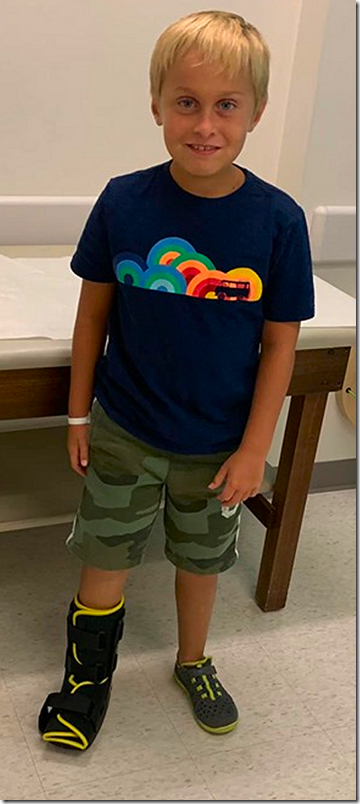 A month or so ago he was a trampoline park and said he hurt his foot. But then didn't say much more about it. Then the other day it was hurting again so Brandi took him to the doctor. And X-raying showed a stress fracture.
So now he has to wear the boot for a couple of months, though he can take it off to swim and bathe. I predict that as soon as he gets back to school it's going to be covered in girl's autographs.
Brandi did have this to say later.
"We had barely left the parking lot and he asked if I could buy him a bell so he can ring me when he needs something. I was a nice mommy and did not tell him what he could do with his bell."
I went through the OTA TV signals from our new antenna this morning, logging all the channels we'll be interested in. Here's what I got.
2-1 Channel 2 — NBC Network
2-2 MeTV — Old TV Shows
2-3 H&I TV — Old TV Shows
2-4 Start TV — Old TV Shows
8-1 Channel 8 — PBS Network
8-2 Create TV — PBS Specials
11-1 Channel 11 — CBS Network
11-2 Bounce TV — Movies
11-3 Justice TV — Crime Shows
11-4 Quest TV — Various
13-1 Channel 13 — ABC Network
13-2 LivWell — Health & Food Shows
13-3 Laff TV — Movies
20-1 Channel 20 — My TV Network
20-2 Movie TV — Movies
20-3 Decades TV — Old TV Shows
20-4 Buzzr TV — Old Game Shows
26-1 Channel 26 — FOX Network
26-2 Light TV — Old TV Shows & Movies
39-1 Channel 39 — CW Network
39-2 Ant TV — Old TV Shows
39-3 Comet TV — Old Movies
39.4 TBI TV — FailFactory
45-3 Escape TV — Crime Shows
46-3 Nudu TV — Old TV Shows & Paid Prgms
46-4 Heartland — Country and Cooking Shows
46-6 TCN TV — The Country Network
46-7 NewsNet TV — 24 Hour News
49-1 ION TV — Old TV Shows
49-3 ION Plus — Old TV Shows
57-1 KUBE TV — Old TV Shows
57-4 COZI TV — Old TV Shows
57-7 This TV — Old Movies
67-2 Get TV — Old TV Shows
67-3 Grit TV — Old Movies
One of the unusual ones is on 39.4. Called the FailFactory, it seems to be a channel that just shows Funniest Home Video type clips 24 hours a day.
The gasket that I hope will fix my rig's oil leak problem will be here on Monday, So I went ahead and order a new oil filter from Amazon that also should be here Monday. I was thinking about reusing the old filter since it only has about 500 miles on it, but I'm not sure about reusing the rubber gasket on it. But I decded not to take a chance.
I did tell Jan that once I do get it all changed out I'm not going to worry about doing a test drive, since the problem has never occurred on a test drive, just on a real trip. I will let it run at high-idle for 30 minutes or so to check of regular leaks.
This afternoon we headed out about 4 for dinner at Los Ramirez Mexican Restaurant once again. Then we stopped at the tire store and made an appointment to come by at 12:30 tomorrow afternoon for them to take care of my stuck lug nut problem. Then after a WalMart stop we headed home.
---
Thought for the Day:
"One man with a gun can control 100 without one." Vladimir Ilyich Lenin
fg