Daily Archives:
August 29, 2019
I spent a little time this morning correcting a dozen or so addresses that our mailing company said were not valid. Don't know why they had a problem since it was pretty easy to fix them. Things like 6O6 as an address, rather than 606, or W 7793 rather than W7793. But I got them corrected and sent them over to the company.
The Ad cards should be hitting the customer's offices the end of next week.
Later I dug out my SwitchBot Hub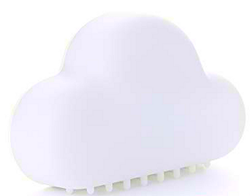 to get it set up for my Mr. Coffee remote switch. Right now I can only control the coffee pot switch locally, within Bluetooth range. That of course, takes care of my timer scheduling problem. But the Hub will let me control the switch from anywhere I have Internet service.
Jan and I have switched gears. Over the last 18 months we lost a total of about 120 pounds, pretty much just by watching our calories. But we'd both like to lose some more.
But it seems to have become much harder in the last few months. Like our bodies are desperately clinging to the last  extra fat. And apparently this is not unknown. Your body seems to readjust to the 'new' normal  and won't let go.
So we're both switched over the Keto plan, complete with Chaffles. Keto is basically a repackaging of the old original Atkins plan, with high protein, high fat, and no/low carbs. So pretty much no bread, tortilla chips, etc.
Following that, when we had dinner at Floyd's Cajun Seafood this afternoon, with Jan getting the Grilled Catfish with Grilled Veggies,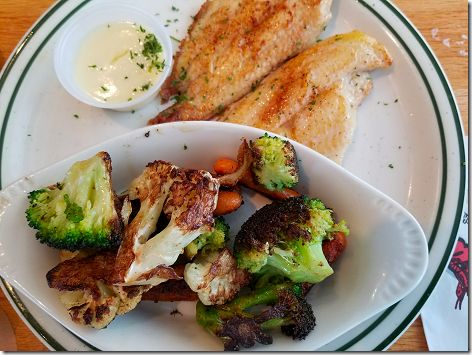 while I forgoed . . . ah, forwent(?) my usual gumbo and got the Steak and Grill Shrimp with Green Beans.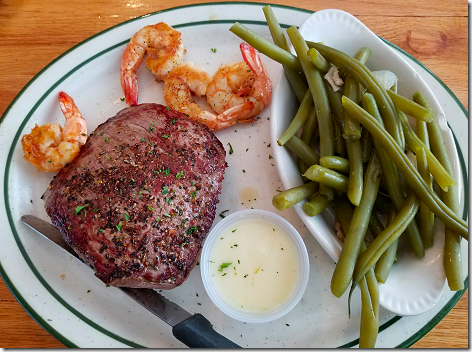 So we'll see how it goes.
teryt
For Your Consideration:
"In January 2005, National Oceanic and Atmospheric Administration (NOAA) began recording temperatures at its newly built U.S. Climate Reference Network (USCRN). USCRN includes 114 pristinely maintained temperature stations spaced relatively uniformly across the lower 48 states. NOAA selected locations that were far away from urban and land-development impacts that might artificially taint temperature readings."
These new sensing locations were necessary because most of the old ones, some dating from the 1930's and originally sited out in the open countryside, were now in built-up areas, next to office buildings, factories, and highways. All sources of localized heat. So NOAA decided to build a completely new system.
And that new system shows NO WARMING since 2005. So no warming in the last 14 years, and probably no real warming since the 1930's. And this lack of warming matches up pretty well with the global satellite readings.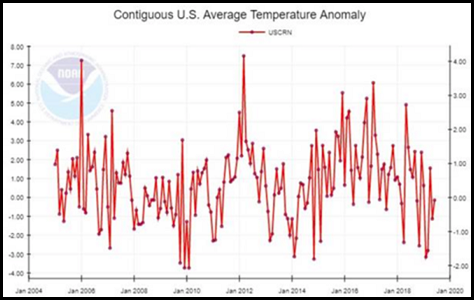 So what now?
---
Thought For The Day:
Youth, speed, and energy can always be overcome with experience, treachery, and a better aim.
asdf