Daily Archives:
April 3, 2021
Following up from last night, we lost power here at the RV park for about 5 minutes around 7:30. So no problem. But then a little before 8pm it went off again and didn't come back on until a little after 10.
And it wasn't just us. Looking at Centerpoint's Outage Map, it looked like it was most of the Santa Fe area.
At least it wasn't off for 3 days like last time. And speaking of 'time'.
It's About Time.
As I've mentioned before, Jan and I are big Murdoch Mysteries fans. So we were really happy to hear back in January that Season 14 would be premiering on February 20th. But much less happy to hear that it would be premiering only on Ovation TV. Which only seemed to be available on Apple TV or cable systems. And not on YouTubeTV or any of the other streaming services we use.
But it was just announced today that Murdoch is finally being released into the wild, and is now streaming on Acorn TV, where we've been watching it in the past.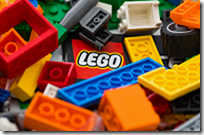 Apparently gangs of 'International Lego Thieves"? are roaming the world stealing Legos.
Toy shops in France have been targeted by a gang of international Lego thieves who attempted to steal valuable collectible sets, police allege.

Officers took three people into custody — two men and a woman — who had traveled from Poland to Yvelines, a town outside Paris, where they were allegedly caught raiding a shop.
While millions of children have grown up playing with the plastic bricks that start selling for around $10, rare series such as "Lego Ultimate Collector's Series Millennium Falcon" have reached $15,000, while a "Taj Mahal" first edition had a value of around $3,864.

An officer quoted in Le Parisien newspaper confirmed the arrests, saying: "They come to France, set up in a hotel in the Paris region, then set about raiding toy stores before returning to Poland to sell off their haul.
And it's not just Europe. Lego robberies have happened in the United States as well. Last month, a man in Oregon was arrested after local police suspected he stole $7,500 worth of Lego toy sets.

There's a lot of money in Legos. Lego sets come out in limited editions and they soon become collectors' items.
Landon had better guard his collection, I guess.
Jan and I will be heading up to Brandi's in Katy about noon tomorrow for a weekend
And finally, a funny Easter story about Mister Landon. Brandi asked him if he wanted an Easter basket this year, or would rather have some money put into his online gaming account.
He thought seriously about it for a moment, and then said,
"You know, I'm getting pretty old for Easter baskets, so this may be my last year for one. So I'll take the basket."
He's 10 years old.
---
Now, catching up on today.
We got to Brandi's about 1pm, and though it was only about 65° and overcast, we all headed for the heated pool. At least everyone but Jan did. She decided to sit this one out.
Lowell had it heated to 90° and it felt great.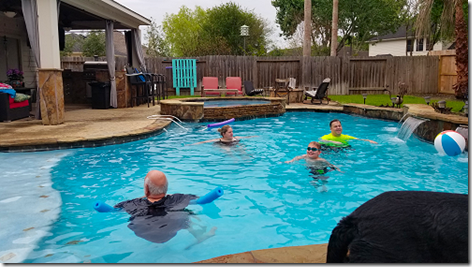 At least Jan was available to take pictures.
While we were all out in the pool, Brandi had a Prime Rib sous-vide'ing in the house.
If you haven't heard of sous-vide, it's a method of cooking using precisely temperature-controlled warm water. In other words, if you want your steak Medium Rare, you set your Sous Vide cooker to 132° and the phone app determines the time needed..
Here's what I said about Sous Vide cooking a couple of years ago.
---
Later on, Brandi went inside and put the steaks on. Well, she put them under water, anyway.
The kitchen utensils are just being used to weight the bags down and keep them under the water.
She has one of these Sous Vide Cookers from Amazon.
It's controlled by the cell phone app and the app even notifies you when your food is done.
Sous Vide is a method of cooking by placing the food in plastic bags and immersing it in water heated to an exact temperature. In fact, if you got a steak at a restaurant recently, there's a good chance it was cooked vis Sous Vide and then thrown on the grill for a last minute sear.
You can learn more about Sous Vide here.
Everyone likes their steak at least Medium Rare, so this was perfect. Miss Jan, however, is more of a Medium person, so Brandi put hers under the broiler for few minutes.
All delicious!
---
So after Brandi's Prime Rib sat in the 132° water for about 3 hours, she popped it in the air fryer for a few minutes to brown it up, and it came out looking like this.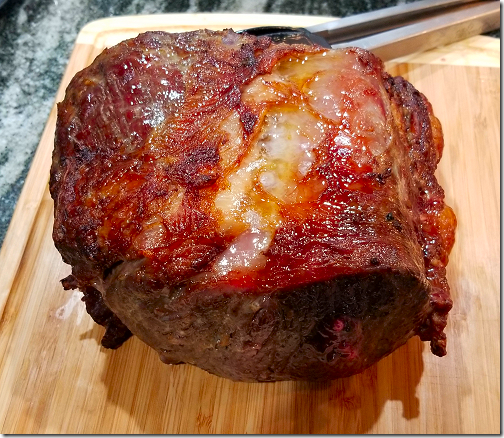 And on the plate it looked like this. Just perfect.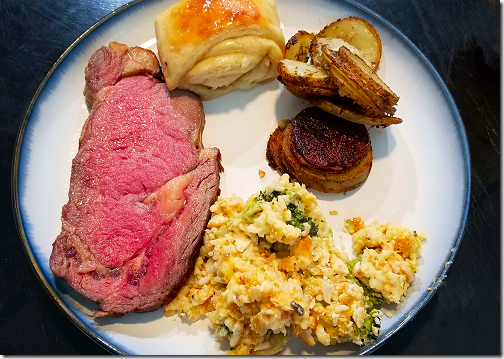 And paired with Jan's Broccoli-Cheese Casserole, Brandi's Stacked Potato Slices, and homemade Honey Butter Yeast Rolls, it was a real Pre-Easter Feast.
And finally, another Mister Landon/Miss Piper story from Brandi.
Landon was working on a school science project and was adding some drawings to it, and I jokingly said he gets it all from me. Of course, the White sarcasm gene is strong and he looked at me dead serious and said " My uncle (Chris) can draw anything and can build awesome chimes, and you draw stick figures, I think not".
I just died. Someone can take this kid, and Jack the dog, please.
Then Miss Piper came back with this.
Hahahah! ugh no thank you!! This is why I can't have kids. I can't handle my own sarcasm.
More from Chis and Linda's Utah trip tomorrow.
---
Thought For The Day:
When you can't make them see the light, make them feel the heat." -Ronald Reagan