Daily Archives:
April 22, 2021
After another great meal at Texas Huddle Grille (insert obligatory photo of PB&J Bacon Ghost Pepper Cheese Burger Here)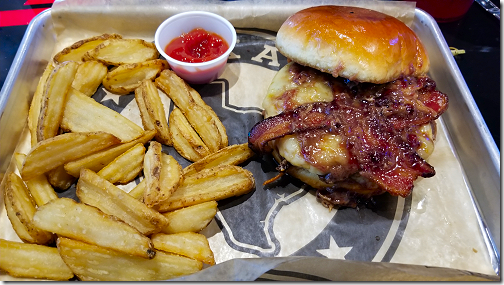 we made a stop by the office to pick up a couple of Amazon orders that had come in. Then it on over to our old Kroger's to see if they stocked Dorothy Lynch Salad Dressing so we could stop ordering it from Amazon. Well, they do stock it, but not the Fat Free version, so it's still Amazon, I guess.
And while we were in that area, we checked out the location of a new burger place a friend told us about, Pop Top Burgers, and it looks like a place we're going to have to check out.
This is their Big Bubba Burger.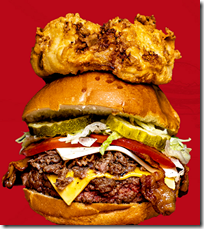 It's got a Beef Patty, Bacon, American Cheese, Grilled Philly Steak Meat, Grilled Onions, Swiss Cheese, Shredded Lettuce, Tomatoes, Pickles, Special Sauce And Topped With A Thick Onion Ring.
It looks really good.
I mean, it's not a PB&J Bacon Ghost Pepper Cheese Burger, but then again what is?
But the place looks to be worth a try.
Coming home we made a quick HEB stop for a couple of things, plus I wanted to check out their meat selection for our first Sous Vide cookout next weekend.
Jan wants a filet of some sort, and I found a package of two 5oz Bacon-Wrapped Filets already vacuumed packed for her.
And for me I found a package of 3 Ribeyes, also vacuumed packed, so I'll have to separate and reseal them, but no problem with that.
For this first try, I not picking the more expensive cut-in-the-store versions, but the somewhat cheaper pre-packaged ones in case I screw things up.
While I was looking over the meat case, I came across this package of ribs.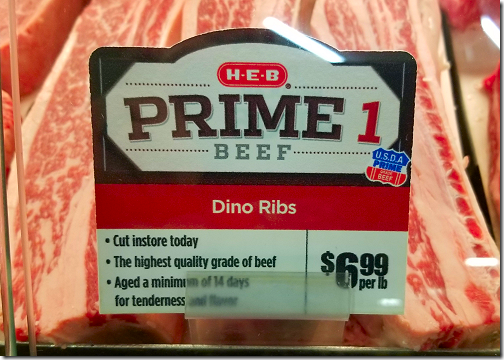 T-Rex or Brontosaurus?
Does Fred Flintstone know about these?
Coming on home, we made the obligatory Cowboy Coffee stop for patio-sitting a little later.
Had your 'Experimental' vaccine yet?
Though I mentioned it in the blog in the past, I don't think most people realize that none of the CoVid vaccines are "FDA Approved."
All the current vaccines are allowed to be used under what is called by the FDA an Emergency Use Authorization (EUA).
From the FDA website:
On December 11, 2020, the FDA issued an Emergency Use Authorization (EUA) for the use of the Pfizer-BioNTech COVID-19 Vaccine. On December 18, 2020, the FDA issued an EUA for the use of the Moderna COVID-19 Vaccine. And on February 27, 2021 the FDA issued an EUA for the use of the Janssen COVID-19 Vaccine.
And despite what you may have read about this company or that airline, or a certain school requiring a CoVid vaccination to participate, this is illegal under Federal law.
Federal law prohibits employers and others from requiring vaccination with a Covid-19 vaccine distributed under an EUA
Some schools recognize this, and are saying they will required vaccinations as soon as they are FDA Approved.
UC, Cal State systems plan to require COVID-19 vaccination for all students this fall once shots are FDA-approved
Some have said that they hope one of the vaccines will receive FDA Approval by this fall, but other experts are doubtful, saying that Level 3 trials normally take a minimum of two years before a drug can be approved. and the oldest one has only been in use for a little over 4 months.
And no one has said what happens if, as mentioned in the above article, the Pfizer vaccine is approved so the University of California starts requiring vaccinations to attend classes, but you have the Moderna version, and not the Pfizer one.
Do you have to start over or what?
Just a final note.
Regular readers know that I will not be getting any of the vaccines, FDA Approved, or not. And you know why I'm not.
Jan says that she's not getting it either, though I would have no problem if that's what she wanted. But after more than 30 years in the medical field, that's her decision. Though she said she may reconsider once the vaccines are FDA Approved.
And neither of us have any problem with anyone else getting or not getting vaccinated. It's your decision.
---
Thought For The Day:
From 25 Funniest Tweets About Marriage:
I told my son he needed to clean his room and he said "Maybe later, I have a headache."
I told him that was no excuse, and heard my husband snort-laugh from three rooms away.