Daily Archives:
April 13, 2021
I forgot to mention last weekend that when we ate at the Monterey's up in Alvin last Friday night, we got some more info about the reopening of the Monterey's near us over in Dickinson. It's been closed ever since it was flooded during Hurricane Harvey in August 2017, but we kept being told that it was going to reopen 'soon'. And we been hearing that for the last 3 years or so.
Until last month when a dumpster appeared out front and workers were swarming over the place. And now it looks like they're adding on to the kitchen area on the north side of the building.
Turns out our waiter used to work at that location, though we didn't remember him. Maybe because we were traveling, but it looks like it should be opened again in the next couple of months.
Really looking forward to it.
After getting somewhat coffeenated this morning, we went outside, and while Jan supervised (watched) I worked on some of the upgrades we're doing in our patio area.
But the first thing I did was to check out my idea for a computer-controlled watering system for Jan's hibiscus to keep it healthy while we're gone for a couple of weeks this coming June.
I started with an empty kitty litter bucket, a submersible water pump like this,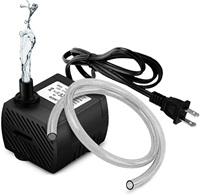 and a computer controlled plug, giving me this.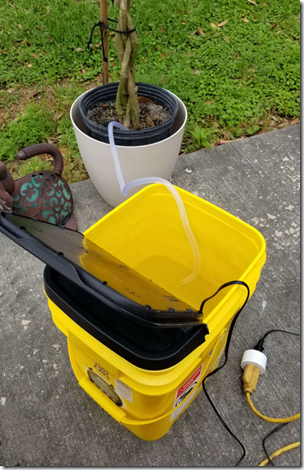 As a first test I was able to use the Smart Life controller app to turn on the pump, and the water started flowing immediately. But too much, too fast.
The scheduler program for the computer plug will only let me turn the pump on and off in one minute intervals, and even one minute was going to be too much water at once. But looking over the pump, I found an adjustment lever on the side that let me throttle down the flow until one or two minutes seemed to get me close to the correct amount of water.
So I set up a schedule in the Smart Life app that turns the pump on for one minute between 9:00 and 9:01 every morning. Now I'll just have to monitor the plant to see how it does over the next week or so.
Another addition to our patio redo was to get a heavy base for our umbrella. Found one that I ordered from WalMart that's made to self-support an umbrella, rather than support one under a patio table.
So I got this 30# one,

to go with this 80" tiltable patio umbrella.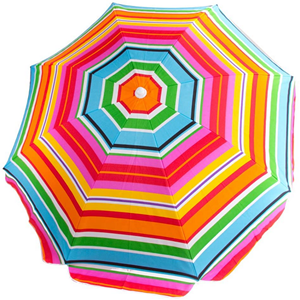 Though we bought in 2014 for a gate guarding location, we actually never used it, and it was still wrapped up and stored in the back of the truck, so it's just like new.
And I did order some ping pong balls for our Sous Vide cooker. Actually, thought, they're Beer Pong balls.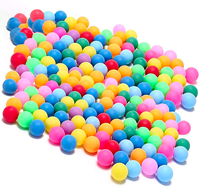 At least the cooking process will be colorful.
After 20+ countries have suspended use of the AstraZeneca 'vaccine' due to blood clot problems, including deaths, another one bites the dust.
Now it's the Johnson & Johnson one-shot version.
FDA, CDC call for 'pause' on Johnson & Johnson COVID-19 vaccine after blood clot reports
And, yes, though it's only a very small percentage who have these problems, someone once told me it is a significant problem if it's you or a family member who're affected.
---
Thought For The Day:
"The secret to creativity is knowing how to hide your sources." – Albert Einstein