Daily Archives:
April 6, 2021
Jan and I headed out about 8:15 for Jan's last medical appointment, a final run-through from her oncologist, going over the results of her recent mammogram. Which was negative, so it's just a formality.
Originally her appointment was for 1:30 this afternoon, but they called yesterday and changed it to 9:15 this morning, so we were out the door early this morning.
She was finished up about 10 so we on over to Snooze for breakfast, the earliest we've ever been there. So much so that one of our regular servers noticed.
Next up was a quick stop at a nearby Dollar Tree for some things Jan wanted, and then it was on over to WalMart and then Sam's for a few things.
And walking into WalMart, it looked like that they had finally Bowed To The Inevitable.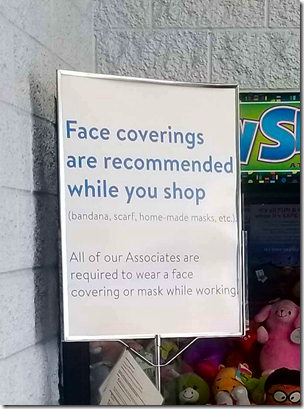 If it's not obvious, masks are now only 'Recommended', not required. I guess since more and more customers weren't wearing them anyway, they just gave it up.
But strangely enough, the signs at Sam's said they still required masks. But a lot of people weren't wearing them there either.
Finally heading home, we made Cowboy Coffee stop for Cold Sugar-Free Hazelnut Lattes so we could have them to sit out on the patio when we got home.
After enjoying the fruits of Brandi's Sous Vide machine, I went ahead and ordered one for us.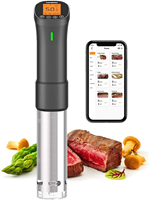 Looking forward to giving it a try.
Wrapping up, Linda sent over some more pic over her and Chris' Utah trip.
She said that she and Chris walked up to some high lookout point, while one of their friends decided to do the 'rock crawling' thing and take their Jeep up over all the big boulders.
Chris said he didn't do it because he didn't want to break his Jeep.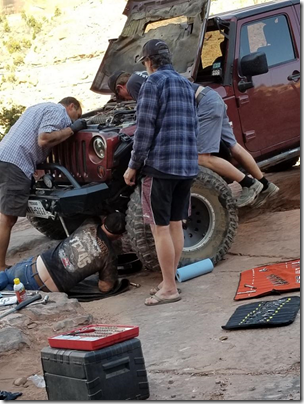 Looks like Chris had the right idea. It took them 3 hours to get it fixed.
A lot of neat sights.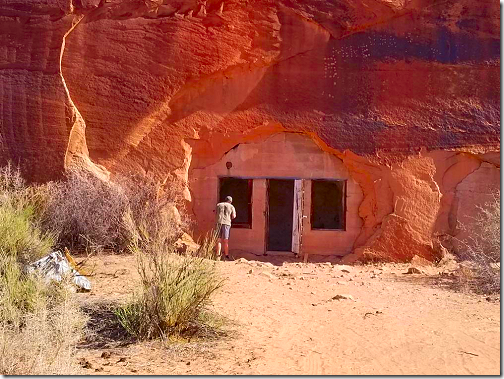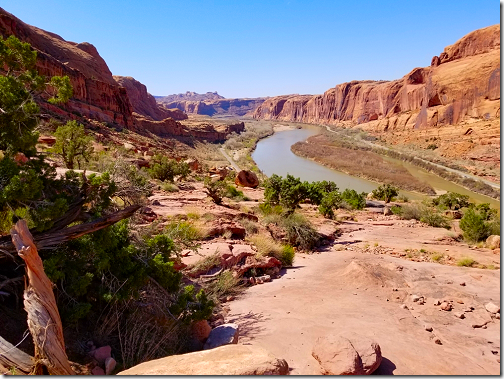 ---
Thought For The Day:
"When you make a mistake, there are only three things you should ever do about it: Admit it. Learn from it. Don't repeat it." – The late, great Alabama football coach Paul "Bear" Bryant