Daily Archives:
April 17, 2021
Well, I think someone owes me a commission. Since last night when I posted about the $290,000 'box' on sale right down the street from us, it looks like they've got an offer on it.

So now to figure out who I need to call about this.
I did work outside on the patio area for a while, but finally gave up with the rains coming in. Plus I need some some black much.
About 2pm Jan and I headed out over to the Interstate to get our hair cut at the local TGF, though since the last time we were there, it's now become a CostCutters, rather than a TGF.
We also hit up the HEB right next door for a few things while we were in the area. Then after we were done we stopped off at the Home Depot to get some more black much, and then a quick WalMart stop, before we drove down to Dickinson to have dinner at a brand-new place, Gator's Bar & Grill. So brand-new, in fact, that today when we walked in at 5pm, they had just opened to the public for the very first time.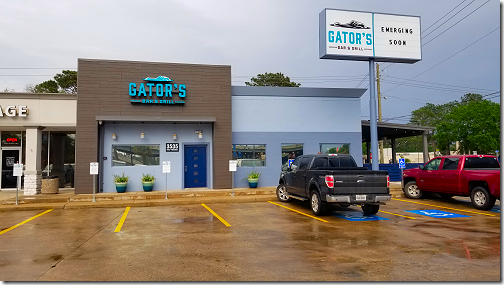 It was what they call a 'soft' opening in the restaurant business, where you don't advertise that you're open, you just let it out by word of mouth. And it seems that the word got out, because there was a crowd in the parking lot when they opened.
And the place started to fill up very quickly.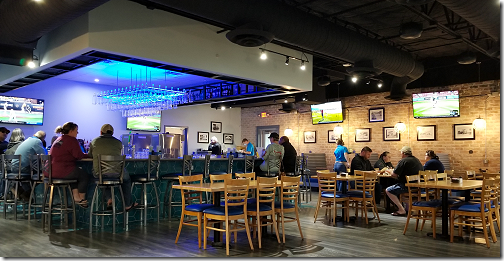 They've done a really good job resurrecting an old Pizza Inn.
Since we hadn't had lunch, we decided to order an appetizer, the Soft Pretzel Bites with Shiner Bock Beer Cheese.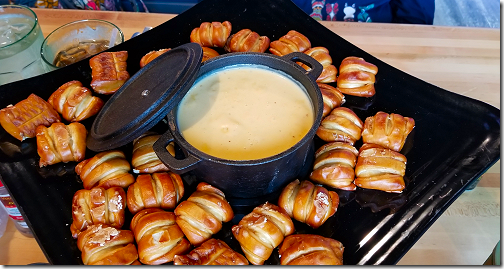 We ordered the small, but we got the large, so we had plenty to take home for later.
Jan had the Fried Chicken Sandwich with Sweet Potato Fries.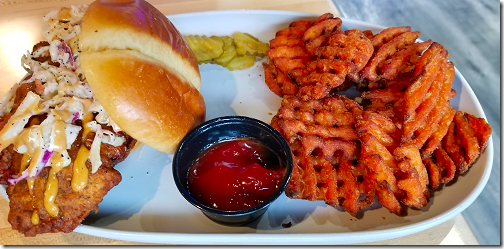 Jan said the sandwich was really good, thick and juicy, and she loved the Sweet Potato Waffle fries.
I went with the Cowboy Burgers, an Angus beef patty, with cheese, Texas Toothpicks, and BBQ sauce.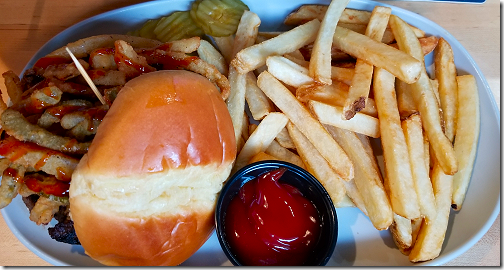 Also really good, especially the 'beefy' taste of the patty.
So how did we know about this unadvertised 'soft' opening. Well, as it turns out we've known the owner for a long time. She used to be the manager of the Monterey's Little Mexico place right around the corner. And our waiter at the Monterey's up in Alvin told us about the 'soft' opening this evening. So we were there when they opened the door.
And Margie, the owner, remembered us when she was out in the dining area and stopped by to talk for a while, checking up on people we all knew. And we also got to meet her husband Keith.
Really nice people, and really great food. We'll definitely be back soon.
And to top off a really nice day, we had this coming home.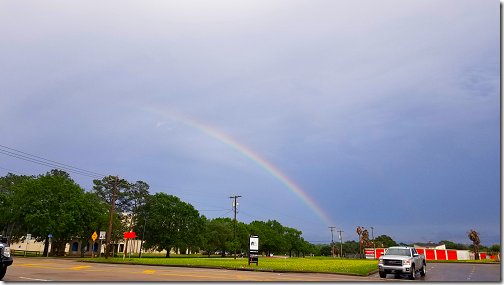 ---
Thought For The Day:
Although The Raven was one of Edgar Allan Poe's most iconic works, it was originally called The Parrot.
A good change, since "Quoth The Parrot, "Nevermore"" doesn't have quite the same ring to it.