Daily Archives:
April 19, 2021
Now that Jan's patio area is finished and up and running,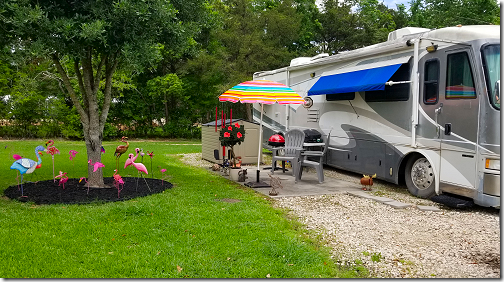 it's time to get back to some other stuff around the rig that's on my list, most of it maintenance chores of one type or the other.
Things like flushing out the water heater, putting the windshield solar screens back up, clean out the dryer vent hose, and replace the sliding window in the rig's screen door.
Then the biggies area to install a new fuel pump and fuel filter in the rig's generator and try to get it working again. If that doesn't work, there's a nearby company that works on Onan and other generators, both mobile and stationary, so I'll have them come out and take a look at it. Would have been nice to have in during the recent freeze.
And then of course, there's the real big one, getting the engine's oil leak fixed so the rig is drivable again. Not that we're going to do any RV traveling, but it would be nice to be able to get out of the way of an oncoming hurricane if necessary.
Then on the Jeep I want to clean off the discoloration on the headlight lenses, and then probably replace the bulbs with much brighter LED ones, finishing up with new tires and an oil change before we leave on our Illinois/Alabama trip the first part of June.
Tomorrow looks to be another errand day starting with lunch at our long-time favorite King Food Chinese. Really looking forward to a big bowl of their Hot & Sour Soup. Then coming home, Cowboy Coffee and sitting out on the patio for a while.
---
Thought For The Day:
Sarcasm is the ability to insult idiots without them realizing it.