Daily Archives:
April 20, 2021
We sat outside this morning with our coffee, enjoying the nice weather and talking about upcoming events. Then I took care of some maintenance chores like changing out a water hose with a pinhole leak, and getting a bucket of sand so I could relevel and set the pavers that I put in between the rig door and the patio area.
Then it was out and about for lunch and errands, with the lunch stop being long-time favorite King Food for Hot & Sour Soup and Chicken in Hot Garlic Sauce with Jalapenos.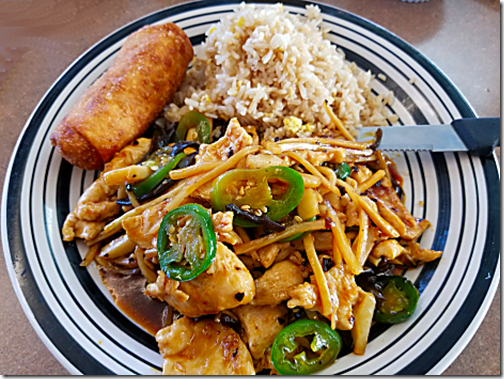 Then after a quick stop at WalMart for some landscape items, we filled up with gas at the Sam's next door. Seems like gas prices have steadied at about 90 cents over what it was in November. Hopefully it won't start taking off again.
Then coming home, we made an HEB stop for a few things, one of them being a Styrofoam cooler to experiment with setting it up as a Sous Vide cooker enclosure.
Then of course we had to make a Cowboy Coffee stop so we would have another excuse to set out on the patio some more. Always nice.
I had seen Styrofoam coolers used as Sous Vide cookers on the Internet, but I was curious about how the Styrofoam would stand up to the hotter temps used for slow cooking ribs, etc., I.e. 160° or so.
So I cut a hole in the cooler lid just large enough to hold my Inkbird Sous Vide Cooker and gave it a try.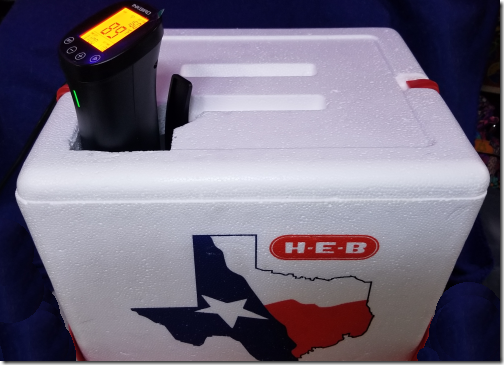 I filled the cooler with tap water to the high water mark on the cooker, set it for 160°, and turned it on.
It took about 55 minutes to bring the 69° tap water up to 160, and then I let it run for about an hour. At that point I turned it off, let it cool down a bit, and then dumped the water out in the sink.
And when I checked out the inside of the cooler I found no indication of too much heat, and the outside of the cooler never even became warm. So I guess we're good to go for Ribeyes next weekend. Maybe.
It will take a little juggling, because I like my steaks Medium-Rare and Jan likes hers between Medium and Medium-Well. So what I plan to do is to do them Medium-Rare in the cooker, and then take Jan's out and put it on the gas grill for a bit to bring it up to Medium-Medium-Well. Then I'll take mine out when hers is almost done and put it on the grill for a few minutes too.
The Sous Vide cooker is supposed to be able to hold steaks at a certain temp for a while without overcooking, so I'll see how that works out.
And tomorrow's another day.
---
Thought For The Day:
Unlimited power in the hands of limited people always leads to cruelty." ― Aleksandr Solzhenitsyn