Daily Archives:
November 24, 2021
When I gave you the update on Monday night's blog about my doctor follow-up visit, I forgot to include a few things.
My next appointment is for a month, so right before Christmas.
And I was also able to clarify a few things.
They did do a three-level fusion, C 4-5, C5-6, and C6-7. Alexandria, the P.A. kind of laughed when I asked if the bone used in my grafts came from one cadavers, or three cadavers. She said she didn't know, but it was also some of my bone that had been sliced out to make room where the vertebrae were too close together. So I got a little bit of everybody in there.
I had been told that in a fusion, that there would be some limitations on how I could move my neck. For some reason, I assumed that was on the side to side movements, but that's on a different part of the vertebrae.
So the only restriction I will have is how high or how low I can look down. So that should be OK.
As I mentioned Jan and I will be doing the Cracker Barrel thing for Thanksgiving tomorrow. I was surprised to find out that they will start serving Thanksgiving dinner at 7am, when they open.
We always also order two meals to go so we have leftovers. After all, it's not really Thanksgiving without leftovers, is it.
In other news, Christmas has been cancelled . . . in Gibraltar, known as the 'most vaccinated country in the world.'
Gibraltar Cancels Christmas Despite Entire Population Being Vaccinated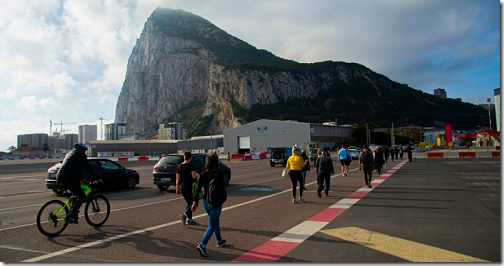 Gibraltar has cancelled official Christmas events and urged people to avoid gatherings to combat an "exponential" spike in COVID cases despite its entire adult population being fully vaccinated.

Overall this works out to 2.79 vaccinations per person. So everyone has been double-vaxxed, and most have had a booster.

Known as "the most vaccinated place on earth," technically more than 118 per cent of the British Overseas territory's population is fully vaxxed because Spaniards also enter the country to work every day.
---
Thought For The Day:
An Amazon Review For Ivermectn –