Daily Archives:
November 30, 2021
We had planned to head down to Galveston about 12:15, but instead I first headed into work about 11am to fix a not-really-a-problem. I did make back home and we were on our way pretty much on time.
Our first stop was the Mosquito Café for brunch. We've passed this place a number of times, because our long-time favorite Sunflower Café is right on the next block.
But Sunflower is closed on Tuesday's so we thought we'd give Mosquito a try. And it turned out be pretty good, though not quite as good as Sunflower.
We both had their Plain Ole Breakfast, with 3 eggs, bacon or sausage, toast, and a side. Jan got the Hash Browns and I got the Cheesy Grits.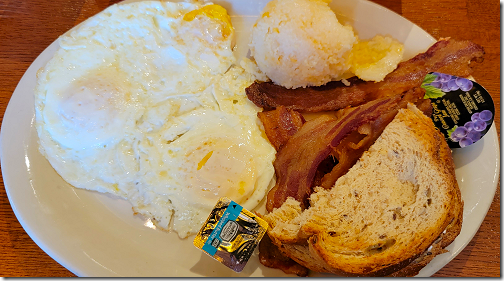 Jan also started with a cup of their Pumpkin Bisque.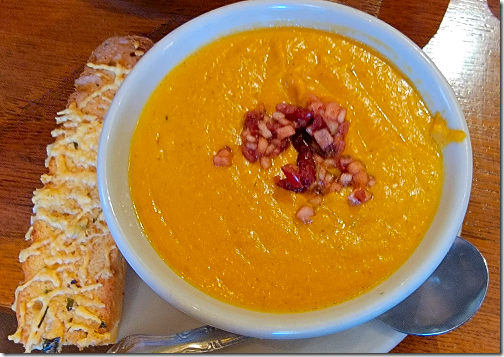 She thought it was so good that as she was finishing it off, I told her that I would be the lookout if she wanted to lick the bowl. To her credit, she didn't take me up on it. But I think she thought about it.
We both got a dessert from their bakery. Jan got one of their Pumpkin Bars, while I got a piece of their Pumpkin Spice Cake with Cream Cheese frosting.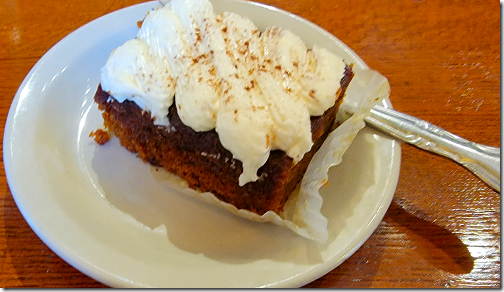 I'm sensing a theme here.
The kicker to all this was that we couldn't even eat half of this, so we had a lot to bring home for tomorrow night's dinner.
Then it was off to my client appointment. Too\k about an hour to go over things to find out what they needed. Looks like I will be taking over their website, but I;m not sure yet how much other support they'll need. We'll see.
Looks like Branson is prepping for our Christmas visit next week. While this week it's been in the 70's there, next week looks to be in the high 50's in the daytime, and the 30's/40's at night.
No snow forecast though. Yet.

---
Thought For The Day:

I love it when people think they're punishing me by not talking to me.
.