So Far, So Good . . . So Far.
This afternoon was my 6 Week Checkup (after only 5 weeks less 1 day, but let's not quibble) after my Cervical Spinal Fusion back in November.
Unlike my last checkup, they took X-Rays before we got to see Alexandra, our P.A. And when we did get to see her, she said that everything looked really good and that nothing had come loose or moved out of place.
I was also told that I no longer have to 'baby' my incision, but can now spray water directly on it in the shower and not worry about it. And I can now go back to taking my daily low-dose aspirin.
One thing I did ask was at what point I can consider that things have gotten as good as they're going to get. Alexandra said it could be as long as 1 to 2 years, which was very reassuring. My fingers are getting more feeling in them, as well as stronger too. And in addition, my balance is slowly coming back.
So it looks like I'm good to go until my next checkup in February.
Finishing up at the doctor's, our next stop was right down the road at Pho Barr for lunch.
As before, we started off with an order of the Grilled Pork Spring Rolls, along with their spicy peanut sauce.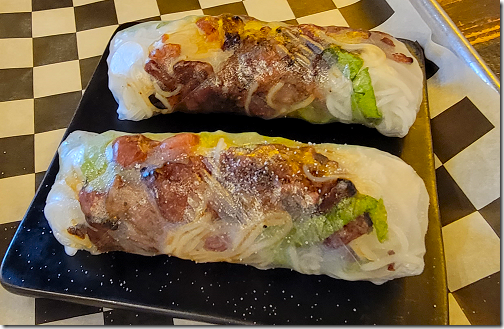 Then it was on to our other usuals, with Jan getting the Vermicelli Bowl.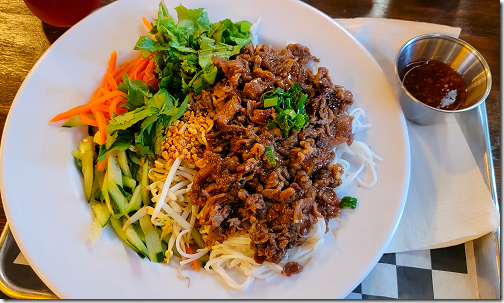 As I did last time, I got the Pho, but the Chicken instead of the Ribeye.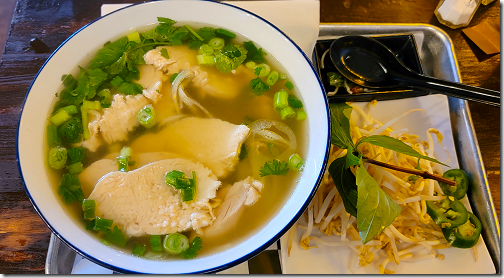 And as you can see it was just chock full of Chicken.
Really good, and we're very happy to see that they're working on opening another location near us.
Several times in the last week we've been hijacked. Or at least our VMAI sound bar has been.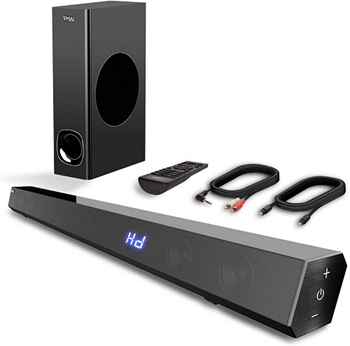 This past Monday afternoon Jan called me at work to say she was hearing Christmas music in the rig that she thought was coming from the TV along with the program's audio, and that she didn't know where it was coming from. But before I could tell her anything to check, it disappeared.
Then early the next morning, about 1am, I was awakening by very loud Christmas music coming from the front of the rig. And when I got up to investigate, I found the TV still off, and the sound coming from the sound bar itself.
And then I knew what was happening. But wanting to get back to sleep I used the sound bar remote to just turn it off for now.
Then the next morning I confirmed my suspicions. One of our neighbors was hijacking our sound bar's Bluetooth connection, probably accidentally.
Whenever we turn off our TV it loses the Bluetooth connection to the sound bar, so when we turn the TV back on, we have to reconnect it. And recently I had noticed that another VMAI sound bar was showing up, though a different model from ours.
So I suspect our neighbor was connecting to our system rather than his, and then turning the volume up since he wasn't hearing anything on his system.
So right now I'm trying to see if I can change the unit's standard Bluetooth password of '0000' to something else so this can't happen again.
To quote Roseanne Roseannadanna, "It's always something."
---
Thought For The Day:
Today's society is a good example of what happens when you let the clowns run the circus.