Monthly Archives:
March 2019
And no leaking oil was seen. So we declared today's rig test drive a success. So we're all ready to head up to Kingsland on Friday.
Thought today's test drive was about 50 miles instead of last year's 35, I'm not sure the extra 15 miles would have shown up any oil leak anyway.
Last October we didn't see any oil leak on our test drive, but then it showed up when we headed out for Florida. So I guess we will see for sure on our upcoming trip.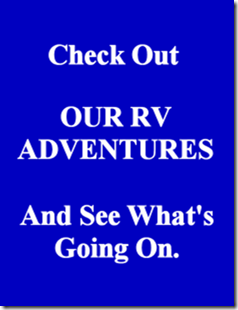 We ended up taking the I-45 route today, since they had finally opened the northbound side, so we left the park heading south on Hwy 6 before looping back up on I-45. That took us all the way up to FM528 in Webster, where a left turn pointed us toward Hwy 35 and on back onto Hwy 6 and south back to Santa Fe and home. As I said, about a 50 mile loop.
That's about it for today, with a busy week coming up. But more about that tomorrow.
---

Thought for the Day:
When a man talks dirty to a woman, it's sexual harassment. When a woman talks dirty to a man, it's $3.95 a minute.
gjkgjk
Jan and I went back through the possible Added Cost Excursions for our upcoming Viking River Cruise. trying to nail down which ones, if any, we wanted to tack on to the trip.
The first pass was easy. Jan said we were eliminating any with the words, Hike, Bike, or Hills in the title. And that got us down to about 15 out of 40 or so. Even though this is only a 15 day cruise, some days have 3 or 4 different ones available.
Then we went though them again checking of conflicts with the free excursions that we've already booked. Luckily Viking makes this easy by listing any possible conflicts for us. So then we had to decide if we wanted to do the Included one or the Added Cost one.
By the 4 or 5th pass through the list, we'd narrowed it down to 3 add-on's, and not a hike, bike, or hill in sight. So now all we have left is a couple of possible tours during our stay in London.
With that done Jan and I headed out for lunch and some errands about 1pm. Before leaving the park, we dropped off some garbage at the dumpster and checked out the changes going on.
It's always nice to see park owners putting money back into a park, and this is a nice upgrade. Over the next few months all the sites are being updated to have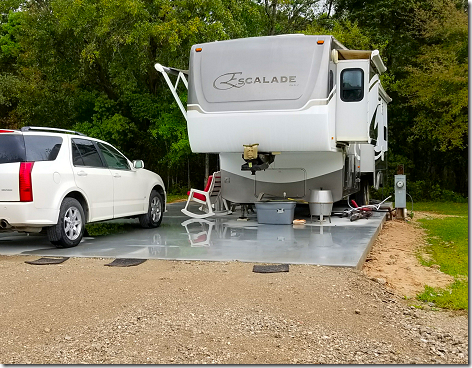 Looks like what's going to happen is that we're going to play musical rigs as they do one site at a time and we move around.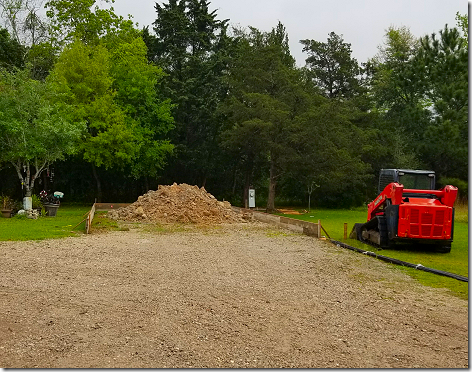 One thing we wanted do at lunch was to check out the traffic changeover at I-45 and FM646 scheduled for this weekend. The southbound side of I-45 was to be shutdown, but the northbound side was supposed to be routed over part of the new overpass. But, apparently they lied.
Both sides of the I-45 were closed and traffic was backed up for miles. We got out of it by driving back up an entrance ramp onto the feeder and following Google Maps out into the countryside for a while.
We finally got to our lunch stop, Crazy Alan's Swamp Shack, about 2:30, an hour after we should have gotten there, but it was certainly worth the delay. We had received a coupon in the mail giving us a free appetizer with an entrée so we thought we'd give it a try.
We started off with the Crab-Stuffed Mushrooms as our freebie,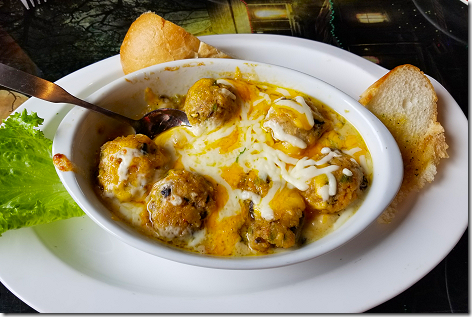 made with fresh mushrooms stuffed with crab, green onions, garlic, sherry wine, bread crumbs, and topped with white wine cream sauce. One taste and we knew we had made a great choice, both the appetizer and the restaurant.
While Jan followed up with a really good Side Salad with Ranch,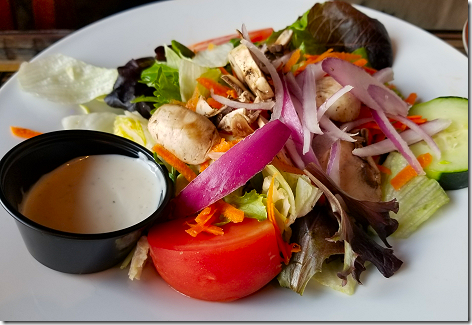 I couldn't pass up checking out their Shrimp and Crab Gumbo.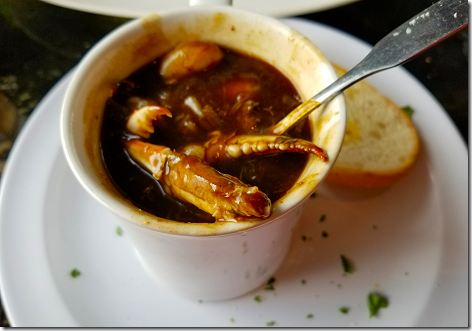 It is a Cajun place, after all. And it too, was really good. A little thicker, darker roux than my other fav, Floyd's Cajun Seafood, but with a slight burnt aftertaste that made it great.
For our entrée's, Jan got the Grilled Shrimp Tacos with Grilled Veggies,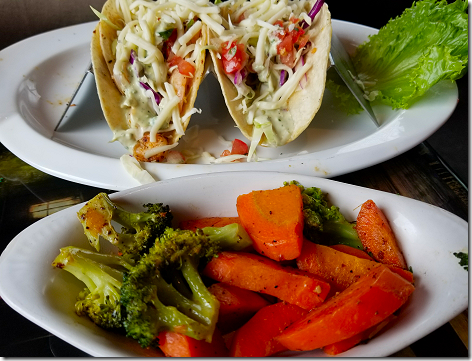 while I got the Spicy Shrimp Boil.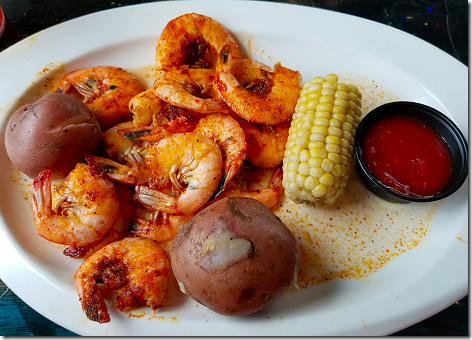 All I can say is that we have a new favorite place, and it's close by, too.
And we didn't even get to try the Crown Royal Whiskey Bread Pudding. We were too full. So next time, no to the appetizer, and yes to splitting a Bread Pudding.
After that great meal, our next stop was right up the mall to the Verizon store to find out if I my Galaxy S8+ phone is unlocked so that I can use a European SIM card on our trip to get phone, text, and data while we're over there. They couldn't tell me, but gave me a number to call that would know.
Then it was a little further up the road to one of Jan's favorite spots, The Container Store, so she could check out their travel section for packing stuff.
Finishing up, we made Sam's Club/WalMart stops to pickup and drop off prescriptions, and then headed home via the long way down Hwy 6 to avoid the Interstate shutdown.
And now I'll have to plot a new route for our rig check ride tomorrow to avoid I-45.
---

Thought for the Day:

"The ultimate result of shielding men from the effects of folly is to fill the world with fools." – Herbert Spencer, English Philosopher (1820-1903)

ghdg