Daily Archives:
March 3, 2019
In one of those somewhat typical Texas winter days, after a low of 65 last night, the high for today was 66 . . . at 9am. Then the temp started dropping quickly into the low 50's by noon.
Then tomorrow's high is 50 with a 37 for tomorrow night. In Texas you can get Spring, Fall, Winter, and sometimes Summer, all in the same day. It's always something.
But before it got too cold I went outside and crawled under the rig to see what was going to be involved in changing out the oil filter. And it looks like it won't be a problem as far as actually reaching it and letting it down. Of course getting it up and back into place full of oil might be another story. But at least it's not at the limit of my reach.
What I'll probably do is that after I let the old one down and clean the base, I'll first put the new one into place while it's empty to see how easy it goes on and tightens down. Last thing I want to do is to cross-thread it.
Then I'll fill it with oil and try it that way. So we'll see how it goes.
After I completely changed our Paris/London travels plans . . . again, it looks like our travel agent, Chantelle Nugent, is still talking to me. After I called her yesterday morning to see about adding an extra day in Paris and an extra day in London, getting us home on Saturday, the 25th rather than Thursday the 23rd, I looked at it a bit more and we decided to add a second extra day in London. That would get us home on the 26th.
I think this about covers the changes that will need to be made.
Add Additional Day at Paris Hotel for Sunday, May 19th.
Change Private Transfer to Train Station in Paris to Monday, May 20th.
Change Paris to London Train Date to Monday, May 20th.
Change London Hotel Reservations to Monday, May 20th – Saturday 25th. adding two additional days total.
Change Total London Tour to Tuesday, May 21st or 23rd, 24th, or 25th.
Change Private Transfer to Heathrow to Sunday, May 26th.
Change Flight Home to Houston to Sunday, May 26th.
Hopefully the only increased cost will be 3 hotel nights.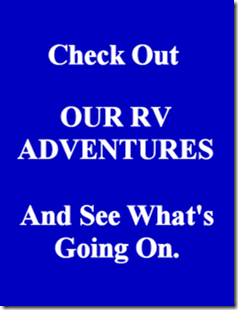 Since we had breakfast for lunch yesterday at Snooze, today, of course, we had to have breakfast for dinner. At Denny's this time. Then it was on over to the nearby Lowe's for some longer bolts for my windshield wiper replacement.
After a PO stop for our mail, we got back to the park a little before 6pm, and found the rig's parking (maker) lights on. I know they weren't on when we left for Denny's.
Since I had been fooling with some stuff near the dashboard, I thought maybe I had knocked them on accidentally, or maybe Karma the cat had done it.
Personally I blame the cat.
But when I checked they were not turned on, at least by the headlight switch. When I checked closer, I found that the front parking lights and the side marker lights were the on, including the roof ICC lights. But no tail lights at all.
And when I turned on the headlights, all the marker lights went out. Since it was getting dark, I decided to brute-force the solution by pulling some fuses. So after checking the chart, I first pulled the 20amp Marker Lights fuse. And lucked out because that killed the lights.
Another thing for the repair list, I guess.
---
Thought for the Day:
Where do forest rangers go to "get away from it all?"
fhjfh