Daily Archives:
March 19, 2019
Yesterday Jan and I headed up toward Sugarland about 4pm, with our first stop at our favorite Floyd's Cajun Seafood for dinner before our Puddles Pity Party concert.
We took our time with dinner, finally heading up to the Stafford Center about 6:30, finding people already lining up for the 8pm show.
We were in our seats by 7:30 (5th Row, Center, Very Nice!) and around 7;45pm we hear the audience stirring behind us. Turning around we see Puddles working the crowd, shaking hands and giving hugs to everyone, even going up into the balcony for a bit.
As he wanders the audience it's easy to see how tall he really is. At 6' 8", he's over 7feet in his clown shoes, but as Jan says, he's not a scary clown. And he never speaks. In some cases it's kind of like charades.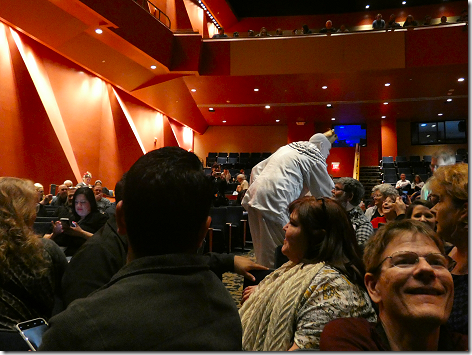 He started out with a favorite of ours, The Sounds Of Silence. Really love it, especially the very end.
Besides another favorite of ours, a Smashup of Pinball Wizard, sung as Johnny Cash doing Folsom Prison Blues, he also did one of ELO's Telephone and Adele's Hello, singing with himself.
There was also a lot of audience participation with people up on the stage, but he seemed to be very careful not to embarrass or make fun of anyone.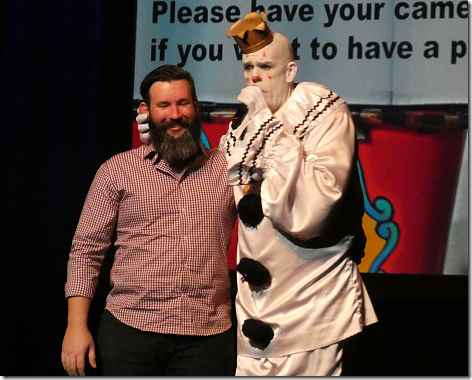 I had taken my new Panasonic Lumix camera with me for its first really use. And starting out, I was very disappointed at the results I was seeing.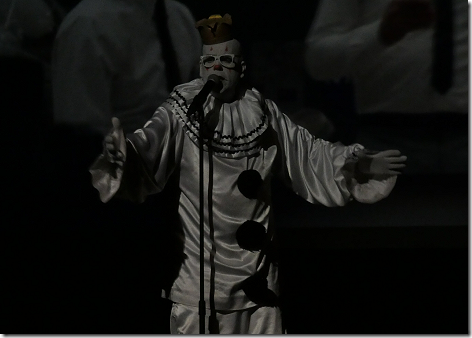 The photos weren't near as bight as the ones as I was getting with my cellphone. In fact, they were downright dingy.
Then about 3/4's of the way through the concert I discovered that somewhere along the line that the Exposure setting had gotten set to –3.5 from the standard 0.0. And when I reset it, I got this.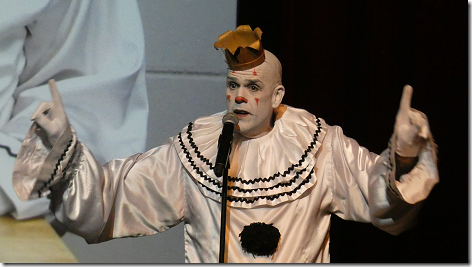 Much better.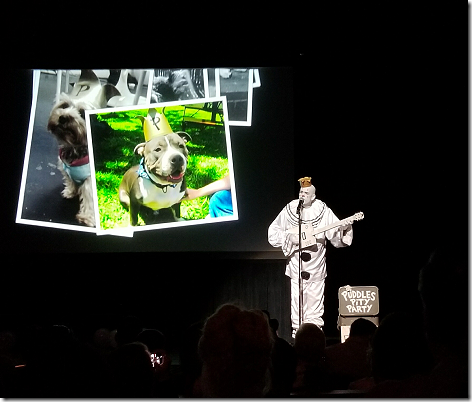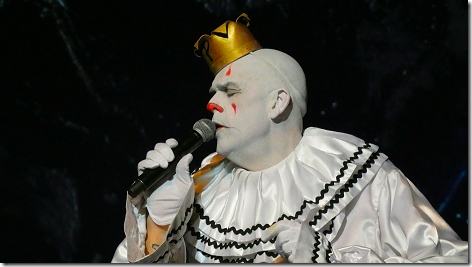 Wrapping up the two hour show, there was a slide on the screen advertising "Puddles Cuddles". i.e., hugs, photos, or autographs with Puddles in the lobby. Since Jan said she only cuddles with me, we headed home, arriving a little after 11pm.
This afternoon was Jan's mammogram, so we headed out a little after noon for her 1pm appointment. Or alt least we thought we did.
Turns out we actually left the rig a little after 11pm . . . because our clock suddenly decided to auto-adjust for Daylight Savings Time.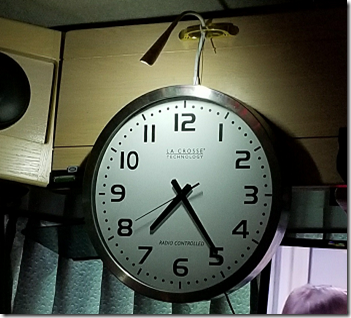 Our clock is supposed to auto set and update, based on the US Government's WWV radio time signals. However last weekend it didn't update for DST, so to correct I just changed it back to the Eastern Time Zone, which had the effect of making the time correct.
But I guess the clock suddenly decided to correct its mistake, leaving us heading out an hour early. Better than an hour late though, I guess.
But it did give us time to have a bowl of our favorite Hot & Sour Soup at King Food. Then it was right down the road for Jan's appointment, which as usual took almost exactly two hours.
And she walked out with a big smile on her face. Everything was OK. At least on the really important part, the mammogram. Important because she had breast cancer 5 years ago.
She won't have her Bone Density results for a week, but doesn't expect any problems with it.
Jan wants me to remind every female reader to get their mammograms. Jan had never had any previous problems and almost decided to skip it in 2014. But she didn't.
And that's why they discovered her breast cancer as a Stage 0. And a out-patient lumpectomy took care of it, with no Chemo, and no Radiation.
She really dodged a bullet. So it's every year from now on, without fail.
Tomorrow it's back to work, and then on Thursday we've got our yearly checkups with our GP. Then Jan has her appointment with her oncologist next Thursday, and we should be done for this year.
---

Thought for the Day:
What Goes Around Often Gets Dizzy and Falls Down.
adfad