Daily Archives:
March 27, 2019
But Jan still says it's weird. But I've lost about 70 pounds with another 15 or so to go, while Jan has lost about 50 pounds. But she has her own plan.
But mine works for me.
We'll start off with my take on the Law of Conservation of Mass.
You cannot gain more weight than the weight of the food you eat. The calories in that food determine how much of that weight hangs around.
If you drink 5 – 16 oz. sugar-free Green Tea's and then weigh yourself, you will be 5# heavier than when you weighed right before you drank them. But with no calories involved, in a few hours the weight will all be gone. So to speak.
But if you eat a gallon of ice cream, also about 5#, and over 4000 calories, a large part of that is going to stick around.
The USDA says the average person burns about 2000 calories a day, though some sources say around 3000 calories. So if you have that gallon of ice cream for lunch, there's as many as 2000 calories left over. Which the body will mostly convert to mostly fat.
So, don't do that.
Things I do do:
1. Coffee – I drink a lot of coffee. I make 12 cups every morning, with Jan getting 2 cups and the rest, 10 cups, goes in my big 40 oz. Ozark Trail Insulated Mug. Then I spend drinking it over the rest of the morning/afternoon.
2. More Coffee – I make 8 cups of Decaf every evening, with Jan again getting 2 cups, and I get the remaining 6 cups.
The coffee fills me up and cuts down any urges to snack.
It works for me, so I don't want to hear any comments on how coffee is good/bad for me.
3. I weigh every day – I have weighed every day since I started dieting on 12/30/2017 without missing a single one. It's interesting watching how the body handles 'heavy' and 'light' food.
Something like a steak hangs around for a couple of days,so to speak. So if you're weighing once a week, and the night before you have a steak for 850 calories, you will weigh more than if you have 850 calories of breakfast, eggs, bacon, fruit, and English Muffin. So if you've been dieting faithfully all week and then weigh without losing any weight, or maybe even gain 1/2 pound, that can be discouraging.
And yes I'm taking the scale on our trip.
4. Change Your Habits – When you're trying to quit smoking, you're told to try and stay away from situations where you smoked before. And that's what I did.
I've usually always been a night owl, staying up until 2 or 3 in the morning. But when I'm eaten dinner at 5, it's now been 6-7 hours since I've eaten, so I 'snack', pretty much my downfall. So I've started going to bed between 10-11pm and getting up earlier.
5. Eat One Meal A Day – I normally eat one meal a day, usually lunch or dinner. Monday, Wednesday, and Friday's we normally eat at home.
I make up a meal with the following:
360 calories – 9 oz. of Angus Beef Strips
140 calories – 1 Steam Bag of Petite Carrots
120 calories – 1 Steam Bag of Birdseye Broccoli, Cauliflower, and Carrots
60 calories – 3 Cups of Chicken Broth to make a soup.
680 calories Total
Along with 200 calories of the Creamer used in my coffee, that totals 880 calories, pretty much a normal day's calorie intake for me.
On Tuesday, Thursday, Saturday, and Sunday, we normally eat out, and it's usually breakfast, at either Denny's or SnoozeAM.
If it's Denny's, it's this: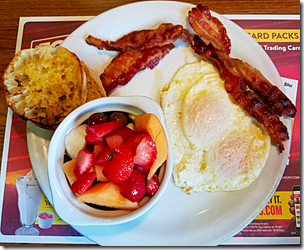 130 calories – 2 Fried Eggs
200 calories – 4 Strips of Bacon
170 calories – English Muffin
110 calories – Fruit
610 calories Total + 200 calories for Coffee Creamers gives 810 Calories for the day.
Snooze is pretty much the same, with 3 eggs instead of 2, but 3 strips of bacon instead of 4. Pretty much a wash.
When we go to Cheddar's, I get their Veggie Plate which comes with the following:
260 calories – Bowl of Chicken Tortilla Soup
120 calories – 2 Servings of Carrots
80 calories – 2 Servings of Green Beans
180 calories – Croissant
640 calories Total + Creamers, of course.
So that's it for meals, whether we eat out or at home. It's pretty much 800-1000 calories a day. And yes, we do splurge every once in a while. But then it's back on the diet the next day.
A blog reader commented that we don't seem to exercise much. We do, just not as such. When we're in WalMart/Sam's Club I'm tracking our distance and it's not unusual for us to do over a mile just shopping. And that' normally twice a week.
Now as far as the results. We just had our yearly checkups last Thursday, and everything was normal. My A1c, which had dropped down to 5.7 last year, was down to 5.4 this year. And all my other readings were very good. HDL, LDL, Triglycerides, BP, Kidney Function, Liver Function, PSA, etc., all good.
So that's my diet plan.
Weird, I know, but it works for me.
---

Thought for the Day:
A strawberry isn't a berry but a banana is. Avocados and watermelons are berries, too.
jfhj