Daily Archives:
March 4, 2019
Today, in another step forward, I managed to drag my client kicking and screaming into the 21st century.
After setting up the return of the defective Brother FAX machine to Amazon, I fast-talked my client into switching over to a online FAX service instead of ordering a replacement machine.
I use MyFax for faxes and have for years. They give me both a local and a toll-free number, and for $10 I can send 100 pages and receive 200 pages a month. And I have never come close to hitting those limits. And I doubt my client will either, since they only send and receive a few faxes a week.
But my client already has both local and toll-free numbers and didn't want to change them so I checked to see if we could use our own numbers and found that we could transfer them. So then I called Spectrum VOIP, where we get our phone/internet service, to see what that would entail. And found a whole 'nother solution.
Turns out Spectrum has their own fax service, and since we were already paying for the fax machine interface, the service was free. So a few minutes later they had reconfigured our two numbers to the online service and we were good to go.
In case you have used one of the these services, you receive faxes as a PDF file in a email, which you can print out or not as needed. To send a fax you just enter the phone number followed by @fax01.spectrumvoip.com in the TO: field. Then enter the Subject, and your text in the Body. If needed you can attach a document in pretty much any format, i.e., Word, Excel, JPG, PDF, etc.
Easy Peasy.
Amazon also made sending the fax machine back easy peasy. I just went back to the product order page, clicked Return or Replace Item, chose Item Defective or Doesn't Work, and described what was wrong with it in the Comment box.
Then I clicked on UPS pickup at the office and a refund onto my debit card. Finally all I had to do was to pack it up back into the original box and I was done. The UPS guy will bring the label when he picks it up. And if it's like they've done in the past, as soon as the box is logged into the UPS system as 'picked up', I will receive my refund.
Again, Easy Peasy.
Jan is not never easy to buy for, but occasionally I score big. She does like earrings, especially dangly ones. Now in reading over our upcoming trip FAQS, it says that there are no formal nights, but recommended evening dress is 'elegant casual'. Now to me that sounds kind of like "jumbo shrimp', 'boneless ribs', or 'limited nuclear war'.
So I found and ordered these for her.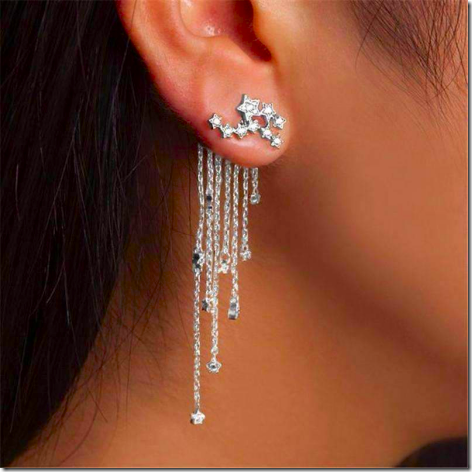 Certainly looks elegantly casual to me.
What do you think?
---

Thought for the Day:
Knowledge is knowing how. Wisdom is knowing when.
asdfadf