Daily Archives:
March 5, 2019
It was 37° at 5am this morning and down to 32° at 7am. And it didn't start actually warming up till about 11am, all the way up to 40. And that was about it.
Jan and I spent the morning looking at luggage for our trip. Someone recommended this set,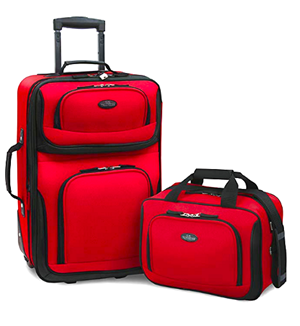 and the reviews look pretty good. Though it is always kind of funny to see 50 people say how tough the luggage is, and how they schlepped it all over Europe or Africa with no problem, and there's usually one review that says that it's a piece of crap and it broke the first time they used it.
The set comes in 4 other colors, black, dark blue, orange, and purple. I guess the black and red set are the most popular, since they are $10 –$14 higher in cost. But even they are only about $50 for the set.
Turns out that even the larger piece is sized for carry-on, as of course is the smaller one. Turns out that Lufthansa allows us 1 piece of checked luggage and 1 piece of carry-on luggage, plus of course a shoulder bag, purse, or laptop bag. And that's for each of us.
So what we're thinking about is two sets of these, and then borrow a larger piece from Brandi to check in.
We'll probably wait until the first of April to order since we've got to store it somewhere, probably in the storeroom after we do some trial packing.
And speaking about the first part of April, looks like April 5th – April 8th is the date for everyone's visit up to Chris and Linda's in Kingsland, along with Brandi, Lowell, Landon, and Miss Piper. And we're taking the rig up there, leak fixed or not. I don't want to let it sit for longer than about 5 months without taking it on the road.
Hopefully the weather will cooperate and I'll be able to get the filter replaced and local test drive done before than, but I've already got reservations at the Granite Rock RV Park in Kingsland, so the rig is going up there one way or the other.
As I had figured, a couple of hours after UPS picked up my defective Brother FAX machine return to Amazon this afternoon, I got notice that they had already refunded the $140 to my card. Nice.
---

Thought for the Day:
Nothing emboldens the wicked so greatly as the lack of courage on the part of the good — Leo XIII
asdf